AfDB to develop, structure innovative finance instruments in Africa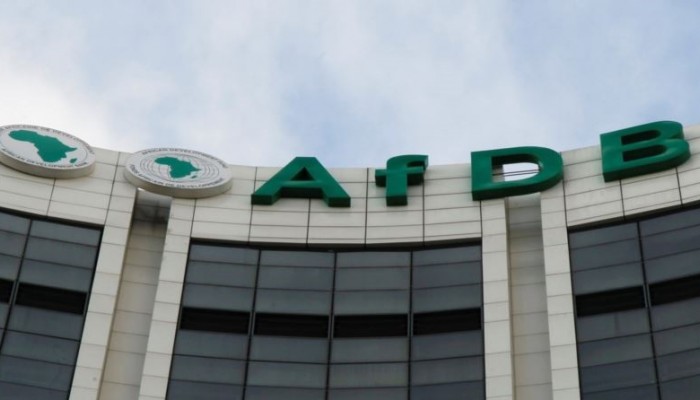 The African Development Bank (AfDB) is collaborating with African countries to develop and structure innovative financing instruments to address insecurity and challenges to economic growth investment and development in the continent.
President of AfDB, Dr Akinwumi Adesina, said this at the fourth edition of the Africa Resilience Forum (ARF 2021), a high-level flagship event of the bank, held virtually on Tuesday.
The event had as its theme: "Covid-19 and Beyond: Working Together for a Resilient Continent".
The event is aimed to reflect on policies and approaches that support the continent's efforts around conflict prevention, peace, and state-building initiatives.
Adesina stressed that there was a compelling case for innovative financing mechanisms to tackle challenges that faced the continent.
He called on all partners to work towards strengthening interventions that responded to such challenges.
"Only by working together as humanitarian, peace and development partners can we, effectively, address root causes and focus on strengthening interventions that respond to what I call disaster triangle which has to do with unemployment, environmental degradation and extreme poverty.
"Wherever you find these disaster triangles, you have instability and insecurity. There is, therefore, a compelling case for innovative financing mechanisms to tackle these challenges.
"Recognising this critical link between security, economic growth, investment and development, the African Development Bank (AfDB) is collaborating with African countries to develop and structure innovative financing instruments.
"This includes security index investment banks to mobilise resources to address the root causes of insecurity and project investments and livelihoods," he said.
The AfDB president also emphasised the need to focus on tackling the effects of climate change and reiterated the bank's commitment to double its climate adaption finance to 25 billion dollars by 2025.
"We have expanded the percentage of financing devoted to climate adaptation from 26 per cent in 2016 to 67 per cent in 2020."
He further stressed the need to increase investment for social protection, safety nets, and resilient and affordable healthcare systems to reduce the effects of the COVID-19 on the continent.
"We must also prioritise job creation especially for the youth that is why the bank created the Youth Entrepreneurship and Innovation Multi-Donor Trust Fund, an initiative to support Africa's entrepreneurship ecosystems that help to create 25 million jobs by 2025.
Also, he reiterated the importance of women to further drive inclusive and resilient growth through the bank's Affirmative Finance Action for Women in Africa which supported women-enabled businesses.
"To be clear, when women thrive, Africa prospers," he emphasised.
Adesina urged Africa not be deterred by the enormous challenges facing the continent adding that resilient economies, communities and people promoted peaceful, stable and prosperous nations.
In his address, Chairperson, African Union Commission (AUC), Mr Moussa Mahamat called on African countries to remain focused and harness their human and natural resources which were "huge assets" for resilience.
"Africa's assets for full resiliency are huge. The challenge is to reach resilience and fast-track economic growth by harnessing our natural resources and attention to our agricultural production."
Mahamat said the pandemic had helped the continent to identify categories of population and economic sectors that were vulnerable and required a new vision for reform.
"Flagship programmes that are found in the 2063 Agenda show that gradually, on a macro management perspective, we are giving ourselves a tool for resilience, ongoing reforms and establishment of the African Continental Free Trade Area pathways for our development and self-centred growth.
"We have to count on our intra-African solidarity and promoting principles within which to set up mechanisms for shock management.
"In this regard, creating financing tools to manage this risk is vital. I call on you create all the tools because it is worthwhile and the situation calls for such tools," he said.
He further stressed an important aspect of institutional reform which is building new forms of partnerships.
He, however, emphasised the need for reliance on the AUC's own efforts "without turning our backs to our strategic partners".
"That is our vision of a renaissance, of multilateralism which we are all yearning for.
"The issue of financing, particularly debt management, financing peace as well as renovating developmental aid should be raised within the framework of the rebirth of multilateralism."
Mahamat also stressed the need to have an efficient combination of all forces of the continent for the vision of resiliency to take root in the governance, political and social practices of the continent.
ARF 2021 aims to provide a platform for sharing experiences, lessons learned, and co-create innovative solutions based on global and regional trends to address fragility and build lasting resilience on the African continent.
The three-day forum would end on Thursday. (NAN)
Dangote Refinery Will Generate 'Massive Job Opportunities' – Aliko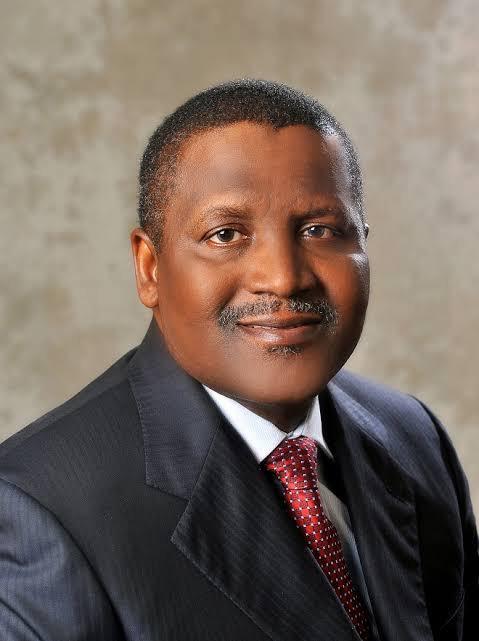 The President of The Dangote Group, Aliko Dangote, on Monday, said his refinery will generate "massive" job opportunities for the teeming Nigerian youths.
He stated this in Lagos during the commissioning of the 650,000 bpd Dangote Petroleum Refinery and Petrochemicals by President Muhammadu Buhari.
The project is expected to churn out Premium Motor Spirit (PMS), diesel (AGO), aviation jet fuel and Dual-Purpose Kerosene (DPK), among other refined products.
"The refinery operation will generate massive job opportunities in their hundreds of thousands," he said while highlighting the benefits of the refinery.
"The refinery will make available to our industries vital raw materials to a large range of manufacturers in the pharmaceuticals, food, beverages, construction and many other industries."
The businessman also expressed thanks for the "massive" support for him and The Dangote Group towards the creation of the Dangote Petroleum Refinery and Petrochemicals plant.
He appreciated Buhari and Nigerians for the immeasurable support his company received from the inception of the project to its completion.
"What I want to share with Nigerians is actually to show my personal gratitude and that of The Dangote Group, for all the assistance that we got from the President, from the Federal Government of Nigeria, from even the President-elect, because he also set the pace by creating the Lekki Free Trade Zone as part of his dream.
"And also we want to thank most especially Governor Fashola, Governor Ambode and most especially Governor Sanwo-Olu; because they have given us all the assistance that we were looking for.
"We thank all Nigerians for giving us their support which is too numerous to mention," the industrialist said.
Dangote Refinery To Generate 12,000 Megawatts Of Electricity – CBN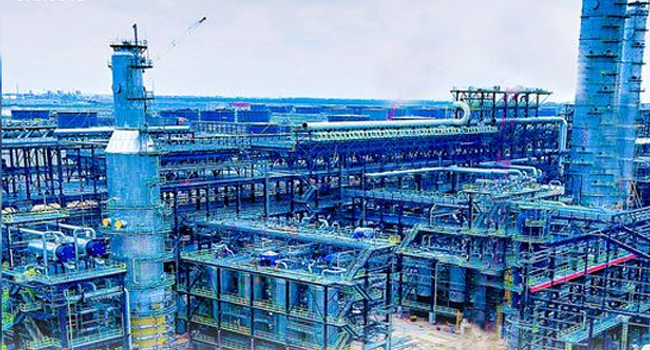 The Central Bank of Nigeria (CBN) has said that the newly inaugurated Dangote Petroleum Refinery and Petrochemicals will help Nigeria generate more power for its electricity sector.
Speaking today at the inauguration in Lagos State, Governor of the apex bank, Mr Godwin Emefiele, said the Dangote Refinery is expected to generate 12,000 megawatts of electricity.
He further stated that over 135,000 permanent jobs will be available to Nigerians as operations get underway.
According to him, it is also expected that the refinery saves Nigeria between $25 and $30 billion in forex annually.
Like a venture that continues to give, the refinery Emefiele says will further give the economy an inflow of $10billion yearly.
In his opinion, the Dangote Refinery is an indication that Nigeria can produce whatever it Needs.
SANWO-OLU PRAISES BUHARI, TINUBU, DANGOTE CONTRIBUTIONS TO NIGERIA'S FIRST PRIVATE REFINERY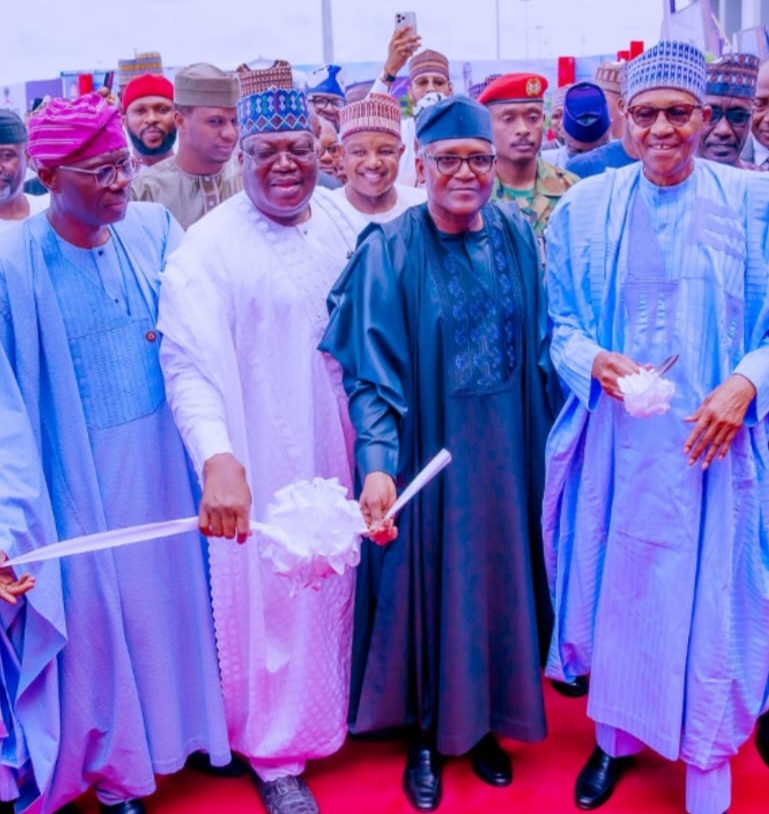 •LASG has provided enabling environment for private sector growth, says Dangote
Lagos State Governor, Mr. Babajide Sanwo-Olu, on Monday, said the stories of President Muhammadu Buhari; President-elect, Asiwaju Bola Tinubu and Chairman of Dangote Group, Alhaji Aliko Dangote are a testament that prosperity can be achieved when  leaders have shared vision for the people they are leading.
Sanwo-Olu shared three different stories on how President Buhari, Asiwaju Tinubu and Dangote are connected to the newly commissioned first privately owned refinery in Nigeria, the Dangote Petroleum Refinery in Ibeju-Lekki, Lagos, said the three leaders have shown Nigerians that leadership is about consistency and commitment to Nigeria's economic growth.
He said: "The vision of Aliko Dangote, President Muhammadu Buhari and incoming President Asiwaju Bola Ahmed Tinubu, is a story of possibility when men have a shared common vision, purpose and they have the possibility that things can happen, things can change and things can be prosperous for the people they are leading.
"These three men; Aliko Dangote, President Muhammadu Buhari, and President-elect Bola Ahmed Tinubu epitomise all the great qualities of great leadership. They have shown us that nothing can be something. They have shown us that leadership is about consistency. It is about showing that whatever it is that you believe in, give it all it takes and at the end of it you will see the results coming out."
Governor Sanwo-Olu while commending Dangote, said the business mogul is a completely detribalised Nigerian who has impacted many lives positively.
He said: "To our son Alhaji Aliko Dangote, we are indeed truly proud that you have put Nigeria and indeed Africa on that world map in which you have done the very first. We are proud of your belief in your country and your belief in the youth that you are giving the opportunity to. We are proud of the fact that you are a Nigerian that is completely detribalised and you have imbibed it in many ways.
"It is about the opportunity this (refinery) has provided for all the youth and young people of our country. It is about the fact we can say to them the work these three men – Mr. President, Alhaji Dangote, and our incoming president have done and will continue to do.
"It is about our future. It is about providing an opportunity for the youth because over 150,000 direct and indirect jobs that will be created are for our youths; young leaders that are in their 20s and their 30s for them to believe that indeed Nigerian is a place for them. Nigeria considers them as an important and veritable tool in developing and ensuring the very best.
"I want to also thank our President-elect who propelled a vision of what we are enjoying today. As governor and as Lagosian, he was the main architect of the modern history of the trajectory of Lagos and we are hopeful and praying that when he comes in as president, all of those additional vision that he has will come to reality."
Governor Sanwo-Olu, who was part of the birth of the Lekki free zone in 2006 during the tenure of Tinubu as Governor of Lagos State, praised the host communities for showing hospitality to investors in the area.
"I want to use this opportunity to thank our host community. This community has been the host to several firsts in our country and I want to thank all of them; from the traditional rulers to all of the indigenous citizens that have continued to reflect the true spirit of Lagos to be able to show hospitality and accommodation in everything that we are about," he said.
Governor Sanwo-Olu also commended President Muhammadu Buhari's eight years in office, saying the people of Lagos State are proud of what the President has done for Nigeria.
He said: "You (President) have spent 2,915 days out of 2,922 days that you have. Mr. President, you have spent 99.98 percent of your time. Mr President history will certainly judge you well. We in Lagos are happy. This is your third trip to the Lekki Free Zone in less than a year.
"We are proud of you. We are indeed excited that you have thrown everything you have into it and as you bow down, I might not have the opportunity of holding a microphone again, I want to say to you, that on behalf of Lagos State, we are truly proud of the things that you have done for us in this country."
Speaking earlier, Dangote commended Lagos State Government under the leadership of Governor Sanwo-Olu for providing an enabling environment for private sector growth, particularly the Dangote Refinery.
He said: "Lagos State Government has been exceptionally remarkable in their efforts toward the completion of this project.
"The Lagos State Government under the leadership of Governor Babajide Sanwo-Olu has provided an enabling environment for private sector growth in the state and this project. It has allowed us to invest over $30 billion in different sectors of the industry."