Sen. Olujimi advocates quick passage of gender equality bill
Sen. Biodun Olujimi (PDP-Ekiti) has called for the quick passage of the gender and equal opportunities bill to bridge gender gap in Nigeria.
Olujimi made the call at the breakfast meeting with Media Executives on Gender and Equal Opportunities Bill (GEOB), with support from the UN Women and Australia High Commission, on Tuesday in Abuja.
Olujimi explained that the purpose of the gathering was to discuss an important legal reform which had been in the pipeline for many years.
"I am referring to the Gender and Equal Opportunities Bill (GEOB), the proposed legislation which we have been working on for several years to bridge the gender inequality in Nigeria.
"The Bill has passed through several reviews and with the technical assistance of our partners, UN Women and our Civil Society, we have arrived at our present stage," she said.
Olujimi also called on the media as one of key partners to assist in the campaign for the proposed bill.
"However, before we go any further in the journey, we realise that we must work hand-in-hand with one of our key partners and critical stakeholder.
"The media, both traditional and new, and that is why this engagement with you is very critical to the success of this proposed legislation.
"The bill is development-oriented and includes provisions which will promote equal access for women and men for instance, across all sectors.
"The bill also has key provisions such as the adoption of temporary special measures to eliminate discrimination of women and widen the space for women to occupy leadership positions in politics and public office.
"It also seeks to address several forms of discrimination against women such as land ownership, inheritance, education, employment, and sexual and gender-based violence.
"As already noted, the bill has had a very long journey, and during this period, it has faced much resistance and criticism along the way.
"This may be put down to the lack of awareness and misunderstanding/ misinterpretation about its aims and goals amongst other reasons," she said.
Olujimi maintained that the meeting was also for informative dialogue that would conclude on actionable commitments towards creating awareness, sensitisation, clarify misconceptions and mobilise wider public support to strengthen chances of passing the bill into law.
The lawmaker therefore called for support and co-operation to ensure a successful second reading.
"As we march towards the final point, we hope with your support and co-operation that we will be able to build and sustain a strong strategic alliance, as jointly we mobilise public support to ensure a successful second reading.
"We need all hands on board as we gradually approach the final steps towards what we all believe will be a fundamentally progressive step for Nigeria, "she said.
Ms. Comfort Lamptey, UN Women Country Representatives to Nigeria and ECOWAS, commended Olujimi for her tireless commitment to the passage of the bill.
She also appreciated the Australian Government for joining the laudable initiative and the media partners for their support.
"Distinguished media partners, I wish to take a moment to appreciate you. We cannot take for granted the significance of your presence.
"You are walking the talk in promoting women's rights, thank you for advancing the rights of women and girls in Nigeria.
'The journey towards passage of the GEOB started over a decade ago. We have an important moment to see this bill finally passed in the National Assembly," she said.
Lamptey said over the past 18 months or so, COVID-19 had exposed preexisting gender inequalities in countries across the world.
"Here in Nigeria for example, the cases of gender based violence skyrocketed during the lockdown period.
"Data from March to April indicates a five-fold increase in cases across 23 states – causing the president to declare a state of emergency on GBV.
"In the political realm, we all recall the high aspirations of women who vied for political offices in the 2019 General Elections; the highest ever number of women seeking political offices.
"Yet, the result of the elections saw a regression in the number of women elected to political offices. In fact, women's representation in Nigeria has been on a steady decline since Nigeria's return to democracy in 1999.
"Nigeria globally sits within the 0.1 – 4.9 per cent range for women's representation in government and it is at the bottom of the whole African continent in terms of representation of women into elective offices – yet another state of emergency.
"Passage of the Gender and Equal Opportunities Bill provides an invaluable window of opportunity to implement legal frameworks to address gender inequalities and prevent, protect and redress gender-based violence.
"This includes the disenfranchisement of women through inheritance laws and discriminatory practices within employment and education all of which are stipulated in the GEO Bill.
"The GEO bill is a robust framework that prohibits discrimination based on gender and proposes measures for women's inclusion within society.
"The GEOB is not just for women, but the entire Nigerian populace and to really correct the injustices, marginalisation, discrimination, and the underrepresentation that often seems," she said.
Also, Mr John Donnelly, Australian High Commissioner to Nigeria, said with the COVID-19 pandemic having a disproportionate impact on women and girls globally, said there was need to build on past efforts to pass the GEOB.
"Increasingly, the far-reaching benefits of diversity and gender equality in leadership and decision-making are being recognised.
"But it's not just legislation and policies that effect change, the media is IN front and centre of any attempt to effect change in society.
"The way the media presents issues, and your awareness of issues, is vital for creating an informed public.
"Today's meeting recognises the role of the media in creating public awareness, and amplifying advocacy towards the passage of the GEOB.
"By choosing what you report, the media has the ability to influence what issues are discussed and promoted and in how you report, the extent to which ideas and issues will be progressed as your advocacy role is critical," he said.
He said the Australian Government had a steadfast and ongoing commitment to be at the forefront of efforts to promote gender equality.
Donnelly said that gender equality was one of five pillars in Australia's recent term on the UN Human Rights Council, where they sat alongside Nigeria as partners. (NAN)
INEC, NGO seek increased women's participation in electoral process
The SOS Children's Villages Nigeria in collaboration with the European Union Support to Democratic Governance in Nigeria has called for increased women's participation in electoral process.
The call was made at the training for women and other marginalised groups on peace building, mitigation, human rights, gender and participation, on Monday, in Ibadan.
The guest speaker, Dr Esther Sanya, the representative of the National Council for Women Societies (NCWS), Oyo State chapter, said that there had been growing recognition of untapped capacity and talents of women in political leadership.
Sanya noted that women's engagement in politics would help to advance gender equality.
"Research indicates that whether a legislator is a male or female has a distinct impact on his or her policy priorities.
"There is also strong evidence that as more women are elected to office, there is a corollary increase in policy making that emphasises quality of life and reflects the priorities of families, women, ethic and racial minorities," she said.
Also speaking, Mr Lateef Ariori, the Director, Child Welfare Oyo State Ministry of Women Affairs and Social inclusion, said that women should be given substantial consideration in the design and execution of political participation process.
Ariori charged women organisations in the state to work toward promoting gender equality among candidates, election officials, observers and other electoral participants.
"Women have a responsibility to oversee the electoral process because gender equality and true democracy fundamentally depend on women's political engagement," Ariori said.
Earlier, Mrs Catherine Ogwu, the Gender Desk Officer, Independent National Electoral Commission (INEC), Oyo state, urged the women not to sell their votes or be intimidated during the forthcoming general elections.
She noted that the current Electoral Act and new technology from INEC would make 2023 general elections the most free and inclusive elections in the history of Nigeria.
The News Agency of Nigeria (NAN) reports that the training featured lectures and presentations from different women groups in the state.
(NAN)
Afreximbank's Kanayo Awani makes Nigeria Women Annual's "100 Leading Women" list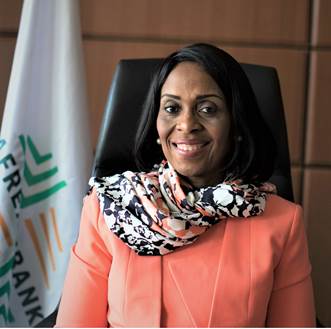 The Managing Director of Afreximbank's Intra-African Trade Initiative Division, Mrs. Kanayo Awani, has been named among the 100 outstanding women leaders in Nigeria, according to the list published in the 2022 edition of Nigeria Women Annual: 100 Leading Women.
Mrs. Awani's listing acknowledges her distinguished career and contributions to the development of society.
As Managing Director, Mrs. Awani currently leads the Bank's efforts in implementing its intra-African trade and industrialisation strategies.
A statement by the bank said she successfully led Afreximbank's engagement in support of the establishment and implementation of the African Continental Free Trade Area (AfCFTA) and was the arrowhead for the introduction and organization of the biennial Intra-African Trade Fair (IATF), which has delivered trade and investment deals valued at over US$70 billion.
She previously led Afreximbank's Trade Finance and Branches Department from 2009 to 2016, growing it into the Bank's most profitable department which accounted for over 80 percent of its loan book.
Mrs. Awani is also the Chairperson of the Africa Chapter of Factors Chain International (FCI), a global factoring association.
"The Nigeria Women Annual: 100 Leading Women" is the premier qualitative profiling of phenomenal women who have contributed to the development of Nigeria and the world.
A gender-specific biographical compendium, it responds to existing gender gaps in Nigeria's biographical documentation and leadership and, in 2022, focused on the most inspirational and influential women whose work contributed to shaping Nigeria's collective history during the year.
This year's list includes technology experts, politicians, teachers, activists, development practitioners, C-Suite corporate leaders, and other notable women.
Gender Bills: Women should not lose hope on their demands – Senate President
The President of the Senate, Ahmad Lawan has advised women not to lose hope on their demands for legislations on gender related matters.
Lawan spoke in Agasa in Kogi State on Thursday against the backdrop of some gender related bills that recently failed to scale through at the National Assembly in the ongoing review being carried out on the 1999 Constitution.
Senate President  made a strong case for education of the girl child shortly before he commissioned a 600 capacity JAMB CBT Centre which was facilitated by Senator Yakubu Oseni who is representing Kogi Central Senatorial District.
"I know somebody will say gender bills have failed in the National Assembly. That is democracy. Let's continue to lobby.
"We should continue to lobby because nobody will like to undermine anybody. Let's not lose hope.
"Every male member in the National Assembly is a "He for She" because I don't think there is anybody who is not married in the National Assembly.
"We will continue to work together with gender based organisations especially those that genuinely want to engage with members of the National Assembly because if you are not able to get something, if there is a failure, we should make it a political capital that tomorrow, we say, you were not able to do it yesterday, can you do it today. That will help us in ensuring that we get some of these hurdles out of the way.
"Most of us have our daughters as well. So we know that everybody is one way or the other connected to this struggle but we should not lose hope," Lawan said.