Democracy Day: Nigeria can achieve more – Nigerian Diasporas
Nigerians in Diaspora Organisation Worldwide (NIDOWW) says Nigeria can  achieve more meaningful national growth through constitutional amendment in the country.
The Chairman of NIDO-Americas,  Mr  Obed Monago made this known in a telephone interview with the News Agency of Nigeria (NAN) in Abuja.
Monago, who spoke on the backdrop of collective view points by NIDOWW marking Nigeria Democracy Day across various continents, said that Nigeria needed to restore its lost glory.
"I remember when Nigeria was member of non-allied nations Brazil, South Korea, among others but where are we now? we can achieve what we want to achieve through constitutional amendment.
"The 1999 Constitution can be amended; we can go to unlimited number of amendments to get what we deserve and at the end, discard what do not apply.
"It is the will to practice democracy that is important, it is not what is written on the pages of paper, but the will to change that is imperative.
"Constitutional amendment as it pertains diaspora,  we support it, Section 77, subsection 2 should be amended to allow diasporas organise themselves into political apparatus or organisation and vote for themselves.
"When we vote for ourselves and have representatives, it makes diaspora voting rights more credible, but voting same political elites from here to rule us in National Assembly will make less impact," he said.
He also said that Section 315, subsection 5(a) on the National Youth Service Corps (NYSC) should also be amended or omitted from the Constitution, to stand alone as an Act.
According to him, constitutional amendment is carried out in countries like the U.S. where Nigeria borrowed its leaf from, saying Nigeria's political landscape will improve if that is done.
"We adopted  three tiers of government, but it is very weak, if we can strengthen them to become independent of one another, it will give them autonomy to have checks and balances.
"It will also promote respect for the Rule of Law and help to overhaul adherence to rules and regulations that will guide against offenses," he said.
He explained that it had become necessary for Nigerians in the Diaspora to organise themselves and vote their representatives during election, to represent their interests at the green chamber.
He noted that doing so would also boost Nigeria's economic growth and Foreign Direct Investments.
"The concept of Diasporas staying abroad and there is no structure in place to vote and be voted for, will be subsumed and basically have no impact.
"I do not support that, but if that is what we get, then let us get it and build on it to be in a right position to vote as Nigerians in the Diaspora," Monago said.
NIDOWW comprised Nigerians in Diaspora organisations chapter in Europe, Americas, Asia, Oceania and Africa, which harnessed and galvanised  professional and financial resources of Nigerian citizens across continents to promote their fatherland. (NAN)
N84bn fraud : Senator-Elect Yari Running from Corruption Investigation, Arrest says EFCC Source
As the race for the president of the 10th Senate gathers momentum, an aspirant in the Democratic Group of the Senators-Elect, Senator-Elect Abdul-Aziz Yari, has ran to the judiciary to prevent his arrest by the Economic and Financial Crimes Commission (EFCC) and other anti-corruption agencies for corruption cases he was linked with as well as emerging money laundering investigation into his reckless spending in pursuit of his ambition.
It is to this extent that the recent injunction secured by former Governor of Zamfara State is adjudged as being capable of undermining the nation's image on Anti-Corruption war.
Yari had secured court Injunction before Justice Donatus Okorowo of the Abuja Division of Federal High Court to prevent his re-arrest by the Economic and Financial Crimes Commission (EFCC) and the Independent Corrupt Practices and Other Related Offenses Commission, ICPC, as well as Directorate of State Services, DSS, from re-arresting him.
Yari is currently under investigation on N84 billion fraud involving the former Accountant- General of the Federation, Idris Ahmed which he reportedly benefited N22 billion.
In addition, Yari is under investigation by EFCC over alleged financial infractions of $56,056.75 reportedly lodged in his account with Polaris Bank; N12.9m, N11.2m, $303m, N217,388.04 and $311.8m said to be kept in different Zenith Bank accounts in the name of Yari and his companies.
Sources familiar with the investigations by EFCC stated that the ongoing investigation of the N84 billion fraud by former Accountant-General of the Federation, Ahmed Idris, in which Senator -Elect Yari was linked and previously arrested but released on bail is still pending with more information coming to light on the role of Yari and his associate, one Anthony Yaro of Finex Professional Services believed to be a front that collected N20 billion of the looted fund on behalf of Yari.
The source in EFCC who wants to remain anonymous as he is not authorized to publicly comment on the sensitive case said "with the court order that we read in the newspapers, we may need our Legal Department opinion on what to do".
He said further that "In addition to new revelations on the massive fraud at the Accountant-General of the Federation's Office for which some refund has been made, in the EFCC investigations of the ex-governor ofl Zamfara State, Mr. Bello Matawale, the name of Yari has also surfaced in the alleged massive looting of the resources of that poor state under his watch as governor.
We are making efforts to locate him (Yari) for further interrogation in this regard."
In similar manner, the ICPC was about to invite Senator-Elect Yari for his role in the fraud of Paris Club Refund to governors when he was the Chairman of the Nigerian Governors' Forum (NGF) for which about N500million and $500,000 have been forfeited to the Federal Government.
"The Senator Elect from Zamfara West is a subject of inquiry in our office. Beyond the Paris Club Refund looting, we are also investigating the disclosure that Yari spent at least $700,000 in Saudi Arabia on a trip for lesser hajj which has raised suspicion of money laundering" an ICPC source disclosed on why he may have approached the court to prevent his invitation.
Aside from running to the court to frustrate his imminent re-arrest, Yari is also reportedly planning to go underground in the coming days to prevent possible arrest for questioning days before the inauguration of the 10th National Assembly.
As if the above alleged humongous financial malfeasances were not enough troubles for the Senator-Elect who has remained defiant of the zoning arrangement for the leadership of the 10th Senate by his party, the APC, another source disclosed that the Department of the State Security (DSS) has also unearthed some information that the killings and banditry in Zamfara State may not be unconnected with the gold mining activities of Senator Yari, another source of his unexplained wealth.
Observers are keenly watching how Senator-Elect Yari will free himself from the many tangles he has walked himself into and whether the judiciary will vacate the exparte motion when the matter comes up on Thursday, 8th June, 2023 to allow the security agencies to perform their roles without let or hinderance.
Fuel subsidy: Edo Join Kwara To Slashes Work Days To Thrice Weekly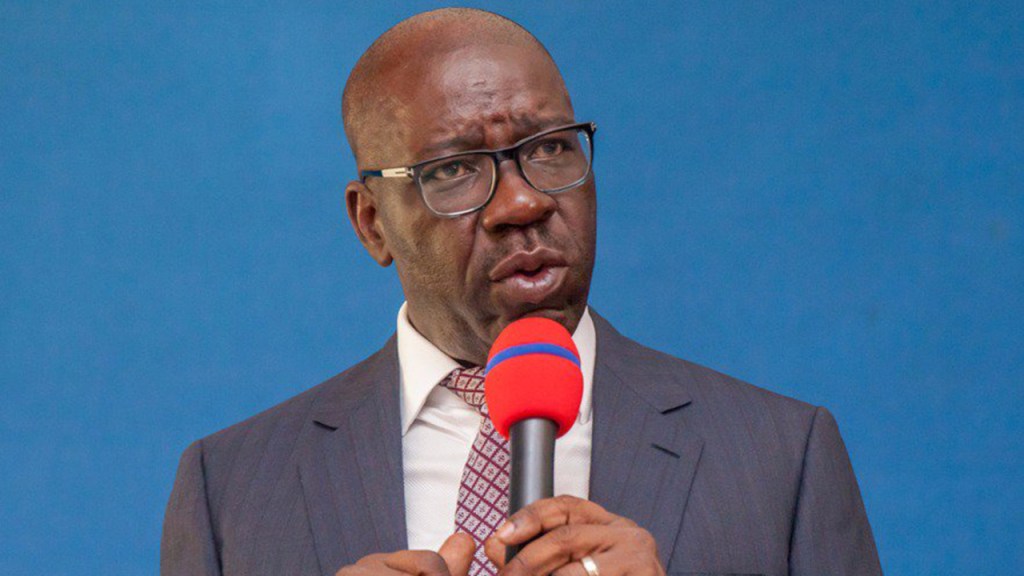 Governor Godwin Obaseki of Edo State has reduced civil and public servants' work days from five days to thrice weekly.
Kwara State earlier took the same step.
This is part of measures to ameliorate the sufferings faced by the people due to the Federal Government's subsidy removal policy.
"As a proactive government, we have since taken the step to increase the minimum wage paid to workers in Edo State from the approved N30,000 to N40,000, the highest in the country today," he said in a Tuesday statement.
We want to assure you that we will continue to pay this amount, while we hope to increase it even further if more allocation accrues to our State from the Federal Government in view of the expected savings occasioned by the removal of the fuel subsidy.
"We know the hardship that has been caused by this policy which has radically increased the cost of transportation, eating deep into the wages of workers in the State. Therefore, the Edo State Government is hereby reducing the number of work days that civil and public servants will have to commute to their workplaces from five days a week to three days a week till further notice. Workers will now work from home two days a week.
"Similarly, for teachers and parents, their commuting to school will be reduced as the government is working on deepening the EdoBEST@Home initiative to create more virtual classrooms, thereby reducing the cost of commuting on parents, teachers, and pupils. The Edo SUBEB will provide details on this initiative in the coming days."
He added, "To lower the rising cost of energy on our people, we will continue to work with the electricity companies in the State to improve power supply to homes and businesses.
"Similarly, fibre optic connections are being made available to help our people work remotely, thereby reducing their cost of transportation.
"While government intensifies these efforts to alleviate the burden of the fuel price increase on the people during this very challenging period, we want to call on everyone to remain calm and go about their daily businesses lawfully."
Aircraft Used For Nigeria Air Was Chartered Flight From Ethiopian Airlines — MD
The Interim Managing Director of Nigeria Air, Capt Dapo Olumide, on Tuesday, said the aircraft used to unveil the country's national career was a legitimate chartered flight from Ethiopian Airlines.
He said the aircraft returned to Ethiopian Airlines after the unveiling.
Olumide stated this before the Senate Committee on Aviation.
The Committee members expressed its misgivings towards the unveiling of the national carrier during a meeting with Olumide; the Permanent Secretary of the Ministry of Aviation, Emmanuel Meribole; as well as heads of aviation agencies.
At the meeting, the Chairman of the Senate Aviation Committee, Senator Biodun Olujimi wondered why the immediate past Minister of Aviation, Hadi Sirika hurriedly unveiled a national carrier on the last day of the Muhammadu Buhari administration.
Also, the Chairman of the House Committee on Aviation, Nnolim Nnaji, said the launch of Nigeria Air is a fraud.
He stated this after meeting stakeholders in the aviation sector who largely denied knowledge of the launch.
Meanwhile, the Ministry of Aviation said Nigeria Air was only unveiled and not launched.
Responding to the Committee, Capt Dapo Olumide said Nigeria Air was unveiled at the time it was to prove to Nigerians that the project is not a fluke.