Celebrating Senator Michael Opeyemi Bamidele: A Pillar Of Progress In The 9th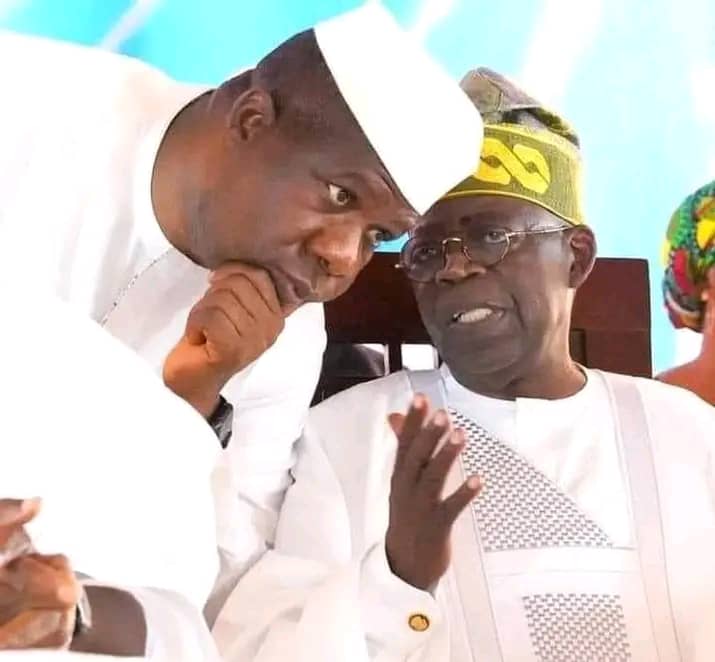 By Victor Alade
As the curtains draw close on the remarkable journey of the 9th Senate at the Nigeria National Assembly, it is only fitting to acknowledge the outstanding contributions and unwavering commitment of Senator Michael Opeyemi Bamidele to the success and growth of this distinguished assembly. Representing Ekiti Central Senatorial District, Senator Bamidele has been an integral part of the 9th Senate, leaving an indelible mark on the legislative landscape of our great nation.
HITHERTO, MAKING THE SENATE WORK
When the 9th Senate was inaugurated, it faced an enormous task of overcoming the perception of being a "rubberstamp" to the Executive. However, Senator Bamidele, with his exceptional leadership and unwavering dedication, played a pivotal role in stabilizing, adding value, and legitimizing the Senate as an independent and effective arm of government.
His immense contributions have been instrumental in transforming the Senate into a proactive and robust institution that diligently carried out its legislative duties.
As the outgoing Chairman of the Senate Committee on Judiciary, Human Rights and Legal Matters, Senator Bamidele has played a critical role in advancing the cause of justice and human rights in Nigeria. He has also championed several bills that have had a direct impact on the lives of Nigerians, including the Whistle blower Protection Bill, the Family Support Trust Fund Act (Repeal and Re-enactment) Bill, and the National Human Rights Commission Act (Repeal and Re-enactment) Bill, among others.
Senator Bamidele was instrumental in the passage of several other crucial bills that have impacted positively on the lives of Nigerians, including the Constitution of the Federal Republic of Nigeria, 1999 (Alteration) Bill, 2019, and has made significant contributions to other bills such as the Tertiary Education Trust Fund Act (Amendment) Bill, 2020.
Throughout his tenure, Senator Bamidele displayed an unparalleled commitment to fostering good governance and accountability. His sponsorship and support of numerous bills, such as the Public Private Partnership Bill, 2021, demonstrated his unwavering resolve to drive economic growth, create employment opportunities, and enhance the welfare of Nigerians. His deep understanding of the legislative process and his ability to build consensus among his colleagues further solidified his reputation as a trusted and influential lawmaker.
A BASTION OF HOPE FOR A NEW NIGERIA.
As we usher in the 10th Senate, Senator Michael Opeyemi Bamidele track record and experience make him a formidable force for progress and stability. His active involvement with the Stability Group, a coalition committed to promoting inclusivity and diversity in the Senate leadership, further underscores his dedication to ensuring balanced representation for all citizens.
With his vast knowledge, exceptional leadership acumen, and unwavering commitment to service, Senator Bamidele is poised to play a crucial role in the success of the incoming Senate. His ability to bridge divides, foster unity and promote good governance positions him as a beacon of hope in steering Nigeria towards a prosperous and inclusive future.
Beyond the walls of the Senate, Senator Bamidele has been a champion of youth empowerment and women's rights. Through his various empowerment initiatives with which he provides scholarships to indigent students, he exemplifies his commitment to education and human capital development.
The Iyin Ekiti born Senator understands that investing in the youth is crucial to unlocking the potential of our great nation and creating a sustainable future.
Senator Michael Opeyemi Bamidele's illustrious contributions to the 9th Senate have been nothing short of remarkable. His unwavering dedication, progressive mindset, and commitment to the Nigerian people have left an indelible mark on the legislative landscape.
As the 10th Senate takes the reins, we have every confidence that Senator Bamidele's visionary leadership will continue to inspire and drive positive change in Nigeria.
Let us celebrate Senator Michael Opeyemi Bamidele, a pillar of progress in the 9th Senate, and support his unwavering commitment to building a prosperous, inclusive, and united Nigeria.
-Victor Alade writes from Akure, Ondo State
Shock in Nasarawa Community As Dead Man Walks Out Of Casket At Point Of Burial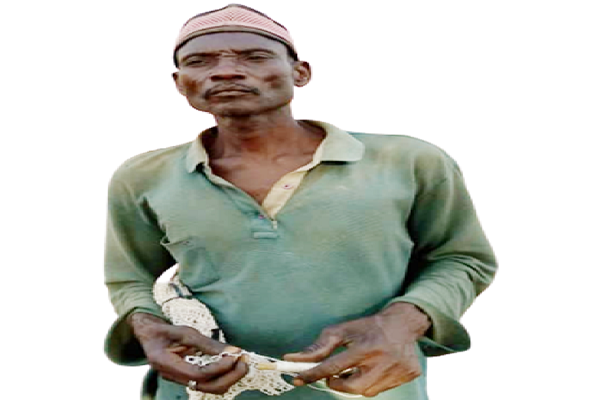 • Says I saw heaven, deceased childhood friends, ex-girlfriends
The Gidan Angalu community in Toto Local Government Area, Nasarawa State was thrown into shock penultimate Tuesday with the 'resurrection' of a native doctor at the point of burial two days after he was certified dead.
Fifty-nine-year-old Godwin Ugeelu Amadu had been confirmed dead by doctors at a private hospital at about 6 am on September 5, 2022, following which he was covered up and wheeled into the mortuary as doctors and family members awaited the arrival of his Abuja-based eldest son, Mr. Jacob Amadu.
Since the deceased native doctor was said to have left an instruction with his children that he must be buried not later than three days in the hospital before burial and he must not be embalmed with Formaline, arrangements were said to have been made for his burial two days later.
To the utter shock of Amadu's children, relatives and sympathisers, however, the native doctor rose from the casket he was kept in as arrangements were being made to take his corpse to the graveyard, causing the crowd that had gathered for his burial to run in different directions.
The 'resurrection' of Amadu two days after his 'death' turned him into an overnight celebrity as people came from far and near to confirm what had happened.
Sharing his experience in an interview with our correspondent, Amadu, who said he has abandoned his career as a native doctor to become an evangelist, recalled that before his sickness and eventual 'death' on September 5, he had enjoyed good health and fully attended to patients who came from far distances to his village.
But sometime in July, he began to feel pains in his chest and legs. He said his legs were swollen and he tried treating himself as a native doctor but there appeared to be no improvement, prompting his two eldest children based in Abuja and one of his daughters based in Lafia to rush him to the Federal Medical Centre in Keffi.
At the hospital in Keffi, he was admitted for two weeks after which he was discharged and certified fit. But a week after he returned home, he developed severe chest pain.
He told his children who had gone back to their stations not to take him to the hospital again and also told them repeatedly not to keep his corpse longer than two or three days before burial.
With his condition getting worse, however, his children defied his instruction and returned him to a private hospital in a nearby community where he could get preliminary attention before he would be transferred to the Federal Medical Centre in Keffi where he had been treated before.
There, doctors battled to save his life before they thought he had given up the ghost and prepared him for burial.
Also speaking with our correspondent, the eldest son, Jacob, who said his father was declared dead while he was travelling from Abuja to see him on his sick bed in Nasarawa State, said: "I got to the hospital at about 10 am on September 5 and the mortician at the hospital wheeled out the trolley containing my father and unveiled his face for me to see, and it was indeed my father."
"We advised the hospital not to embalm him because he actually told us repeatedly not to embalm him when he dies and to bury him immediately rather than keep his corpse inside a room.
"So we hurriedly left for the village to mobilise young men to help dig his grave so that we could bury him the second or third day as he had wished.
"On September 7, we brought his corpse to the village in a casket to bury him and sympathisers around the community were crying while others assembled in different locations discussing the sad event of his passing.
"While his body had been displayed in an open roof where he normally attended to his patients as a native doctor, the children brought the casket and put his body inside, preparatory for his burial, but he suddenly doctor rose from the casket.
"We were in the village when we suddenly saw the casket shaking and eventually fell and my father woke up to the surprised of many people in the village. A lot of the men and women who had gathered ran away, believing that it was his ghost.
"I summoned courage as a man to walk up to him and got a seat for him to sit on. He was not talking.
"I later held his hand and led him to the bathroom. He had a bath and after a few hours, he requested for food. He ate and then relaxed. "In the evening of the next day, he started talking a little and on the third day, he tried to narrate his experience."
In an interview with our correspondent one week after he 'resurrected', Amadu said he could not fully recollect all that transpired during his struggles in the throes of death except that he was writhing in pains at one moment, felt relieved moments later and found himself in another world.
Amadu said: "I thank God that he has given me life again after tasting death. It is a miracle that God gave me a second chance and I think I will dedicate the days he has given me to live again to worship him and preach his gospel.
"My journey to heaven was a tranquil one. I feel very confused about what God has done to me.  All I can remember for now is that I lost my memory when I was sick, but people later gathered in my village to mourn my passing.
"The cloud opened up and I saw something like a giant golden satellite suspended in space. I wouldn't know whether this is what the bible calls heaven, but there I was greeted by a 75ft tall angel who stood in front of the gate.
"The angel had a beautiful sword and wore something like golden hair. As I looked round, I discovered that there were two other angels behind him holding pamphlets and books containing the words of God.
"The three angels had a brief discussion among themselves and later allowed me into the city of heaven.
"On entering the city, I met a childhood friend who died 22 years ago. His name was Choko Aguma. He was the one who took me round the city where everybody was committed to worshipping God
Source: Nation
The UK Barn and The Hypocrisy of Covid-19 Guidelines in Nigeria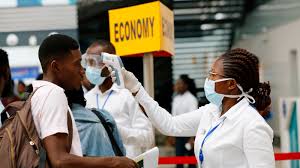 By Festus Fifen
Recently the United Kingdom in response to the global red alert on the omicron variant of Covid-19 placed Nigeria as part of the high risk countries which later metamorphose to flight restrictions from Nigeria and other selected African countries by some European countries.  The United Kingdom over the years is a trusted partner as far as Nigeria is concerned. The flight restriction moves from some European countries especially the United Kingdom was perceived as unnecessary and discriminatory by a larger part of Nigerians home and abroad. No wonder the government through the honourable Minister of Information and culture Alhaji Lai Mohammed was very critical of the decision describing it as discriminatory and targeted at Nigerians for a virus that originated from China.
After about two days of the story making the rounds on different media platforms across the country, myself and the former Director General of the Nigeria Center for Disease Control, Professor, Abdulsalam Nasidi, (a professor of virology) were on a radio station in Abuja, analyzing the implications and the consequences of such action not forgetting the political and economic implications of the flight ban. I remember making a statement before we went on set and the professor agreed with me completely. And what was the statement? I told Prof. that the problem with us as a country is not the discrimination from the western countries. The problem with us is, over time, we don't punish or let me put it this way, there are no consequences for misbehavior or flouting laydown rules and regulations as far as covid-19 regulation is concerned. This attitude over time paints a different picture about our core values as a country. This has even made countries in the world including some African countries cast aspersions on our personalities and the results that originate from our institutions of higher learning and even medical reports.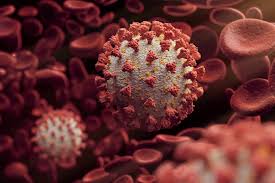 Now, that leads me to the topic of today, which I really want us to look at closely. While driving to the office this morning, there was this advert I heard through my radio set about a show that was coming up in Abuja the Nigeria Capital, I was trying to catch up with the headlines from the dailies and the adverts ended with "all COVID-19 protocols will be duly observed. I asked myself do we really talk about these COVID-19 principles and non-pharmaceutical guidelines because we want to obey them completely and diligently or we just mention it in public service announcement and advertisements so that people will know that we believe in the covid-19 protocols?
Let's start from the government itself, I mean those people that are in charge of giving 'us' these rules and also in charge of implementation and enforcement
In the airports in Nigeria, after all the rigours of adhering strictly to COVID-19 protocols during the boarding process, you go into the aircraft to discover that you just wasted your time in a process that looks very much like a mere ritual. you are jam packed like sardines inside the plane. Without all the necessary precautions. That is a story for another day. I wouldn't want to go there now.
Now you see senior government officials arranging or organizing events, they will go as far as announcing strictly by invitation and COVID-19 protocols will be followed and a few other things only for you to go there you realize that the lawmakers are actually the law breakers.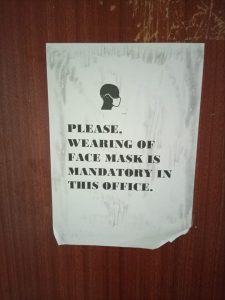 You will notice it's a case of 49 sitting 99 standing (in the words of the legendary Fela Anikulapo Kuti). They don't follow any of these non-pharmaceutical guidelines. You will still see people without facemask, no safe distance in the sitting arrangement and no proper coordination in crowd control.  come back the next day you will hear COVID-19 protocols fully observed. In front or at the door of almost government office is the bold poster NO FACE MASK, NO ENTRY yet inside those offices are people that have thrown caution to the wind. At the entrance of shopping malls across the Nigerian Capital City Abuja you are forced to wear a face mask before entry, but as soon as you have access to the mall, everything returns to the pre-covid-19 era, same with Hotels and other public facilities and institutions. Let me not mention public transportation and taxis.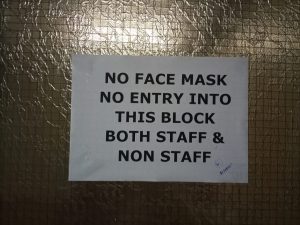 Who is deceiving us in this country? Why do we feel that the Foreigners, Diplomats I mean those who work in different high commission and embassies of other countries in Nigeria do not see how we throw caution to the wind in enforcement and implementation of protocols? Why do we feel that when it's time to give updates about what is happening in Nigeria in the areas of compliance to Covid-19 guidelines they will not give their host country a true picture of what it is?  Why do we feel that they (Foreigners) will follow us in our hypocrisy and make everybody believe we are following the guidelines?
Not too long ago stories about some travelers purchasing the vaccination certificate without taking the vaccine was played up by the media and till now no one person punished for doing that, we have also heard cases of health record officers inputting the wrong data for people and nothing has been seen to be done to those perpetrating such evil against humanity. The issues of "express" vaccination report given to international travelers at the airport is another can of worm we won't open now.
The truth remains that as far as it is now, COVID-19 protocols and the announcement in Nigeria might just be a mere lip service. There are other areas that Nigeria can also look at as a country as far as this is concerned. The areas of the importance the government puts into the covid-19 fight.  But we should ask ourselves who has bewitched us as a country?
My take is that the government should intensify efforts to make sure that the level of compliance is high, the high and mighty in the society should also be seen to follow the guidelines, this will go a long way in encouraging others to follow their footsteps. There should be more advocacy messages compared to the subtle threat that we have today in the system. Enforcers of covid-19 guidelines should spare no one in its enforcement approach. Everyone involved in the fight against Covid-19 should do what they are supposed to do, so that we overcome the hypocrisy of COVID-19 vaccines and we will be taken seriously by the international community. Thank you.
Senator Michael Opeyemi Bamidele : Between Gown and Politics
By Dapo Ipoola
The leadership of the Nigerian 9th Senate came with little or no controversy and political intrigues, unlike the usual political melodramatic theatrics that accompany the selection of Senate leadership. It is true that Nigeria's democracy is not a full-fledged. The woes and inconsistency in our democracy are traceable to the actors involved as some have done the utterly despicable to gratify their pecuniary interest. It is not surprising that some unscrupulous elements have advanced many disreputable arguments and logic so as to monopolise power or remain perpetually in it. In all of the power struggle, Senator Michael Opeyemi Bamidele stands tall in character and nobility. He is the distinguished Senator representing Ekiti Central district and also doubles as the Chairman, Senate Committee on Judiciary, Human Rights and Legal Matters.
MOB, as he is fondly called is not a new entrant in the game of politics. He started the game in his undergraduate days. As an undergraduate in Obafemi Awolowo University, Ile Ife, where he obtained a bachelor›s degree in Religious Studies, he was the Public Relations Officer of the Students' Union Government. In 1990, he proceeded to the University of Benin where he bagged a bachelor›s degree in law. As a student activist, he was the Chairman of the University of Benin Students' Union. He went to Nigerian Law School and was called to the bar in 1992. Known for his unquenchable thirst for education, he proceeded to Franklin Pierce University where he received a master's degree in law, and was called to the New York Bar, in January, 1999.
As a lawyer with strong penchant for advocacy, he was one of the defence counsels led by Chief Godwin Olusegun Kolawole Ajayi to Chief Moshood Kashimawo Olawale Abiola, the acclaimed winner of the famous June 12, 1993 presidential election, during his treason trial. In 1992, he contested for the primary elections for the Federal House of Representatives, representing Oshodi/Isolo Federal Constituency, in Lagos, under the flagship of Social Democratic Party, SDP, but narrowly lost the election. In March, 1993, he served as a National Accreditation Officer at the SDP National Convention, which was held in Jos, Plateau State, where Bashorun M.K.O. Abiola was elected as the party's presidential candidate. He served as a Special Assistant on Legal Matters to Senator Bola Tinubu until November 1993, when Nigeria's democracy was abruptly truncated by Gen. Sanni Abacha. In July, 2000, he was appointed as Senior Special Assistant on Political and Intergovernmental Relations to the Lagos State governor. Between 2000 and 2003, he was the National Director of Publicity of the defunct Alliance for Democracy (AD).
As a legal juggernaut, he is a Fellow, Chartered Institute of Arbitrators, Nigeria. He is the Principal Attorney and Head of Chambers at the Law office of Opeyemi Bamidele & Associate. As a Member of Representatives, he was the Chairman, House Committee on Legislative Budget and Research. He is a Notary Public of the State of New Hampshire, USA. In 2016, he was appointed to serve the 8th NASS in a professional capacity as a Consultant to the House of Representatives Special Committee on the review of the Nigerian Constitution. As a lawyer of no mean repute, he is an expert in Intellectual Property, with bias in International Patent, and Copyright Law, including the Licensing of International Transfer of Technology.
Between 2003 and 2007 he served as Lagos State Commissioner for Youths, Sports and Social Development. As Commissioner for Youths, Sports and Social Development, part of his accomplishments in office is the renovation of Onikan Stadium, which includes the provision of 500KVA generator, re-grassing of the stadium pitch, provision of dressing rooms for teams and referees; stimulation of private sector participation in sports sponsorship; establishment of Coaching Clinics and Seminars for the development of coaches and games masters; resuscitation of grassroots sports as well as Primary School Games, and All Secondary School Games; resuscitation of Principals' Cup Football Competition, renovation of Mobolaji Johnson Sports Centre, Rowe Park, Yaba; resuscitation of Lagos State Sports Festival; registration and monitoring of private social welfare institutions and non-governmental organisations; completion and official commissioning of the age-long abandoned Teslim Balogun Stadium; rehabilitation of Skills Acquisition Centres for destitute and drug Addicts in Tekunle Island, Lagos; establishment of Youth Recreational Centres in many Local Governments and Local Council Development Areas in the State; resolution of 6,782 matrimonial cases through the Social Work Department of the ministry; rehabilitation of Vocational Training Centre for the disabled in Owutu, Ikorodu, Majidun, Isheri, and the destitute camp in Oko-Baba, and the Children Transit Home, Idi-Araba, Mushin, Lagos. Given his laudable feats in the Youths, Sports and Social Development Ministry, Lagos State government conferred on him World Leadership Award.
He was again reappointed to serve as Commissioner for Information and Strategy, under the government of Babatunde Raji Fashola. He established the Lagos State Records and Archives Bureau, LASRAB, for effective and technology driven documentation of state activities; launching of the Lagos State Television (LTV) frequency on DSTV, making it the first state-owned television station to be launched on global satellite; upgrading of infrastructure at LTV, Eko FM, among others.
In April, 2011, he was elected as a Member of the 7th National Assembly, to represent Ekiti Central Federal Constituency 1. While in House of Representatives, he served as the Chairman of the House on Adhoc Committee on Media and Public Affairs, and he also served as a member of the House Committee on Education, Judiciary, Constitution Review, Housing and Habitat, State and Local Government. In April, 2016, he was appointed by the African Union Economic, Social and Cultural Council (AU-ECOSSOC), as a Consultant and Facilitator. In May, 2016, he was invited by the United Nations to participate in the World Humanitarian Summit, which was held in Istanbul, Turkey. In June, 2016, he was appointed by the APC as the Chairman of the Edo State Governorship Primary Election on Appeal Committee.
He donated N10m to the state government to curtail the epidemiological spread of #Covid-19 pandemic. Hundreds of constituents have been empowered and trained in various skills acquisition programs, including the physically challenged. As an eloquent representative in the Senate, he sponsored a bill which seeks to establish Federal University of Medicine and Health Sciences in Iyin-Ekiti, and the bill has successfully passed second reading. Leading the debate on the general principles of the bill, the avuncular Senator said the bill when passed will provide a highly specialised institution that will be more productive and very much needed for medical advancement of the nation. According to him, the higher institution will also act as agent and catalyst through postgraduate training, research and innovation for effective and economic utilization, exploitation and conservation of Nigeria›s natural, economic and human resources.
As Chairman, Senate Committee on Judiciary, Human Rights and Legal Matters, MOB has advocated the need for merit and strict compliance in the consideration of citizens for appointment, including the ones that will come before the Senate for confirmation which must be re-emphasised for the record. He said, "In addition to ensuring that potential appointees meet the eligibility criteria stipulated for the relevant public offices into which they are appointed, adequate care must be taken to ensure that the Federal Character principle established by virtue of the clear provision of section 14, sub-section (3) of the 1999 Constitution of the Federal Republic of Nigeria (as altered) should not be undermined."
Dapo Ipoola, a social affairs analyst