What Made Me Cry! -Dr Pastor Paul Enenche
The Boy Asked Me To Please Pray For His Father, Because From His Birth His Father Has Been Suffering Because Of Him, He Said He Want His Father To Rest.
TESTIMONY OF A BOY WHO WAS HEALED DURING WORSHIP, WORD AND WONDERS NIGHT 28th May 2021.
This boy was taken to India for surgery and his father was told to look for 25M for another surgery, he was placed on Oxygen at home by his father as instructed by the doctor, his left ear was blocked due to complications from the the illness, he was in pains, his father was restless, the boy has been going through all this pains and troubles without a biological mother, because he lost his mother too!
But while God's Servant Dr. Paul Enenche was Ministering standing on the altar and making some brutal Declarations, the young boy fell under the Anointing and had an encounter, according to his testimony, he said he saw the Snr. Pst. Dr. Paul Enenche coming from the altar to meet him where he was sitting and praying for him, he said in that encounter the Snr. Pst. Placed his hands on his chest and declared him freed, he fell under the Anointing still in the encounter, in other words he fell twice under the Anointing,, he fell physically and also fell in his encounter, bam! The healing was sealed, he came out with his father to give God praise, he was also prayed for to be healed of his left ear that was blocked, instantly he could hear again.. Beloved!
We serve a miracle working God..
At this time a lot of people could not hold themselves, it was an emotional moment as people began to cry and weep!
Do you know why I am crying Dr. Paul Enenche Asked?
The boy told me to pray for his father, because he has been going through a lot because of him, he said from his birth, his father has been suffering because of him!
The father was prayed for as requested by the boy.
The boy was healed from multiples medical conditions that almost took his life, he was discharged and acquitted by the power of God!
This is what church is all about
Late Pastor Odukoya's Son, Jimi, Succeeds Him As General Overseer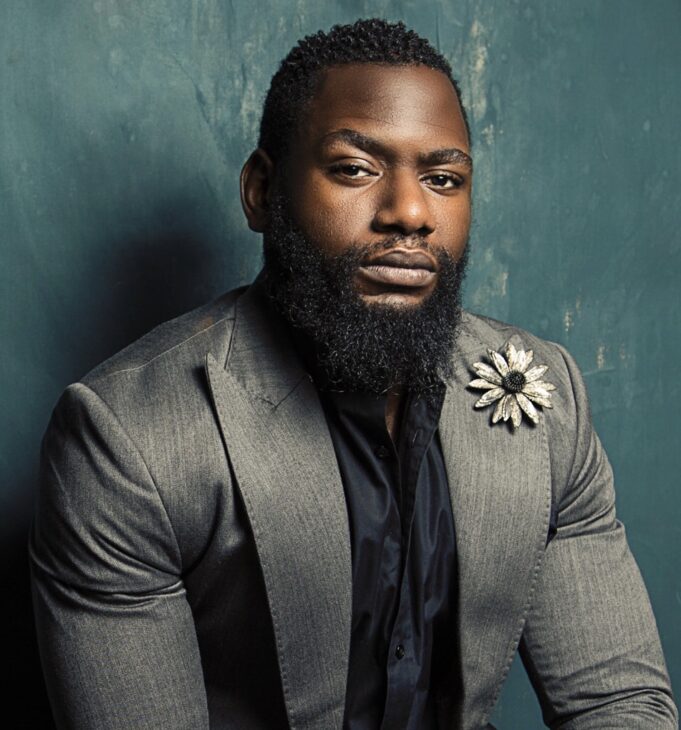 The first son of the late Pastor Taiwo Odukoya, Pastor Jimmy Odukoya has been appointed to succeed his father as the general overseer of the Fountain of Life Church, Lagos.
Making the announcement on Sunday during the Church Service, a member of the Church's Board of Trustee, said the late cleric confirmed the succession plan to three different people on the Board before his passing.
Addressing the congregation, Rotimi Okpaise, a pastor, said the late Taiwo Odukoya confided in the board of trustees (BoT) members about the succession plan after his demise.
According to Rotimi, Bishop Okonkwo, others senior clerics will ordain him 30th September
Late Pastor Odukoya, died on the 7th of August in the United States of America. He was buried on September 9, 2023.
Jimmy, who is a Nollywood Actor, got his education at the Oral Roberts University, United States. His sister, Tolu Odukoya Ijogun is the new associate Pastor of the Church.
"Pastor Jimmy also said Pastor Taiwo told him to carry on with the mantle after his departure.
"Subsequently, a board meeting was summoned and we decided to follow the constitution.
"Pastor Jimmy was nominated and he was unanimously voted for by all BoT members. With this, Pastor Jimmy Odukoya is now our Senior Pastor," he said.
MOB @ 60: Tope Alabi, Alaseyori, Aduke Gold, BJ Sax, Others Set Ekiti Ablaze With 24 Hours Marathon Praise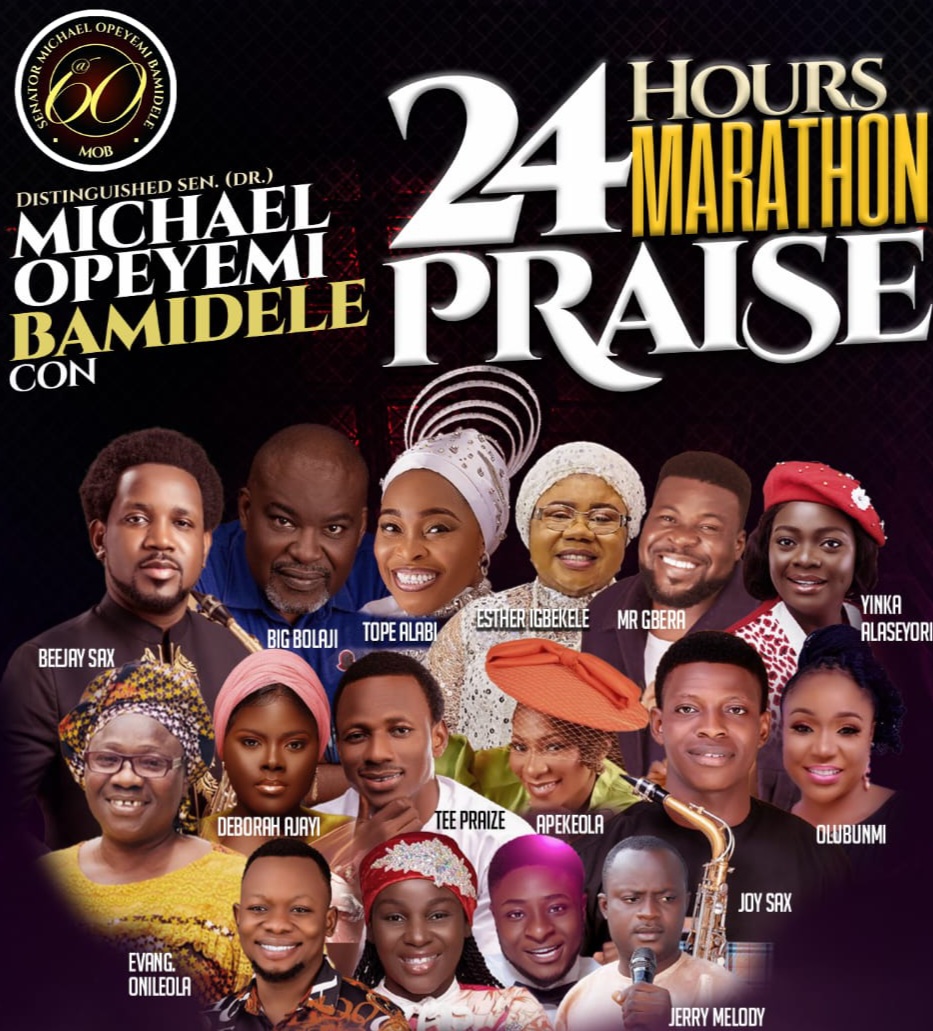 Topmost gospel singers, Tope Alabi, Yinka Alaseyori, Aduke Gold, Esther Igbekele, Bj Sax will on Friday, set the capital of Ekiti state, Ado-Ekiti ablaze with 24 hours Marathon praise for the Senate Leader, Micheal Opeyemi Bamidele 60th birthday celebration .
The 24 hours Marathon praise is part of activities lined up to celebrate 60 years birthday of Senate Leader .
In a statement issued by the Chairman of the 24 hours Marathon praise , Prince Akin Olayisade said that the event is meant to thank God for what he has done so far in the life of his son (Senator Bamidele) for the past 60 years .
Other artists expected to perform at the event are Big Bolaji, Jerry Melody, Deborah Ajayi, Tope Flourish, Mr. Gbera, Lanre Alawiselese , Tee Praise, Joy Sax, Evang. Onileola, Olubunmi.
The Chairman said that the event will start by 7am at the Obafemi Awolowo Civic center in Ado-Ekiti, Ekiti state till 7am Saturday morning .
The statement reads, " The 24 hours praise which will start from 7am on Friday till 7am on Saturday is meant to celebrate faithfulness of God in the life of Senator Micheal Opeyemi Bamidele for the past 60 years .
" To make the event glorious , foremost gospel artists have been lined up for the event which will be held at Obafemi Awolowo Civic center in Ado-Ekiti, Ekiti state.
" Many dignitaries are expected at the event to praise God for what he has done so far in the life of Senator Bamidele."
Tinubu's inauguration: We're in charge here – Enenche dares witches, wizards coming to FCT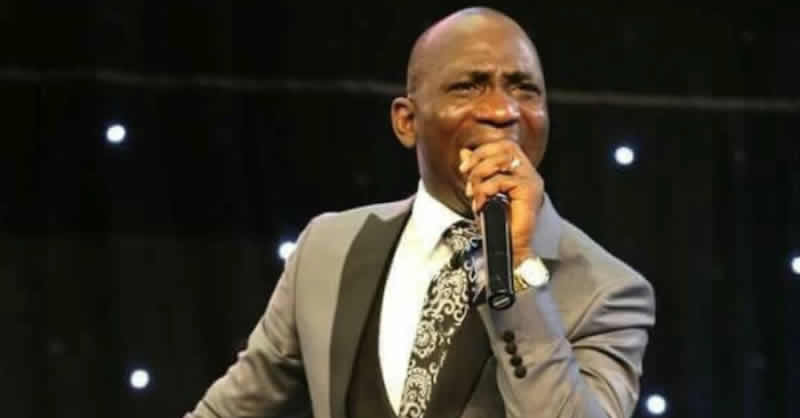 The Senior Pastor of Dunamis International Gospel Center, Dr Paul Enenche has issued stern warning to witches and wizards coming into the Federal Capital Territory for the May 29 presidential inauguration.
It would be recall that the White Witches and Wizards Association of Nigeria had on May 1st, said they were making efforts to storm the nation's capital in a bid to cleanse and detoxify the environment for the President-elect, Bola Tinubu to operate in.
The Spokesperson of the association, Okhue Obo who stated this in a statement, assured the President-elect of a peaceful inauguration, warning those plotting to scuttle the event to desist.
The statement reads partly, "There is no reason for Tinubu to be afraid because all the campaigns of calumny mounted against him are mere threats.
"We are currently making efforts to clean and detoxify the Abuja environment where Tinubu will operate from".
Our correspondent gathered that some members of the association stormed Abuja earlier in the week to carry out the proposed cleansing and detoxification.
Reacting to the development, Enenche who spoke on Friday night during the just concluded Destiny Recovery Convention, dared the witches and wizards, saying "we are in charge here".
The fiery man of God instructed other clergymen to anoint strategic places in the city as a spiritual battle against other forces.
He said, "There are some agents of the devil that said they are coming to cleanse this city.
"Anybody who is from the devil, sent from the pit of hell that enters this city to plant any agenda of hell, if they are not cut off then we have no right to preach.
"Every witches and bitches, lizards and wizards, Hey! We are serving you notice to let you know we are in charge here and we are not about to change our minds.
"Pastors, we are going to take prophetic action in this city within the next 24 hours. Carry bottles of oil and go through the territory, anoint the ground and pour oil on this ground.
Every agent of the devil who steps on this ground for a demonic agenda is a dead agent.
"Every agent of the devil who steps into the city for the sake of Satan the devil, as we pour the fire on the earth, if they trample on this earth and still survive, we are not serving the living God."