UNDP trains 200 youths, women in vocational skills, SMEs in Ekiti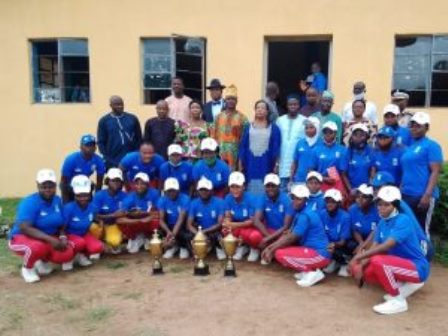 The UN Development Programme (UNDP) in its bid to complement government's efforts of addressing insecurity and unemployment has trained 200 women and youth, victims of violence in different skills acquisition and empowerment in Ekiti.
The UNDP Governance, Peace and Security Team Lead, Mr Matthew Alao, said this at the closing of a two-week orientation programme for the beneficiaries, at National Youth Service Corps, (NYSC) Permanent Orientation Camp, Ise/Orun, Ekiti.
Alao said that the programme facilitated by the UNDP and its partner, the Norwegian government, would help in the prevention of crisis and resolution of conflicts.
The Team Lead said that the platform was aimed at transforming the lives of beneficiaries selected from all the 16 local government areas of Ekiti.
He said that after the orientation programme the participants would still go through a six-month skill acquisition programme in trades and skills of their choice.
According to him, this will help beneficiaries gain lifelong skills and enjoy support for the establishment of small-scale businesses with starter pack grants.
Alao said equipping women and youth with lifelong skills and empowering them would "make them economically viable to contribute meaningfully to the development of their communities, states and country."
"I am enthused to say that this programme will positively impact on these women and youth and will make them become self-reliant at the completion of the six months acquisition programme," he said.
According to him, the candidates will begin their six months skill acquisition programme in the first week of June at the Ekiti Board for Technical and Vocational Education, (ESBTVE) Centre in Ekiti.
Speaking, the Ekiti Commissioner for Budget and Economic Planning, Mr Femi Ajayi, appreciated the UNDP livelihood scheme, especially because of its impact on crisis prevention and conflict resolution.
Ajayi said that for any meaningful development to occur in any society, efforts must be intensified towards prevention of crisis and resolution of conflicts.
"Business thrives only in societies where peace avails. Nigeria in recent times is faced with a lot of crisis resulting in insecurity thereby being a clog in the wheel of the country's development.
"You will also agree with me that the effects of these crises have greatly demanded accelerated needs for improved social protection to close the gaps created by the menace.
"And, also to build a sustainable conflict sensitivity mechanism for the prevention of conflict occurrence at all levels of government," Ajayi said.
According to him, the enrollment of 200 women and youth victims of violent conflicts in different skill acquisition programmes of their choice in Ekiti is part of UNDP's efforts to ensure that Ekiti is at peace, thereby engendering development.
"Ekiti Government, under the current administration led by Gov. Kayode Fayemi, is well disposed towards development partners among whom is the UNDP.
"Since this government came on board, there have been tremendous and fruitful partnerships with the development partners in the state.
"This government is also committed to creating an enabling environment for intervention of donor agencies towards improving the well-being of the people of  the state.
"Fayemi subscribed to the UNDP programme to promote peaceful coexistence in the state in a bid to making Ekiti indigenes live a life of dignity," the commissioner added.
The Ekiti Coordinator, NYSC, Mrs Mary Chikezie, urged the participants to see the programme as life time opportunity which should not be handled with levity
She told them that their utilisation of the leadership skills impacted on them through the training would go a long way to help them live a desirable life.
Also speaking, the President of Mediation Training Institute, (MTI-Nigeria), Mr Segun Ogunyannwo, lauded the UNDP initiative which he described as the best option to address the myriad challenges in the country.
He urged the state governors to key into the scheme and replicate the same in their different states to address challenges of security and employment and enhance their efforts of developing and stabilising their states.
He said that such a programme would not only help in job creation and provision of employment opportunities, but would also promote peaceful coexistence in their states and make them live a life of dignity as well.
A participant, Hanna Adebanwo, was full of appreciation to the UNDP for creating the opportunity for the teaming youth and violence victims in the state to learn skills and become entrepreneurs.
Hannah, a graduate of College of Education said that she had been at home for the past five years searching for a job but could not get, adding that the skill and entrepreneur training acquired at the programme would make her start a new life.
Also, another participant, Joseph Oluwabanse, whose family was a victim of herdsmen attack, also thanked UNDP for the training
Joseph, who said he learnt fashion designing, which would be completed in the next six months, said that the knowledge acquired in programme would help stabilize his life after the herdsmen crisis in his village.
He pledged to make use of the skill to positively impact the lives of other youths in his community by encouraging and training them in fashion designing after graduation. (NAN)
TINUBU: SECURITY, JOB CREATION, POVERTY REDUCTION TOP PRIORITIES OF 2024 BUDGET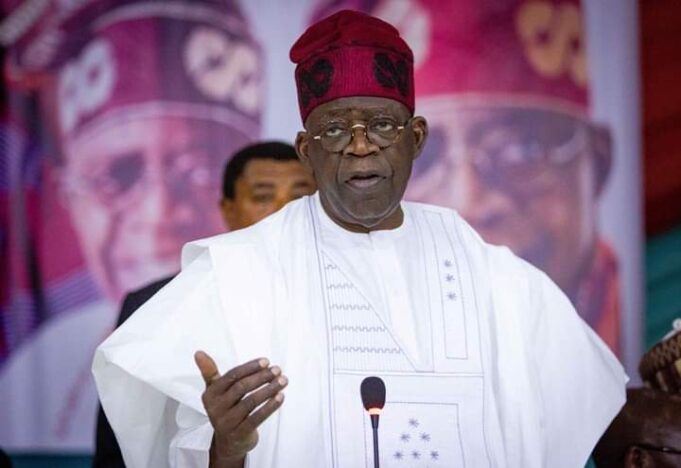 President Bola Tinubu says Nigeria's national defence and internal security, local job creation, macro-economic stability, investment environment optimization, human capital development, poverty reduction, and social security are some of the top priorities of the 2024 Budget of Renewed Hope.
Addressing a joint session of the National Assembly on the 2024 Federal budget proposal on Wednesday in Abuja, President Tinubu said the nation's internal security architecture will be overhauled to enhance law enforcement capabilities with a view to safeguarding lives, property, and investments across the country.
He said the proposed budget prioritizes human capital development, with particular attention given to children, because human capital remains the most critical resource for national development.
"To improve the effectiveness of our budget performance, the government will focus on ensuring value for money, greater transparency, and accountability. In this regard, we will work more closely with development partners and the private sector.
"To address long-standing issues in the education sector, a more sustainable model of funding tertiary education will be implemented, including the Student Loan Scheme scheduled to become operational by January 2024," the President affirmed.
Speaking on the economy, President Tinubu said a stable macro-economic environment is crucial in his administration's bid to catalyze private investment and accelerate economic growth; hence, his government shall continue to implement business and investment friendly measures for sustainable growth.
"We expect the economy to grow by a minimum of 3.76 percent, above the forecasted world average. Inflation is expected to moderate to 21.4 percent in 2024. In preparing the 2024 Budget, our primary objective has been to sustain our robust foundation for sustainable economic development. A critical focus of this budget and the medium-term expenditure framework is Nigeria's commitment to a greener future.
"Emphasizing public-private partnerships, we have strategically made provisions to leverage private capital for big-ticket infrastructure projects in energy, transportation, and other sectors. This marks a critical step towards diversifying our energy mix, enhancing efficiency, and fostering the development of renewable energy sources. By allocating resources to support innovative and environmentally conscious initiatives, we aim to position Nigeria as a regional leader in the global movement towards clean and sustainable energy.
"As we approach the COP28 climate summit, a pivotal moment for global climate action, I have directed relevant government agencies to diligently work towards securing substantial funding commitments that will bolster Nigeria's energy transition. It is imperative that we seize this opportunity to attract international partnerships and investments that align with our national goals. I call upon our representatives to engage proactively to showcase the strides we have made in the quest to create an enabling environment for sustainable energy projects.
"Together, we will strive for Nigeria to emerge from COP28 with tangible commitments, reinforcing our dedication to a future where energy is not only a catalyst for development but also a driver of environmental stewardship," he said.
The President said a conservative oil price benchmark of 77.96 U.S. Dollars per barrel and a daily oil production estimate of 1.78 million barrels per day were adopted after a careful review of global oil market trends, and that a Naira to U.S. Dollar exchange rate of 750 naira per U.S. Dollar was adopted for 2024 as well.
Giving a breakdown of the 2024 Appropriation Bill, the President said: "Accordingly, an aggregate expenditure of 27.5 trillion naira is proposed for the Federal Government in 2024, of which the non-debt recurrent expenditure is 9.92 trillion naira while debt service is projected to be 8.25 trillion naira and capital expenditure is 8.7 trillion naira. Nigeria remains committed to meeting its debt obligations. Projected debt service is 45% of the expected total revenue.
"The budget deficit is projected at 9.18 trillion naira in 2024 or 3.88 percent of GDP. This is lower than the 13.78 trillion naira deficit recorded in 2023, which represented 6.11 percent of GDP. The deficit will be financed by new borrowings totaling 7.83 trillion naira, 298.49 billion naira from Privatization Proceeds, and 1.05 trillion naira draw down on multilateral and bilateral loans secured for specific development projects."
President Tinubu said his administration remains committed to broad-based and shared economic prosperity, adding: "We are reviewing social investment programmes to enhance their implementation and effectiveness. In particular, the National Social Safety Net project will be expanded to provide targeted cash transfers to poor and vulnerable households."
He also said efforts will be made to further contain financial leakages through the effective implementation of key public financial management reforms.
The President commended the patriotic resolve of the 10th National Assembly to collaborate with the Executive on the mission to renew the hope of Nigerians and deliver on the promises made to Africa's largest population.
"As you consider the 2024 Budget estimates, we trust that the legislative review process will be conducted with a view to sustaining our desired return to a predictable January-December fiscal year. I have no doubt that you will be guided by the interest of all Nigerians. We must ensure that only projects and programs with equitable benefits are allowed into the 2024 Budget. Additionally, only projects and programs that are in line with the sectoral mandates of MDAs and those which are capable of realizing the vision of our administration should be included in the budget," the President declared.
Tinubu Retains Kyari As NNPCL GCEO, Appoints Akinyelure As Board Chairman
President Bola has appointed Pius Akinyelure as the Non-Executive Board Chairman of the Nigerian National Petroleum Company Limited (NNPCL) and also retained Mele Kyari as the organisation's Group Chief Executive Officer (GCEO).
A Monday statement by Tinubu's spokesman Ajuri Ngelale said the duo is part of the new board and management of the NNPCL.
Their appointment, which is in compliance with Section 59 (2) of the Petroleum Industry Act, 2021, takes effect from December 1, 2023, he said.
Apart from Kyari and Akinyelure, other members and board of the management include: Alhaji Umar Isa Ajiya — Chief Financial Officer; Mr. Ledum Mitee — Non-Executive Director; Mr. Musa Tumsa — Non-Executive Director; Mr. Ghali Muhammad — Non-Executive Director; Prof. Mustapha Aliyu — Non-Executive Director; Mr. David Ogbodo — Non-Executive Director and Ms. Eunice Thomas — Non-Executive Director.
Tinubu also approved the appointment of two permanent secretaries for the Federal Ministry of Finance and the Ministry of Petroleum Resources.
While Mr. Okokon Ekanem Udo was nominated as the former's permanent secretary, Amb. Gabriel Aduda is for the latter.
"President Tinubu anticipates the fullest measure of compliance with the performance-driven and results-oriented mandate of his Renewed Hope administration in the implementation of energy policy that will monetize all available oil and gas resources of today while paving the way for the total exploitation of new and cleaner energy sources of tomorrow by this distinguished team," Ajuri said.
FEC Approves N27.5tn As 2024 Budget
***Reviews Medium-Term Expenditure Framework,
The Federal Executive Council (FEC), on Monday, approved a 2024 budget of N27.5 trillion.
This followed the review of the Medium-Term Expenditure Framework earlier passed by the National Assembly which benchmarked the exchange rate at N700 to $1 and crude oil price at $73.96 cent per barrel.
Briefing State House Correspondents shortly after the FEC meeting at the Presidential Villa in Abuja, the Minister of Budget and Economic Planning, Abubakar Bagudu, said it revised the MTEF and the Fiscal Policy to use an exchange rate of N750 to $1 and also a benchmark crude oil reference price of $77.96 per barrel.
According to Bagudu, the FEC also approved an Appropriation Bill for 2024 with an aggregate expenditure of N27.5 trillion, an increase of over N1.5 trillion from the previous estimate.
He also noted that using the old reference prices, the forecast revenue is now N18.2 trillion which is higher than the 2023 revenue, including that provided in the two supplementary budgets, in which the deficit is lower than that of 2023.
Meanwhile, the FEC was briefed by the Fiscal Policy and Tax Reform Committee on its workings for roughly 90 days.
Addressing journalists, the Minister of Finance and Coordinating Minister of the Economy, Wale Edun, said the committee had proposed the removal of VAT on diesel and is looking to increase the ratio of tax revenue to GDP to 18 percent, which is the average for Africa.
He also gave an update on the $100 million financing from the African Development Bank (AfDB) and $15 million from the Canada African Development Bank Climate Fund (CACF) inherited from the previous administration.
According to him, it is a concessional borrowing of around 4.2 percent per annum by Abia state through the federal government.
He said the funds are for waste management and rehabilitation of roads in Abia State.
Furthermore, Edun said the African Development Bank approved $1 billion concessional financing for Nigeria with a moratorium of eight years, at about 4.2 percent per annum, in recognition of the economic measures that have been taken and the swift movement towards macro stability.
He said the loan to be paid in 25 years at 4.2 percent per annum, has a moratorium of eight years
He said the AfDB, a concessional financing organisation, is to provide $1 billion in general budget support.
"The Federal Executive Council has also approved a total limit of N2 trillion to be available for use by the Ministry of Finance in order to go in and out of the market and essentially to, where possible, bring down the rate of interest on the current outstanding," Edun explained.
"The view is that there will be an opportunity to save about 50 billion naira or more in debt servicing over time by giving back expensive debt refinancing it with cheaper funding."