Seccession not solution to Nigeria's current challenges – Ganduje
Gov. Abdullahi Ganduje of Kano State says secession is not the way out of the current challenges afflicting the country.
Ganduje said this at the 2nd quarterly public lecture series of the All Progressives Congress (APC) Press Corps on Thursday in Abuja.
He recommended dialogue as a panacea that should be embraced by secessionists to address perceived grievances.
The theme of the lecture, which was attended by APC chieftains, members of State Executive Councils and legislators, is: "Sustaining A United and Indivisible Nigeria: A Myth or Reality".
"Let me repeat here that Nigeria is a united and indivisible country; our Constitution has taken care of that, I don't see secession as the way out of the current challenges afflicting the nation.
"Instead, advocates of secession should have a change of heart and I recommend dialogue as a crucial option for addressing their problems.
"Besides, there is a National Assembly where some of the grievances can be addressed," Ganduje said.
According to him, dialogue is a far better alternative that costs less than consequences of the wedge that had been erected to frustrate more flow of conversations between government and citizens to arrive at a national consensus.
He said that sooner we face issues such as the huge infrastructure deficit, our shrinking oil revenue and looming food insecurity as a consequence of insecurity in our agriculture zones, the better for us all.
He said that instead of applying energies on self-determination agitation that would only diminish us as a people, there was need  to focus on diversification of the economy and out of school children shame.
Ganduje said it was important at this time that the media was used for the promotion of peace and stability in the country.
He said this was critical to change the view points that could alter public views and sentiment toward a more peaceful resolution of our multi-faceted current crises.
He however noted that while democracy gave citizens the right to air their views, this should not be translated to grievances, violence or bloodshed.
"While the unity of Nigeria should be discussed, the agitators must be strongly cautioned to channel their grievances to the appropriate quarters.
"This should be done without perpetrating acts that could be interpreted as an attempt to enthrone instability and dismember the country," he said.
He added that those on the streets of South West or South Eastern states, carrying dangerous weapons, attacking security personnel and formations as well as innocent citizens should be cautioned.
The governor stressed that such persons should be cautious not to become cannon fodders for mischief-making.
Ganduje said Nigeria was bigger than all of us and there was no challenge that was bigger than the political class to solve.
"We can make mistakes, but we are matured enough to correct such mistakes as part of our development processes," he said.
He noted that the leadership of the groups in the two geo-political regions spear heading the bid for secession from Nigeria had gone too far.
This, he said, was especially so because they incite followers to acts of violence against Nigerian security forces and had established a paramilitary wing.
The governor maintained that no serious government would stand by and watch this scenario and go to bed.
He also advised the media not to be used to promote fake news and hate speeches, saying that in the course of its duty, the media should ensure strict observance of the ethics of the profession.
"Let's not entertain any fear, we have become too fused to be divided.
"Sustaining this unity is possible and it is a reality; we may be historically different in our religion, beliefs and customs, our unity may have been a British invention.
"But if we are willing and ready to shun bitterness, hatred, suspicion and imbibe equity, fairness, brotherly love and tolerance, we will succeed.
"We are too fused, in fact too entropic together to be divided at this time. Let's repair our broken walls instead and move on," he said.
He, however, added that we could debate restructuring, not secession or self-determination.
Besides, Ganduje advised that as Nigerians, we should not let the labour of our heroes past to be in vain, adding that we should hail, not hate the country at this time.
Gov. Mai Mala Buni of Yobe and Chairman, APC Caretaker and Extra-ordinary Convention Planning Committee (CECPC), was represented by former Senate President, Ken Nnamani, at the event.
Buni said it was our responsibility as citizens to make the country more efficient and attractive, adding that "the more united we are, the better we are".
He noted that when a level playing field is provided for all citizens, issues of agitations would be addressed. (NAN)
Economic: Osinkolu Assures Nigerians Of Better Days Ahead 
A financial expert, Dr Olusegun Osinkolu has appealed to Nigerians to exercise patients with the economic team put together by President Bola Tinubu, noting that relief will soon come.
Osinkolu assured that Nigeria will soon witness a great turn around by the time the economic team swings into full action.
"we will heave a sign of relief soon as the story would change for better".
The Ayede-Ekiti born All Progressives Congress (APC) Chieftain in a statement issued on Friday and released to newsmen, described the appointments of the Central Bank of Nigeria Governor, Yemi Cardoso and Minister of Finance, Wale Edun as a round peg in a round hole.
Osinkolu, who was a banker of repute, described them as gentlemen and men of integrity, who are masters on their field of appointments.
He commended President Bola Tinubu for the appointments, describing it as well deserved and has raised the bar and shown that competence is the parameter for public service.
"I want to formally thank President Bola Tinubu for considering the duo of the CBN Governor and Finance Minister for their appointment.
I commend his open-mindedness to embrace and usher in vibrant patriots into the national mainstream politics.
"I wish to state that their appointment is not only well deserving, but also falls in line with Mr. President's penchant for talent discovery that has characterised his bold and giant strides in Lagos state and the nation at large.
"I affirm that this particular appointment is a round peg in a round hole,"he stated.
He urged the duo of the CBN Governor and finance minister to focus on the vision and mission of Mr President, by refocusing through their short, medium and long term measures.
He assured Nigerians that the CBN and it's Finance ministry under their watch will operate transparent monetary policies, while his administration will not tolerate and work towards correcting the errors made by past administrations.
He further urged the duo to comply with all constitutional duties and ensure that financial policies of the country are of international standard and in support of the Tinubu-led administration.
Senator Natasha lauds NDDC, NLNG partnership on local content
Senator Natasha Akpoti-Uduaghan, lawmaker representing Kogi Central senatorial district has commended the pact between Niger Delta Development Commission (NDDC) and Nigeria LNG Limited (NLNG), to develop local content capacity.
Both NDDC and NLNG recently signed a Memorandum of Understanding (MoU) to leverage shared aspirations and collaborate on diverse fronts in the delivery of sustainable development projects in the region.
Reacting, Senator Natasha urged NDDC to consider the need to be the primary recruiters of their trained workforce to achieve effective service delivery.
She gave the charge on Thursday during an interactive session between Senate Committee on Local Content and the NDDC Managing Director, Samuel Ogbuku.
As the Chair, Local Content Committee, Natasha tasked the NDDC on the need to not only build capacity and equip their workforce but also engage them efficiently.
"NDDC should consider being the primary recruiters of their trained workforce. Artisans or skilled professionals such as ICT workers can be absorbed by NDDC contractors, which in turn, will enable the commission reach the most vulnerable and neglected youth," she said.
She also pledged to partner with NDDC on building a database of artisans within the country to strengthen the workforce and by extension achieve microeconomic growth for Nigeria.
"Local Content Committee intends to deploy innovative thinking for positive results, thus, we are building a database of carefully profiled artisans who have been trained by NDDC, SMEDAN, etc.; and work modalities to have the oil & gas companies, as well as government contractors, recruit from the pool of verified workforce.
"This would help curb unemployment by keeping the jobs locally. Such a project would also help the Local content board, NDDC and other agencies monitor and evaluate the performance of our collective capacity-building efforts towards achieving a common microeconomic growth for Nigeria and Africa at large," she added.
In his remarks, the NDDC MD accepted her proposal and looks forward to a synergy with the Local Content Committee to develop strategies, and in turn, engage trained workforce for employment opportunities.
Update: 2024 Appropriation Bill Passes Second Reading At House Of Reps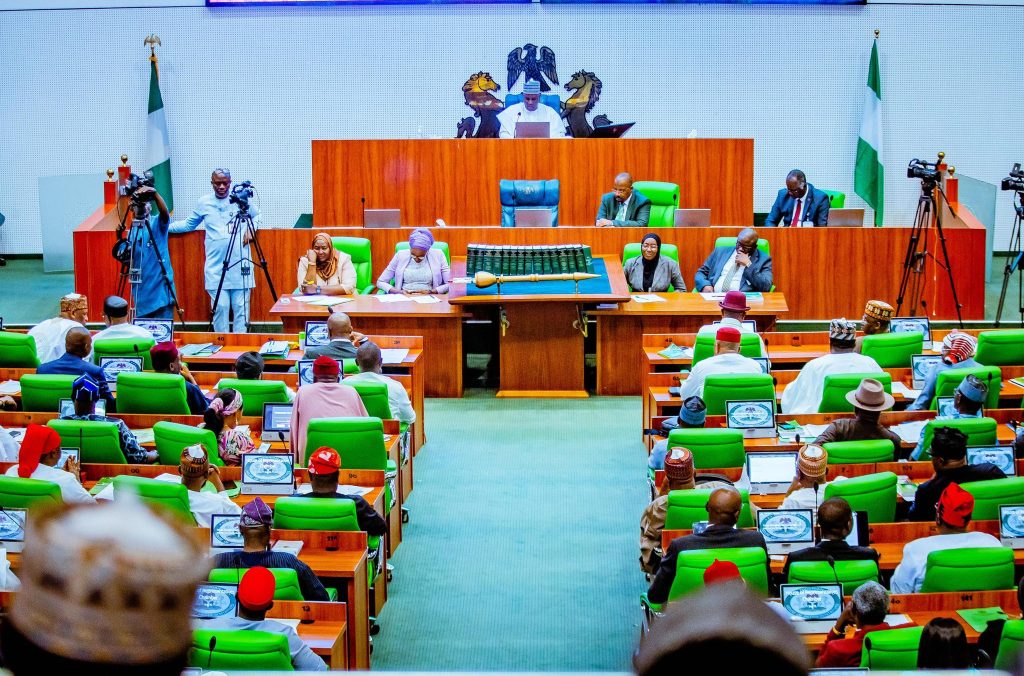 The House of Representatives has passed the N27.5 trillion 2024 budget for a second reading.
The House leader, Julius Ihonvbere, on Thursday, November 30, while leading the debate on the general principles of the budget, commended President Bola Tinubu.
Ihonvbere noted that national security and education which got significant allocations will be enhanced if implemented.
He said, "Nigeria will be more secure with the allocation to defence and security. As a teacher, I am impressed by the emphasis on basic education. I am sure that education will be better off this time."