Nigerian Government reiterates commitment to reposition gas sector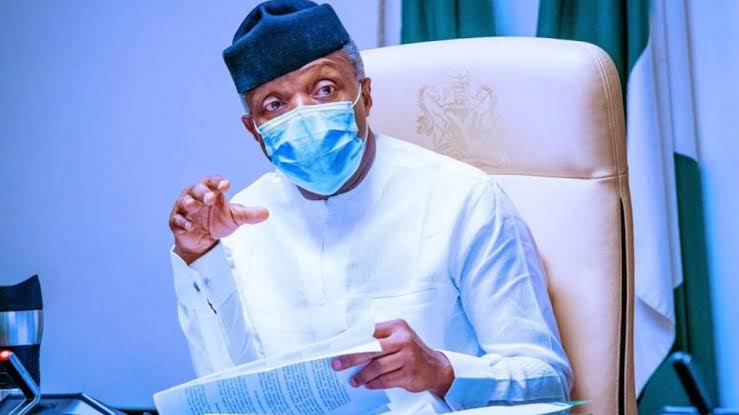 The Federal Government on Thursday, reiterated its commitment to reposition the gas sector for effective service delivery.
Vice President Yemi Osinbajo made this known while declaring open the 2021 World Energy Day Conference in Abuja.
The News Agency of Nigeria (NAN) reports that the conference organised by the Abuja Chamber of Commerce and Industry (ACCI), has as its theme: "Energy Transition: Gas as the Fuel of Choice".
Osinbajo, represented by the Minister of State for Power, Goddy Agba, stressed the importance of gas in actualising energy transition.
According to him, we cannot execute this transition without gas. Gas enables this transition with options for AutoGas on vehicles and even more importantly gas power to replace dirty coal plants across the world.
"Gas is cleaner than coal or oil and initially was touted as a critical transition fuel.
"Later, climate change policy, particularly in the West, began to turn against gas with very strict policies from many lenders against even funding upstream, midstream or downstream gas projects.
"This has created the scenario we face today with insufficient gas investment without commiserate replacement by renewable leading to scarcity and high prices,'' he said.
While restating Nigeria's commitment to lead local and global discussions on the position of gas in the new world order, Osinbajo said that the Federal Government had given the go ahead for the Nigerian Liquefied Natural Gas Train 7.
According to him, Train 7 is more than N10 billion investment that will keep Nigeria in the top five globally in Liquefied Natural Gas and position the country to benefit from the critical role that gas will play in the Energy Transition.
He pointed out that the Federal Government inaugurated the Decade of Gas under the Ministry of Petroleum Resources.
"Mr President said on March 29, when we declared 2020 as "The Year of Gas" In Nigeria, it was to demonstrate our resolve that gas development and utilisation should be a national priority.
"Now, we are going a step further to dedicate this decade to industrialising Nigeria using gas.
"As part of the Decade of Gas, the Ajaokuta-Kaduna—Kano Natural Gas Pipeline set for completion in 2023, will not only allow for gas power and industries across Nigeria but will also create the ability to ramp up renewable.
"This is as we will have base load power to balance intermittent solar power plants that need to be built to meet our climate goals.
The vice president, however, expressed concern over inadequate investments in energy to meet net-zero targets.
"There is simply not enough investment in renewable to support the intended accelerated pace of removal of Fossil fuels.
"Today, fossil fuels satisfy 83 per cent of primary demand for energy.
"Unfortunately, investment in fossil fuels has also dropped by 40 per cent since 2015 without the requisite ramp up in renewable.''
According to Osinbajo, if we have learnt anything over the past few weeks is that the Energy Transition will not be easy, it will not be seamless and it will not be done without difficult choices.
The vice president said that the risks of trying to make 30-year commitments in reaching net-zero were plain and apparent for all to see.
"The Economist reported that since May, the combined prices of oil, coal and gas increased by 95 per cent. It was also reported that Britain has turned back on some coal-fired power stations.
"I surely believe that the Energy Transition was not meant to make energy less available and unaffordable.
"These events if not handled carefully may turn global public sentiment against climate change policies,'' Osinbajo said.
Earlier, Dr Al-Mujtaba, the President, ACCI, commended the Federal Government for crafting a gas agenda which became Nigeria's response to the energy transition question.
According to him, the gas commercialisation agenda, the Autogas initiatives and other policy response have provided much needed answers to Nigeria's need for energy transition.
Similarly, Mr Olawale Rasheed, the Director Policy, ACCI, stressed the need for Nigeria meeting her target on reduction on carbon emission without undermining national interest.
"Basically, we are saying we need gas it is good for us and gas is cleaner,'' Rasheed said.
Also speakinhg, Mr Olakpode Sowunmi, Chief Executive Officer CABTRI called for increased capacity to produce more gas.
According to him, the tempo is how we can increase our capacity to produce more gas.
People ask the question we flare a lot of gas why can't we use that for cooking gas but it is not exactly the same.
"It is like you have water in the river, but that do not necessarily translate to drinking water.
"The gas needs to be processed for it to be useful for domestic consumption,'' he said. (NAN)
Dangote Refinery Will Generate 'Massive Job Opportunities' – Aliko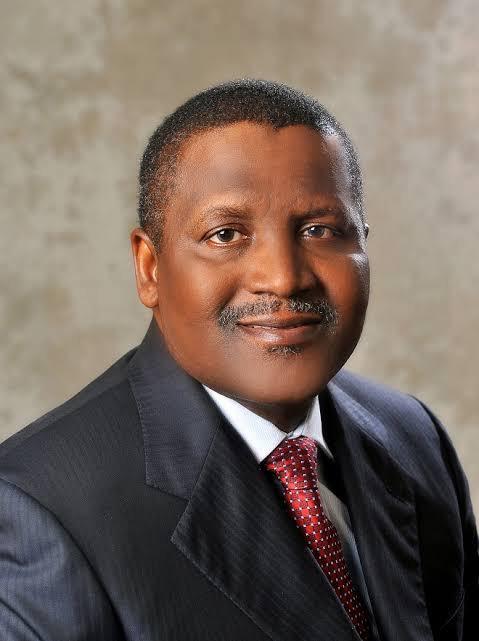 The President of The Dangote Group, Aliko Dangote, on Monday, said his refinery will generate "massive" job opportunities for the teeming Nigerian youths.
He stated this in Lagos during the commissioning of the 650,000 bpd Dangote Petroleum Refinery and Petrochemicals by President Muhammadu Buhari.
The project is expected to churn out Premium Motor Spirit (PMS), diesel (AGO), aviation jet fuel and Dual-Purpose Kerosene (DPK), among other refined products.
"The refinery operation will generate massive job opportunities in their hundreds of thousands," he said while highlighting the benefits of the refinery.
"The refinery will make available to our industries vital raw materials to a large range of manufacturers in the pharmaceuticals, food, beverages, construction and many other industries."
The businessman also expressed thanks for the "massive" support for him and The Dangote Group towards the creation of the Dangote Petroleum Refinery and Petrochemicals plant.
He appreciated Buhari and Nigerians for the immeasurable support his company received from the inception of the project to its completion.
"What I want to share with Nigerians is actually to show my personal gratitude and that of The Dangote Group, for all the assistance that we got from the President, from the Federal Government of Nigeria, from even the President-elect, because he also set the pace by creating the Lekki Free Trade Zone as part of his dream.
"And also we want to thank most especially Governor Fashola, Governor Ambode and most especially Governor Sanwo-Olu; because they have given us all the assistance that we were looking for.
"We thank all Nigerians for giving us their support which is too numerous to mention," the industrialist said.
Dangote Refinery To Generate 12,000 Megawatts Of Electricity – CBN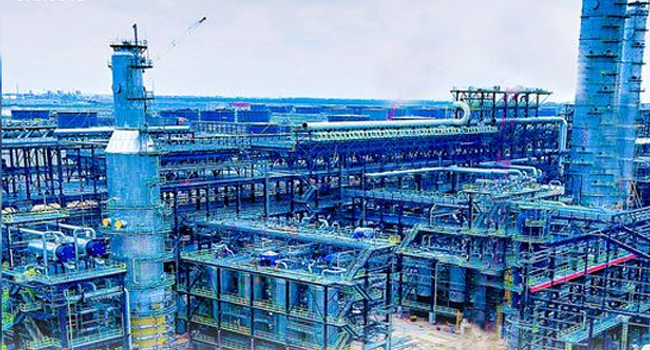 The Central Bank of Nigeria (CBN) has said that the newly inaugurated Dangote Petroleum Refinery and Petrochemicals will help Nigeria generate more power for its electricity sector.
Speaking today at the inauguration in Lagos State, Governor of the apex bank, Mr Godwin Emefiele, said the Dangote Refinery is expected to generate 12,000 megawatts of electricity.
He further stated that over 135,000 permanent jobs will be available to Nigerians as operations get underway.
According to him, it is also expected that the refinery saves Nigeria between $25 and $30 billion in forex annually.
Like a venture that continues to give, the refinery Emefiele says will further give the economy an inflow of $10billion yearly.
In his opinion, the Dangote Refinery is an indication that Nigeria can produce whatever it Needs.
SANWO-OLU PRAISES BUHARI, TINUBU, DANGOTE CONTRIBUTIONS TO NIGERIA'S FIRST PRIVATE REFINERY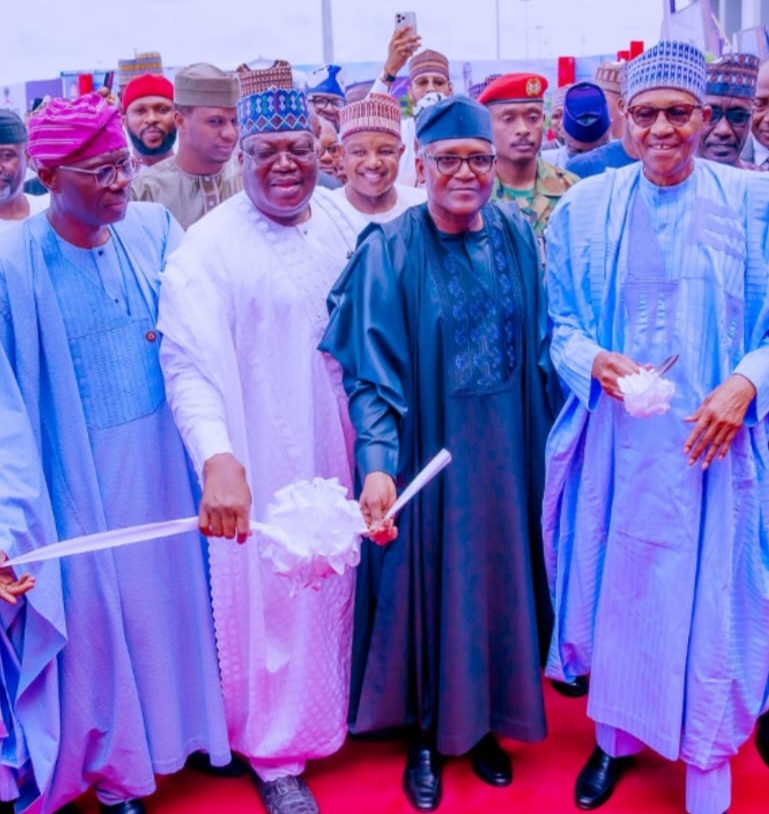 •LASG has provided enabling environment for private sector growth, says Dangote
Lagos State Governor, Mr. Babajide Sanwo-Olu, on Monday, said the stories of President Muhammadu Buhari; President-elect, Asiwaju Bola Tinubu and Chairman of Dangote Group, Alhaji Aliko Dangote are a testament that prosperity can be achieved when  leaders have shared vision for the people they are leading.
Sanwo-Olu shared three different stories on how President Buhari, Asiwaju Tinubu and Dangote are connected to the newly commissioned first privately owned refinery in Nigeria, the Dangote Petroleum Refinery in Ibeju-Lekki, Lagos, said the three leaders have shown Nigerians that leadership is about consistency and commitment to Nigeria's economic growth.
He said: "The vision of Aliko Dangote, President Muhammadu Buhari and incoming President Asiwaju Bola Ahmed Tinubu, is a story of possibility when men have a shared common vision, purpose and they have the possibility that things can happen, things can change and things can be prosperous for the people they are leading.
"These three men; Aliko Dangote, President Muhammadu Buhari, and President-elect Bola Ahmed Tinubu epitomise all the great qualities of great leadership. They have shown us that nothing can be something. They have shown us that leadership is about consistency. It is about showing that whatever it is that you believe in, give it all it takes and at the end of it you will see the results coming out."
Governor Sanwo-Olu while commending Dangote, said the business mogul is a completely detribalised Nigerian who has impacted many lives positively.
He said: "To our son Alhaji Aliko Dangote, we are indeed truly proud that you have put Nigeria and indeed Africa on that world map in which you have done the very first. We are proud of your belief in your country and your belief in the youth that you are giving the opportunity to. We are proud of the fact that you are a Nigerian that is completely detribalised and you have imbibed it in many ways.
"It is about the opportunity this (refinery) has provided for all the youth and young people of our country. It is about the fact we can say to them the work these three men – Mr. President, Alhaji Dangote, and our incoming president have done and will continue to do.
"It is about our future. It is about providing an opportunity for the youth because over 150,000 direct and indirect jobs that will be created are for our youths; young leaders that are in their 20s and their 30s for them to believe that indeed Nigerian is a place for them. Nigeria considers them as an important and veritable tool in developing and ensuring the very best.
"I want to also thank our President-elect who propelled a vision of what we are enjoying today. As governor and as Lagosian, he was the main architect of the modern history of the trajectory of Lagos and we are hopeful and praying that when he comes in as president, all of those additional vision that he has will come to reality."
Governor Sanwo-Olu, who was part of the birth of the Lekki free zone in 2006 during the tenure of Tinubu as Governor of Lagos State, praised the host communities for showing hospitality to investors in the area.
"I want to use this opportunity to thank our host community. This community has been the host to several firsts in our country and I want to thank all of them; from the traditional rulers to all of the indigenous citizens that have continued to reflect the true spirit of Lagos to be able to show hospitality and accommodation in everything that we are about," he said.
Governor Sanwo-Olu also commended President Muhammadu Buhari's eight years in office, saying the people of Lagos State are proud of what the President has done for Nigeria.
He said: "You (President) have spent 2,915 days out of 2,922 days that you have. Mr. President, you have spent 99.98 percent of your time. Mr President history will certainly judge you well. We in Lagos are happy. This is your third trip to the Lekki Free Zone in less than a year.
"We are proud of you. We are indeed excited that you have thrown everything you have into it and as you bow down, I might not have the opportunity of holding a microphone again, I want to say to you, that on behalf of Lagos State, we are truly proud of the things that you have done for us in this country."
Speaking earlier, Dangote commended Lagos State Government under the leadership of Governor Sanwo-Olu for providing an enabling environment for private sector growth, particularly the Dangote Refinery.
He said: "Lagos State Government has been exceptionally remarkable in their efforts toward the completion of this project.
"The Lagos State Government under the leadership of Governor Babajide Sanwo-Olu has provided an enabling environment for private sector growth in the state and this project. It has allowed us to invest over $30 billion in different sectors of the industry."