NGX extends growth by 0.08%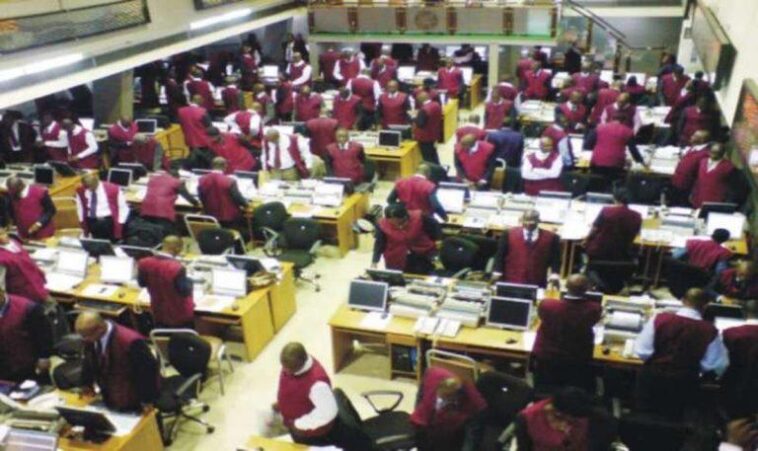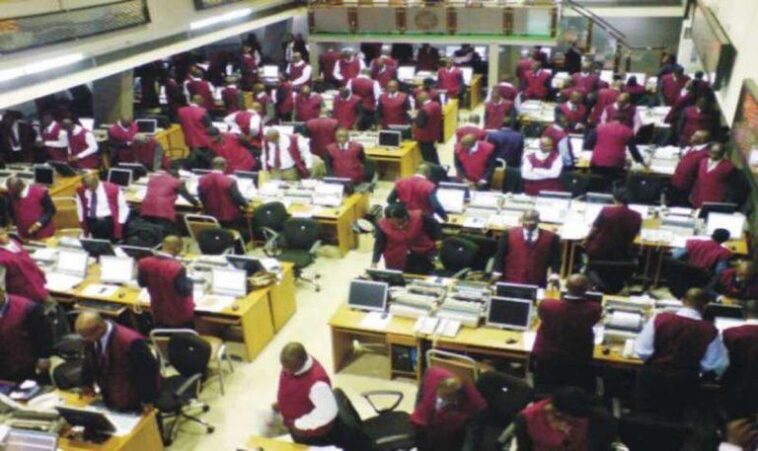 Key performance indicators of the nation's bourse closed on Friday with a marginal growth of 0.08 per cent.
Specifically, the All-Share Index rose by 32.28 points or 0.08 per cent to close at 39,522.34 compared with 39,490.06 achieved on Thursday.
Also, the market capitalisation of listed equities increased by N17 billion or 0.08 per cent to close at N20.591 trillion from N20.574 trillion reported on Thursday.
A breakdown of the price movement chart shows that FTNCocoa led the gainers' table in percentage terms, gaining 10 per cent to close at 44k per share.
Honey Well Flour followed with 9.63 per cent to close at N2.05, while Prestige Insurance increased by 9.09 per cent to close at 48k per share.
UPDC added 8.85 per cent to close at N1.23, while Japaul Gold increased by 8.51 per cent to close at 51k per share.
On the other hand, Cutix dominated the laggards' chart in percentage terms with 9.91 per cent to close at N5 per share.
Juli trailed with 9.90 per cent to close at 91k, while Sovereign Trust Insurance shed 7.14 per cent to close at 26k per share.
Veritas Capital was down by 4.35 per cent to close at 22k, while Courteville Business Solution dipped 4 per cent to close at close at 24k per share.
However, the volume of shares traded closed lower as investors bought and sold 188.84 million shares valued at N3.22 billion in 3,267 deals.
This was against a total of 570.20 million shares worth N2.28 billion exchanged in 3,764 deals on Thursday.
Flour Mills Nigeria was the most active stock, exchanging 52.47 million shares valued at N1.59 billion.
Honey Well Flour followed with an account of 15.49 million shares worth N31.64 million, while Sterling Bank sold 13.68 million shares valued at N21.17 million.
Wema Bank traded 13.35 million shares worth N10.52 million, while FBN Holdings traded 10.88 million shares valued at N78.89 million. (NAN)
Senate Gives Kyari, NUPRC Boss 24 Hours To Appear For Budget Defense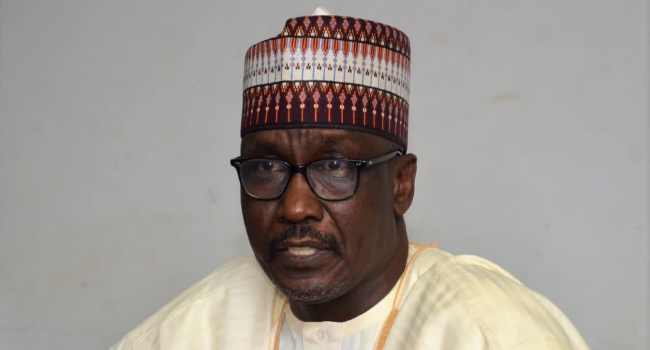 The Chairman of the Senate Appropriation Committee, Senator Adeola Olamilekan, on Wednesday, directed the Group Chief Executive Officer of the Nigerian National Petroleum Company Limited (NNPCL), Mele Kyari, to appear before the committee in 24 hours.
Olamilekan, who asked Kyari to appear in company of the Executive Secretary of the Nigerian Upstream Petroleum Regulatory Commission (NUPRC), warned that failure to appear undermines the legislature and sabotages the process.
They are required to present the list of all individual companies operating with OML licenses in Nigeria as well as total production output approved on a daily basis.
The lawmaker expressed concerns that some of the revenues required to drive the 2024 budget was attributed to the NNPCL, which according to him, was owned by the Federal Government and responsible to it, and by extension the three arms of government.
The NNPCL, had earlier shunned for a second time, summons by the Senate to appear before its committee probing over N11trn expenditure on turn around maintenance of refineries in the country between 2010 and 2023.
The absence of Kyari, whose entity is at the centre of the investigation, stalled efforts by the Senate panel to make progress on the matter.
Economic: IMF Wrong On Nigeria's Projections – Budget Office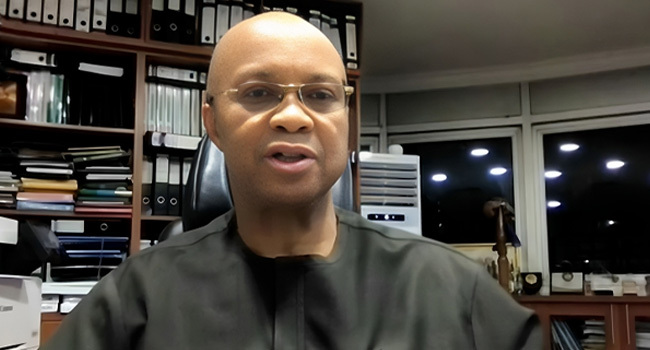 The Director-General of the Budget Office of the Federation, Ben Akabueze, says the International Monetary Fund (IMF) has been wrong in its projections of the Nigerian economy in the last four years.
"In the last four years, IMF has got it wrong about our projections," Akabueze said on Channels Television's Politics Today programme on Wednesday. "Our actual growth have always beat their projections."
Akabueze spoke on the economic projections of the President Bola Tinubu government for 2024.
On November 29, 2023, the President presented his maiden budget estimates of N27.5trn for the year 2024 to the National Assembly (NASS).
According to the President, the economy is expected to grow by 3.76%, while "inflation is expected to moderate to 21.4 percent in 2024".
"Budget deficit is projected at 18 trillion naira in 2024 or 3.88 percent of GDP (Gross Domestic Product (GDP)," the President had added.
The President's projection was at variance and "ambitious" to the prediction of IMF earlier in October. The Washington-based lender had projected that the country's economy would grow at 3.1% in 2024.
However, the Budget Office boss said IMF's projections "do not represent the holy grail on economic growth", adding that the organisation "can't get it right better than the people who have direct responsibility for managing their individual economies".
Akabueze said the growth rate projected by the Tinubu government in its maiden budget "doesn't even yet reflect the ambition of the government", adding that the incumbent administration "wants to double the GDP before the end of the first term".
He said the 2024 budget estimates awaiting approval at the National Assembly was "way too small" to Nigeria's need but the government had to cut its coat according to its cloth.
The Budget Office director general insisted that despite the criticisms against the 2024 budget estimates, the appropriation bill caters for the poor in terms of healthcare, security, education and the economy.
TINUBU: SECURITY, JOB CREATION, POVERTY REDUCTION TOP PRIORITIES OF 2024 BUDGET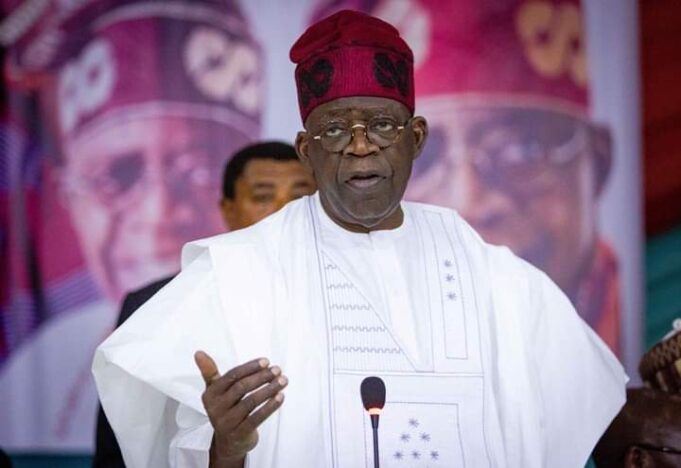 President Bola Tinubu says Nigeria's national defence and internal security, local job creation, macro-economic stability, investment environment optimization, human capital development, poverty reduction, and social security are some of the top priorities of the 2024 Budget of Renewed Hope.
Addressing a joint session of the National Assembly on the 2024 Federal budget proposal on Wednesday in Abuja, President Tinubu said the nation's internal security architecture will be overhauled to enhance law enforcement capabilities with a view to safeguarding lives, property, and investments across the country.
He said the proposed budget prioritizes human capital development, with particular attention given to children, because human capital remains the most critical resource for national development.
"To improve the effectiveness of our budget performance, the government will focus on ensuring value for money, greater transparency, and accountability. In this regard, we will work more closely with development partners and the private sector.
"To address long-standing issues in the education sector, a more sustainable model of funding tertiary education will be implemented, including the Student Loan Scheme scheduled to become operational by January 2024," the President affirmed.
Speaking on the economy, President Tinubu said a stable macro-economic environment is crucial in his administration's bid to catalyze private investment and accelerate economic growth; hence, his government shall continue to implement business and investment friendly measures for sustainable growth.
"We expect the economy to grow by a minimum of 3.76 percent, above the forecasted world average. Inflation is expected to moderate to 21.4 percent in 2024. In preparing the 2024 Budget, our primary objective has been to sustain our robust foundation for sustainable economic development. A critical focus of this budget and the medium-term expenditure framework is Nigeria's commitment to a greener future.
"Emphasizing public-private partnerships, we have strategically made provisions to leverage private capital for big-ticket infrastructure projects in energy, transportation, and other sectors. This marks a critical step towards diversifying our energy mix, enhancing efficiency, and fostering the development of renewable energy sources. By allocating resources to support innovative and environmentally conscious initiatives, we aim to position Nigeria as a regional leader in the global movement towards clean and sustainable energy.
"As we approach the COP28 climate summit, a pivotal moment for global climate action, I have directed relevant government agencies to diligently work towards securing substantial funding commitments that will bolster Nigeria's energy transition. It is imperative that we seize this opportunity to attract international partnerships and investments that align with our national goals. I call upon our representatives to engage proactively to showcase the strides we have made in the quest to create an enabling environment for sustainable energy projects.
"Together, we will strive for Nigeria to emerge from COP28 with tangible commitments, reinforcing our dedication to a future where energy is not only a catalyst for development but also a driver of environmental stewardship," he said.
The President said a conservative oil price benchmark of 77.96 U.S. Dollars per barrel and a daily oil production estimate of 1.78 million barrels per day were adopted after a careful review of global oil market trends, and that a Naira to U.S. Dollar exchange rate of 750 naira per U.S. Dollar was adopted for 2024 as well.
Giving a breakdown of the 2024 Appropriation Bill, the President said: "Accordingly, an aggregate expenditure of 27.5 trillion naira is proposed for the Federal Government in 2024, of which the non-debt recurrent expenditure is 9.92 trillion naira while debt service is projected to be 8.25 trillion naira and capital expenditure is 8.7 trillion naira. Nigeria remains committed to meeting its debt obligations. Projected debt service is 45% of the expected total revenue.
"The budget deficit is projected at 9.18 trillion naira in 2024 or 3.88 percent of GDP. This is lower than the 13.78 trillion naira deficit recorded in 2023, which represented 6.11 percent of GDP. The deficit will be financed by new borrowings totaling 7.83 trillion naira, 298.49 billion naira from Privatization Proceeds, and 1.05 trillion naira draw down on multilateral and bilateral loans secured for specific development projects."
President Tinubu said his administration remains committed to broad-based and shared economic prosperity, adding: "We are reviewing social investment programmes to enhance their implementation and effectiveness. In particular, the National Social Safety Net project will be expanded to provide targeted cash transfers to poor and vulnerable households."
He also said efforts will be made to further contain financial leakages through the effective implementation of key public financial management reforms.
The President commended the patriotic resolve of the 10th National Assembly to collaborate with the Executive on the mission to renew the hope of Nigerians and deliver on the promises made to Africa's largest population.
"As you consider the 2024 Budget estimates, we trust that the legislative review process will be conducted with a view to sustaining our desired return to a predictable January-December fiscal year. I have no doubt that you will be guided by the interest of all Nigerians. We must ensure that only projects and programs with equitable benefits are allowed into the 2024 Budget. Additionally, only projects and programs that are in line with the sectoral mandates of MDAs and those which are capable of realizing the vision of our administration should be included in the budget," the President declared.