Mrs Buhari uregs media engagement on First Ladies' projects
Mrs Aisha Buhari, the wife of President Muhammadu Buhari has called on journalists to engage more with state first ladies with a view to giving their projects more visibility.
She made the appeal on Wednesday night in Abuja at an event organised by the Independent Newspapers to honour state first ladies who had used their offices to impact positively on the lives of the people, especially the less privileged and vulnerable.
The event was tagged: "Independent Newspapers Nigerian FIrst Ladies Impact Awards".
Mrs Buhari, who was the special guest of honour at the event, was represented by Mr Aliyu Abdullahi, her Special Adviser on Media and Publicity.
"I am happy to be at this memorable event, which seeks to recognise the efforts of first ladies in spreading the dividends of democracy.
"I am particularly happy that some first ladies have been recognised as having excelled in this regard.
"I want to use this opportunity to call on media practitioners to engage more with first ladies so that their projects can get more visibility.
"The partnership will be a win-win because the media would then have discharged a part of its social responsibility," she said.
She commended the management of Independent Newspapers for organising the event, saying it is an important milestone and a testimony that the paper understood its role as a partner and a stakeholder in development.
"It is without a doubt that the media has a pivotal role to play not just setting agenda for discourse, but also in supporting and amplifying worthy causes," she said.
She added that first ladies provided the underbelly of any government as they provide humanitarian, compassionate and mercy services by organising health, educational and empowerment projects.
According to her, first ladies help in the protection of the vulnerable people including women, children, youth and the aged in the society.
She said they also had the advantage of providing counsel to the governors and had become advocates for school enrolment and retention, adult education, self-reliance and health awareness.
She added that first ladies were also advocates against gender-based violence, drug abuse and trafficking of persons.
"They also provide financial support in terms of scholarships and settlement of medical bills for the under-privileged," Mrs Buhari said.
She congratulated the first ladies that were recognised for the awards at the event, saying that the award will not only spur them to do more, but will equally encourage others.
According to her, the award will also open discussions with regards to more partnerships which will be in the overall interest of the country.
Mr Steve Omanufeme, the Managing Director and Editor in Chief of Independent Newspapers, while welcoming guests to the event, said it was designed to recognise and celebrate distinguised first ladies who had consistently outperformed in spite of prevailing economic circumstances.
He noted that though the Constitution may not have spelt out responsibilities for first ladies, the outstanding ones know how influential the position could be.
"They do not just sit back and watch their husbands toil in the search of a better life for the the people.
"Some first ladies play active roles in policy making, humanitarian and charitable works, while others have focused on family and social responsibilities, they have embarked on different public projects and excelled," he said.
He added that though first ladies do not have any constitutional responsibility, most of them were using their positions to change the narrative and shape the destinies of families, women, children, widows and the motherless in their domain, and should be celebrated.
The News Agency of Nigeria (NAN) reports that Akwa Ibom First Lady, Mrs Martha Udom Emmanuel, Founder Family Empowerment and Youth Re-orintation Part Initiative, was given an award as the South South First Lady of the year 2021.
She thanked the Independent Newspapers for the honour and assured that she would continue to advocate for the girl child education and the inclusion of women in goverment at all levels.
"If you are educating the girl child, you are definitely educating the whole world. If you train a girl child, you are preparing that child for the future.
"I am trying to mould and mentor the young ones so that when we are no more, we would have responsible girls to take after us," she said.
Also honoured were the first ladies of Taraba, Mrs Anna Darius Ishaku as the 2021 First Lady of the North-East, and Mrs Bisi Adeleye-Fayemi, First Lady of Ekiti State for empowering women politically.
The first ladies of Cross River, Kwara, Bauchi and Osun States were also given awards for distinguising themselves and using their offices as first ladies to advance the course of the less privileged and vulnerable people in the society.
Hajiya Aisha Bala Mohammed, First Lady of Bauchi State, in her remarks, tasked mothers to stand up and encourage their children, especially the girl child through education, saying that without education, development and peace will remain a mirage.
There were three broad awards categories covering independent first lady of the year, first lady of the year covering each of the six geopolitical zones of the country and the general categories. (NAN)
Economic: Osinkolu Assures Nigerians Of Better Days Ahead 
A financial expert, Dr Olusegun Osinkolu has appealed to Nigerians to exercise patients with the economic team put together by President Bola Tinubu, noting that relief will soon come.
Osinkolu assured that Nigeria will soon witness a great turn around by the time the economic team swings into full action.
"we will heave a sign of relief soon as the story would change for better".
The Ayede-Ekiti born All Progressives Congress (APC) Chieftain in a statement issued on Friday and released to newsmen, described the appointments of the Central Bank of Nigeria Governor, Yemi Cardoso and Minister of Finance, Wale Edun as a round peg in a round hole.
Osinkolu, who was a banker of repute, described them as gentlemen and men of integrity, who are masters on their field of appointments.
He commended President Bola Tinubu for the appointments, describing it as well deserved and has raised the bar and shown that competence is the parameter for public service.
"I want to formally thank President Bola Tinubu for considering the duo of the CBN Governor and Finance Minister for their appointment.
I commend his open-mindedness to embrace and usher in vibrant patriots into the national mainstream politics.
"I wish to state that their appointment is not only well deserving, but also falls in line with Mr. President's penchant for talent discovery that has characterised his bold and giant strides in Lagos state and the nation at large.
"I affirm that this particular appointment is a round peg in a round hole,"he stated.
He urged the duo of the CBN Governor and finance minister to focus on the vision and mission of Mr President, by refocusing through their short, medium and long term measures.
He assured Nigerians that the CBN and it's Finance ministry under their watch will operate transparent monetary policies, while his administration will not tolerate and work towards correcting the errors made by past administrations.
He further urged the duo to comply with all constitutional duties and ensure that financial policies of the country are of international standard and in support of the Tinubu-led administration.
Senator Natasha lauds NDDC, NLNG partnership on local content
Senator Natasha Akpoti-Uduaghan, lawmaker representing Kogi Central senatorial district has commended the pact between Niger Delta Development Commission (NDDC) and Nigeria LNG Limited (NLNG), to develop local content capacity.
Both NDDC and NLNG recently signed a Memorandum of Understanding (MoU) to leverage shared aspirations and collaborate on diverse fronts in the delivery of sustainable development projects in the region.
Reacting, Senator Natasha urged NDDC to consider the need to be the primary recruiters of their trained workforce to achieve effective service delivery.
She gave the charge on Thursday during an interactive session between Senate Committee on Local Content and the NDDC Managing Director, Samuel Ogbuku.
As the Chair, Local Content Committee, Natasha tasked the NDDC on the need to not only build capacity and equip their workforce but also engage them efficiently.
"NDDC should consider being the primary recruiters of their trained workforce. Artisans or skilled professionals such as ICT workers can be absorbed by NDDC contractors, which in turn, will enable the commission reach the most vulnerable and neglected youth," she said.
She also pledged to partner with NDDC on building a database of artisans within the country to strengthen the workforce and by extension achieve microeconomic growth for Nigeria.
"Local Content Committee intends to deploy innovative thinking for positive results, thus, we are building a database of carefully profiled artisans who have been trained by NDDC, SMEDAN, etc.; and work modalities to have the oil & gas companies, as well as government contractors, recruit from the pool of verified workforce.
"This would help curb unemployment by keeping the jobs locally. Such a project would also help the Local content board, NDDC and other agencies monitor and evaluate the performance of our collective capacity-building efforts towards achieving a common microeconomic growth for Nigeria and Africa at large," she added.
In his remarks, the NDDC MD accepted her proposal and looks forward to a synergy with the Local Content Committee to develop strategies, and in turn, engage trained workforce for employment opportunities.
Update: 2024 Appropriation Bill Passes Second Reading At House Of Reps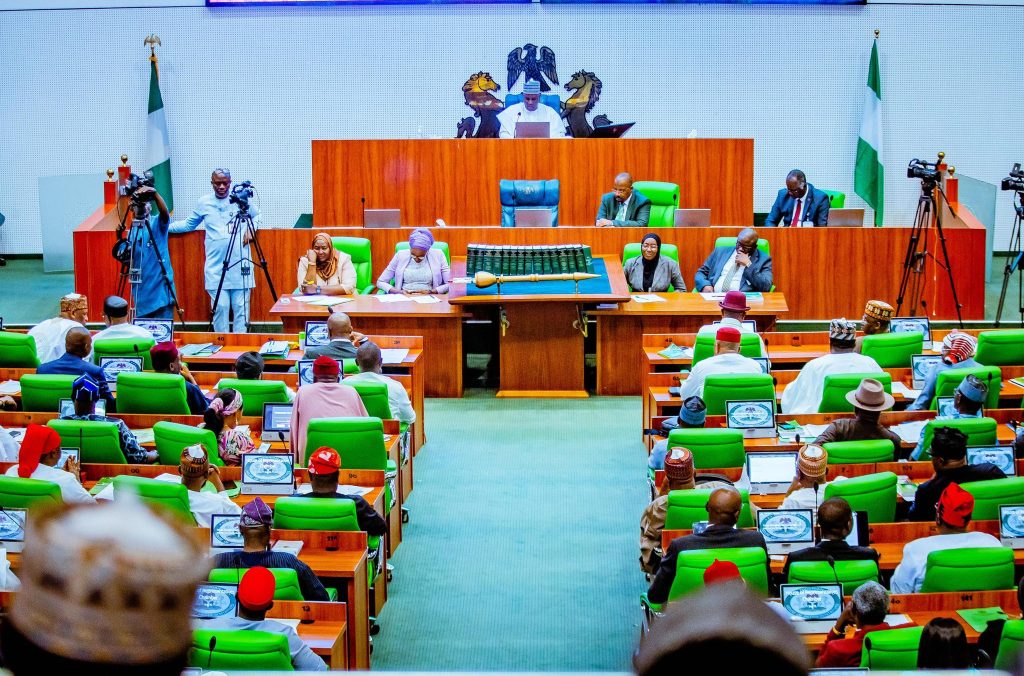 The House of Representatives has passed the N27.5 trillion 2024 budget for a second reading.
The House leader, Julius Ihonvbere, on Thursday, November 30, while leading the debate on the general principles of the budget, commended President Bola Tinubu.
Ihonvbere noted that national security and education which got significant allocations will be enhanced if implemented.
He said, "Nigeria will be more secure with the allocation to defence and security. As a teacher, I am impressed by the emphasis on basic education. I am sure that education will be better off this time."