Mikel Obi visits Yahaya Bello, harps on youth leadership
Ace Nigerian Footballer, Mikel Obi, has harped on the need for youth leadership in Nigeria while on courtesy visit to Gov. Yahaya Bello of Kogi on Sunday in Abuja.
Obi said that it was time for the Youths to come out and take leadership positions across all boards for the betterment of Nigeria.
He pledged support for Bello's political aspirations, adding that youths should be given a chance to get the change Nigerians clamour for.
He also lauded Bello for his achievement in Kogi in the areas of security, healthcare, infrastructure, education and agriculture.
The soccer star noted that such efforts when impacted at a higher level would bring further development for Nigeria.
"It is an honour for me to finally meet his Excellency personally after all the good things I have heard and read about him from not just the people of Kogi State but from Nigerians
"My main aim is to come here to show my appreciation and to thank him for all the things he has been doing for the people and also to support him in whatever future political positions he wants to go into.
"I will like to be there to support him, to be there by his side through this journey for him to achieve whatever he wants  which is for the betterment of Nigeria," he said.
Obi said he was hopeful that Yahaya and himself could work together as team to achieve success.
"What better person to lead the youths than him, because he has been doing all these good works and that is why I am here to see whatever way I can come in.
"To get the youths together to know and see how we can make things better for our country and how we can align to achieve all that", Obi said.
Responding, Bello thanked Obi for the visit and his pledge to support the course for youth leadership.
He reiterated that it was time for the youths to take the opportunity that had presented itself.
He thanked the ace footballer for lauding his efforts in the state, noting that the security and welfare of his people and Nigerians remained his priority.
The governor noted that when there was political stability in a country, economic prosperity and development would be achieved.
He urged Obi to use his voice and his platform to advocate and call on youths to vie for leadership position to change the existing narratives in line with the current realities.
"We can always come from our comfort zone to support each other.
"If we do not take charge we are going to blame ourselves tomorrow. The opportunity has come and it is now, not a second later.
"So you are going to integrate with us, not just as the superstar, Mikel Obi, but as one who will be in tune with what is happening at home politically.
"In the western world, because they have political stability that is why there is safety and security," the governor said.
Bello said because there was safety and security outside the country, the economy was stable which was why everyone was rushing there.
"We can as well do same. First economic stability that will guarantee security and safety and then every other thing will follow.
"Even if it is just to talk, you have millions of followers, our achievements are online where you can click, take your time to go through.
"When you go through, send it through your social media handles and tell your advocates and let them see it", Bello said
Spain Beat England 1-0 To Win First Women's World Cup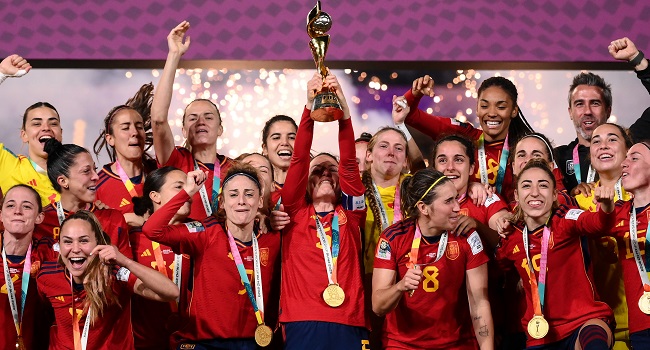 Spain won the Women's World Cup for the first time in their history with skipper Olga Carmona sweeping in the only goal for a deserved 1-0 victory over England in Sunday's final.
In front of a crowd of nearly 76,000 at Stadium Australia in Sydney, Spain were the more accomplished side and had more chances, including missing a second-half penalty.
Spain's triumph is vindication for Jorge Vilda and the Spanish football federation, who stuck with the coach even after 15 players last year said they no longer wanted to represent their country under him.
England coach Sarina Wiegman, who has now suffered back-to-back defeats in the final, and her European champions can have few complaints.
Spain are the fifth team to lift the World Cup since the tournament began in 1991, joining outgoing champions the United States, Germany, Norway and Japan.
In front of Spain's Queen Letizia, defender Carmona scored what turned out to be the winner, rampaging from left-back to thrash the ball in low and hard on 29 minutes.
Wiegman had resisted the temptation to recall Chelsea attacker Lauren James after her two-match ban and kept faith with the team that beat co-hosts Australia 3-1 in the semi-finals.
Playing in their blue second kit, England had the first sniff of a chance in the fifth minute but Lauren Hemp shot weakly at goalkeeper Cata Coll.
There was little to choose between them in the opening exchanges before both teams had golden opportunities on the quarter-hour mark.
First, Manchester City forward Hemp struck the bar with a curler that had Coll well beaten.
Spain went up the other end and should have scored but Salma Paralluelo — in for Alexia Putellas — missed the ball in the six-yard box.
Then Alba Redondo hit a first-time strike straight at goalkeeper Mary Earps with the England goal gaping.
Hemp then had another tame effort saved, before the game was momentarily held up in the 24th minute when a spectator darted on to the pitch before being wrestled away by security.
Five minutes later Spain, who had never won a knockout game at the Women's World Cup until this tournament and had lost 4-0 to Japan in the group phase, were ahead.
Spain's forward #08 Mariona Caldentey (2L) and Spain's midfielder #03 Teresa Abelleira (L) celebrate after Spain scored their first goal during the Australia and New Zealand 2023 Women's World Cup final football match between Spain and England at Stadium Australia in Sydney on August 20, 2023. (Photo by Izhar KHAN / AFP)
Mariona Caldentey slid in an inch-perfect pass for Carmona, who came flying unmarked down the left before lashing the ball into the bottom corner.
Vilda, who recalled three of the 15 mutineers for the World Cup, did not even raise a smile on the sidelines.
England looked uncharacteristically rattled and the 19-year-old Barcelona attacker Paralluelo, who was a constant threat, shaved the post with the last kick of the half.
Wiegman, who suffered agony in the final four years ago when her Netherlands team lost 2-0 to the United States, made a double change at the break.
James and Chloe Kelly replaced Rachel Daly and Alessia Russo as Wiegman switched from a back-five to a flat back-four.
But it was Spain who nearly doubled their lead almost straight after half-time, Caldentey dinking inside and forcing Earps to turn the ball around the post.
Hemp was booked for clipping Laia Codina as England's frustration mounted.
Midfield schemer Aitana Bonmati, who has been one of the players of the tournament and was one of the three refuseniks recalled by Vilda, fired narrowly over Earps's bar.
With 20 minutes left, Spain were awarded a penalty when VAR was called into action and, after a long review, Keira Walsh was judged to have handled the ball in the box.
Jennifer Hermoso stepped up but her penalty was weak and Earps saved comfortably to keep England just about alive.
Officials indicated 13 minutes of injury time at the end, but if anything, it was Spain who looked the more likely to score as England's dreams of a first World Cup melted away.
Spain Beat Sweden, Reach First Women's World Cup Final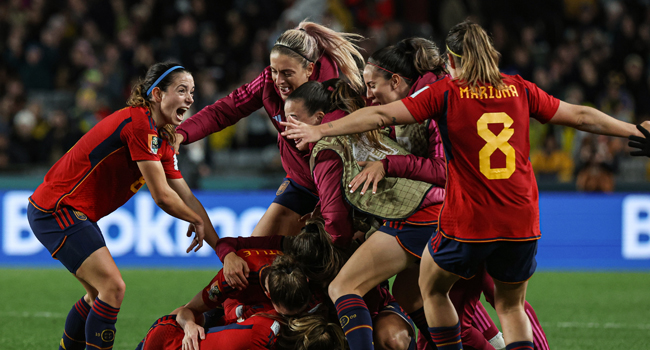 Olga Carmona's stunning late strike gave Spain a 2-1 win over Sweden on Tuesday to propel them into the Women's World Cup final for the first time in their history.
Spain's thrilling victory at Eden Park sets up a showdown in Sydney on Sunday with either Australia or England, who meet in the other semi-final on Wednesday.
The semi-final in Auckland seemed to be drifting towards extra time before suddenly bursting to life when substitute Salma Paralluelo put Spain ahead with nine minutes left.
Rebecka Blomqvist equalised for Sweden in the 88th minute only for full-back Carmona, Spain's captain, to score with a superb shot in off the underside of the crossbar from the edge of the box.
It has been a remarkable run for a nation who had never previously gone beyond the last 16 at a Women's World Cup, and for a team who had been in disarray in the months leading up to the tournament.
Fifteen Spanish players told their federation last September that they no longer wished to be considered for selection, principally out of unhappiness with coach Jorge Vilda, and only three of them returned for this World Cup run.
While their dream of World Cup glory remains alive, Sweden are left with a familiar feeling after going so far at another major tournament before falling short.
This is the third time in four World Cups in which they have reached the semi-finals, only to lose on each occasion.
Peter Gerhardsson's side also lost in the last four at the European Championship last year, having been beaten in the final of the Tokyo Olympics on penalties against Canada in 2021.
Vilda decided against handing a start to Paralluelo, after she came off the bench to score the winner in the quarter-final against the Netherlands.
Instead, he recalled Alexia Putellas and the reigning Ballon d'Or winner started for the first time since Spain were walloped 4-0 by Japan in the group phase.
The plan was clearly to dominate possession and make a more physically imposing Sweden do the chasing.
Spain had far more of the ball in the first half yet neither Putellas nor Aitana Bonmati were allowed the time and space to really influence the game.
The closest they came to breaking the deadlock was from long range, when Jennifer Hermoso laid the ball back to Carmona, whose shot whistled wide.
Sweden had taken the game to Japan in an impressive 2-1 win in the quarter-finals but they offered next to nothing here until suddenly they almost struck three minutes before half-time.
Nathalie Bjorn sent a hanging cross from the right to the back post for Fridolina Rolfo –- facing seven of her Barcelona club colleagues in the Spain starting line-up -– but her side-foot volley was saved by Cata Coll.
Vilda's plan was clearly to save the pacy Paralluelo for when the Swedish defence was beginning to tire, and it was just before the hour mark that he turned to the former athlete.
Paralluelo took the place of Putellas, who has still not completed 90 minutes at this World Cup as she continues to recover from full fitness following a serious knee injury.
The substitute's persistence almost brought the opener for Spain with 20 minutes left as she stretched to keep the ball in play following a cross by Hermoso, but Alba Redondo turned her cutback wide.
Paralluelo then struck with nine minutes of normal time remaining, showing a killer instinct to lash a shot low into the corner.
But Sweden did not give up, drawing level in the 88th minute thanks to two substitutes of their own.
Lina Hurtig had only just come on when she nodded down a cross for Blomqvist to fire home, raising the spectre of extra time once again.
But Carmona, the Real Madrid left-back, had other ideas as she clinched victory for Spain in style.
U20WC: Flying Eagles Crash Out To South Korea 
Nigeria have bowed out of the 2023 U-20 World Cup after slumping to a 1-0 defeat against South Korea on Sunday.
The Flying Eagles enjoyed the earlier exchanges but failed to make them count in the quarter-final clash.
While the game ended barren after normal time, it only took South Korea five minutes into the extra time to head home the lone goal of the match.
Coach Ladan Bosso's men dominated the game, especially in the first half and the latter part of the match. They had five corners in the first half, a credence to their dominance.
One of Nigeria's earlier efforts in the game was via AC Milan's star Victor Eletu. However, Kim Joonhong parried his shot away for a corner kick.
As the game wore on, the Flying Eagles continued to press for a goal but the South Koreans dealt with their threats. The first half ended with no team able to break the deadlock.
When the second-half hostilities began, Coach Bosso made some switches, throwing in fresh legs as the 2005 runners-up battled to get a goal.
Both sides grew into the game with South Korea opening up more unlike in the first half. However, none could find the net.
But when the game went into extra time, Choi Seok-Hyun needed just five minutes to head in the winner from a corner kick as he flicked the ball past Kingsley Aniagboso.
Nigeria were inches close to a leveller in the second half of extra time but Umeh Emmanuel's effort at the edge of the box flew over the crossbar.
He had another opportunity to make amends. Again, his shot could only find the side net in the 120th minute.
South Korea held on in added time to seal their second win in three meetings over Nigeria at this level.
The Asians will now play Italy in the semi-finals of the competition taking place in Argentina.