Governance: Buhari Unveils Digital Performance Management System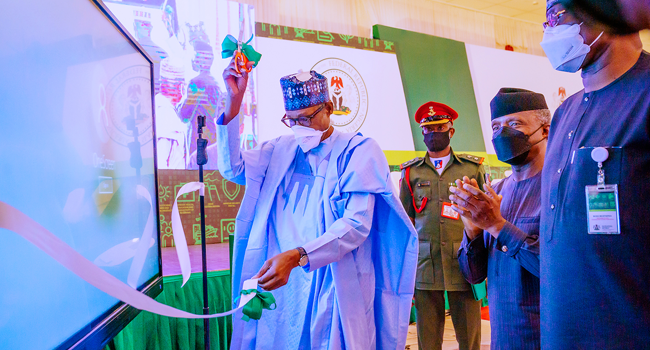 President Muhammadu Buhari has unveiled a digital Performance Management System (PMS) that would help track government projects across the country in real-time.
Buhari launched the PMS on Monday at the Midterm Ministerial Performance Review Retreat which held at the Banquet Hall, Presidential Villa, Abuja.
At the unveiling, the president said the dashboard will keep an eye on projects using live data.
According to President Buhari, the PMS has been in effect since January 2021 and has helped him to monitor the performance of ministries and by extension, monitor the progress of his administration.
The president disclosed that it was in the continued drive to ensure accountability that his government "incorporated performance management framework into the functions of the Central Delivery Coordination Unit".
He explained that the Midterm Ministerial review is aimed that reviewing each minister's program, identifying key impediments to implantation and re-strategizing on how to accelerate delivery of results given the country's economic situation.
Furthermore, President Buhari said that the retreat will effectively evaluate the activities of the ministries over the last two years to ascertain how well they have helped deliver on the promise made to Nigerians.
Buhari urged ministers to work closely with permanent secretaries to ensure accelerated and effective delivery of the programs and projects in their respective primary areas of focus.
He also disclosed that the Secretary to the Government has been directed to consolidate efforts at strengthening the work of the delivery unit, in a bid to attain effective implementation of government policies and plans within the remaining period of the administration.
I'm Standing By The Gate': Shaibu Denied Access To Edo Govt House Office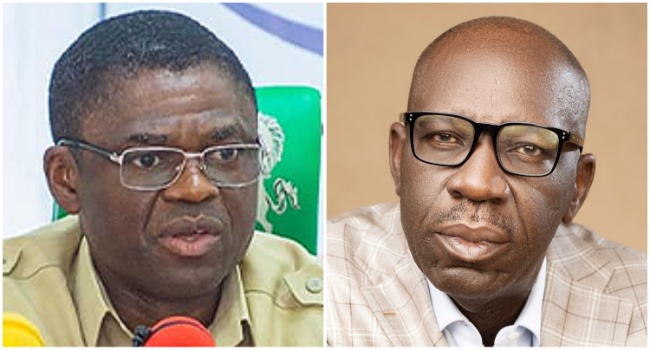 The Deputy Governor of Edo State, Philip Shaibu, has been denied access to his old office at the Government House in Benin, the state capital.
Shaibu arrived at the Government House on Monday morning but met the gate leading to his office under lock and key.
He says he has yet to receive a formal letter from the governor's office and that, according to him, is the proper channel to transmit a directive pertaining to the relocation to a new office
"Up till now, I don't have any official communication that I should relocate. The only people that have official communication are my civil servants. The civil servants have official communication but I don't. As I am speaking to you now, I am standing by the gate," he said while on a phone call to a yet-to-be-identified person.
The Edo State Governor has not reacted to the development, but sources close to him say Shaibu has relocated his office to a new location outside of the Government House and was not expected at the old office.
They also explained that there was no meeting scheduled for Monday so the Deputy Governor was not expected at the Government House.
If a meeting had been scheduled, they said arrangements would have been made and the Deputy Governor would have been allowed to attend.
Last week, a letter said to be from the office of the Head of Service, Anthony Okungbowa, was reported to have been sent to the Permanent Secretary, Office of the Deputy Governor directing Shuaibu to relocate to a new office situated at No 7, Dennis Osadebey Avenue, GRA, Benin City.
However, sources close to Edo's number two citizen claimed that the new office is abandoned and in dire need of rehabilitation.
STI can help Nigeria diversify economy– D-G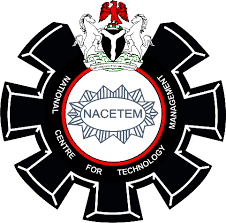 Director- General of National Centre for Technology Management, (NACETEM), Dr John Omimakinde said with Science, Technology and Innovations (STI), Nigeria can transform from over dependence on oil revenue to a diversified economy.
Omimakinde said this at the 2023 STI Expo in Abuja on Wednesday.
He said that, if the STI sector was well harnessed, it would be a panacea to a strongly diversified Nigeria economy.
" For decades, scholars, policy makers, academics and practitioners have been engaged in heated debates that Nigeria's development challenge is the 'oil curse'.
"It is believed that the bane of development is the over dependence on a mono-product, crude oil.
"Recent happenings in the country have shown that Nigeria's major development challenge is not the 'oil curse', but of not achieving economic diversification beyond it's dependence on oil revenue," Omimakinde said.
The NACETEM D-G confirmed that successive governments had looked beyond oil by shifting their attention to areas such as agriculture and the informal sector, among others, which yielded substantial results.
Omimakinde acknowledged that actualising the objective of successfully diversifying Nigeria's economy beyond what was presently operational required looking in the direction of STI.
"NACETEM as a foremost knowledge support and policy research institution is convinced that the current STI policy can put us in the right direction.
"All we need to achieve sustainable development and diversification of Nigeria's economy is contained therein, but it appears we have not fully deployed it appropriately.
"This has to change as implementing the STI policy as reviewed in 2022 will set Nigeria on the path of wealth," he said.
Mrs Monilola Udoh, Permanent Secretary of the STI Ministry, assured that President Muhammadu Buhari had reaffirmed his commitment to his pledge allocating 0.5 per cent of GDP to funding research and innovations.
She said the Federal Government was actually funding researches which are domiciled in the ministry.
Udoh decried the lack of synergy among research institutes and others.
She also said: "There were duplications of research works being carried out," and urged for adequate communications, collaborations and cooperation among government agencies for value addition.
Mr Haastrup Olatunji, Chairman of NACETEM Governing Board, corroborated that Nigeria ran a mono-cultural economy as 85 per cent of her revenue was derived from oil and gas export.
He said: "Naysayers may see that as not being good because of perceived neglect of other sectors of the economy.
"It is important to stress that lamenting the situation will bring us no good
"Rather, thinking through how to better the lot of Nigeria is what we require.
"STI is relevant to all sectors of the economy, it is an enabler of rapid growth and development,"Olatunji said.(NAN)
GOOGLE EQUIANO SEA CABLE SYSTEM LANDS IN LAGOS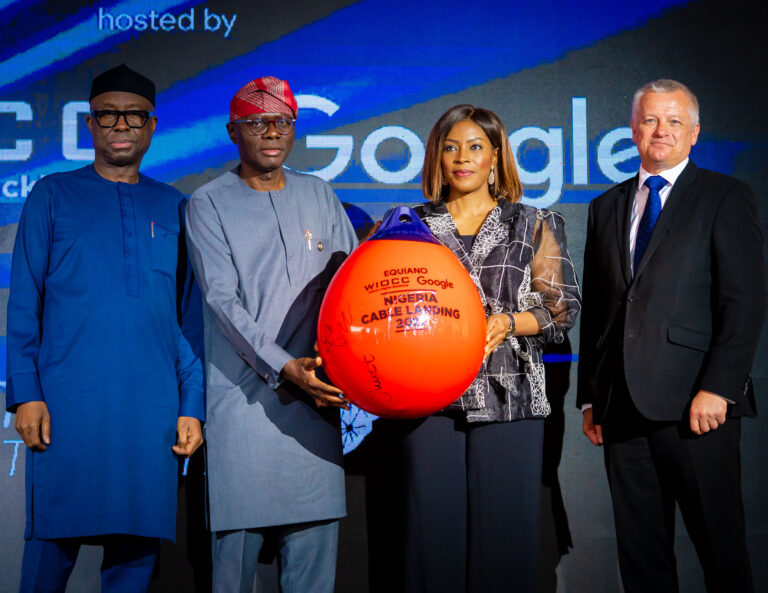 •It will generate 1.6m jobs, $10b GDP for Nigeria, says Sanwo-Olu
Lagos State Governor, Mr. Babajide Sanwo-Olu on Thursday witnessed the virtual landing of the Google Equiano Sea Cable System in Nigeria, saying the country will enjoy a boost of 1.6 million jobs and $10 billion in additional Gross Domestic Product (GDP) over the next three years, on account of the new cable system.
He said with the landing of the sea cable system and other investments in high-speed internet, Lagos is about to witness an unprecedented digital revolution that will cement its global reputation as a hub for entrepreneurial innovation.
Speaking at the reception marking the landing of the Equiano Sea Cable System in Nigeria on Thursday at the Open Access Data Centre at Lekki in Lagos, Governor Sanwo-Olu said the new cable system is the latest element in the transformation of the physical infrastructure landscape, new roads, bridges, jetties, factories, municipal and national rail lines, among others being delivered by his administration and a host of partners and stakeholders across public and private sectors.
The landing of Equiano Sea Cable System will firmly position Nigeria as the regional connectivity and content hub for West Africa, attracting cloud operators, content providers, content distribution networks and their associated ecosystems.
It is significant and a demonstration of the seriousness with which Google LLC views Nigeria, the economic and demographic giant of Africa.
The new cable system is named after a Nigerian hero, Olaudah Equiano, who survived enslavement in the 18th century and went on to become a famous writer and anti-slavery activist.
Governor Sanwo-Olu said his administration is more than ever determined to deliver on its promise to make and maintain Lagos as a safe, livable, innovative and prosperous megacity.
He said: "I am told that this new Equiano cable system, landing today, will deliver twenty times as much network capacity as any of the existing systems serving Nigeria.
"This means much faster internet speed, reduced cost, and greater access for our people. The net effect of this is much-needed jobs and economic growth. The economic impact assessment for the project estimates that Nigeria will enjoy a boost of 1.6 million jobs and 10 billion dollars in additional Gross Domestic Product (GDP) over the next three years, on account of the new cable system.
"There is much to be excited about, at a time like this in the unfolding history of Lagos State and of Nigeria. We are seeing an unprecedented inflow of investments into every part of Lagos, from local and foreign investors who understand the immense business and commercial potential that the State symbolises.
"We say it often, that wherever Lagos goes, Nigeria and West Africa follow. With this in mind, as the government of Lagos State, we are more than ever determined to deliver on our promise to make and maintain Lagos as a safe, livable, innovative and prosperous megacity."
Governor Sanwo-Olu also commended Google LLC, the West Indian Ocean Cable Company (WIOCC) and other investors for identifying with his administration's vision for a truly 21st century Lagos and a megacity all will forever be proud of.
"I congratulate Google LLC for envisioning this huge project, and the West Indian Ocean Cable Company (WIOCC) for helping implement it to the highest levels of excellence. Your partnership is commendable, and should be seen as a model by other players in the ecosystem, a testament to how much can be achieved when synergy is pursued.
"In addition to this cable system, I am told that WIOCC is presently completing, on this same site, a Tier III certified, Open Access Data Centre, which will also host the landing station for the Equiano cable. This data centre will be the most client-centric data centre, and the largest data center campus, in West Africa," he said.
Speaking earlier, the Chief Executive Officer (CEO) of WIOCC, Chris Wood, described the landing of the submarine cables as a major investment for Nigeria's digital economy and Lagos State in particular.
He said the submarine cables will deliver high-speed internet connectivity at a reduced cost
Wood also appreciated Governor Sanwo-Olu for providing an enabling environment for the investment of this nature to birth in Lagos State.