Gender Equality: Stakeholders harp on addressing women issues as society issues
A cross section of stakeholders on Wednesday harped on the need to address women issue as not only human issues but societal issues.
Mrs Biola Alabi, Chief Executive Officer, Biola Alabi Media, made the call at the ongoing Future of Health Conference in Abuja.
The theme of the two-day Future of Health Conference by Nigeria Health Watch is: " Breaking Glass Ceilings: Gender Equality for Sustainable Development".
Alabi said that it was time for the society to begin to address issues of maternal mortality as well as other challenges of women as society problem.
"We have a responsibility to look at women issues as society issues.
"Issues of maternal mortality, ovarian cancer, breast cancer and others should be seen as society issues," she said.
The Media Chief Executive urged the society to jettison stereotypes and discriminations against women in order to empower women.
She affirmed the imperatives of involving women in conversations around them aimed at making impact especially in the media industry.
Alabi said that women should be trained to narrate their own stories with salient points using the media platform to help correct the narratives against women.
According to her, women mentorship is also key in bringing women to the front burner thereby ending gender inequality.
Mrs Chris Ubosi, Founder/Managing Director, Megalectrics, said that competence and confidence were critical elements required to break the barrier of stereotypes against women.
Ubosi said that women with better training and competence would always be given opportunities over their male counterparts in work places.
He advocated total support for women to compete favourably with men thereby ending gender inequality.
Ubosi, who reiterated the need for involvement of women in their conversations, called for gender friendly policies in work places.
Dr Amina Bolani, Kaduna State Commissioner for Health, saluted the position of Kaduna State in promoting gender equality.
Bolani said that six out of the 14 commissioners were women, making the state one with special interest in ending gender inequality.
She called for deliberate policies to prioritize girl child education in order to bring women to where they could compete favourably with men.
Bolani condemned the stereotype of tokenism which she said was inimical to the development and empowerment of women.
"The HeforShe movement by Nigeria Health Watch will go a long way in breaking the tokenism against women.
"We need to have male advocates to end the discrimination and perception that women should not be at certain place."
Mr Kola Aina, General Partner, Ventures Platform, emphasised the imperatives of supporting female founded companies.
AIna expressed the determination of his organisation to continue to break ceilings by supporting females in founding and funding companies.
Prof. Babatunde Irukera, Executive Vice-Chairman, Federal Competition and Consumer Protection Commission (FCCPC), said that he had no recognition for discriminations between women and men.
Irukera explained that there was no law or rule that prescribed cooking as a female responsibility.
He, therefore, called for collaboration between the male and female counterparts to take the female to enviable and competitive positions. (NAN)
INEC, NGO seek increased women's participation in electoral process
The SOS Children's Villages Nigeria in collaboration with the European Union Support to Democratic Governance in Nigeria has called for increased women's participation in electoral process.
The call was made at the training for women and other marginalised groups on peace building, mitigation, human rights, gender and participation, on Monday, in Ibadan.
The guest speaker, Dr Esther Sanya, the representative of the National Council for Women Societies (NCWS), Oyo State chapter, said that there had been growing recognition of untapped capacity and talents of women in political leadership.
Sanya noted that women's engagement in politics would help to advance gender equality.
"Research indicates that whether a legislator is a male or female has a distinct impact on his or her policy priorities.
"There is also strong evidence that as more women are elected to office, there is a corollary increase in policy making that emphasises quality of life and reflects the priorities of families, women, ethic and racial minorities," she said.
Also speaking, Mr Lateef Ariori, the Director, Child Welfare Oyo State Ministry of Women Affairs and Social inclusion, said that women should be given substantial consideration in the design and execution of political participation process.
Ariori charged women organisations in the state to work toward promoting gender equality among candidates, election officials, observers and other electoral participants.
"Women have a responsibility to oversee the electoral process because gender equality and true democracy fundamentally depend on women's political engagement," Ariori said.
Earlier, Mrs Catherine Ogwu, the Gender Desk Officer, Independent National Electoral Commission (INEC), Oyo state, urged the women not to sell their votes or be intimidated during the forthcoming general elections.
She noted that the current Electoral Act and new technology from INEC would make 2023 general elections the most free and inclusive elections in the history of Nigeria.
The News Agency of Nigeria (NAN) reports that the training featured lectures and presentations from different women groups in the state.
(NAN)
Afreximbank's Kanayo Awani makes Nigeria Women Annual's "100 Leading Women" list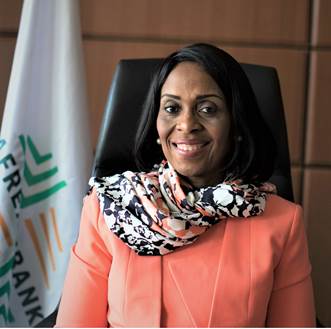 The Managing Director of Afreximbank's Intra-African Trade Initiative Division, Mrs. Kanayo Awani, has been named among the 100 outstanding women leaders in Nigeria, according to the list published in the 2022 edition of Nigeria Women Annual: 100 Leading Women.
Mrs. Awani's listing acknowledges her distinguished career and contributions to the development of society.
As Managing Director, Mrs. Awani currently leads the Bank's efforts in implementing its intra-African trade and industrialisation strategies.
A statement by the bank said she successfully led Afreximbank's engagement in support of the establishment and implementation of the African Continental Free Trade Area (AfCFTA) and was the arrowhead for the introduction and organization of the biennial Intra-African Trade Fair (IATF), which has delivered trade and investment deals valued at over US$70 billion.
She previously led Afreximbank's Trade Finance and Branches Department from 2009 to 2016, growing it into the Bank's most profitable department which accounted for over 80 percent of its loan book.
Mrs. Awani is also the Chairperson of the Africa Chapter of Factors Chain International (FCI), a global factoring association.
"The Nigeria Women Annual: 100 Leading Women" is the premier qualitative profiling of phenomenal women who have contributed to the development of Nigeria and the world.
A gender-specific biographical compendium, it responds to existing gender gaps in Nigeria's biographical documentation and leadership and, in 2022, focused on the most inspirational and influential women whose work contributed to shaping Nigeria's collective history during the year.
This year's list includes technology experts, politicians, teachers, activists, development practitioners, C-Suite corporate leaders, and other notable women.
Gender Bills: Women should not lose hope on their demands – Senate President
The President of the Senate, Ahmad Lawan has advised women not to lose hope on their demands for legislations on gender related matters.
Lawan spoke in Agasa in Kogi State on Thursday against the backdrop of some gender related bills that recently failed to scale through at the National Assembly in the ongoing review being carried out on the 1999 Constitution.
Senate President  made a strong case for education of the girl child shortly before he commissioned a 600 capacity JAMB CBT Centre which was facilitated by Senator Yakubu Oseni who is representing Kogi Central Senatorial District.
"I know somebody will say gender bills have failed in the National Assembly. That is democracy. Let's continue to lobby.
"We should continue to lobby because nobody will like to undermine anybody. Let's not lose hope.
"Every male member in the National Assembly is a "He for She" because I don't think there is anybody who is not married in the National Assembly.
"We will continue to work together with gender based organisations especially those that genuinely want to engage with members of the National Assembly because if you are not able to get something, if there is a failure, we should make it a political capital that tomorrow, we say, you were not able to do it yesterday, can you do it today. That will help us in ensuring that we get some of these hurdles out of the way.
"Most of us have our daughters as well. So we know that everybody is one way or the other connected to this struggle but we should not lose hope," Lawan said.