Buhari government's grazing reserve plan has hidden agenda – Benue Gov Ortom
Benue State governor, Samuel Ortom has reacted to media statement by the Senior Special Assistant to the President on Media and Publicity, Mallam Garba
Shehu that the Federal Government would commence rehabilitation work on grazing reserves across the country next month.
The governor described the move as shocking and disappointing particularly at a time when insecurity was at its peak, wondering how reopening of grazing routes should be the solution as against the national dialogue.
In a statement by the Chief Press Secretary to governor, Terver Akase which was made available to Journalists on Tuesday, the governor asserted that Federal government's hidden agenda has become obvious to Nigerians now.
The statement noted that Buhari was assiduosly working to realise his hidden agenda given that all the geopolitical zones and governors of his own political party have accepted that open grazing was no longer fashionable.
The statement noted: "We find the move not only shocking and curious but also as a misplaced priority.At a time the country is worried about the worsening security situation and many Nigerians are calling for national dialogue to address the fundamental issues that have led to the present state of affairs, the Federal Government considers the reopening of cattle grazing routes as the only solution available to it.
"It is now clear that there is a hidden agenda which only the Presidency knows. Otherwise, all the regions of the country have accepted the fact that open grazing of animals is no longer fashionable and should be banned to pave way for ranching, yet, the government at the centre is insistent that grazing reserves/cattle routes must be created across the country.
"On February 9, this year, the Northern States Governors' Forum (NSGF) met and agreed that the current system of herding mainly by open grazing is no longer sustainable, in view of growing urbanisation and population of the country.
"The Forum consequently resolved to sensitize herders on the need to adopt ranching as the new method of animal husbandry.
"The 17 Governors of Southern Nigeria rose from their meeting in Asaba on May 11 also this year, with a ban on open grazing in the entire region. The Southern Governors equally adopted ranching as the alternative method of rearing animals.
"As it stands, the Presidency is the lone hand pushing for the continuation of open grazing and the return of cattle routes of 1950s and 60s. The Presidency has, by its endorsement of open grazing, emboldened armed herders who lay claim to all lands in Nigeria as belonging to Fulani, hence their invasion of farming communities and killing of original owners of such lands.
"The fact must be established that grazing reserves or cattle routes are no longer tenable in the 21st century when Nigeria's population far exceeds that of the fifties at a time these routes were contemplated. At present, the routes have been taken over by airports, roads, schools, hospitals, as well as markets, houses and other human activities.
"The country's land mass has also reduced to less than 923 square kilometers with the excision of Bakassi to Cameroon. Besides, the international best practice of animal husbandry is ranching; and that's the stand of Benue State.
"We in Benue have embraced ranching as the viable alternative to open grazing and there is no going back on our resolve. Our ranching law which prohibits open grazing is Benue people's reaction to the incessant killings, and it is also an instrument of development.
"The law was enacted by representatives of the people in the Benue State House of Assembly, in exercise of its powers as provided for by Section 4 of the Constitution of the Federal Republic of Nigeria 1999 (as amended). Part 2 of the Second Schedule reinforces the power of the State House of the Assembly providing that "a House of Assembly may make laws for the State with respect to industrial, commercial or agricultural development."
"The Law followed due process with public hearings and requisite opportunity for all stakeholders making input.
Ranching as a policy has the potential to launch Nigeria into 21st century agricultural good practices. Today, open grazing is extinct in most countries of the world.
"In Europe, America, Asia and in many countries in Africa, pastoralism has long given way to ranching. How can Nigeria then still be battling with a problem of pastoralism that in other countries has been solved over a century ago? According to the United States Department of Agriculture, USDA, India has 303 million cattle, Brazil, 226 million, China, 100 million, USA, 93 million, Argentina, 53 million and Australia 27 million. All these countries ranch their animals. Nigeria has less than 20 million cattle which can easily be ranched. Unfortunately, the cows are allowed to either roam the streets freely or encroach on people's farms and other investments.
"While we may not stop the Federal Government's plan to rehabilitate grazing reserves or create cattle routes in other states, we wish to make it clear that no land in Benue State has been gazetted for grazing routes, grazing reserves, cattle colonies and Ruga settlements. Benue is therefore not part of the grazing reserves rehabilitation programme of the Federal Government.
"We expect the Federal Ministry of Agriculture to weigh the negative consequences its recommendation will have on the unity and security of the nation and advise Mr President that Nigerians are not on the same page with him regarding the matter of open grazing. It is not too late to salvage the situation.
"We are concerned about the plight of millions of farmers who have been displaced as a result of herders' attacks and are now in IDP camps; a development which is already adversely affecting food production.
"Benue State has over one million displaced people who are mostly farmers, and the task of returning them to their ancestral homes is what should bother the Ministry of Agriculture and other agencies of the Federal Government."
Economic: Osinkolu Assures Nigerians Of Better Days Ahead 
A financial expert, Dr Olusegun Osinkolu has appealed to Nigerians to exercise patients with the economic team put together by President Bola Tinubu, noting that relief will soon come.
Osinkolu assured that Nigeria will soon witness a great turn around by the time the economic team swings into full action.
"we will heave a sign of relief soon as the story would change for better".
The Ayede-Ekiti born All Progressives Congress (APC) Chieftain in a statement issued on Friday and released to newsmen, described the appointments of the Central Bank of Nigeria Governor, Yemi Cardoso and Minister of Finance, Wale Edun as a round peg in a round hole.
Osinkolu, who was a banker of repute, described them as gentlemen and men of integrity, who are masters on their field of appointments.
He commended President Bola Tinubu for the appointments, describing it as well deserved and has raised the bar and shown that competence is the parameter for public service.
"I want to formally thank President Bola Tinubu for considering the duo of the CBN Governor and Finance Minister for their appointment.
I commend his open-mindedness to embrace and usher in vibrant patriots into the national mainstream politics.
"I wish to state that their appointment is not only well deserving, but also falls in line with Mr. President's penchant for talent discovery that has characterised his bold and giant strides in Lagos state and the nation at large.
"I affirm that this particular appointment is a round peg in a round hole,"he stated.
He urged the duo of the CBN Governor and finance minister to focus on the vision and mission of Mr President, by refocusing through their short, medium and long term measures.
He assured Nigerians that the CBN and it's Finance ministry under their watch will operate transparent monetary policies, while his administration will not tolerate and work towards correcting the errors made by past administrations.
He further urged the duo to comply with all constitutional duties and ensure that financial policies of the country are of international standard and in support of the Tinubu-led administration.
Senator Natasha lauds NDDC, NLNG partnership on local content
Senator Natasha Akpoti-Uduaghan, lawmaker representing Kogi Central senatorial district has commended the pact between Niger Delta Development Commission (NDDC) and Nigeria LNG Limited (NLNG), to develop local content capacity.
Both NDDC and NLNG recently signed a Memorandum of Understanding (MoU) to leverage shared aspirations and collaborate on diverse fronts in the delivery of sustainable development projects in the region.
Reacting, Senator Natasha urged NDDC to consider the need to be the primary recruiters of their trained workforce to achieve effective service delivery.
She gave the charge on Thursday during an interactive session between Senate Committee on Local Content and the NDDC Managing Director, Samuel Ogbuku.
As the Chair, Local Content Committee, Natasha tasked the NDDC on the need to not only build capacity and equip their workforce but also engage them efficiently.
"NDDC should consider being the primary recruiters of their trained workforce. Artisans or skilled professionals such as ICT workers can be absorbed by NDDC contractors, which in turn, will enable the commission reach the most vulnerable and neglected youth," she said.
She also pledged to partner with NDDC on building a database of artisans within the country to strengthen the workforce and by extension achieve microeconomic growth for Nigeria.
"Local Content Committee intends to deploy innovative thinking for positive results, thus, we are building a database of carefully profiled artisans who have been trained by NDDC, SMEDAN, etc.; and work modalities to have the oil & gas companies, as well as government contractors, recruit from the pool of verified workforce.
"This would help curb unemployment by keeping the jobs locally. Such a project would also help the Local content board, NDDC and other agencies monitor and evaluate the performance of our collective capacity-building efforts towards achieving a common microeconomic growth for Nigeria and Africa at large," she added.
In his remarks, the NDDC MD accepted her proposal and looks forward to a synergy with the Local Content Committee to develop strategies, and in turn, engage trained workforce for employment opportunities.
Update: 2024 Appropriation Bill Passes Second Reading At House Of Reps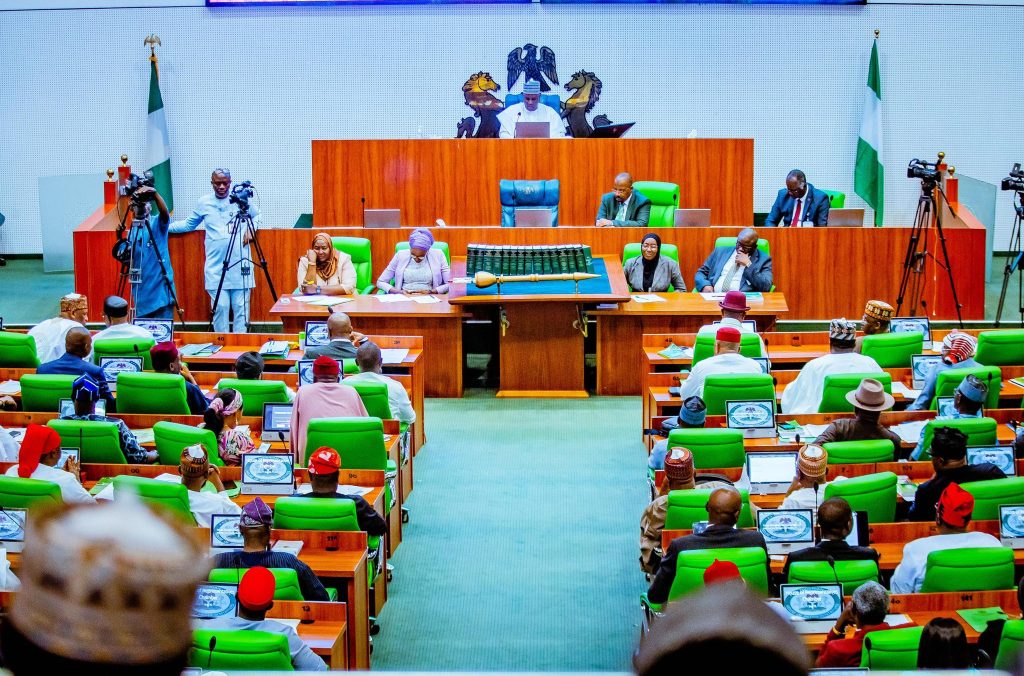 The House of Representatives has passed the N27.5 trillion 2024 budget for a second reading.
The House leader, Julius Ihonvbere, on Thursday, November 30, while leading the debate on the general principles of the budget, commended President Bola Tinubu.
Ihonvbere noted that national security and education which got significant allocations will be enhanced if implemented.
He said, "Nigeria will be more secure with the allocation to defence and security. As a teacher, I am impressed by the emphasis on basic education. I am sure that education will be better off this time."