I have never, won't run my administration on religious bias, Tinubu assures CAN
...says choice of Shettima has nothing to do with religion
Presidential Candidate of the All Progressives Congress, Asiwaju Bola Ahmed Tinubu, has assured the leadership of the Christian Association of Nigeria that he will not run his administration on the basis of religion if elected President of Nigeria.
Tinubu who met with the CAN leadership in Abuja on Wednesday at an interactive session assured them that the same way his administration did not discriminate against anyone either based on tribe, religion or gender when he was Lagos Governor, he would not start such in office as president.
He was accompanied to the session by his wife, Senator Oluremi Tinubu, Presidential Running mate, Senator Kashim Shettima, House of Representatives Speaker Femi Gbajabiamila, Governors Hope Uzodinnma (Imo), David Umahi (Ebonyi), Abdullahi Ganduje (Kano), Abdulrahman Abdulrasaq (Kwara), Deputy Senate Leader Senator Boroffice Ajayi, Senate Chief Whip Senator Orji Uzor Kalu, Minister of Special Duties, Senator George Akume and many others.
The leadership of CAN under new president Daniel Ukoh presented a charter of demands and issues to the APC presidential candidate.
They demanded among others state police or a decentralized policing system, devolution of power to states, equal rights for all religions and their adherents, right to self-determination by all ethnic groups, right to control natural resources by communities that bear them, no to open grazing, and equitable electoral system that guarantees the right to vote and be voted for by all.
Tinubu said, "My belief in the need for secular government and faith-based organizations to work in unison is not something adopted recently to benefit my campaign.
"As Governor of Lagos, I partnered with the Christian to improve lives and foster education. For instance, I returned mission schools to their owners, most of who are Christians.
"I instituted yearly Christian Denomination Service at the Governor's residence as we approached the new year. This tradition continues in Lagos.
"More importantly, we fostered an atmosphere of religious tolerance and inter-faith collaboration. My cabinet was diverse and talented.
"In the exercise of government, I did not give a thought to whether a team member was Christian or Muslim, Yoruba, Igbo or Arewa.
"I have never lent myself to baseless prejudice and discrimination. To do so would be a recipe for failure in the governance of a diverse society and I am not a man that is familiar with failing.
"I never chased people out of Lagos nor made them feel unwanted. Under my administration Lagos welcomed all comers and continues to do so today.
"After me, Lagos has had one Muslim and two Christian governors. I may not be perfect. What human being is? But I am not a petty man secretly wedded to secret biases and prejudices.
"As such, I see all Nigerians as equals and as brothers and sisters in our national family. This means no one is inherently inferior or superior to anyone else, regardless of faith, place of origin, social status and gender. Anyone who does not hold this fair and equitable view, should not run for president in a country such as ours."
He said the Christian body has a great role as the moral compass of the society which he cherishes and will always support.
"You, as an organization and as individual leaders of CAN, are entrusted as the watch person of the welfare of this society from a Christian perspective. Which means functioning in an atmosphere of charity, understanding, patience and wisdom.
" I understand the tremendous importance of your work and have nothing but the deepest respect for your selfless contributions to our national cause," he added.
On his choice of Senator Kashim Shettima as his running mate, which has generated a lot of controversies, Tinubu assured the Christian body that he made the best available choice at his disposal without recourse to religious sentiments.
"I did not choose Senator Shettima so that we could form a same faith ticket. The ticket was constructed as a same progressive and people- based ideology ticket.
"I offer a confession. I selected Senator Shettima thinking more about who would best help me govern. Picking a Christian running mate would have been politically easier. But the easy way is rarely the right one. The selection of a running mate is at once a very momentous yet very intimate decision.
"Resting such a key decision on religious affiliation as the primary weight did not sit well with me. I am not saying there were not good and adequate potential running mates of the Christian faith.
"What I am saying is that the times we inhabit do not lend themselves to the good or adequate. We have urgent problems that lend themselves not to a Christian or Muslim solution. We need the best solution.
"Every time I thought about it, and I did think a lot; I came to the same conclusion: Kashim Shettima
— His faith was immaterial.
— He is a brilliant man with superior intellectual capacity. He is studious and detailed oriented. Enjoying excellent organization skills, Shettima fully understands the vital difference between governance and politics.
— This exceptionally gifted human being has humility of spirit, courage of his convictions and a strongly progressive world view in harmony with my own perspectives on government and its relationship to the governed.
— I trust the calibre of the man. I know the great lengths he went in fighting Boko Haram in his state. He did his best to protect the Christian community and rebuilt damaged churches.
— This man understands the value of our national diversity in all of its ramifications, including religious. He possesses the courage to stand up to those who would wreck that diversity and freedom."
He continued, "I know people have reacted harshly to my selection. They have done so without knowing the man or giving him or me a fair chance.
"The rumour that this is some plot to suppress the Christian community is untrue and unfortunate.
"I can no more suppress the Christians of this nation than I can suppress the Christians in my own household, my very family. You all know my wife is Christian and a pastor. My children are Christians. I can no more disown them and their choice of faith than I can disown myself. As a husband and father to Christian wife and children, hearing such allegations is hurtful."
He thereafter shared his campaign policies with the Christian leaders, asking for their support.
"We must move the nation forward more quickly so that hatred and pettiness haven't a chance to imbed themselves and become the main colours of the fabric of our society.
"My team, Senator Shettima and I have crafted our Action Plan for Nigeria titled Renewed Hope. This agenda is based on the progressive notion that our economy must be recalibrated to ensure better jobs and wages for people. That all are entitled to basic health care and education.
"We will combat hunger and poverty by growing more food and better rewarding farmers for their toil.
"We shall revive our industrial capacity to provide work for our growing urban population and to produce more of the things that we need.
"Where the private sector thrives, we will not attempt to fix what is not broken. Where it falters, government shall lend a hand to keep people employed and the economy vibrant. Where there is a gap, we must fill it so that we more fully employ our idle workforce and productive capacity.
"We must better tend to the poor, vulnerable and elderly by strengthening the social safety net.
"We shall end the fuel subsidy because it has become an unproductive policy favouring an elite that needs no favours while giving the people precious little. Funds that were previously used for the subsidy will be invested in public transportation and other infrastructure, education, and health.
"Let us advance to the economy point where no parent is forced to send their children to bed hungry and no one is fearful that tomorrow will bring more lack and poverty.
"Fiscal power and authority shall be recalibrated to give the states more latitude to better fulfil their mandate of grassroots development and empowerment of people and local communities, This includes assessing each state's best option regarding a more active role in crime prevention and law enforcement.
"On security, we will not relent until terrorists, kidnappers and criminals quit their malign ways or are completely defeated. We shall augment our security forces and use advanced technology to track and defeat these evil groups," he added.
In their contributions, Vice Presidential Candidate Shettima, House Speaker Gbajabiamila, Governor Ganduje and Senate Chief Whip Kalu attested to Asíwájú Tinubu's character and integrity.
They said he usually places merit and competence above any other factor in choosing who to work with and he is always moved to act in the best interest of the country.
Tinubu Media Office
Tunde Rahman.
November 16, 2022
Yobe North: Appeal Court Affirms Bashir Machina As APC Candidate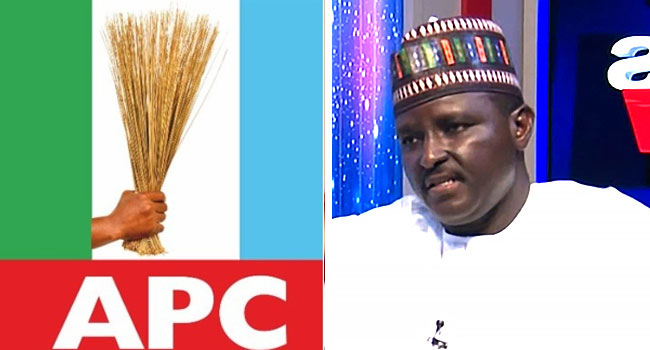 The Court of Appeal in Abuja has affirmed Bashir Sheriff Machina as the authentic All Progressives Congress (APC) candidate for Yobe North Senatorial District.
The court upheld the judgment of the Federal High Court sitting in Damaturu, Yobe State which held that the President of the Senate Ahmad Lawan, is not the APC candidate for Yobe North Senatorial District in next year's election into the National Assembly.
The court had submitted that Mr Lawan did not participate in the legally recognized primary election of the APC to select its candidate in the election held on 28th May 2022.
Delivering judgment on the appeal filed by the President of the Senate, a three-member panel of the appellate court led by justice Monica Dongban-Mensem, held that the primary election conducted by the party on 9th June is invalid as it was in breach of the constitution.
The law is settled as to the involvement of the Independent National Electoral Commission (INEC) in party primaries, which is to monitor, the primaries of 9th June were not monitored by the electoral commission.
The APC made a case at the appellant court for itself and it preferred candidate Ahmed Lawan but failed to make him a co-appellant.
Mr Lawan appeared in the case as the 2nd respondent indicating that he and the APC were working at cross purposes while trying to achieve a goal.
The appeal is unmeritorious as it fails in its entirety.
The appellant (APC) is to pay the sum of N1 million to the 1st respondent (Bashir Sheriff) as cost.
THOUSANDS ATTEND S'WEST APC PRESIDENTIAL RALLY IN LAGOS, AS TINUBU TAKES CAMPAIGN TO THE YOUTH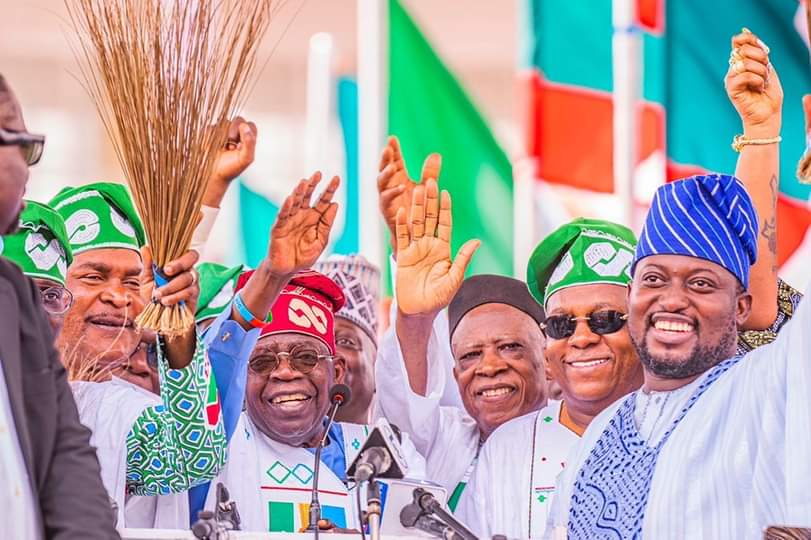 •Sanwo-Olu, Progressive Governors: 'He's country best choice for president'
 
•'PDP about to repeat another failure in Lagos' – Tinubu 
Surulere – the Lagos city that hosted the first All Progressives Congress (APC) convention after the party was formed in 2014 – became a beehive of political carnival on Saturday.
A mammoth crowd thronged the main bowl of the Teslim Balogun Stadium in Surulere, as the ruling party returned to the city for its inaugural 2023 presidential rally in the Southwest region.
Clad in various shades of APC-branded vests, caps and Ankara brocade, a mass of the party's supporters, who filled the 24,000-capacity stadium to the brim, defied the searing heat from the sun to receive the APC presidential candidate, Asiwaju Bola Ahmed Tinubu, his running mate, Sen. Kashim Shettima, members of the party's National Working Committee (NWC) and the Presidential Campaign Council (PCC) team.
At 12:45, Tinubu's motorcade made a grand entry into the venue, moving the crowd into a spontaneous excitement. The APC presidential candidate arrived in company of Governor Babajide Sanwo-Olu, Minister for Works and Housing, Babatunde Fashola, and members of Progressive Governors' Forum led by their chairman, Gov. Abubakar Atiku Bagudu of Kebbi State.
The huge turnout at the rally again confirmed Tinubu's popularity at his political base. The APC presidential candidate hails from Lagos and was a two-term Governor of the State.
Sanwo-Olu opened the floor with his short remarks, thanking Tinubu for laying the foundation for the physical and socio-economic growth being witnessed in Lagos since 1999.
The Governor, who described the APC presidential standard bearer as "architect of modern Lagos", said Tinubu's vision, character and tenacity stood him out among presidential contenders, urging Lagosians to elect the candidate with unprecedented number of votes at the polls.
Sanwo-Olu said: "Tinubu is the builder of the modern Lagos we are all enjoying today. For implementing his vision through character and tenacity, and pushing his ideas to what we can physically see, our candidate is the best choice for the president.
"Aside being a visionary leader, Tinubu has also been an advocate of unity and a figure who has stood firm in support of national cohesion. We are all witnesses to all outstanding achievements to his name. His reputation stands tall among his peers And he is the right man for the job."
Tinubu took to the podium to share message of "Renewed Hope" with the mass of young people at the rally. He said his administration's priorities would focus on improving human capital development and harnessing energy of the youth through job creation to accelerate economic growth.
His capacity to lead the country, the APC presidential candidate said is not in doubt, noting that Lagos' growth trajectory from a State in deficit to one of the six largest economies in Africa best demonstrated his ability to drive the needed change to put the country on the path of prosperity.
When elected, Tinubu said he would do his best to change the country's fortunes, but noted the task would not be easy at the start.
He said: "I stand before you all with a solemn promise that when we are elected next year, we will continue and build on the progressive path laid forth by our party since 2015. We have a clear agenda for the future of the country and with your support, we will work to achieve a better future for you and your family.
"Nobody will be forgotten when we roll out our development plans. We have great plans for our youths in education and employment. You will not be forgotten. Economic growth is one of our biggest priorities. We will do our best to solve the contemporary challenges facing us, but it will not be easy at the start."
Tinubu, again, took a swipe at Peoples Democratic Party (PDP) and its candidate, Alhaji Atiku Abubakar, calling on the electorate to use their votes to retire him finally. The APC presidential candidate said PDP spent 15 years making excuses and forgot the mandate given them to better the lives of Nigerians in the era of boom.
Under the PDP, Tinubu said major infrastructure projects were left to rot with no plan for their rehabilitation, including Lagos-Badagry Highway.
"Rejecting Atiku with your votes and retiring him will be the final step to take in burying PDP for life," Tinubu said.
The APC National Leader passed a vote of confidence on Sanwo-Olu and his deputy, Dr. Obafemi Hamzat, saying the Governor had become a symbol of good governance.
Tinubu said PDP would repeat another outing of failure in Lagos gubernatorial election, stressing that the opposition party did not have enough strength to stop Sanwo-Olu's re-election
PCC Director-General and Governor of Plateau State, Simon Lalong, described Tinubu as a "consummate manager of people and resources" with capacity to change difficult situations.
Lalong said Tinubu's greatest success as former Lagos governor was his ability to groom brilliant successors that expanded his ideas to the next level.
Speaker, House of Representatives, Rt. Hon. Femi Gbajabiamila, said Tinubu's winning the party presidential ticket took him out as the most investigated politician in the Fourth Republic.
Despite series of wild allegations being bandied against Tinubu, the Speaker said none had been proven to be true. The APC presidential candidate, Gbajabiamila said, would win the election with convincing margins.
He said: "This is not the main rally for Lagos. We are energising the base with this large turnout witnessed here today. When the main campaign is held, it will be the double of the crowd we see here today."
Tinubu to Atiku, How many time will you Run?
The Presidential Candidate of the All Progressives Congress (APC), Bola Tinubu, on Friday, mocked his counterpart of the Peoples Democratic Party (PDP), Atiku Abubakar over his various attempts to occupy the number one political office in the country.
Atiku Abubakar lost his presidential bids in 1993, 2007, 2011, 2015 and 2019.
Tinubu, who spoke at the APC Presidential Candidate Meeting with Niger Delta Stakeholders held in Gbaramatu, Delta State, addressed the Pere of Gbaramatu Kingdom, Oboro-Gbaraun II (Aketekpe, Agadagba) on his plans for the Gbaramatu community.
"You mentioned the issue of the deep sea port, the roads, the bridge, and the university, industrial park at Ogidigben. These are the things that came to your mind, Kabiyesi, and all of you here," the former Lagos State governor said.#
"Kabiyesi, Your Royal Highness, as I stand before you, there are few of us left running. One says he is Atiku. How many times has he been running? He's always on the run and he's tired. Tell him to go and sit down. Enough is enough.
"The other one, he think na statistic we go chop. He lies with arithmetic that no Indian can ever solve. To mention his name is a disgrace even to me. I won't mention the name. Wrong arithmetic, wrong statistics, warehouse economics. That's not what Nigeria needs.
"Kabiyesi, Your Royal Majesty, it was a joy to find one of my own blood being part of you from Badagry. So, what else do you need? You need honesty; you need the man who knows the road. That is me."
Though Tinubu did not directly refer to Obi or the presidential candidate of the New Nigeria Peoples Party (NNPP), Rabiu Kwankwaso – two other major contenders in the 2023 elections – his comments were met with chants of "Jagaban! Jagaban!"
He assured the Pere that his administration would consult with the monarch regularly.
"Our brothers here, we will embrace them for the development of the area, the community of Gbaramatu, and other associated communities – economic development, progress, jobs for our youth, a promised tomorrow that is certain.
"A renewed hope is here standing before you. And I promise, with the support of God on my team that you will live long, you will live with prosperity," Tinubu said.