PDP Crisis: Ayu Exploited Delegates, Manipulated Presidential Primary To Favoured Atiku – Wike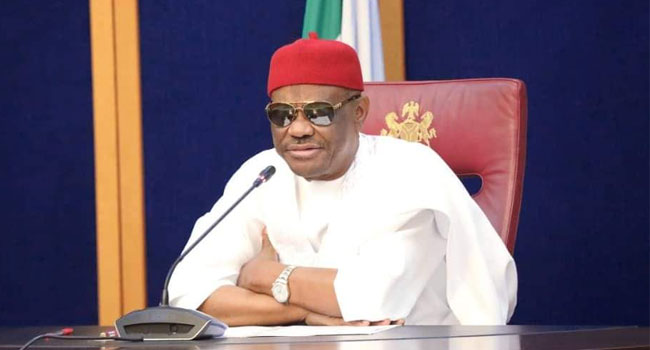 Rivers State Governor Nyesom Wike has disclosed that the National Chairman of the Peoples Democratic Party (PDP), Senator Iyorchia Ayu, exploited delegates and manipulated the presidential primary which saw Atiku Abubakar emerge as the party's flagbearer for 2023.
Wike in a media chat on Friday, further alleged that Ayu called several Presidential aspirants to step down for the former vice president during the primaries.
"He was calling aspirants to withdraw for Atiku. I was there, Saraki and others were there.
"He manipulated the delegates. There was nothing Ayu did not do to ensure Wike didn't emerge," the governor declared.
Wike's comments are the latest trailing the crisis within the PDP where a faction of the party seeks to remove Senator Ayu, a cause which the Rivers State governor says became imperative, seeing that no southerner occupies any of the top three positions in the PDP.
In his chat with reporters the governor explained that when Ayu was canvassing to become leader of the party, the former Senate President would not allow him rest, pleading to be given a chance to unite the PDP.
The governor further asserted that it was to his dismay, that Ayu got into office and began to do the opposite of all he had sworn to uphold within the party.
Governor Wike said when they started selling forms for the primaries, he reminded the National Chairman that they had set up a committee on Zoning headed by the governor of Enugu State, however, Ayu started selling forms without resolving the issue of zoning.
"So, cleverly, they now came up to say, 'well, since people have already bought forms, there is no need to zone'".
At that point, Wike said he knew the move would cause problems but decided to go in for the campaign and gave it his all.
"We went for the primaries and we campaigned seriously. And they were shocked because if you look at the modus of our campaign, nobody was the DG. Nobody was anything, you never know… because we didn't want to allow anybody to approach people to be moles."
According to the governor, the success of the campaign became a problem and a source of concern for other candidates and as such, a series of meetings were held.
"A whole National Chairman threatened some of the Presidential aspirants at that time that if Wike wins he was going to resign. In fact, he was calling aspirants to withdraw for Atiku Abubakar. Bala Mohammed (Bauchi Governor) is there. (Bukola) Saraki is there; Tambuwal is there.
"Meetings and meetings and meetings were called. You must withdraw, if not we will lose. Wike will win. Some of them said but the issue is not about Wike, we want to run. This is the national chairman of a party, who is supposed to be the chief umpire," Wike narrated.
He said this continued even until the day of the primaries, adding that this was the reason the PDP's primary election kicked-off "very very late".
"The primary was to supposed start at 11am. We started at 5:30pm to 6pm. Who are the delegates? (They are from) 774 local government under where use to have 4,000 or 5,000 delegates.
"So, what was going on? Meetings upon meetings upon meetings. Putting pressure (on aspirants to) step down. Some retired generals were involved. Some of the meetings were held in their houses. But even in the committee of the convention, when we met in Benue Governor's lodge with the National Working Committee, I raised it. I said, 'National Chairman, these people you are forwarding as chairmen of these committees are all known supporters of Atiku Abubakar.
"Ayu swore 'oh, no'. I said look, 'Just to let you know that if we don't want this convention, we would have gone to court but we don't want the party to be in crisis. Therefore, do the right thing so that at the end of the day all of us will be happy that the party has done a good convention and a winner has emerged without rancour.
"We are an opposition party, we are not in the ruling party. Therefore, we must conduct ourselves in such a way that there should not be internal crisis that may not be resolved before the general elections.
"There was nothing Ayu didn't do; manipulation of delegates list… there was nothing he didn't do. And, unfortunately, today, the numbers are not adding up. There is nothing they didn't do to make sure that Wike did not emerge (as winner).
"So, we went to the convention and they came. You remember I spoke last based on alphabetical order. And when I came out to speak, of course, there was danger.
"The ovation was thunderous so it became a problem to them. To tell you, and I was highly disappointed by the former Senate President. Very experienced, very civil. All these things were set up to manipulate the system. Senator David Mark; he was the Chairman of the Convention planning committee. It has never happened in the history of elections.
"In fact, when you are speaking, whatever thing you want to do, it is at that point you will say it. But everybody has spoken, I have spoken. We have now sat down for them to commence voting, (that's when) a whole Chairman of Convention Planning Committee said there was an announcement. It has never happened anywhere.
"The announcement we were thinking would be for security reasons, don't pass this way or 'there is something we just picked up; I don't know if anybody has lost anything — your phone or whatever'. Such announcements is expected. But (the announcement was) to give back the microphone to Tambuwal to come again and speak after everybody has spoken to say 'My brothers I want to withdraw'.
"Not even saying you want to withdraw, you now went ahead to say that his people should vote for Atiku Abubakar. At that point, if not for the love of the party we have, if we don't love this party, that convention wouldn't have held. There would have been crisis in that convention."
Wike also accused Ayu of being very corrupt, when told that that was a weighty allegation and asked if he had evidence, he challenged Ayu to deny the allegation.
"Listen, Ayu has the opportunity to challenge me. I will name, I said I will name. I told you I was going to speak; am I not speaking today? Even some of the governors can tell you.
"Look, will he deny that he collected one billion from Lagos? Let him deny, I will tell you who gave him the money; not Lagos government. The money was given to him in Lagos. He met one of the presidential aspirants and told him that he is not sure these governors will want to sponsor the party.
"Let Ayu say no. I will even call some of the business men and how the money was arranged in Lagos. That money did not enter into the account of PDP. But we are not attacking Ayu on that basis. Look I am not any governor. I am a serious governor. I can't just come here and begin to say anything. I say I challenge (him).
"Let him deny this," Wike challenged Ayu.
LAGOS GOVERNOR JOINS SOUTHWEST WOMEN RALLY FOR APC PRESIDENTIAL CANDIDATE
Wife of the President, Dr. Aisha Buhari, on Wednesday, led a regional campaign to the Southwest to galvanise women support for All Progressives Congress (APC) presidential candidate, Asiwaju Bola Ahmed Tinubu, and his running mate, Senator Kashim Shettima.
Mobolaji Johnson Pavilion in Onikan throbbed with political activities, as Lagos hosted the maiden Southwest rally of Tinubu-Shettima Women Presidential Campaign Council (TSWPCT), drawing thousands of women from all the six States in the region.
Governor Babajide Sanwo-Olu joined the women  at the rally, after he received the TSWPCT leadership team at the State House in Marina in a courtesy visit.
Mrs. Buhari was represented by the wife of the APC presidential candidate, Sen. Oluremi Tinubu.
In the entourage was Shettima's wife, Hajiya Nana Shettima, First Lady of Lagos, Dr. Ibijoke Sanwo-Olu, Ogun State First Lady, Mrs. Bamidele Abiodun, Borno First Lady, Dr. Falmata Zulum, wife of Speaker, House of Representatives, Mrs. Salamat Gbajabiamila, Lagos Deputy Governor's wife, Mrs. Oluremi Hamzat, and APC National Women Leader, Dr. Betta Edu, among others.
Sanwo-Olu said creation of a women's arm of a presidential campaign council was unprecedented in the history of national politics, saying the initiative would reinforce the foundation of gender balance and inclusive governance entrenched within the APC Government.
The Governor described the Tinubu-Shettima presidential ticket as "a national project", maintaining that the team was the most competent, given the track records of Tinubu and his running mates in governance.
He said: "This is the first time in the history of our democracy that a presidential candidate will have a women's campaign council working with the party. It goes to show that the Government of Tinubu will sit on the foundation of gender balance and inclusion. I am delighted to see our women organising and putting themselves forward, without watching from the back seats. Women have been on the frontline with us and you have come out to embrace this ticket.
This is an assurance that we are on the right track.
"This campaign is not about the success of our party alone, it is also about our future and about the coming generations. When the Government of Tinubu and Shettima is formed, we will ensure that gender friendliness and equality are reflected on every programme of the administration with the youth and women. I commend Dr. Aisha Buhari, who initiated this idea and who has become the rallying point for women who care for the progress of our country.
This movement is an evidence that Mrs. Buhari is committed to this cause and she is leading from the front."
Sanwo-Olu hailed TSWPCT for reaching out to women at the grassroots and market women, whom he said would be the beneficiaries of the Tinubu presidency.
The Governor assured that the next APC Government would be purposeful and result-oriented, stressing that the nationwide rallies would further convince undecided voters to root for APC in the general elections.
Sen. Tinubu, who delivered Mrs. Buhari's message, urged women to probe what she called "deliberate misinformation" being spread about the APC presidential ticket in the social media, advising them to seek information about the track records of all candidates running for president and take decisions based on their findings.
Tinubu-Shettima ticket, she said, remained the only team possessing sterling credentials of performance and competence. Sen. Tinubu said the Muslim-Muslim ticket of the APC would build a new foundation for unity in the country and would prioritise interests of the youth and women.
She said: "We are in the Southwest with Renewed Hope for our women. APC has given us the best ticket, which seeks to empower and build a better future for our women. Some people call it Muslim-Muslim ticket, but the challenge facing our women today does not identify with any religion.
The Tinubu-Shettima ticket is one that will raise the foundation for unity in the country and herald new opportunities for women.
"We have come with the assurance that women can count on us. As First Ladies, Hajiya Shettima and I showed great commitment in empowering women. We are passionate about your wellbeing and personal growth.
We work passionately in projects we believe in. We are assuring that challenges facing women and youth unemployment would be on the front burner when Tinubu and Shettima are elected."
Dr. Sanwo-Olu said the need for consolidation of the achievements recorded under the Buhari administration brought about the establishment of a women campaign committee to improve the chance of APC in forming the next government at the centre.
"At this period of our democratic history, Nigeria needs experienced leaders gifted in intellectual acumen, progressive capacity and political sagacity of Asiwaju Bola Ahmed Tinubu to manage the affairs of the country," Lagos First Lady said.
Dr. Edu urged women to take the message of Renewed Hope back to their communities and organise door-to-door engagements with undecided voters.
Tinubu offers clear directions on security, economy, foreign policy in UK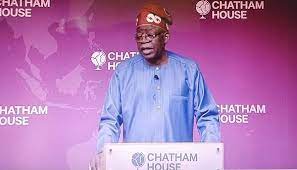 …says FG fixing petrol price is a broken model
…Nigeria will advance democratic ideals in Africa 
Presidential Candidate of the All-Progressives Congress Asiwaju Bola Ahmed Tinubu, on Monday at Chatham House in London spoke on a wide range of issues including security, economy and foreign policy, ahead of Nigeria's presidential election in February next year.
Tinubu who has been addressing various stakeholders in Nigeria at various town hall meetings, travelled to the United Kingdom to share his thoughts and campaign plans at Chatham House -a globally admired and respected platform for intellectual engagement on different issues of contemporary interest to people around the world.
The APC candidate who addressed the distinguished Chatham House audience for the second time having first done it in 2011, emphasized Nigeria's role in Africa as a big brother which has continued to be a beacon of hope to the continent and the ECOWAS sub-region through now entrenched democratic ideals, having run an unbroken democracy for over two decades.
He said when he becomes Nigeria's president, his administration will continue to provide quality leadership to the sub-region, to ensure democratic ideal are formed in nations of the ECOWAS region.
The APC Presidential candidate in his address titled "Nigeria's 2023 elections: Security, economic and foreign policy imperatives" vowed that as President, Nigeria will epitomise values of democracy during elections anywhere in Africa by ensuring that democratic ideals are followed and all forms of electoral violence rejected, allowing only the will of the people to prevail.
"Every election, wherever it is held, is important to the people or entity directly concerned. It is also important to the global democracy community as well. Equally, there are also countries whose elections, on account of their weight and influence, carry wider implications way beyond their immediate geographical boundaries. Nigeria is one of such countries.
"I stand firmly against all forms of electoral violence and intimidation.  Having spent most of my career in the political opposition, I have long fought against electoral malpractice and any attempts to extinguish the legitimate choice of voters.  I will continue to do so.
"And I urge all my fellow contestants in this election to do the same.  Let the sovereign will of the people decide the path of our nation.  And let this election be determined by voters making their choice freely rather than the domineering intimidation of the troublesome few.
"For one, as Africa's most populous country and the continent's largest economy, it is generally acknowledged that the fortunes of the African continent and indeed the Black race is tied directly to the health of Nigeria.
"Also the Nigerian elections of 2023 are coming up at a time when the country's immediate geographical neighbourhood of West and Central Africa is undergoing serious political turmoil that has manifested itself in the incursion of the military to power in a number of countries. In spite of the legitimate concerns being expressed by observers, Nigerians are resolutely committed to democracy, regardless of their political differences.
"Nigeria shares direct land borders with four sister African countries with whose peoples Nigerians also share historical and cultural affinities," Tinubu said.
He added: "This effectively means that the relationship between Nigeria and its immediate neighbours is much more than just a geographical expression.
"To be fully secure at home, Nigeria has always believed it must be the brothers' keeper. It was out of this understanding that Africa's premier regional economic community, ECOWAS, was established in 1975. Uniquely, ECOWAS had embedded in its mandate, the promotion of regional economic integration as a good in its own right and in addition undertook sub-regional peace and security.
"I am convinced, as I am sure most of us are, that the broad principles that enabled successive Nigerian governments to interface development and security, and establish an organic link between national security and economic development with regional peace and prosperity is both impeccable and remains relevant. It is an approach which I commit myself to upholding and advancing."
His address was intermittently punctuated by thunderous applause by the impressive gathering.
On issue of security, which has continued to be a challenge at home despite the remarkable progress achieved by the current APC-led administration of President Muhammadu Buhari, Tinubu promised to tackle the situation the country is facing heads on, so that Nigeria can also effectively provide security supports for its neighbouring nations.
He noted, "The challenges which have manifested themselves with regard to our national and regional development and security trajectories are very well-known to all of us here: radical extremist violence, terrorism, banditry, kidnapping, human trafficking, trafficking in weapons, trafficking in drugs, climate change and resource driven conflicts etc.
Mostly manifesting initially as national problems, these challenges evolved over time into trans-border and multinational challenges.
"We see the thousands of people who have been internally displaced at home or forced into refugee camps abroad. With farming activities disrupted, we have seen shortages of basic food items and food price inflation that are further undermining human security.
"To respond meaningfully to the discontents and to redress the many dislocations arising from them, we must begin by reminding ourselves of that old dictum: Foreign policy is but a continuation of domestic policy.
"As a first step, we must recalibrate domestic policy in order to revamp the foundation on which our quest to pursue human security rests."
The former Lagos State governor reiterated that effective energy generation and distribution will help build the economy of the nation, promising to improve the framework already in place to boost the generation and distribution of energy across the country.
He also said the nation under his watch would place emphasis on the use of technology to improve the agricultural sector for better production and contribution to the nation's economy.
"The present administration has invested heavily in agriculture, providing loans and expanding the country's total acreage of cultivated land. We will build on this, but our focus will be on using technology and expertise to accelerate growth and development by providing the critical infrastructure necessary to achieve the commodity transformations in the agriculture value chain.
"Roads, rail, access to ports, and storage infrastructure are what we require to radically transform the agriculture sector and increase its value to the nation. Providing these will be the areas of our focus so that the full potential of our agro economy can be achieved, and we can reap the benefits in jobs, improved economic opportunities and increased prosperity.
"Fixing the perennial riddle of energy supply is another priority.  There is no version of the world where Nigeria's ambitions for itself can be achieved without solving the problem of how to provide energy to homes and businesses across the country.  It is time to recognise that the centralised approach to energy policy and infrastructure is not an optimal arrangement and is unlikely to improve by mere tinkering around the sides.
"The Federal government as regulator and operator, and price fixer is a broken model and one that we fully intend to fix if elected.
"We have privatised power distribution in Nigeria and generation to a certain degree.  What we need to do, going forward, is to improve the enabling environment and further reform the legal and regulatory framework to attract more private investments in the sector as we have experienced in the telecom industry."
He promised to engage the private sector to better drive economic development across the country.
"My belief that the private sector is the fulcrum of economic progress is evident and documented.  However, fundamental flaws with the basic design of our national economy imperil the private sector from playing the role it ought to and adding the value it is capable of.  In this instance, the government must act as a catalyst.  We shall do this on all fronts.  We will address the conflict between monetary and fiscal policies.  Budgeting will be based on the projected spending levels needed to push real annual growth rate above 7 per cent while reducing the unemployment rate so that we can double the economy in ten years."
Introducing the APC presidential candidate, the chairman of the event who is also the Managing Director, Ethics, Risk and Resilience of Chatham House and Director Africa Programme, Dr. Alex Vines OBE, described Tinubu as a former governor of Lagos and prominent politician who is no stranger to the House.
He also joked that "he has US visa," apparently referring to the fake news being bandied by political opponents that Asíwájú was denied US visa.
Responding to a question on his age and identity, Tinubu said his birthday remains March 29, 1952 and his age and other records are with Chicago State University he attended and Mobil Oil that he worked with and left as Treasurer.
Taking another question on youth development, he said the youths are part of today and the future of the country who the nation needs to invest in for tomorrow.
He also singled out Lagos Governor Babajide Sanwo-olu, a youth who he said is running the state that is the 5th largest economy in Africa and who is actualising the legacies he left behind as governor.
Demonstrating his team spirit, he invited Governors Nasir el-Rufai and Ben Ayade, former Lagos Information Commissioner Dele Alake and APC National Woman Leader Dr Beta Edu to respond to questions that fell within their areas of core competence.
Tinubu was accompanied to the lecture by House of Representatives Speaker Femi Gbajabiamila, Governors El-Rufai (Kaduna), Abdullahi Umar Ganduje (Kano), Dapo Abiodun (Ogun), Sanwo-olu (Lagos), Abubakar Sani Bello (Niger), Ayade (Cross Rivers),  Abubakar Badaru, (Jigawa) and David Umahi (Ebonyi) as well as former governor of Ekiti, Dr. Kayode Fayemi and his former Edo State counterpart, Comrade Adams Oshiomhole.
There were also members of APC National Working Committee particularly the Woman Leader Edu and her deputy, Hajiya Zainab Ibrahim, as well as former deputy governor of Lagos, Chief Femi Pedro, former Lagos Commissioner for Information Alake, his former Finance counterpart, Mr. Olawale Edun, Senator Tokunbo Abiru, Senator Fatai Buhari and Senator Adeola Olamilekan.
Others at the event included Senator Musiliu Obanikoro, Senator Tokunbo Afikuyomi, former deputy governor of Ogun State, Chief Segun Adesegun, Hadiza Bala-Usman and popular Lagos chieftain, Alhaji Mutiu Are.
After the lecture, the APC candidate had an interaction with the APC UK chapter.
Knocks As Tinubu Shuns Town Hall Meeting On Live TV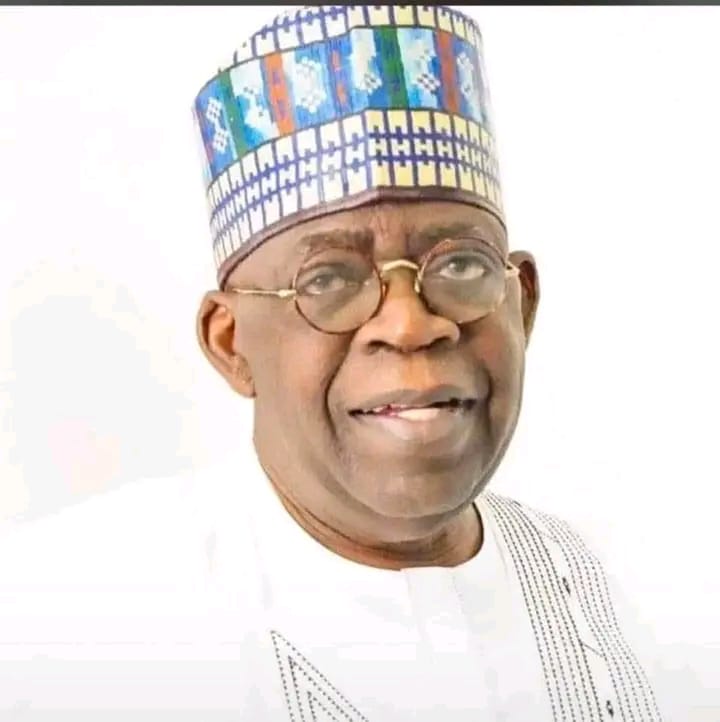 The presidential candidate of the All-Progressives Party (APC), Bola Tinubu, on Sunday stayed away from the presidential Town hall debate organised by Arise Television and its partners.
However, his counterparts in the People Democratic Party (PDP), Labour Party (LP) and New Nigerian Peoples Party (NNPP), Atiku Abubakar, Peter Obi and Rabiu Kwankwaso, respectively, showed up on the live television programme to outline their ways to tackle the nation's problems if elected.
Sunday's session saw the presidential flag bearers fielding questions from the moderator and a panel of interviewers on education, healthcare, poverty and human capital development.
The APC presidential candidate had travelled to the United Kingdom to attend a scheduled speaking engagement at Chatham House.
However, his absence at the debate has drawn the ire of the main opposition party candidate's camp which argued that Tinubu ought to have addressed Nigerians here at home since there are no voters in the United Kingdom.