Why Wike will not support Atiku – Fayose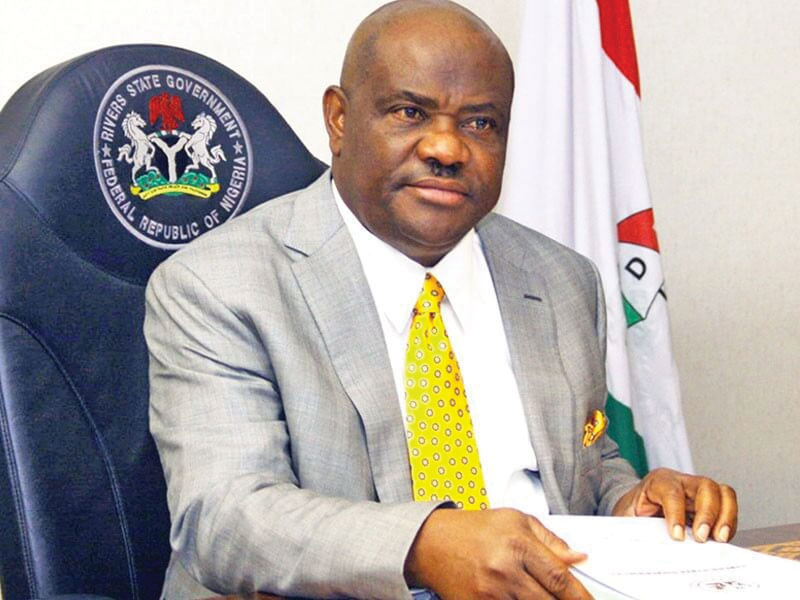 Former Ekiti State governor, Ayo Fayose, has explained why he believes Nyesom Wike will never support the presidential candidate of the Peoples Democratic Party (PDP), Atiku Abubakar.
Mr Fayose, in an exclusive telephone interview with PREMIUM TIMES, said power must shift to the southern part of Nigeria in 2023 after the expiration of President Muhammadu Buhari's second term.
The former governor also recounted how Mr Atiku "promised" to make Mr Wike, the Rivers State governor, his running mate after he was declared winner of the PDP presidential primary election.
According to the former Ekiti governor, Mr Atiku failed to fulfil his promise to Mr Wike when he settled for the Delta State governor, Ifeanyi Okowa, as his running mate.
"Wike never said he wanted to be VP, but when Atiku visited him, he was the one who said, 'I want you to be my VP'. He said that to Wike. If that then changes, is Wike not supposed to be told? Is he not supposed to know?"
He recalled that Mr Atiku had ignored the recommendation of a committee set up by the opposition party to pick his running mate.
"PDP set up a committee to recommend a running mate for the candidate and the committee voted and picked Wike, but they didn't comply with the recommendation of the committee."
"If the party is now a one-man show, we will show them that we can resist it. We are with Wike 100 per cent.
"When they need Wike's money and Wike's support, they will say, 'Wike is good enough'. Wike has been injured, but we will remain with him. Whatever he does is what we would do; wherever he asks us to go is where we will go."
When asked what would happen should Mr Wike ask them to support Mr Atiku, the former governor said: "Wike will never say we should support Atiku.
"Wike cannot come out to say he is supporting Atiku. I dare him to say so; because he knows that whatever he says will haunt him forever. If Wike supports Atiku, we will abandon him."
*Atiku responds…..*
Contacted for a response, Paul Ibe, Mr Atiku's spokesperson, said his principal and the party will continue to appeal to aggrieved persons within their fold to embrace dialogue.
"Because the bigger challenge is winning the election, kicking out the APC and stopping them from the many years of impoverishing our people," said Mr Ibe.
"It is normal for our people to be aggrieved but the PDP has a way of resolving issues like this and that will be done and we all shall be happy."
*'Power to the south'*
On whether the plan is now to technically support the All Progressives Congress (APC) candidate, Bola Tinubu, or his counterpart in the Labour Party, Peter Obi, Mr Fayose said: "this is not about Bola Tinubu or Obi, but this is about our belief that power must come to the south and it is a struggle we must actualise.
Mr Fayose further explained that "when the June 12 election was cancelled, the presidency was zoned to the southwest to pacify the southwest region.
"When former President Goodluck Jonathan was over staying, it was believed that he was already using the northern slot. So, he was opposed and a northern candidate was installed through the APC.
"This time, it is the turn of the south because Buhari has spent eight years. Why will PDP be insisting that it must again be the turn of the north."
Mr Fayose also stated that he does not care if his actions are perceived as anti-party activity.
" What I am saying is, it is the turn of the South, and if they want to expel me, to hell with them. I am not taking money from anyone to belong to this party.
"If they want to rock this boat, we will help them to rock it."
Source: Premium Times
'I Will Continue To Campaign For Tinubu', Buhari Says At Nasarawa Rally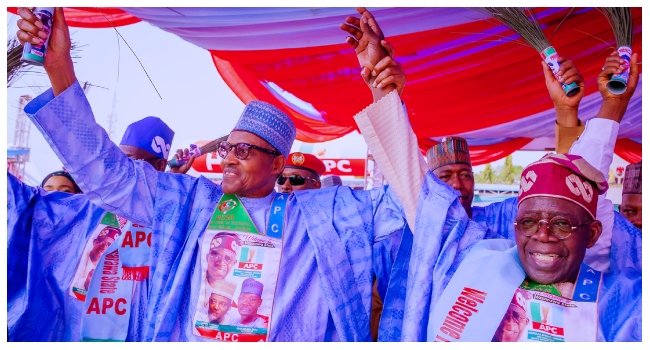 President Muhammadu Buhari on Saturday said he will continue to campaign for the presidential candidate of the All Progressives Congress (APC), Bola Tinubu as the "next president of Nigeria".
The President spoke before a crowd at the presidential campaign rally in Lafia Square, where he endorsed Tinubu; and his running mate, Kashim Shettima.
''I congratulate and assure you that God willing we are going to win through and through.
"As Tinubu said in his speech, I have known him for more than 20 years, and I will continue to campaign for Bola Ahmed Tinubu. He is a committed Nigerian and I believe he will give all his best to Nigeria," Buhari said, according to a statement by presidential spokesman, Garba Shehu
The APC presidential candidate thanked the President for being the ''poster boy'' of his campaign.
''Nigeria is surviving as a nation. Because of constitutional democracy we would have asked you to continue, but you said no, you are going back to Daura, your hometown,'' he said.
Tinubu also used the occasion to chide those insinuating that he is having a frosty relationship with the President, saying, ''Those who think there are cracks in our friendship and relationship would continue to be disappointed and have their short-term joy limited. Ours is not about the individual but about nation building, honesty, integrity and character."
'Don't Let Them Cheat Us', Adebanjo Joins Obi's Campaign In Abeokuta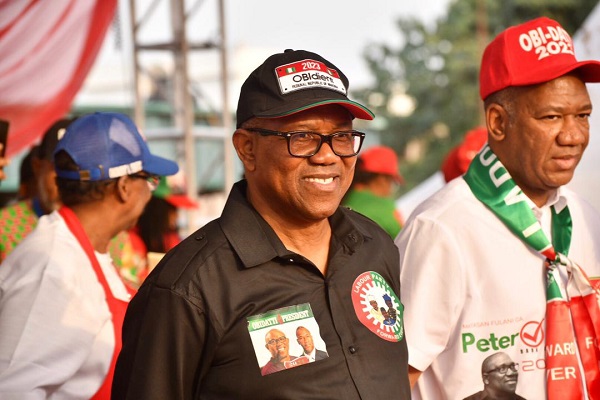 The leader of pan-Yoruba socio-political group, Afenifere, Chief Ayo Adebanjo on Saturday, campaigned for Labour Party (LP) presidential candidate, Peter Obi in the ancient city of Abeokuta, the Ogun State capital.
He urged a crowd of Labour Party supporters at the rally to vote in Obi, warning that enormous suffering awaits Nigerians if Obi doesn't win the February 25 presidential poll.
The nonagenarian, who was at the rally held at the Ake Palace Ground in the state capital alongside another Afenifere chieftain, Chief Femi Okunrounmu, amongst others, cautioned the people to come out on the day of election and vote, saying, "don't let them cheat us".
Adebanjo, who addressed the people in Yoruba, said, "Ensure you vote, don't let them cheat us. What is on the ground is not about Ayo Adebanjo. No matter what happens, I can't be affected. I am expecting God to call me home. Enormous suffering await us if we don't vote in Obi."
The 94-year-old elder statesman had snubbed the flag bearer of the All Progressives Congress (APC), Bola Tinubu who is from the South-West geopolitical zone to endorse Obi, a former Anambra State governor, saying in the interest of justice and fairness all Nigerians should be Obi-Datti compliant.
Obi has enjoyed a wave of endorsements in the last couple of weeks including those of former President Olusegun Obasanjo; Chief Edwin Clark of the Pan Niger Delta Forum; Dr Bitrus Pogu of the Middle Belt Forum, and Chief John Nwodo of the Ohanaeze Ndigbo Worldwide, amongst others.
Also speaking at the rally on Saturday, Obi assured the people of a new Nigeria built on rule of law, fundamental human rights, probity, and accountability if elected president come February 25.
The LP presidential candidate promised to fight insecurity and poverty while seeking the understanding and support of the electorate.
He also expressed his desire to put back the country on the path of growth and progress if elected.
Addressing the crowd, Obi said, "Help us to build a new Nigeria by lifting people out of poverty, by moving Nigeria from consumption to production.
"We want a Nigeria if students go to the university, four years will be four years, no more ASUU strike. We want a Nigeria where Nigerian youths will have jobs; that is the Nigeria we want.
"This election, let nobody tell you about tribe. Every tribe is hungry. No tribe buys bread cheaper. Let nobody tell you about religion; no religion buys bread cheaper – every tribe, every religion is suffering."
The National Chairman of the party, Julius Abure while making case for Obi put the current socio-economic and political challenges at the door of the ruling APC. He subsequently called for a change of leadership of the country come February 25.
And as part of his visit to the ancient city, the LP presidential candidate and his entourage were guests of the Alake and paramount ruler of Egbaland, Oba Aremu Gbadebo where he sought royal blessings for his journey to the presidency.
Ekiti Central: Give me Opeyemi Bamidele to Work with me in Abuja – Tinubu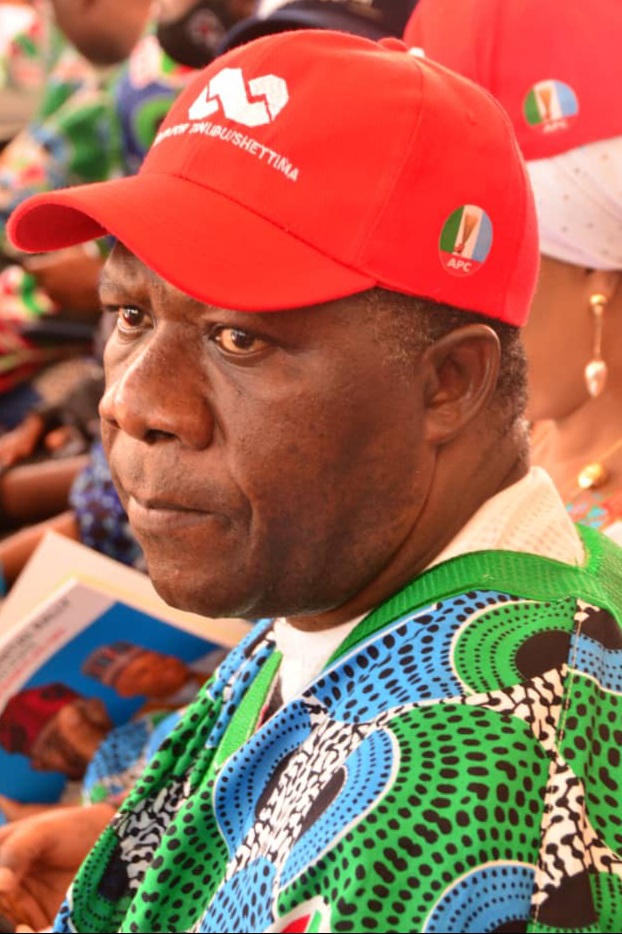 The Presidential candidate of All Progressives Congress (APC), Asiwaju Bola Ahmed Tinubu has appealed to the people of Ekiti Central Senatorial District to vote massively for Senator Michael Opeyemi Bamidele to enable him (Bamidele) work with him (Asiwaju) in Abuja in the next administration.
Bamidele who is currently the Chairman, Senate Committee on Judiciary, Human Rights and Legal Matters is seeking re-election to Senate under the platform of All Progressives Congress.
Speaking at the Palace of Ewi Ado in Ado- Ekiti during the Presidential campaign in Ado-Ekiti, the state capital on Friday.Tinubu said that he has so.much in confidence in the competence, loyalty and integrity of Senator Bamidele because he has been working with him since 1992.
Bamidele was Legislative aide to the the former governor of Lagos when the later was in the Senate in the botched third republic.
He explained that Senator Bamidele understands legislative business very t considering his training in the United States of America, adding that he paid Bamidele's school fees while pursuing his Masters degree in Law.
Tinubu added that Senator Bamidele knows how to talk to him on issues pertaining to the development of Ekiti  State, promising to give appointment to the person that is contesting against Bamidele.
He said, "Since 1992,  Opeyemi Bamidele has been with me , the other person that is contesting for Ekiti Central Senatorial district is my son too.Both of them contesting for the position are my son's, but am begging you for Opeyemi Bamidele because if there is anything to address, if you want to talk to me , Opeyemi knows how to talk to me , if Kabiyesi sent message , Opeyemi is the one that knows how to talk to me.
"The other person that is  contesting against Opeyemi will be considered for appointment.  Opeyemi schooled in America, he knows about legislative business .
" Am not forcing him (Opeyemi) on you , but am begging you that you should give me  Opeyemi Bamidele to work with me in Abuja, the other contestant, I will give him appointment."