Oyetola, competent, performing leader deserving of reelection — Obokun/Oriade Monarchs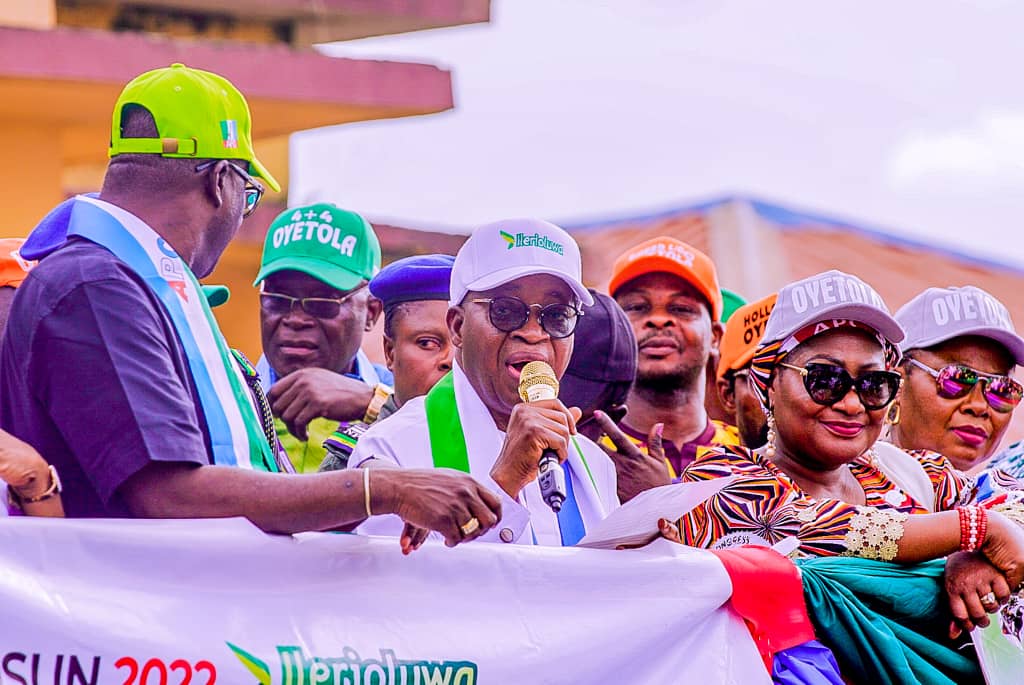 .. 'Oyetola has set high standards, let's forbid a downgrade' – Campaign Council
…as Campaign trail moves to Obokun/Oriade
As the Campaign trail of Governor Adegboyega Oyetola moved to Obokun and Oriade Local Government Areas of the State, on Wednesday, monarchs in Obokun/Oriade federal constituency have described Oyetola as the pillar of Osun's sustainable growth in the last three and half years.
They also described the governor as a competent, performing leader that is deserving of a reelection, just as they commended him for bringing stability to the affairs of the state at a time when the political situation was full of uncertainties.
The monarchs also lauded Oyetola for investing in the improved security architecture of the state, adding that Osun has become the most peaceful state in the country as a result of his attention to security.
They urged their subjects to set sentiment aside and make a wise decision that guarantees greater development and a brighter future.
This is as the Osun All Progressives Congress (APC) welcomed scores of defectors from the opposition Peoples Democratic Party (PDP) in Obokun and Oriade into the Party.
Speaking on behalf of the other monarchs, the President of Ijesha North Traditional Rulers' Council, Ajalaye of Ipetu-Ijesha, Oba Adeleke Agunbiade, described Oyetola as a competent administrator, a distinguished leader and a humane politician, saying his performance in the last three and half years shows he was built for the job of governance.
Oba Agunbiade also lauded Oyetola for the way he has transformed the fortune of the state, declaring his readiness to campaign for the governor's re-election.
According to him: "We the monarchs in Osun State have seen your work. In an ideal setting, you shouldn't be touring the State on campaign again because your works speak for you in the nooks and crannies of the State.
"Most of the monarchs in Osun and in Ijeshaland precisely are professionals. This reality has put us in the position to act as assessors of your performances across different sectors. From our assessment, we can boldly submit that Governor Oyetola is a competent governor, a leader par excellence, and a humane politician with human heart.
"Anyone who knew Osun in the past will testify that this governor has done wonderfully well. Those thinking they can wrestle power from him should think twice, because after Oyetola, it is still Oyetola.
"We are not saying this to make him feel good, we are ready to throw our weight behind him. If we are not breaking any known law, we are ready to lead Oyetola's reelection campaign. As a matter of fact, I am offering myself as the Director-General of his campaign among the monarchs", Oba Agunbiade said.
Speaking in their Palaces, the Alademore of Ibokun, Oba Festus Kayode Awogboro; the Elegboro of Ijebu-Jesa, Oba Moses Oluwafemi Agunsoye, and the Owamiran of Esa-Oke, Oba Adeyemi Adediran, lauded Oyetola's commitment to educational reform and security of the state, among other critical areas of development.
The monarchs also commended Oyetola for prioritising the welfare of both monarchs and their subjects, urging citizens to show favourable disposition to him because he has been tried and found competent.
While addressing the crowd at the various campaign grounds, where some defectors were received, Governor Adegboyega Oyetola assured the people that the modest achievements of his administration in the last three and half years are a foretaste of greater developments that his second term will bring to the state when re-elected.
He said: "The welfare and wellbeing of the good people of Osun, as well as the overall development of the State, hold a centrestage in my heart, and the modest achievements of my administration so far testify to this fact.
"We have paid salaries in the most amazing ways — amazing because resources are limited but we found a way to fulfil our obligations. We are dutifully paying pensions and we are offsetting backlogs. We have given the state infrastructural face-lift as much as affordable. These and many more we have shown commitment to and we will not relent in our commitment.
"We are approaching governance as we should. This is government of the people and for the people, and you can testify that the people have been at the centre of our programmes. Just take it that what you have seen in our first term is a taste of a sweeter sensation in our second term", Oyetola said.
In their separate remarks, the Chairman of the All Progressives Congress, Prince Gboyega Famodun, and the Director-General of the Campaign Council, Senator Surajudeen Ajibola Basiru, said Osun has stepped up significantly with Oyetola in the saddle.
They urged citizens to support the governor's re-election, saying Osun does not deserve a downgrade from the high standards already set in the last three and half years.
Speaking on behalf of the defectors, Babatunde Olayemi from Ward 10, Ilare Obokun, said their coming into the Party is not an espionage mission but a genuine passion to align with a government and a party that have showed distinction in governance.
'I Will Continue To Campaign For Tinubu', Buhari Says At Nasarawa Rally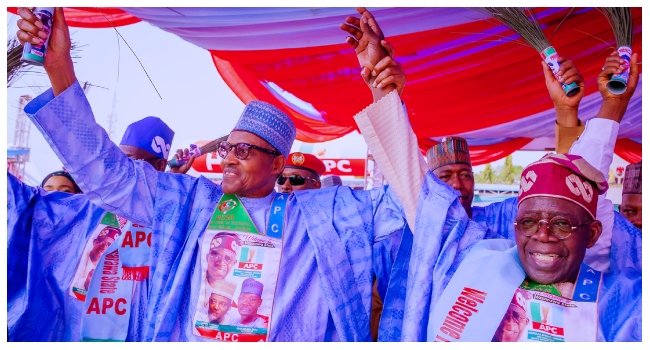 President Muhammadu Buhari on Saturday said he will continue to campaign for the presidential candidate of the All Progressives Congress (APC), Bola Tinubu as the "next president of Nigeria".
The President spoke before a crowd at the presidential campaign rally in Lafia Square, where he endorsed Tinubu; and his running mate, Kashim Shettima.
''I congratulate and assure you that God willing we are going to win through and through.
"As Tinubu said in his speech, I have known him for more than 20 years, and I will continue to campaign for Bola Ahmed Tinubu. He is a committed Nigerian and I believe he will give all his best to Nigeria," Buhari said, according to a statement by presidential spokesman, Garba Shehu
The APC presidential candidate thanked the President for being the ''poster boy'' of his campaign.
''Nigeria is surviving as a nation. Because of constitutional democracy we would have asked you to continue, but you said no, you are going back to Daura, your hometown,'' he said.
Tinubu also used the occasion to chide those insinuating that he is having a frosty relationship with the President, saying, ''Those who think there are cracks in our friendship and relationship would continue to be disappointed and have their short-term joy limited. Ours is not about the individual but about nation building, honesty, integrity and character."
'Don't Let Them Cheat Us', Adebanjo Joins Obi's Campaign In Abeokuta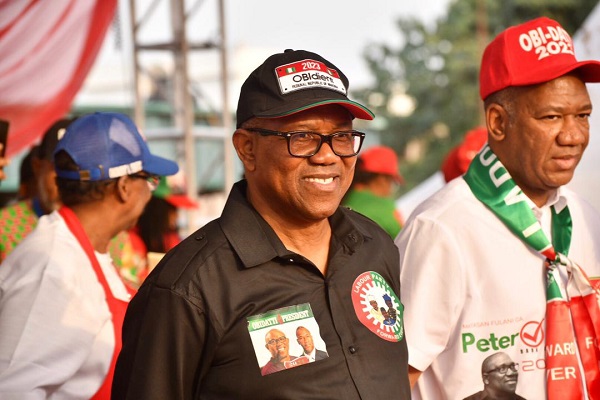 The leader of pan-Yoruba socio-political group, Afenifere, Chief Ayo Adebanjo on Saturday, campaigned for Labour Party (LP) presidential candidate, Peter Obi in the ancient city of Abeokuta, the Ogun State capital.
He urged a crowd of Labour Party supporters at the rally to vote in Obi, warning that enormous suffering awaits Nigerians if Obi doesn't win the February 25 presidential poll.
The nonagenarian, who was at the rally held at the Ake Palace Ground in the state capital alongside another Afenifere chieftain, Chief Femi Okunrounmu, amongst others, cautioned the people to come out on the day of election and vote, saying, "don't let them cheat us".
Adebanjo, who addressed the people in Yoruba, said, "Ensure you vote, don't let them cheat us. What is on the ground is not about Ayo Adebanjo. No matter what happens, I can't be affected. I am expecting God to call me home. Enormous suffering await us if we don't vote in Obi."
The 94-year-old elder statesman had snubbed the flag bearer of the All Progressives Congress (APC), Bola Tinubu who is from the South-West geopolitical zone to endorse Obi, a former Anambra State governor, saying in the interest of justice and fairness all Nigerians should be Obi-Datti compliant.
Obi has enjoyed a wave of endorsements in the last couple of weeks including those of former President Olusegun Obasanjo; Chief Edwin Clark of the Pan Niger Delta Forum; Dr Bitrus Pogu of the Middle Belt Forum, and Chief John Nwodo of the Ohanaeze Ndigbo Worldwide, amongst others.
Also speaking at the rally on Saturday, Obi assured the people of a new Nigeria built on rule of law, fundamental human rights, probity, and accountability if elected president come February 25.
The LP presidential candidate promised to fight insecurity and poverty while seeking the understanding and support of the electorate.
He also expressed his desire to put back the country on the path of growth and progress if elected.
Addressing the crowd, Obi said, "Help us to build a new Nigeria by lifting people out of poverty, by moving Nigeria from consumption to production.
"We want a Nigeria if students go to the university, four years will be four years, no more ASUU strike. We want a Nigeria where Nigerian youths will have jobs; that is the Nigeria we want.
"This election, let nobody tell you about tribe. Every tribe is hungry. No tribe buys bread cheaper. Let nobody tell you about religion; no religion buys bread cheaper – every tribe, every religion is suffering."
The National Chairman of the party, Julius Abure while making case for Obi put the current socio-economic and political challenges at the door of the ruling APC. He subsequently called for a change of leadership of the country come February 25.
And as part of his visit to the ancient city, the LP presidential candidate and his entourage were guests of the Alake and paramount ruler of Egbaland, Oba Aremu Gbadebo where he sought royal blessings for his journey to the presidency.
Ekiti Central: Give me Opeyemi Bamidele to Work with me in Abuja – Tinubu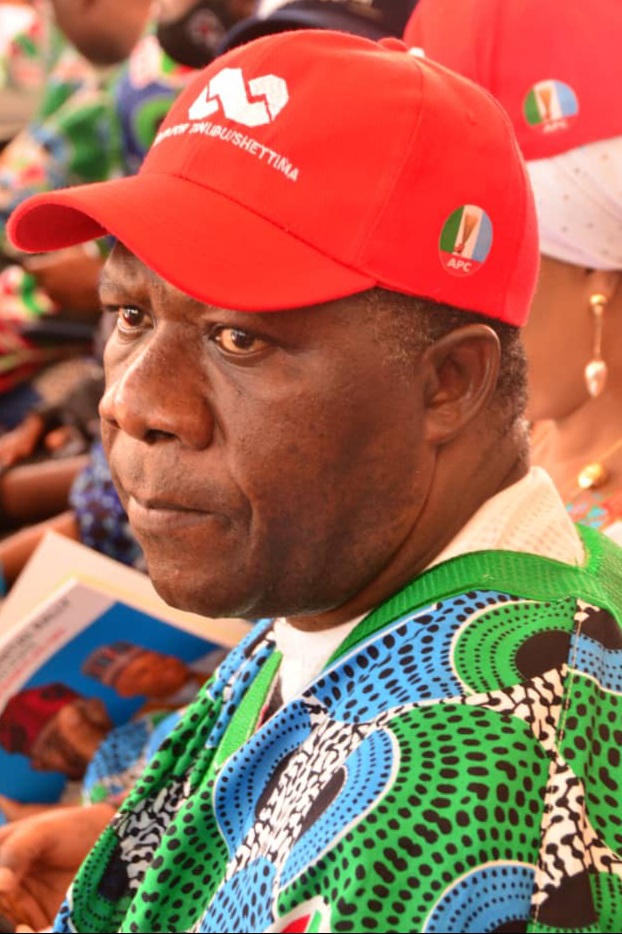 The Presidential candidate of All Progressives Congress (APC), Asiwaju Bola Ahmed Tinubu has appealed to the people of Ekiti Central Senatorial District to vote massively for Senator Michael Opeyemi Bamidele to enable him (Bamidele) work with him (Asiwaju) in Abuja in the next administration.
Bamidele who is currently the Chairman, Senate Committee on Judiciary, Human Rights and Legal Matters is seeking re-election to Senate under the platform of All Progressives Congress.
Speaking at the Palace of Ewi Ado in Ado- Ekiti during the Presidential campaign in Ado-Ekiti, the state capital on Friday.Tinubu said that he has so.much in confidence in the competence, loyalty and integrity of Senator Bamidele because he has been working with him since 1992.
Bamidele was Legislative aide to the the former governor of Lagos when the later was in the Senate in the botched third republic.
He explained that Senator Bamidele understands legislative business very t considering his training in the United States of America, adding that he paid Bamidele's school fees while pursuing his Masters degree in Law.
Tinubu added that Senator Bamidele knows how to talk to him on issues pertaining to the development of Ekiti  State, promising to give appointment to the person that is contesting against Bamidele.
He said, "Since 1992,  Opeyemi Bamidele has been with me , the other person that is contesting for Ekiti Central Senatorial district is my son too.Both of them contesting for the position are my son's, but am begging you for Opeyemi Bamidele because if there is anything to address, if you want to talk to me , Opeyemi knows how to talk to me , if Kabiyesi sent message , Opeyemi is the one that knows how to talk to me.
"The other person that is  contesting against Opeyemi will be considered for appointment.  Opeyemi schooled in America, he knows about legislative business .
" Am not forcing him (Opeyemi) on you , but am begging you that you should give me  Opeyemi Bamidele to work with me in Abuja, the other contestant, I will give him appointment."