FLOODS: FCTA Set To Remove All Structures Obstructing Waterways.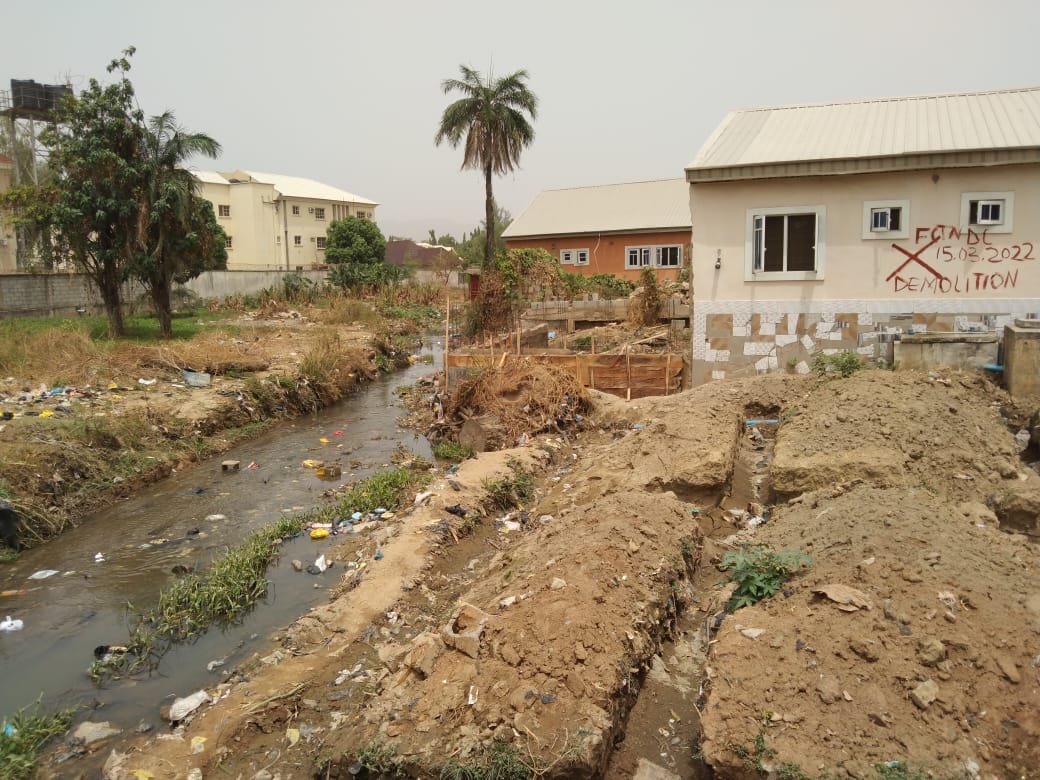 As part of proactive measures to prevent perennial Flooding crises in the Nigeria Capital, The Federal Capital Territory Administration FCTA, has disclosed its plans to commence demolition of illegal structures in Utako and parts of Gwarinpa water way areas of the territory to have way for free flow of drainage water across the City.
The Director FCT Development Control Department Tpl Muktar Galadima who disclosed this in Abuja during a sensitization exercise, stated that the department remains committed to maintaining the original design of Abuja master plan, by ensuring the city is devoid of illegal structures that are capable of defacing the nation's capital and also serve as a catalyst to the perennial flooding crises experienced in some parts of the city.
According to him, Some of the areas in the Utako District had been recently marked for demolition, which he further said would be handed over to the Nigerian Police Force to build its Utako Police station after the successful demolition and cleaning exercise.
In his words, "the reason why we have to visit Utako again is because the police force have a plot there that is about 2 hectares and they have submitted their design to develop the place and we processed the plan and granted approval to them to commence development. and we were involved in the process of negotiation and compensation of the people that were affected but thought it wise that it would be important to sensitize the people occupying the area so it will not be some sort of impromptu action."
" There was an understanding between the Nigeria Police Force, the Indigenous Communities and the FCT Administration in this context the Development Control.
Within the process of development some of the indigenous houses will be affected and we have met with them and resolved that some of them can stay with their kids and kinsman, while others will find a way on how the Police Force can accommodate them in such places."
" One of our major objective as government is to assure the citizens of the territory of their safety and their wellbeing also. Taking a Look at some of the places, one would see that there's a stream channel that is gradually being constructed by the owners of the corner shops in that area and in liaising with the federal housing authority we went there to sensitize the people that this development can not be accepted because it is constituting a blockage to natural water channel and it is an illegal development because the owner of plot from the federal housing authority have written to us to come and partner with them to see how to clear the nuisance within the Gwarinpa estate.
"They do not need any compensation and they about 35 structures to be demolished and we have served them notice before now."
Christian Pilgrimage Not Wasteful – FCT-CPWB Boss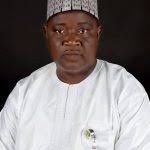 The Director, FCT Christian Pilgrims Welfare Board, Dabara Audu has said that those describing the Christian Pilgrimage to the Holy Lands of Israel and Jordan as a jamboree do so because they don't know what the exercise entails and therefore cannot relate with the level of spiritual upliftment it brings to the Pilgrims and Nigeria as a country.
Speaking to News men after the completion of the pilgrimage exercise for the first batch of the 2021 main Christian pilgrimage and the 2022 Easter pilgrimage to Israel and Jordan Mr. Dabara said the spiritual impact of the exercise brings about a new experience for Christians who can now relate well with biblical and scriptural occurrences that will further strengthen their faith in Christ for the uplifting of Nigeria as a country.
In his words, ". It is very unfortunate for anyone to say pilgrimage is a jamboree. Anyone that says it's a jamboree does not know what pilgrimage is. I want to believe that anyone that wants to embark on a pilgrimage must have heard of the pilgrimage sites and must have read about it and given birth to some useful information that it is a life-transforming exercise.
" we have received testimonies from the people that have gone there in the past. In this journey that has just finished, we have gone to so many sites, and in some cases, I have gone to those places more than four times, and still, there are new testimonies each time I visit those places, and that is what the scripture is all about.
" Pilgrimage is about the scripture being brought alive to any serious Christian and it's a way to work out our salvation. For any serious Christian, pilgrimage is part of working out your salvation and I am sure a lot of us today even as we hear testimonies, their spiritual lives are being promoted and this will have an impact on the families of the pilgrim, their villages, towns where they come from and on Nigeria as a whole."
Speaking on this year's Pilgrimage which was the first of its kind as Nigerian pilgrims visited Holy Places in Israel and Jordan, The Director said it was an opportunity for Christians to relate better with biblical occurrence and to be able to visit those sites not minding that some of those places are now in more than one country.
" It is a very good experience for us all, those that have been going to Israel alone before now did not have opportunity to visit the holy sites in Jordan like the River Jabok where Jacob wrestled with and angel and his name was changed to Israel, and the mount Nebo where Moses was shown the promise land by God before he was taken.
" Gadara a mountain where Jesus Casted out unclean spirits from a man into swines was another very historic location in Jordan, not forgetting the place where John the Baptist was beheaded and his head given in a tray for herods maid dancer. all this are beautiful and very significant places in the life of any serious Christian. so I can tell you that this year's pilgrimage to Israel and Jordan is a blessing in more than one way to us."
" The way I see it, starting the pilgrimage to combine the two nations of Israel and Jordan, I did not see myself as an ordinary person, I know the hurdles the children of Israel had to go through as recorded in the scripture, so if the original people that made these journeys did not find it easy I don't expect that anyone will find it easy because each pilgrimage has a story and revelation behind. God used some of these places to build endurance, perseverance and patience . the children of Israel were able to go through to the promised land, in the same way, this journey from Nigeria to Israel and Israel to Jordan, was not expected to be easy, but I want us to understand that behind the pilgrimage is also the feeling of the suffering, and in this case the suffering that refines. it brings out the true nature of any Christian. like it is said in the Bible Gold passes through Fire to be able to come out pure at it is, so Gold is not pure until it passes though fire. "
When asked how he would rate the first batch of the 2021 main Pilgrimage and the 2022 Easter Pilgrimage, Dabara said
" We are grateful for the completion of the first batch of the 2021 main pilgrimage and the 2022 easter.
we landed in Israel successfully and now we are at the Jordan end of the movement, there is nothing, no one was sick to the extent that we cannot go out, there is no accident in any way and so far no one has absconded.
At this point, I will take this year's pilgrimage as a very successful one, we have more than 200 pilgrims and no one absconded so we are bold to say that it was successful."
He therefore Used the medium to appeal to those that have taken part on the pilgrimage to show good examples as they go back to the larger society after these period of reflections and visitation of biblical sites in the holy lands of Israel and Jordan.
34 Years After Burkina Faso Ex-President Bags Life Sentence For Sankara Killing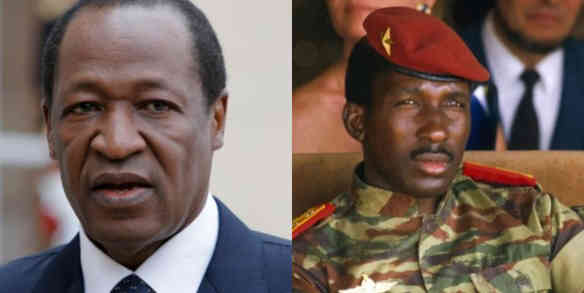 A military court in Burkina Faso on Wednesday handed down a life prison term to former president Blaise Compaore over the 1987 assassination of revolutionary leader Thomas Sankara.
Applause erupted in the courtroom as the long-awaited verdict was read out, bringing the curtain down on a case that has afflicted the impoverished and volatile state for 34 years.
The court also issued life terms to Hyacinthe Kafando, an officer suspected of having led the hit squad, and General Gilbert Diendere, an army commander at the time of the assassination, which coincided with a coup that brought Compaore to power.
Compaore, who lives in exile in Ivory Coast after being toppled by public protests in 2014, and Kafando, who has been on the run since 2016, were tried in absentia.
The six-month trial was avidly followed by many in the landlocked Sahel nation, for whom Sankara's bloody death remains a dark blot on the country's history.
A fiery Marxist-Leninist who blasted the West for neo-colonialism and hypocrisy, Sankara was shot dead on October 15, 1987, little more than four years after coming to power as an army captain aged just 33.
He and 12 colleagues were killed by a hit squad at a meeting of the ruling National Revolutionary Council.
Discussing the leftwing icon's death was taboo throughout the 27-year reign of Compaore, Sankara's comrade-in-arms.
The court in the capital Ouagadougou found Compaore, Kafando, and Diendere all guilty of harming state security.
Grim details 
Compaore and Diendere were also found guilty of complicity in murder, and Kafando of murder.
Their sentences exceeded the request of military prosecutors.
They had sought 30 years for Compaore and Kafando and 20 years for Diendere, who is already serving a 20-year term over an attempted military coup in 2015.
Eight other accused were given jail terms ranging from three to 20 years, while three defendants were acquitted.
In its closing statement, the prosecution recounted in grim detail a plot to ambush Sankara and his closest followers.
Sankara headed to the National Revolutionary Council meeting for a rendezvous with death, for "his executioners were already there," it said.
After Sankara entered the meeting room, the hit squad burst in, killing his guards, the prosecution said.
"The squad then ordered president Sankara and his colleagues to leave the room. They would then be killed one by one."
Ballistics experts told the trial Sankara had been shot in the chest at least seven times by assassins using tracer rounds.
But the defendants said the victims died in a botched attempt to arrest Sankara after he and Compaore fell out over the direction the country's revolution was taking.
Unstable country
Compaore boycotted what his lawyers dismissed as a "political trial," while an attorney for Diendere said his client's life term was "excessive" given that he had attended the trial and contributed to proceedings, while the two other chief accused were absent.
Sankara's widow, Mariam Sankara, who attended the trial throughout, hailed the outcome.
"The judge has handed down his verdict in line with the law, and everyone appreciates this," she said.
"It is something that we had requested — justice and truth," she said.
"Our goal was for the political violence we have in Burkina Faso to come to end. This verdict will give many people cause for thought."
Guy Herve Kam, the Sankara family's lawyer, said the culmination of a decades-long legal fight made him "proud" to be both a Burkinabe and a lawyer.
Prosper Farama, another Sankara lawyer, said, "Our hope is that this odious crime never happens again in either Burkina Faso or elsewhere in Africa."
One of the world's poorest countries, Burkina has a long history of political turmoil since it gained independence from France in 1960.
Reminders of that instability came during the trial, when proceedings were briefly suspended after a coup on January 24 that deposed the elected president, Roch Marc Christian Kabore.
Kabore was toppled by rebel officers angered over his failure to roll back a nearly seven-year-old jihadist insurgency.
The campaign has claimed some 2,000 lives and displaced some 1.8 million people.
The trial resumed after new military strongman Paul-Henri Sandaogo Damiba restored the constitution and swore an oath.
AFP
2023: Ensure Party Primaries are not Influenced by Highest Bidders,  President Buhari Charges New NWC
With the Emergence of New National Working Committee NWC of the All Progressive Congress, President Buhari has enjoined the New leadership led by Senator Abdullahi Adamu to promote internal democracy and equal opportunities and ensure that party primaries are not influenced by "highest bidders" going into the 2023 elections.
Speaking on Saturday at the Eagle Square Abuja Venue of the National Convention President Muhammadu Buhari called on members of the All Progressives Congress (APC) to remain united and strong and also support the New leadership of the party.
In his words, "This Convention is coming at a crucial time when we prepare for another round of a general election. Therefore, the need to remain strong and united for the Party to exploit the rich and abundant potentials at its disposal cannot be overemphasized. We appreciate the right to hold different opinions and aspirations, however, such differences must not be to the detriment of the Party.
"l passionately appeal to you all to support the incoming National Working Committee (NWC) to promote unity and avoid sentiments that are capable of causing disaffection and disunity. For those aspiring for party and public offices, your failure to realize such aspirations for Party offices or to fly the Party's flag, should not be a basis for a campaign of calumny against the party. We should have the spirit of sportsmanship and always support the party to succeed."
He commended the Caretaker/Extraordinary Convention Planning Committee for steering the ship of the party this far including; reconciling aggrieved party members, purchasing a new party secretariat and launching an aggressive membership drive that saw three governors defecting into the APC, among others.
"I want to congratulate us all for being part of this history-making event and to specially appreciate the Caretaker/Extraordinary Convention Planning Committee (CECPC) which has been on a rescue mission under the leadership of His Excellency, Mai Mala Buni, the Yobe State Governor, for successfully piloting the affairs of the Party in the last 18 months and organizing this Convention to elect a new National Working Committee that will take over from the Caretaker Committee.
"I am glad the Party under the Caretaker Committee has bounced back to life with the reconciliation of several key and critical stakeholders and groups who had hitherto left the party or were on the verge of leaving the Party. The reconciliation process gave the aggrieved stakeholders a true sense of belonging and assurance.
"It is gratifying that the Party recorded massive and unprecedented defections under the Caretaker Committee administration. APC received three sitting Governors, a Deputy Governor, Senators, Members of the House of Representatives and State Assemblies, and other key officials from opposition parties who defected along with millions of their supporters.
"I am impressed to learn that the membership registration and revalidation exercise undertaken by the Caretaker Committee, has recorded over 41 million members. This has proved that we are indeed Nigeria's leading and largest political party. It also exhibits our numerical strength and the potential to win elections at all given times fairly and squarely."
The President who adduced reasons for his recent intervention in the affairs of the party, assured that it was not intended to muzzle dissenting voices.
"Recently, l had cause to intervene in the leadership crisis which was about to cause confusion in the Party. Such internal disputes are common in young democracies such as ours, but we must avoid overheating the polity and not allow our differences to tear and frustrate the Party.
"Like I said earlier, it does not do anybody or the Party any good, when we, as leaders, go down so low and resort to backstabbing and name-calling in the media.
"We should learn how to resolve our differences without jeopardizing our personal relationships and the fate of the Party. I want to thank the Progressives Governors' Forum for heeding to my advice and suggestions in settling the leadership dispute," the President said.
President Buhari called on all politicians and the electorate to abide by the new Electoral Act " to promote the process of election, enhance transparency, fill in existing gaps and add value to Nigeria's democracy for our democracy to thrive."