APC National Convention: Okorocha wants Buhari, Tinubu, others to decide on National EXCO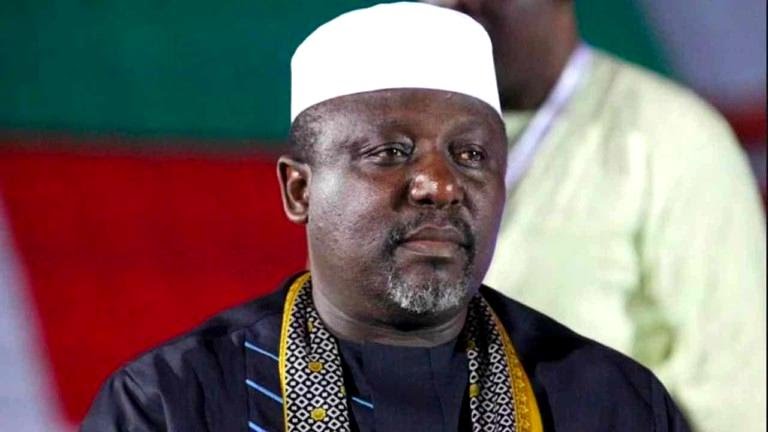 Former governnor of Imo State ,   Senator Rochas Okorocha has said crisis rocking All Progressives Congress (APC) will soon be a thing of past if the founding fathers of the party come together to decide on the formation of the National Executives.
Okorocha who spoke to Senate correspondents after plenary Tuesday, specifically suggested that founding leaders of the party across the original four blocks , should be allowed to nominate interested  party  members for sensitive positions such as National Chairman, Secretary , Women Leader  , Youth Leader, Organising Secretary etc .
According to him , while President Muhammadu Buhari as the leader of the CPC block should be given the honour of deciding who becomes the next National Chairman of the party , others like Senator Bola Tinubu of the defunct ACN block , Ogbonnaya Onu of the defunct ANPP block , himself as leader of the APGA faction then, should also be honoured of deciding National Secretary and other important positions .
sharing the party's positions on that basis, he added , will help in preventing the ship of the party from hitting the rock .
He  said, "Our party is a great party, APC is a great party, what is wrong with our party is that we have forgotten how we all started, we should not make the mistake of PDP of the old and I think that will be corrected with the party's Convention now slated for March 26 , 2022.
"What  we need to do is to go back to basis so that we adhere to  the culture of Unity and equity the party was known for at formation in 2013.
"There were four political parties that formed APC. CPC led by the former Head of States, Mohammadu Buhari who is now the President of Federal Republic of Nigeria, Asiwaju Bola Tinubu came with (ACN) , Governor Abdulaziz Yari , Senator Alimodu Sheriff (SAS) and Former governnor of Ebonyi state, Ogbona Onu who is now Minister of Science and Technology and Rochas Okorocha leading the APGA.
"Our initial position was that all positions would  be shared among these four parties and DPP that came with few members and after the merger, the new PDP joined.
"Now,  the wisest thing for all of us to do is to go back to the founding basis and distribute the political positions as we did it that time and there will be no rancour and it will be very peaceful.
" The father of the party now is President Muhammadu Buhari who should be given that respect to pick the person that will hold Sensitive position in the party as Chairman, Asiwaju Bola Tinubu should always be made to produce some key positions in the party and the other parties and should also be made to have positions and when this is done there will be no problem in APC.
"But,  if we go into Election at this time and of course it will open a pandora of litigations  because where 1000 people buy nominations form, APC can make an income of N2 billion on sales of forms and after that, APC can spend N3 billion on litigations.
"So the wise thing to do is to call the founding fathers of the party and give them key positions and carry everyone along , including the new people that joined the party."
Speaking on the forthcoming Presidential election, Senator Rochas Okorocha said Nigerians should look for those who have something to offer that will turn around the fortunes of the Country irrespective of age.
Rochas Okorocha has since joined the league of Presidential aspirants from the South Eastern part of the Country on the platform of All Progressive Congress.
'I Will Continue To Campaign For Tinubu', Buhari Says At Nasarawa Rally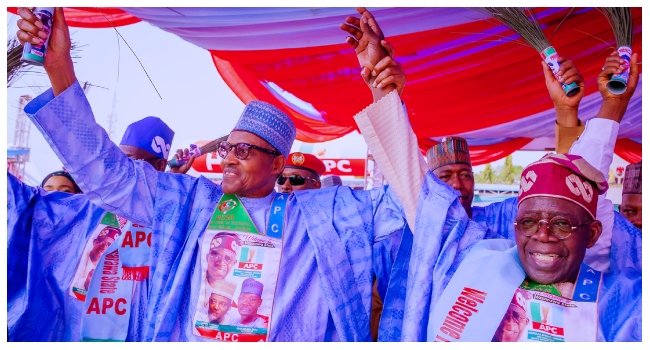 President Muhammadu Buhari on Saturday said he will continue to campaign for the presidential candidate of the All Progressives Congress (APC), Bola Tinubu as the "next president of Nigeria".
The President spoke before a crowd at the presidential campaign rally in Lafia Square, where he endorsed Tinubu; and his running mate, Kashim Shettima.
''I congratulate and assure you that God willing we are going to win through and through.
"As Tinubu said in his speech, I have known him for more than 20 years, and I will continue to campaign for Bola Ahmed Tinubu. He is a committed Nigerian and I believe he will give all his best to Nigeria," Buhari said, according to a statement by presidential spokesman, Garba Shehu
The APC presidential candidate thanked the President for being the ''poster boy'' of his campaign.
''Nigeria is surviving as a nation. Because of constitutional democracy we would have asked you to continue, but you said no, you are going back to Daura, your hometown,'' he said.
Tinubu also used the occasion to chide those insinuating that he is having a frosty relationship with the President, saying, ''Those who think there are cracks in our friendship and relationship would continue to be disappointed and have their short-term joy limited. Ours is not about the individual but about nation building, honesty, integrity and character."
'Don't Let Them Cheat Us', Adebanjo Joins Obi's Campaign In Abeokuta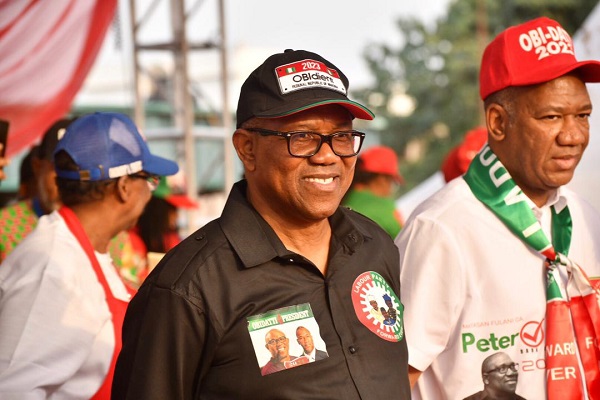 The leader of pan-Yoruba socio-political group, Afenifere, Chief Ayo Adebanjo on Saturday, campaigned for Labour Party (LP) presidential candidate, Peter Obi in the ancient city of Abeokuta, the Ogun State capital.
He urged a crowd of Labour Party supporters at the rally to vote in Obi, warning that enormous suffering awaits Nigerians if Obi doesn't win the February 25 presidential poll.
The nonagenarian, who was at the rally held at the Ake Palace Ground in the state capital alongside another Afenifere chieftain, Chief Femi Okunrounmu, amongst others, cautioned the people to come out on the day of election and vote, saying, "don't let them cheat us".
Adebanjo, who addressed the people in Yoruba, said, "Ensure you vote, don't let them cheat us. What is on the ground is not about Ayo Adebanjo. No matter what happens, I can't be affected. I am expecting God to call me home. Enormous suffering await us if we don't vote in Obi."
The 94-year-old elder statesman had snubbed the flag bearer of the All Progressives Congress (APC), Bola Tinubu who is from the South-West geopolitical zone to endorse Obi, a former Anambra State governor, saying in the interest of justice and fairness all Nigerians should be Obi-Datti compliant.
Obi has enjoyed a wave of endorsements in the last couple of weeks including those of former President Olusegun Obasanjo; Chief Edwin Clark of the Pan Niger Delta Forum; Dr Bitrus Pogu of the Middle Belt Forum, and Chief John Nwodo of the Ohanaeze Ndigbo Worldwide, amongst others.
Also speaking at the rally on Saturday, Obi assured the people of a new Nigeria built on rule of law, fundamental human rights, probity, and accountability if elected president come February 25.
The LP presidential candidate promised to fight insecurity and poverty while seeking the understanding and support of the electorate.
He also expressed his desire to put back the country on the path of growth and progress if elected.
Addressing the crowd, Obi said, "Help us to build a new Nigeria by lifting people out of poverty, by moving Nigeria from consumption to production.
"We want a Nigeria if students go to the university, four years will be four years, no more ASUU strike. We want a Nigeria where Nigerian youths will have jobs; that is the Nigeria we want.
"This election, let nobody tell you about tribe. Every tribe is hungry. No tribe buys bread cheaper. Let nobody tell you about religion; no religion buys bread cheaper – every tribe, every religion is suffering."
The National Chairman of the party, Julius Abure while making case for Obi put the current socio-economic and political challenges at the door of the ruling APC. He subsequently called for a change of leadership of the country come February 25.
And as part of his visit to the ancient city, the LP presidential candidate and his entourage were guests of the Alake and paramount ruler of Egbaland, Oba Aremu Gbadebo where he sought royal blessings for his journey to the presidency.
Ekiti Central: Give me Opeyemi Bamidele to Work with me in Abuja – Tinubu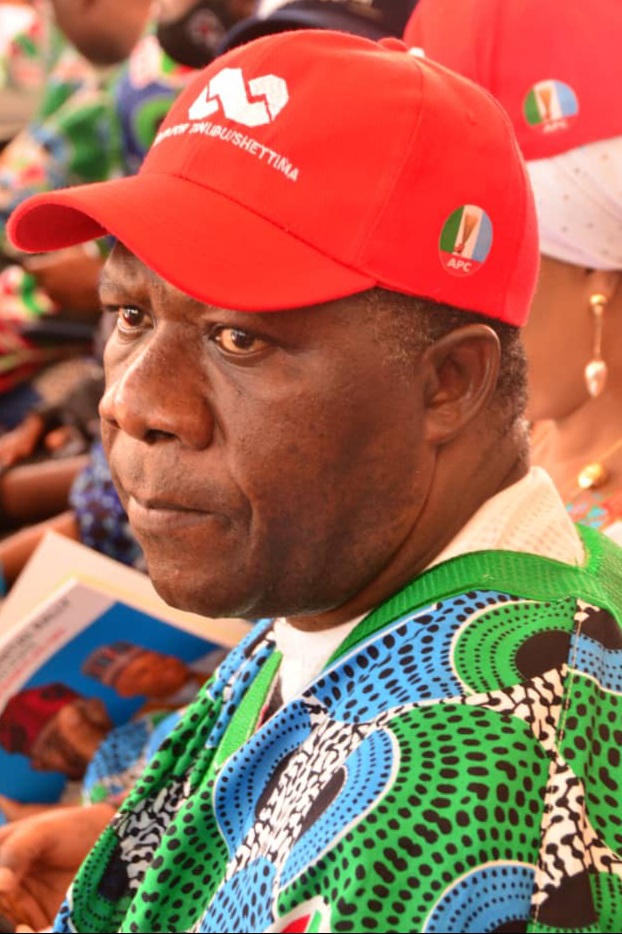 The Presidential candidate of All Progressives Congress (APC), Asiwaju Bola Ahmed Tinubu has appealed to the people of Ekiti Central Senatorial District to vote massively for Senator Michael Opeyemi Bamidele to enable him (Bamidele) work with him (Asiwaju) in Abuja in the next administration.
Bamidele who is currently the Chairman, Senate Committee on Judiciary, Human Rights and Legal Matters is seeking re-election to Senate under the platform of All Progressives Congress.
Speaking at the Palace of Ewi Ado in Ado- Ekiti during the Presidential campaign in Ado-Ekiti, the state capital on Friday.Tinubu said that he has so.much in confidence in the competence, loyalty and integrity of Senator Bamidele because he has been working with him since 1992.
Bamidele was Legislative aide to the the former governor of Lagos when the later was in the Senate in the botched third republic.
He explained that Senator Bamidele understands legislative business very t considering his training in the United States of America, adding that he paid Bamidele's school fees while pursuing his Masters degree in Law.
Tinubu added that Senator Bamidele knows how to talk to him on issues pertaining to the development of Ekiti  State, promising to give appointment to the person that is contesting against Bamidele.
He said, "Since 1992,  Opeyemi Bamidele has been with me , the other person that is contesting for Ekiti Central Senatorial district is my son too.Both of them contesting for the position are my son's, but am begging you for Opeyemi Bamidele because if there is anything to address, if you want to talk to me , Opeyemi knows how to talk to me , if Kabiyesi sent message , Opeyemi is the one that knows how to talk to me.
"The other person that is  contesting against Opeyemi will be considered for appointment.  Opeyemi schooled in America, he knows about legislative business .
" Am not forcing him (Opeyemi) on you , but am begging you that you should give me  Opeyemi Bamidele to work with me in Abuja, the other contestant, I will give him appointment."