Economy : Senate 'll be rigid on increased revenues to reduce budget deficit, borrowings – Lawan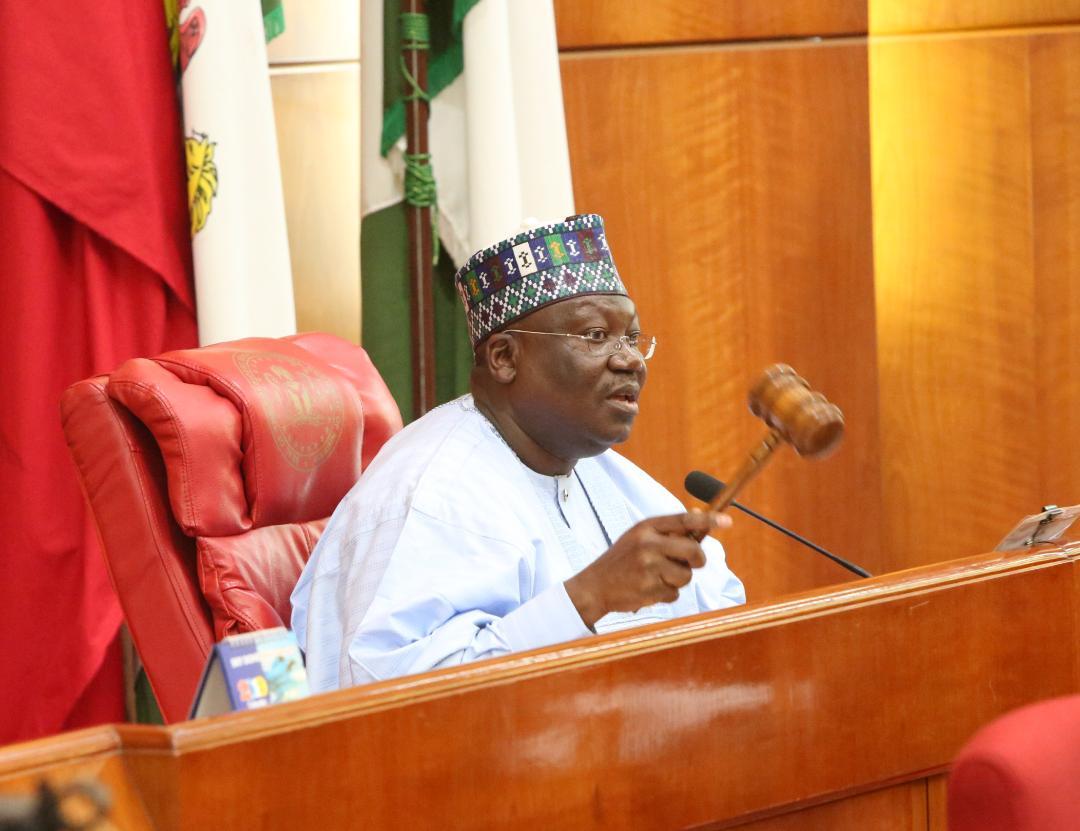 Senate President  Ahmad Lawan, on Monday, said that revenue generating agencies of government are capable of generating and remitting N3 trillion naira annually to the coffers of the federal government if efforts are made to cut down on wasteful spendings.
Lawan made this known in an address delivered to declare open an interactive session "on the need to improve internally generated revenue of the Federal Government of Nigeria and Revenue Projections of the Agencies as Contained In the Appropriation Act 2020."
The meeting was between the Senate Leadership and Members of the Committee on Finance and Revenue Generating Agencies of Government.
The Senate President, in his speech, said the purpose of the meeting was to explore means of increasing government revenues.
According to him, one of such ways was for the National Assembly to be rigid on increased revenue to cut down on the country's budget deficit and borrowings, as well as prevent wasteful expenditures by agencies of government.
He assured that the upper chamber would provide the needed support through legislation to ensure that revenue agencies perform to meet and surpass their targets.
He said, "In 2022, the National Assembly assumed and rightly so, that our government owned enterprises can generate up to N3 trillion if we are of the mindset that we can achieve that and, of course, ensure that we oversight to stall any possibility of unwarranted expenditures by agencies of government.
"But that does not mean in any way that it is going to be some kind of investigation on what you do, but an encouragement of what you need to do.
See also  Alleged N375.8 million Vehicle Purchase: NILDS tackles AGF, Says difference arose from price variation due to change in model of vehicle
"In this meeting and subsequent ones, there should be no holds barred on discussions.
"Where an agency feels it is encumbered in any way from achieving its target, it should say so, so that we are able to prescribe the right solutions for it to perform.
"As a National Assembly, let me say that the Senate particularly will be stiff on generating more and more revenue.
"We will be rigid, we will continue to insist, because we believe that this is one sure and guaranteed way of reducing our deficit and borrowing.
Lawan explained that the drive by the upper chamber for more revenues to the coffers of government, would enhance the economy and facilitate infrastructural development.
"This Committee is modified, because the leaders of the Senate believe that we can do far better and we have seen signs when last year some of the agencies performed beyond expectation.
"So, it is an opportunity for us to save and enhance our economy and, of course, make Nigeria achieve more infrastructural development which is the goal of this administration and every Nigerian.
"We believe that when you (revenue agencies) generate the money, we (National Assembly) appropriate it.
"Prudence is of essence here, when we spend our money. And when we borrow, like the National Assembly has always tried to do, we borrow to treat specific projects and programmes of government", the Senate President said.
Chairman of the Committee on Finance, Senator Solomon Olamilekan Adeola, in his welcome address, lamented that there was insufficient funds for the implementation of policies and projects captured in the 2022 budget of the federal government.
See also  I don't have authority to speak on when Senate 'll pass 2022 budget -Senator Jibrin Barau
He explained that the funds were derived partly from the revenue generated by the government owned enterprises and other independent revenues sources of the federal government.
According to the lawmaker, "there is an urgent need for all hands to be on deck on revenue generation for government, as well as prevent misuse and leakages of such revenue for frivolous purposes not sanctioned by the laws of the National Assembly."
He advised that for government to reduce and eliminate deficit budgeting associated with the nation's budget over the years, effort must be made to minimise borrowing to fund projects.
Revenue agencies present at the interactive session include: National Agency for Science and Engineering Infrastructure, the Federal Inland Revenue Service (FIRS), National Steel Raw Materials Exploration Agency, Nigerian Postal Service, Lagos University Teaching Hospital, and Nigeria Customs Service.
Others were the Nigeria Immigration Service, Nigeria Security and Civil Defence Corps, Nigeria Prisons Service, Maritime Academy of Nigeria, National Agency for Food and Drug Administration and Control (NAFDAC), and Abuja Geographic Information Systems (AGIS).
Also present were the Federal Capital Territory Administration,  Energy Commission of Nigerians, Administrative Staff College of Nigeria, Nigerian Export Import Bank (NEXIM), Nigerian Ports Authority and the Nigerian College of Aviation Technology, Zaria.
ECOWAS Trade Promotion Organisation re-elects Dr. Ezra, as president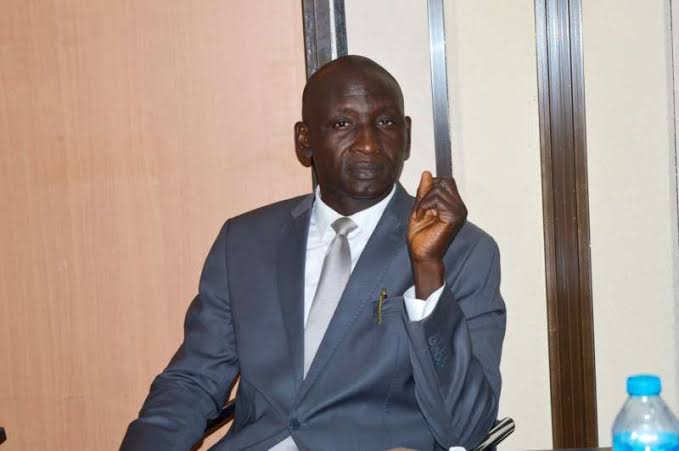 Dr. Ezra Yakusak, the Executive Director/CEO of Nigerian Export Promotion Council (NEPC), has been reelected as the President of ECOWAS Trade Promotion Organisations (TPOs) Network in Accra Ghana.
Dr. Yakusat, will serve another One-year tenure and will lead 15 other member ECOWAS countries in driving trade within the sub-region.
His re-election is also in line with Article 11 of the ECOWAS TPO Network. The ECOWAS Trade Promotion Organization is a network of all Trade Promotion Organizations in West Africa established by the decisions of Council of Ministers at the Ordinary Session.
Nigeria became the pioneer president in April 2021. Dr. Yakusat, became the president following the expiration of the tenure of Mr. Awolowo as ED/ CEO of NEPC.
A statement by the council said the re-election of Dr. Ezra was at the end of 2nd Annual General Meeting of the Network held at Alisa hotel, Accra, Ghana from 19th – 20th May, 2022.
He was re-elected along with the vice president, Mr. Ben Guy Mbangue from Cote' D'ivoire.
The duo constitute the Executive Bureau of the Network and the tenure expires after one year. All members present unanimously re-elected the President and Vice President respectively.
World Bank projects Nigeria's Diaspora remittances to increase in 2022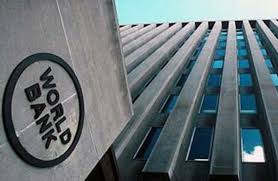 World Bank has projected Nigeria's Diaspora remittance inflow to increase to $29bn in 2022 because of higher food prices and the continued adoption of official bank channels.
The bank said, migrants from the country are likely to send more money home to help with the hike in the prices of staples.
A report titled, 'Migration and Development Brief (May 2022): A War in a Pandemic: Implications of the Ukraine crisis and COVID-19 on the global governance of migration and remittance flows,' the bank stated that remittance flows to low and middle-income countries are expected to increase by 4.2 per cent to $630bn in 2022.
It said: "With risks weighted to the downside, there are several factors that support a view for continued—though more moderate—7.1 per cent gain inflows to Sub-Saharan Africa in 2022.
"Momentum for the use of official channels in Nigeria should sustain an uptrend in the year, within flows reaching $21bn.
"Though economic activity is likely to ease in the United States and Europe, fundamentals remain positive for continued gains in remittance flows to the remainder of Africa, as the influence of 'altruistic' motivations that were demonstrated in Africa and South Asia during the peak pandemic years will likely carry over to the period of sharp increases in staple food prices."
The global bank further said remittance inflow to Sub-Saharan Africa was $49bn in 2021, with Nigerian contributing $19.2bn to the total inflow, adding that the use of informal channels to transfer money to the region caused a 28 per cent reduction in inflows in 2020.
"In 2022, remittance inflows are projected to grow by 7.1 per cent driven by continued shift to the use of official channels in Nigeria and higher food prices – migrants will likely send more money to home countries that are now suffering extraordinary increases in prices of staples," the bank said.
The World Bank stated that the Naira-4-Dollar policy, which was an attempt to return remittance to formal channels, of the Central Bank of Nigeria helped boost inflows by 11.2 per cent in 2021, adding that the stabilisation of the naira against the dollar within a range of 410-415 per dollar over the last year also contributed to the pickup in recorded inflows.
It noted that the increased stability of the Naira and increased use of the e-Naira would help boost the nation's chances of achieving $21bn in remittance for 2022.
Double trouble for Ahmed Idris: arrested by EFCC, suspended by Minister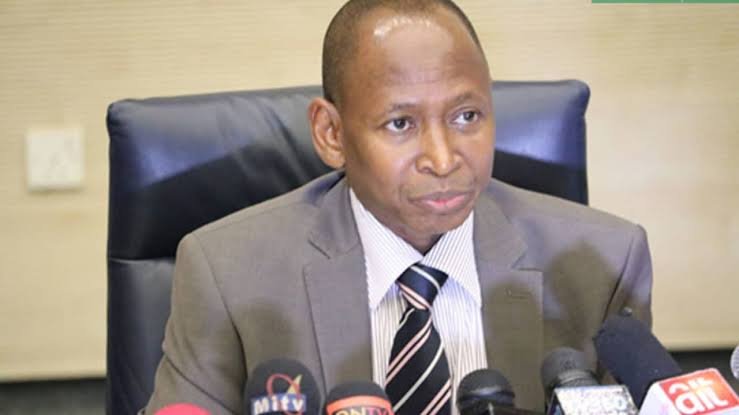 The Accountant General of the Federation, Ahmed Idris has been directed to proceed on indefinite suspension over alleged laundering of N80 billion.
Idris, was suspended on Wednesday by Zainab Ahmed, the Minister of Finance, Budget and National Planning.
In a letter dated May 18, 2022, the minister said the suspension "without pay" was to allow for "proper and unhindered investigation" in line with public service rules.
Ahmed Idris, was on Monday arrested by the Economic and Financial Crime Commission (EFCC). over alleged diversion and laundering of N80 billion.
Wilson Uwajaren, Head of Media and Public Information of the EFCC, stated that verified intelligence reports showed that Idris raked off the funds through bogus consultancies and other illegal activities using proxies, family members and close associates.
Uwujaren added that the funds were laundered through real estate investments in Kano and in Abuja.
According to EFCC, Idris was arrested after he failed to honour invitations by the Commission to respond to issues connected to the fraudulent acts.