Ekiti 2022: I am a Faithfull APC Card Carrying Member – Senator Opeyemi Bamidele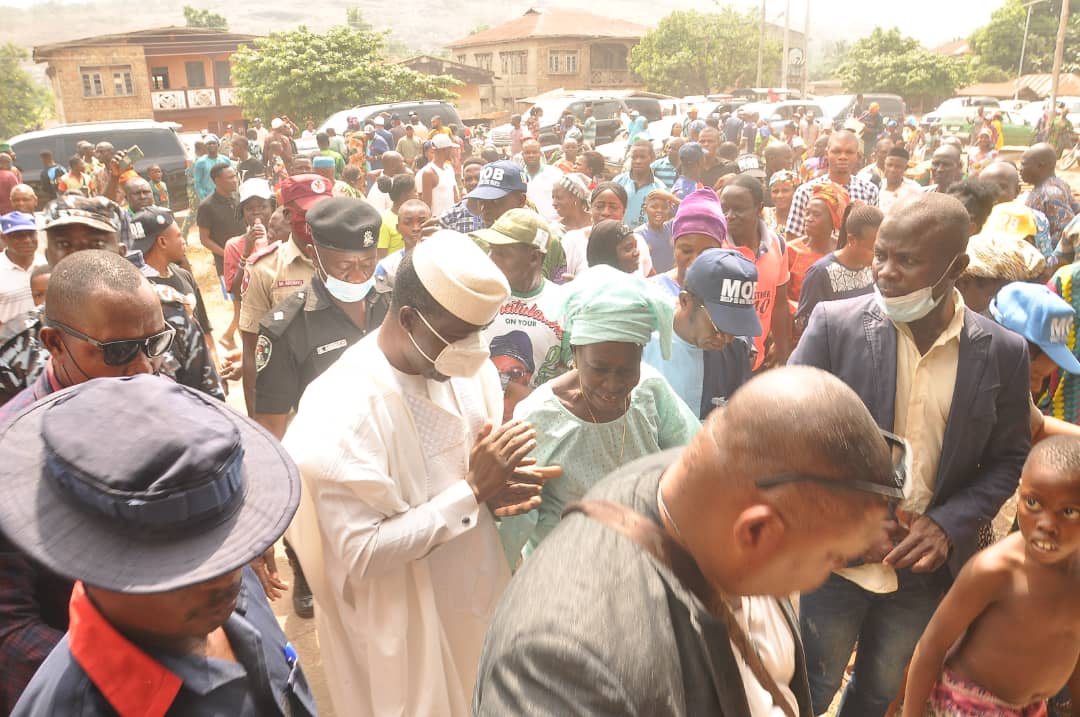 *****Rounds Off Campaign tour across Sixteen LGs
*****kick starts grassroots consultation with various Stakeholders.
A leading Governorship Aspirant of All Progressive Congress, (APC) in Ekiti State, Senator Opeyemi Bamidele, has said that he is a  faithful party Member who had shown serious commitments to the growth of the Party.
Senator Bamidele, who double as the Chairman of Southern Senators Forum stated this while  rounding off his  consultations across the 16 local government chapters of the APC in the state as is set to meet all critical stakeholders from ward to Ward.
Senator Bamidele reiterated that he took care of the party when the Peoples Democratic Party (PDP) was in charge of the state for seven and half years between May 29, 2003 till October 16th , 2010 when Governor Kayode Fayemi was sworn-in .
He said, " By the Special Grace of God, I, Sen. Michael Opeyemi Bamidele (M.O.B), alongside some other party leaders and chieftains, had been responsible for the sustenance of our dear party from May 29th, 2003 when our dear Leader, Otunba Niyi Adebayo left office as first Civilian Governor of Ekiti State. and 16th October, 2010 when Dr. John Kayode Fayemi was sworn in as Governor of Ekiti State.
"I had paid the rent of the building' housing the party Secretariat for more than seven years and during the Yuletide,  annually, I did make provision for welfare packages in terms of food stuff and gift items which are usually distributed across the 16 local governments in the State".
"On various occasions, I had also paid the rent of various Local Government Secretariats of our dear party across Ekiti State".
"It was also in the course of my service to our great party, the All Progressives Congress (APC), as the Director-General of the Kayode Fayemi Campaign Organization that the ghastly shooting incidence of 1st June, 2018 happened to me but we thank the Almighty God for saving  my life to survive the incidence.
"Between 2000 and 2002, I served as the National Director of Publicity of the Alliance for Democracy (AD) and have also deployed my God-given talents, professional skills and wealth of experience in the service of our dear party from AD to AC, ACN and APC.
"While I was aspiring for Senate in 2010, my friends and I had the privilege to donate seven (7) brand new buses to our dear party (the defunct ACN) in Ekiti State.
"As a thorough-bred party chieftain and grassroots mobilizer, I know how to take good care of our party, our leaders, stalwarts and teeming members and this shall not be at the detriment of Ekiti people's growth and development.
"Ekiti people are waiting to vote for me; what I need is the ticket of our dear party to coast home to victory as APC Governorship Candidate in June 2022."
He urged all the aspirants to be careful of what they are saying during the party's primary because opposition parties will catch in on that during the Governorship general election,  adding that it is important to run a campaign that is scientific, issue-based and one that is violence free, and  promises that we would be able to fulfill.
Bamidele said, " Our party must remain united and be careful about what we say about each other because of primary election, at the end of the day, opposition parties will be waiting to catch-in on that.
"It is important for us to run a campaign that is scientific, a campaign that is violence free, a campagn that is driven by issues and promises that we will be able to fulfill, most importantly victory of our party should be our focus."
He also thanked the leaders and stalwarts of the APC in Ekiti for the rousing welcome they gave him and for the smoothness of the exercise in which there was no single act of violence during the local governments tour which signify his acceptability among the stakeholders in the State.
He, therefore,  appealed to the leadership of the party both at the national and the State levels to create a level playing ground for all aspirants in the State because the outcome of the primary election would determine  the performance and  chances of the party in its quest to win the Governorship election slated for June 18, 2021.
Bamidele submitted that the Ekiti people were waiting for him to massively  vote for him  as Governor of the State, adding that none of the other  Governorship aspirants had the kind of experience, he had acquired in governance because he served in all three arms of government in which he performed excellently .
Be Careful, Adamu warns Machina over Yobe North senatorial ticket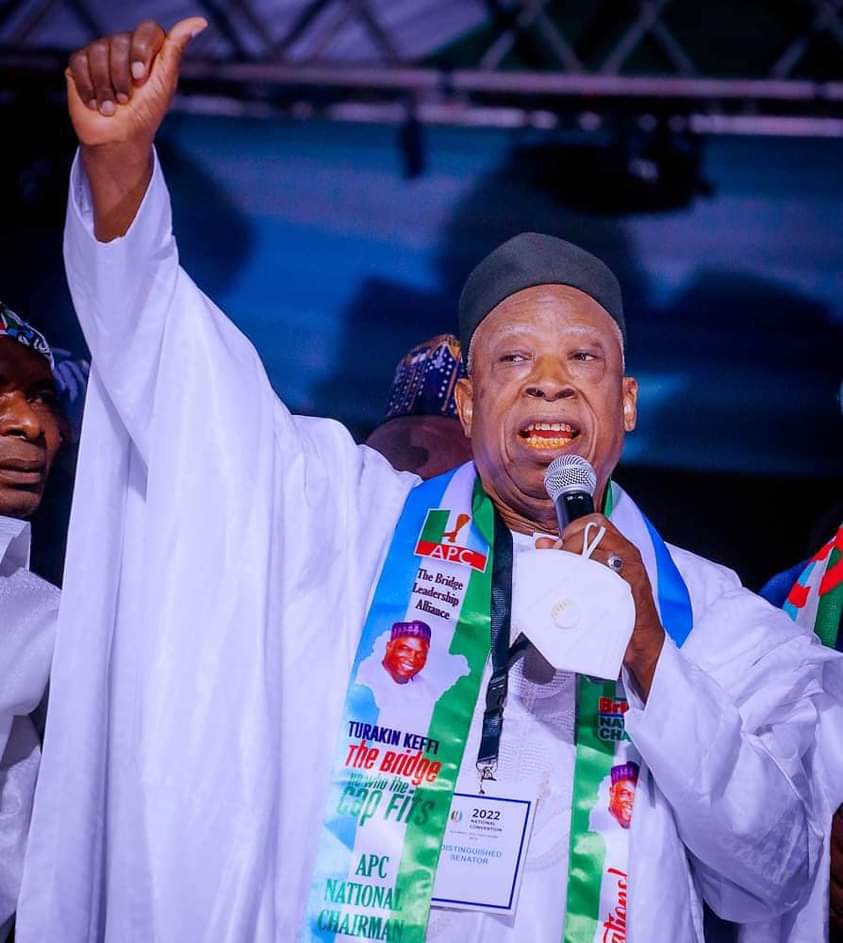 National Chairman of the All Progressives Congress (APC), Abdullahi Adamu,has warned Bashir Machina, a party member from Yobe north, over his comments on the party's senatorial ticket for the district.
The APC Yobe North Senatorial ticket sparked controversy after Machina, who won the primary, insisted that he would not step down for Senate President Ahmad Lawan.
Lawan had, in May, contested for the APC presidential ticket, but lost.
Amid the controversy over the ticket, the senate president, who currently represents Yobe north district, was eventually listed as the APC senatorial candidate for the 2023 general election.
Speaking in an interview published by BBC Hausa on Thursday, the APC chairman said the issues affecting the party on primaries are not unusual, adding that they will be resolved.
"There is no leader who doesn't receive complaints from the people he is leading and no leader would leave his position because of what the people say," Adamu said.
"In my position as the leader, whatever has happened in the APC since the day I became chairman of the party, I, Abdullahi Adamu, should be blamed.
"If you don't take the blame as a leader, then who should be blamed? As a leader, you are trying to resolve problems, not increase them.
"If you don't know how to set a trap for a thief, the thief will set the trap for you.
Machina should be careful; his issue is getting out of hand. As far I am concerned as chairman, my party did not violate any law.
"Is there any law that says you cannot contest for a position after contesting for another one. No law prohibits anyone from doing so."
Speaking on the recent defection of members, Adamu said people can't be forced to stay in the APC.
"If I say there haven't been people who have left our party, then I have lied," he said.
"No doubt, there are some who after they lost the primaries decided to leave the party and join another one.
"Politics is not by force. This is not how we wanted it to be and it is not only our party that its members are leaving."
Oyetola, competent, performing leader deserving of reelection — Obokun/Oriade Monarchs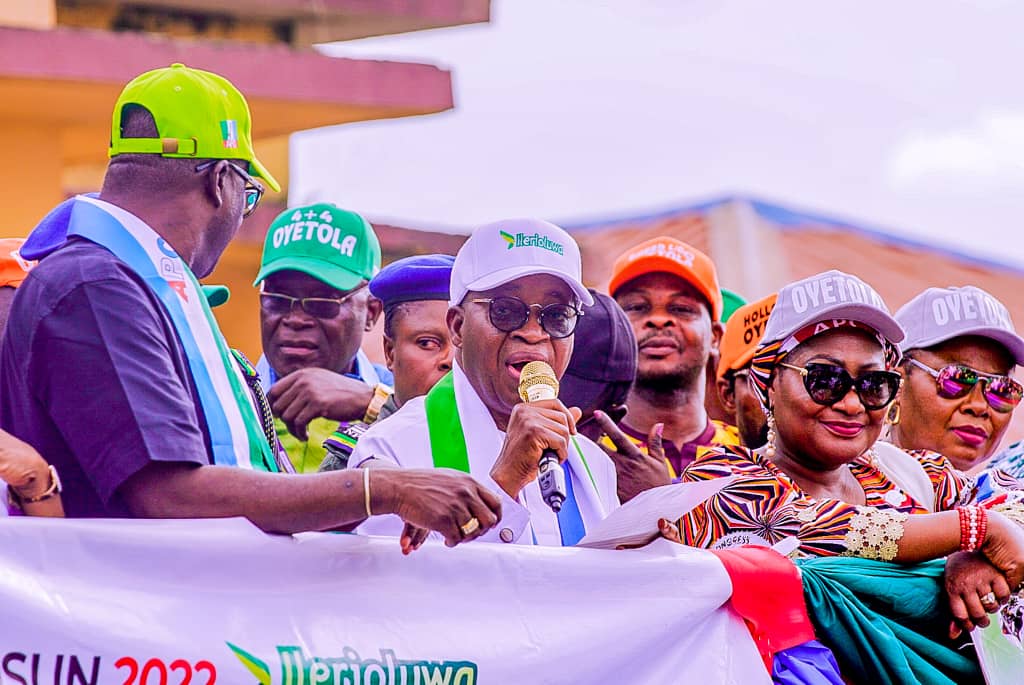 .. 'Oyetola has set high standards, let's forbid a downgrade' – Campaign Council
…as Campaign trail moves to Obokun/Oriade
As the Campaign trail of Governor Adegboyega Oyetola moved to Obokun and Oriade Local Government Areas of the State, on Wednesday, monarchs in Obokun/Oriade federal constituency have described Oyetola as the pillar of Osun's sustainable growth in the last three and half years.
They also described the governor as a competent, performing leader that is deserving of a reelection, just as they commended him for bringing stability to the affairs of the state at a time when the political situation was full of uncertainties.
The monarchs also lauded Oyetola for investing in the improved security architecture of the state, adding that Osun has become the most peaceful state in the country as a result of his attention to security.
They urged their subjects to set sentiment aside and make a wise decision that guarantees greater development and a brighter future.
This is as the Osun All Progressives Congress (APC) welcomed scores of defectors from the opposition Peoples Democratic Party (PDP) in Obokun and Oriade into the Party.
Speaking on behalf of the other monarchs, the President of Ijesha North Traditional Rulers' Council, Ajalaye of Ipetu-Ijesha, Oba Adeleke Agunbiade, described Oyetola as a competent administrator, a distinguished leader and a humane politician, saying his performance in the last three and half years shows he was built for the job of governance.
Oba Agunbiade also lauded Oyetola for the way he has transformed the fortune of the state, declaring his readiness to campaign for the governor's re-election.
According to him: "We the monarchs in Osun State have seen your work. In an ideal setting, you shouldn't be touring the State on campaign again because your works speak for you in the nooks and crannies of the State.
"Most of the monarchs in Osun and in Ijeshaland precisely are professionals. This reality has put us in the position to act as assessors of your performances across different sectors. From our assessment, we can boldly submit that Governor Oyetola is a competent governor, a leader par excellence, and a humane politician with human heart.
"Anyone who knew Osun in the past will testify that this governor has done wonderfully well. Those thinking they can wrestle power from him should think twice, because after Oyetola, it is still Oyetola.
"We are not saying this to make him feel good, we are ready to throw our weight behind him. If we are not breaking any known law, we are ready to lead Oyetola's reelection campaign. As a matter of fact, I am offering myself as the Director-General of his campaign among the monarchs", Oba Agunbiade said.
Speaking in their Palaces, the Alademore of Ibokun, Oba Festus Kayode Awogboro; the Elegboro of Ijebu-Jesa, Oba Moses Oluwafemi Agunsoye, and the Owamiran of Esa-Oke, Oba Adeyemi Adediran, lauded Oyetola's commitment to educational reform and security of the state, among other critical areas of development.
The monarchs also commended Oyetola for prioritising the welfare of both monarchs and their subjects, urging citizens to show favourable disposition to him because he has been tried and found competent.
While addressing the crowd at the various campaign grounds, where some defectors were received, Governor Adegboyega Oyetola assured the people that the modest achievements of his administration in the last three and half years are a foretaste of greater developments that his second term will bring to the state when re-elected.
He said: "The welfare and wellbeing of the good people of Osun, as well as the overall development of the State, hold a centrestage in my heart, and the modest achievements of my administration so far testify to this fact.
"We have paid salaries in the most amazing ways — amazing because resources are limited but we found a way to fulfil our obligations. We are dutifully paying pensions and we are offsetting backlogs. We have given the state infrastructural face-lift as much as affordable. These and many more we have shown commitment to and we will not relent in our commitment.
"We are approaching governance as we should. This is government of the people and for the people, and you can testify that the people have been at the centre of our programmes. Just take it that what you have seen in our first term is a taste of a sweeter sensation in our second term", Oyetola said.
In their separate remarks, the Chairman of the All Progressives Congress, Prince Gboyega Famodun, and the Director-General of the Campaign Council, Senator Surajudeen Ajibola Basiru, said Osun has stepped up significantly with Oyetola in the saddle.
They urged citizens to support the governor's re-election, saying Osun does not deserve a downgrade from the high standards already set in the last three and half years.
Speaking on behalf of the defectors, Babatunde Olayemi from Ward 10, Ilare Obokun, said their coming into the Party is not an espionage mission but a genuine passion to align with a government and a party that have showed distinction in governance.
OSUN 2022: SANWO-OLU HEADS APC 86-MEMBER CAMPAIGN COUNCIL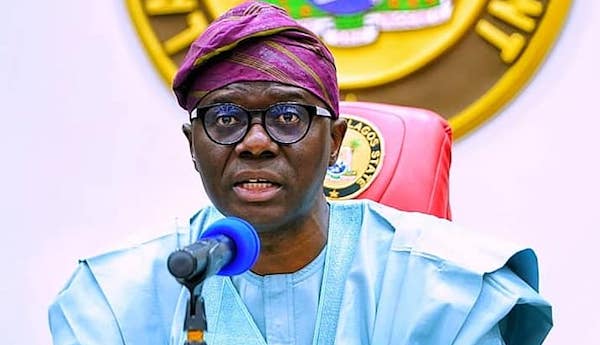 Lawan, Gbajabiamila, 21 Governors to Champion Oyetola's Re-Election Bid
 
Ahead of the July 16 governorship election in Osun State, the All Progressives Congress (APC) has announced an 86-member National Campaign Council for the poll.
The council chairman is Lagos State Governor, Mr. Babajide Sanwo-Olu, while Governor Abdullahi Ganduje (Kano) and Abubakar Sani Bello (Niger), will serve as co-chairman and deputy chairman respectively.
The list of the 86-member APC National Campaign Council for the Osun governorship election, which is to be inaugurated tomorrow, Thursday at the APC national headquarters in Abuja, was released on Tuesday through a statement jointly signed by APC National Chairman, Senator Abdullahi Adamu and party's National Secretary, Senator Iyiola Omisore.
The Sanwo-Olu-led APC National Campaign Council is expected to work for the victory of APC and the party's gubernatorial candidate in Osun State, Governor Gboyega Oyetola, who is seeking re-election.
The campaign council comprises serving and former governors, ministers, members of the National Assembly, political appointees and APC chieftains across the country.
Senate President, Ahmad Lawan; Speaker of the House of Representatives, Rt. Hon. Femi Gbajabiamila; Minister of FCT, Mohammed Bello and 18 governors, which comprised Chairman of Nigeria Governors' Forum (NGF) and Ekiti State Governor, Dr. Kayode Fayemi; Chairman, Progressives Governors' Forum (PGF) and Kebbi State Governor, Senator Atiku Bagudu; Chairman, Southern Governors Forum and Ondo State Governor, Arakunrin Rotimi Akeredolu; Chairman, Northern Governors Forum and Plateau State Governor, Rt. Hon. Simon Lalong will serve as vice-chairmen of the APC National Campaign Council.
Other APC governors who are vice chairmen in the campaign council are Abubakar Badaru (Jigawa), Nasir el-Rufai (Kaduna), Babagana Zulum (Borno), Inuwa Yahaya (Gombe), Aminu Masari (Kastina), Abdulrahmah Abdulrasaq (Kwara), Abdullahi Sule (Nasarawa), Dapo Abiodun (Ogun), Mai Mala Buni (Yobe), Dave Umahi (Ebonyi), Hope Uzodinma (Imo), Bello Matawalle (Zamfara), Ben Ayade (Cross River) and Yahaya Bello (Kogi).
The Minister of Works and Housing, Mr. Babatunde Fashola (SAN); his counterparts Abubakar Malami, SAN (Justice and Attorney-General of the Federation), Niyi Adebayo (Industry, Trade and Investment), Gbemisola Saraki (State for Transport) and Timpreye Sylva (State for Petroleum) as well as Senior Special Assistant to Governor Sanwo-Olu on New Media, Mr. Jubril Gawat are also part of the campaign council.
Mallam Aliyu Ahmed and Prince Tona Famodera are the Secretary and Assistant Secretary of the APC National Campaign Council.