Senate President greets Buhari @79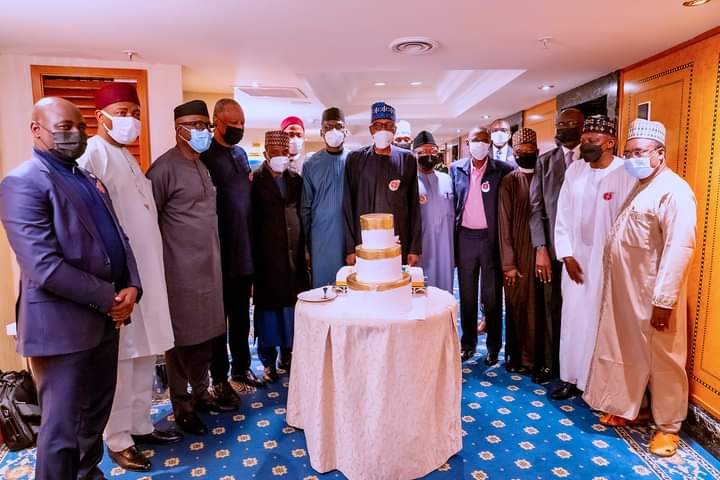 The President of the Senate, Ahmad Lawan felicitates President Muhammadu Buhari on the occasion of his 79th birthday.
Lawan acknowledges Buhari's purposeful leadership, vision, courage and steadfastness in the pursuit of the right cause and common good.
"I join the multitude of fellow Nigerians and your other well-wishers across the globe in thanking Allah for His great gifts of good health and long life to you.
"This benevolence of Allah has enabled Your Excellency to continue to provide purposeful leadership to our country in this time of unprecedented challenges across the world.
"You are a leader who has matched vision with courage and who is steadfast in his pursuit of the right cause and common good.
"Your Excellency, like most who have worked with you, I attest that you are passionate about the unity, security and prosperity of Nigeria.
"This attribute, with the focussed transformation of the nation's physical infrastructure, social and economic reforms will enhance your legacy as a unique Nigerian leader.
"Our great party, the All Progressives Congress (APC) is lucky to have you as our leader in this stage of its history. Your selfless and foresighted leadership has brought unity and cohesion to the party, and greatly contributed to making the APC the most freely embraced political platform in the history of Nigeria.
"Mr President, your leadership of Nigeria is a blessing to our dear country as it offers our people and institutions confidence in confronting the current challenges and in laying the foundation for sustainable prosperity.
"The National Assembly will continue to work with  you in line with our shared vision and in the best interest of our dear nation," Lawan says.
The Senate President wishes him a happy birthday and Allah's continued guidance and protection as he pilots the affairs of the country Nigeria.
Oyetola greets wife on her birthday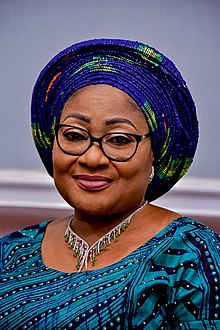 Governor of Osun, Mr. Adegboyega Oyetola, has joined family and well-wishers of his wife and Osun First Lady, Mrs. Kafayat Olaitan to celebrate her on her birthday and their wedding anniversary.
In a statement signed by his Chief Press Secretary, Ismail Omipidan, Oyetola described the wife as a leading inspiration to girls and women in Osun in particular and the country at large.
Oyetola further said: "Today, I celebrate your humility, your love for people, your passion for humanity and your kindness towards the larger society, especially the vulnerable, the women and the girl child who you champion through your pet project, the Ilerioluwa Development Initiative.
"We thank the Almighty Allah for His Divine Grace and Mercy in the last six decades plus two of your life and His Guidance, Direction and Provision since He joined us together, 39 years ago. Happy birthday to you, Olaitan."
Southern Senators Forum Celebrates Tinubu @ 70.
The Chairman of Southern Senators Forum, Senator Opeyemi Bamidele, has celebrated the National leader of All Progressives Congress (APC), Asiwaju Bola Ahmed Tinubu, as he clocks 70 years saying his footprint in politics and business world can never be altered.
Bamidele in a signed statement described Tinubu as a kind-hearted politician who has touched human lives not only in Nigeria but across the globe.
He therefore prayed for Asiwaju Tinubu for God to grant him his heart desires and blessings on this special birthday.
The statement reads, "Today, we are not only celebrating your birthday, but we are celebrating your footprint in politics and in the business world, which can never be altered.
"It is a popular secret that you are a kind hearted politician who has touched many lives beyond the shores of this country.
" As you are celebrating your 70 years birthday today, we wish you the very best and we pray that God will grant your heart desires and divine blessings on this your special birthday."
Osinbajo, Gbajabiamila, Akeredolu salutes for Tinubu at 70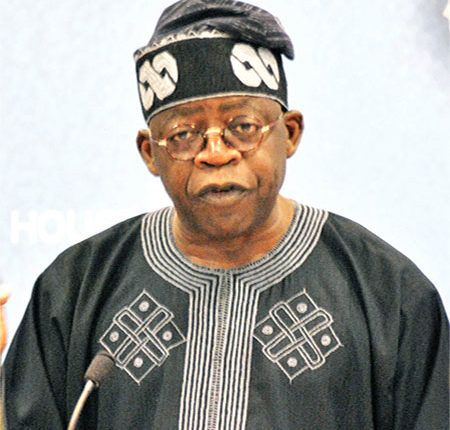 Vice President Yemi Osinbajo, Speaker of House of Representatives Femi Gbajabiamila and Ondo State Governor Oluwarotimi Akeredolu have congratulated Asiwaju Bola Ahmed Tinubu on his 70th birthday today, praying God would grant him strength, wisdom and favour.
According to the Vice President, "it gives Dolapo and I great pleasure to send you our heartfelt birthday felicitations. And it is a unique one indeed; the Platinum Jubilee and the completion of yet another remarkable decade."
In a statement personally signed by Prof Osinbajo, he commended the former Governor's service to the nation in different capacities, Prof. Osinbajo joined "the entire family, friends and associates to celebrate you on your 70th birthday and we pray that as your days, so shall your strength, wisdom and favour with God be."
Also Speaker of the House of Representatives Rep. Femi Gbajabiamila has paid glowing tributes to the national leader of the All Progressives Congress (APC), Asiwaju Bola Ahmed Tinubu, on his 70th birthday.
He said the Jagaban of Borgu kingdom has demonstrated an uncommon and unyielding commitment to a progressive and prosperous Nigeria.
The speaker noted with delight Tinubu's invaluable contributions to Nigeria's democracy in the past decades, saying he has unmatched credentials.
With these, Tinubu's services to his fatherland are most needed at a time like this, the speaker stated further.
Speaker Gbajabiamila recalled how Tinubu used his acumen to turn things around in Lagos State when he served as governor for eight years.
Referring to Tinubu as the pillar of modern developmental strides in Lagos State, Gbajabiamila said he believes the APC national leader will go down in history as one of the best and most impactful democrats Nigeria has had.
Meanwhile, Ondo State Governor,  Oluwarotimi Akeredolu has rejoiced with the former Lagos State Governor and National Leader of the All Progressives Congress (APC) Asiwaju Bola Ahmed Tinubu on his 70th birthday.
Governor Akeredolu hailed Asiwaju Tinubu's resilience and commitment to creating standard in party politics and investment in political leadership.
"On this auspicious occasion of your 70th birthday, we salute your efforts and dedication to Nation Building and National Development. You are a man of many parts with legendary contributions to the development of our dear country.