I have what it takes to Succeed Gov Fayemi in Ekiti —Opeyemi Bamidele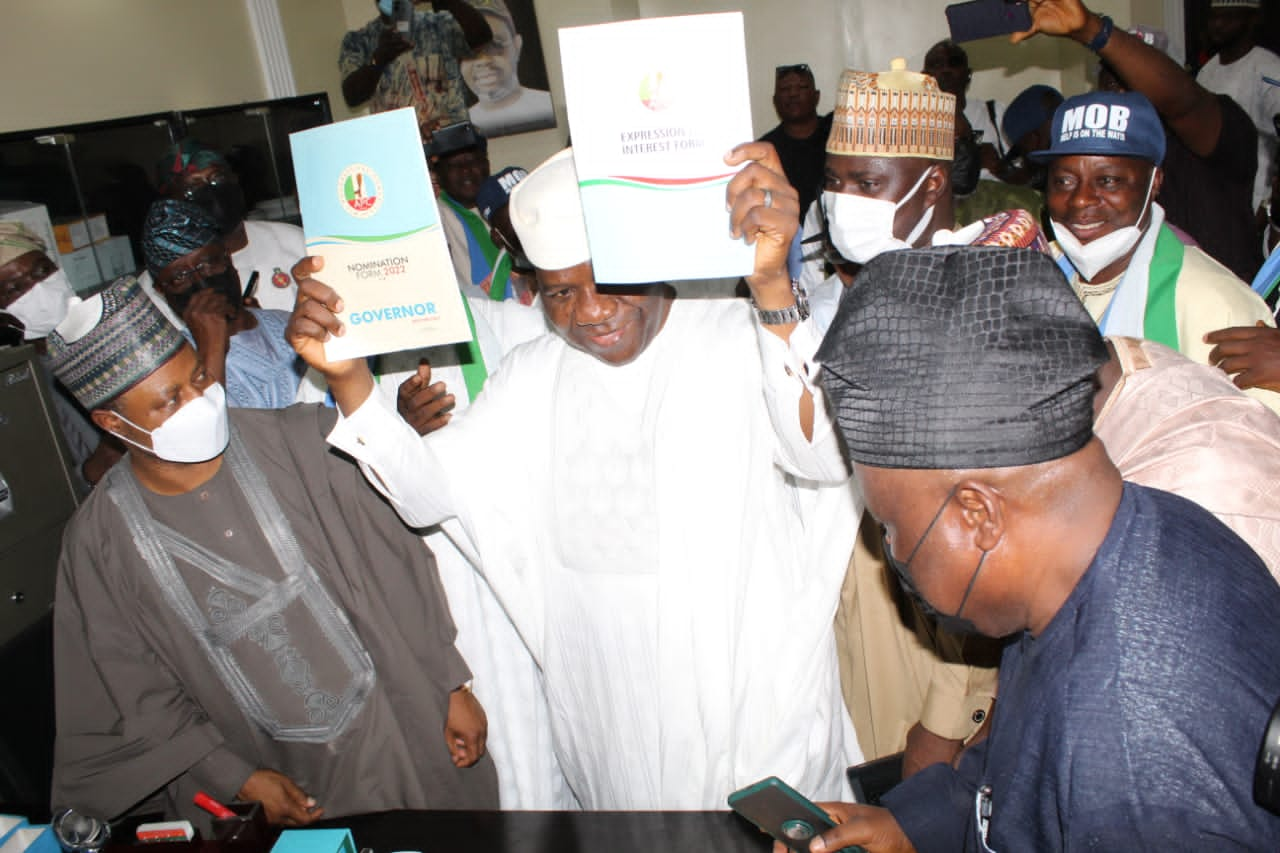 ****As 21  Senators, APC leaders  accompany him to Pick Governorship nomination Form
All Progressive Congress Governorship aspirant in Ekiti state Senator Michael Opeyemi Bamidele has said
is the right man to succeed the incumbent Governor Kayode Fayemi
Senator Bamidele stated this at the APC National Secretariat after picking the party's Expression of Interest and Nomination forms to contest the Ekiti State governorship election slated for June 18, 2022.
According to him," I am in the race because I got what it takes to lead Ekiti state in a time like this and I know Ekiti more than anyone else that is in the race with me".
The senator who said that he is the right man to succeed Fayemi, promised to build on his legacy if elected as the next governor of the state.
He added that if given the opportunity, he would not only build on Fayemi's legacy, but take the state to the next level and ensure better life for its people.
"I must say that Ekiti is today led by a governor who understands the language of internal democracy and party politics.
"Fayemi and his administration have done so well and so much for Ekiti.
"His administration deserves to have a worthy and well focussed successor who will not only protect the legacies of our party and the administration in Ekiti, but will also build upon, and take the state to the very next level of development," he said.
Speaking on his relationship with Fayemi, Bamidele said he enjoys a cordial with the governor.
He described as name droppers, those speculating that a particular aspirant had been anointed by the incumbent governor.
According to him, the governor has not declared support for any aspirant.
"I know Governor Fayemi well enough and I believe I do, I don't see him coming out at any point to support any aspirant.
"Even if I were to be his chosen candidate or anointed candidate, the best he can do is to have sympathy for me, he still would not have raise my hand to say this is the anointed candidate," Bamidele said.
He added that if elected as the state next governor, he would bring value to the state and ensure its development.
Meanwhile No fewer than 21 All Progressive Congress (APC) Senators followed Senator Opeyemi Bamidele to pick nomination form for governorship election in Ekiti state.
Similarly APC leaders across sixteen local governments in Ekiti state gathered in their hundreds at the Party National Secretariat Abuja to identify with the aspiration of Senator Opeyemi Bamidele.
Among the 21 Senators that followed Senator Bamidele to National Secretariat of APC are Senator Smart Adeyemi, Senator Abdullahi Sabi, Senator Ibrahim Oloriegbe, Senator Frank Ibezim, Senator Fatai Buhari, Senator Uba Sani, Senator Tolu Odebiyi, Senator Tokunbo Abiru, Senator Bima Enagi.
2023 General Elections: No aspirants 'll leave APC after primaries, says APC Chair, Adamu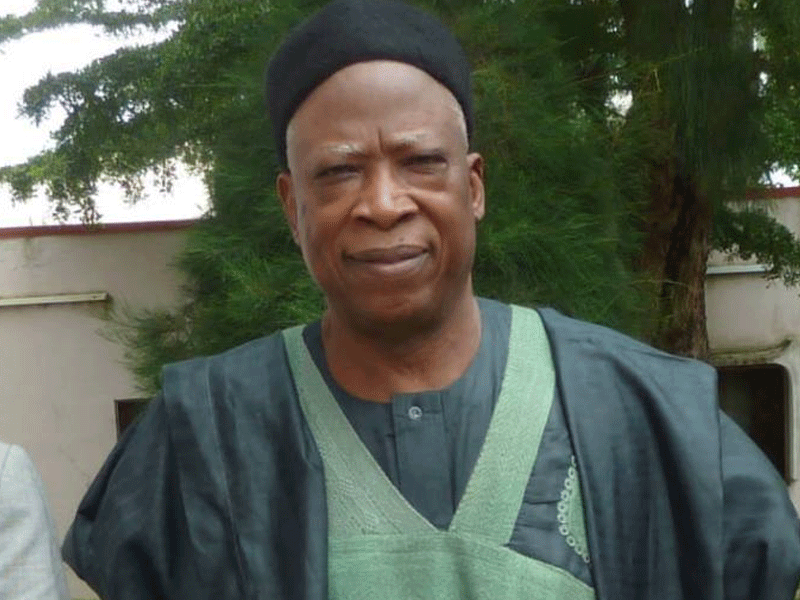 The National Chairman of All Progressives Congress (APC), Senator Abdullahi Adamu has assured that no aspirants will leave the party after the party's primaries, which are now slated for May 26th through 30th.
Adamu stated that the ruling APC does not only want to win but also wants to win big in 2023.
He made the assurance on Saturday  while addressing a group of party members in the diaspora at a global virtual town hall session on "Intra-Party democracy for the Emergence of Best Candidates."
The programme, themed, "Democracy in Nigeria: Mobilizing Global Support for Progressives and Continuity," was organized under the auspices of the APC Ward-to-ward Diaspora Network in collaboration with the APC Ward-to-ward Ambassadors.
The Chairman said, "Directly I want to tell you that after the primaries, non of the contestants of aspirants will leave the party.
You can see unlike the other parties extending weight, in our party all our aspirants are calm. Everybody is going left and right, trying to win votes for themselves.
Adamu, who was represented as a Special Assistant,  Prof. Abdullahi Yau, added, "I can assure you this is the most interesting part; the number of people that are contesting and they are going to give everybody a playing level ground where you can exercise your right as a Nigerian to contest.
"And at the end of the exercise,  just as what happened in the National convention, you see that everybody will be satisfied with whoever that emerges from the primaries."
He said, "Unless you have a process that is not well coordinated, a process that is marred by irregularities that's when people will be aggrieved and would want to leave the party.
If you're allowed to exercise your right and you think there's fairness in what's going on in the party and you lose, I don't think you would want to leave the party.
"I assure you even if we are going to have such a scenario, where we are going to have aggrieved members after the primaries, the Chairman and stakeholders of the party will ensure they reconcile everybody after the primaries," he added.
He, however, said all aspirants would be listened to by a high-power delegation of the committee if there's a tangible reason why they are complaining after the party's primaries.
Osun 2022: Oyetola Campaign Council appreciates Ooni, Ife monarchs, residents for massive turnout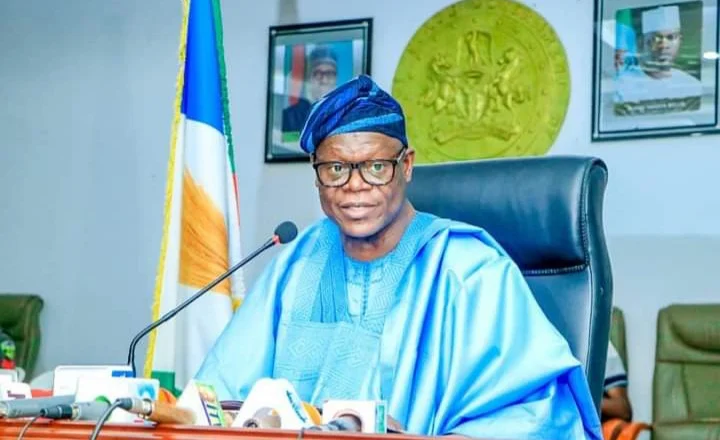 Osun not for sale to highest bidder, Oyetola campaign council replies Adeleke, PDP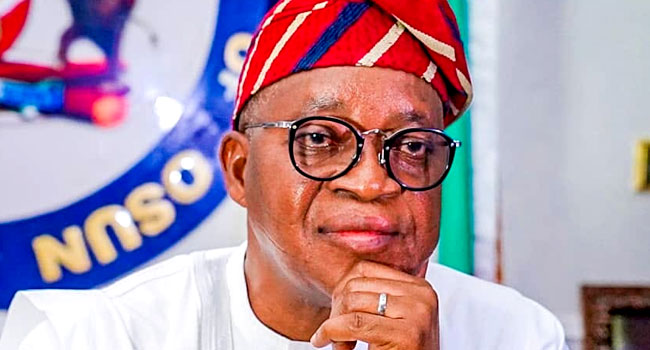 ...warns him not to overheat polity 
The Adegboyega Oyetola Campaign Council has described as absurd, unthinkable and totally unacceptable the boast by the Peoples Democratic Party, PDP, governorship candidate, Senator Ademola Adeleke that he had acquired enough money in hard currencies to buy Osun and its people for the July 16 Governorship contest.
In a statement signed by its Director-General, Senator Ajibola Bashiru, the Campaign Council declared that Osun was not for sale to the highest bidder, just as it noted that on daily basis, the PDP candidate is proving to the Osun electorate that he had nothing to offer.
Senator Ademola, the PDP candidate had over the weekend during the party's Osun Central Campaign rally, said "Osun people, you are the ones to decide. If it is about money, I have enough. I came with plenty money (hitting his pocket with his right hand). And it is not only naira, I came with dollars, pounds and Euro. This time around in Osun, it is fire for fire."
Reacting to Ademola's comment, the Oyetola Campaign Council said: "Osun people are not gullible. We have left them in no doubt of the quality our party, the APC and our Administration are made of, including the capacity of our candidate to deliver in the past three and half years. We have proved through our inclusive governance strategy that our people are our strength and that we do not take them for granted and we will never take them for granted. This explains why in spite of the way the 2018 election went, our administration began infrastructure intervention from Ede, the hometown of the PDP candidate.
"Osun people are enlightened, they Know that the State and its citizens are not up for sale to the highest bidder. Therefore, the PDP candidate should keep his money. Or better still, he could deploy those resources to establish industries to provide jobs for the people. This way, he will also be supporting the present Administration's noticeable efforts in the last three and half years to industrialise the State and change its narrative as a Civil Service State, to one bubbling with economic activities.
"It is on record that the Oyetola-led administration has since inception taken concrete steps to open up the State for investments, and has been able to attract a number of investments into Osun, contributing to the economic growth of the State.
"We assure the PDP candidate that, like the Administration did to other players in the private sector, we will provide a level playing ground for his business to thrive and ensure Osun and its people derive maximum benefit from the investment.
The Campaign Council also cautioned Adeleke against overheating the polity with his incendiary comments and violent tendencies, wondering what he meant by saying 'it's fire for fire this time around'.
"As a responsible party, we urge Senator Adeleke and his party to embrace peaceful conduct and decorum in their political engagements and electioneering. We must avoid any comment or action that can jeopardise the peace and stability of our State," the dded.