Nigerian airports record 6.4m passengers in 6 months
A total of 6,420,820 passengers travelled through domestic and international airports in Nigeria between January and June this year, representing 50.5 per cent increase over 4,267, 409 recorded same period in 2020.
Passengers Traffic Statistics Report made available to News Agency of Nigeria (NAN) by Federal Airports Authority of Nigeria (FAAN) indicates that the figure comprised of 5,513,098 domestic passengers and 907,722 international travellers.
According to the report, Murtala Muhammed International Airport (MMIA) in Lagos processed the highest number of international travellers with 670,938 passengers, followed by Nnamdi Azikiwe International Airport (NAIA), Abuja with 225,985 in the first half of 2021.
NAIA Abuja, however, topped the chart for domestic air travellers with 1,974,249 passengers, closely followed by Lagos airport with 1,786,236. Others are Port Harcourt 377,679 passengers; Enugu 231,669; Kano 225,870.
The report indicates that Lagos and Abuja airports alone accounted for 3,760,485 out of a total of 5,513,098 or 68.2 per cent of all domestic arrivals and departures, and 896,923 out of a total of 907,722 or 98.8 per cent of all international passengers.
Malam Aminu Kano International Airport came a distant third with only 10,119 international passengers in the first half of the year.
On cargo, the five major international airports in Lagos, Enugu, Abuja, Kano and Port Harcourt handled a total of 126.4 million kilogrammes of cargo between January and June this year, about 106 per cent increase over the 61.2 million recorded same period in 2020.
Lagos alone accounted for the lion share of 113.9 million kilogrammes or over 90 per cent of the total cargo throughput of the five international airports.
Lagos also accounted for 18.8 million kilogrammes out of 18.9 million kilogrammes or 98.9 per cent of  all mails handled at the five international airports. (NAN
Achieving SDG Will End Poverty, Hunger, And Insecurity In Nigeria – Buhari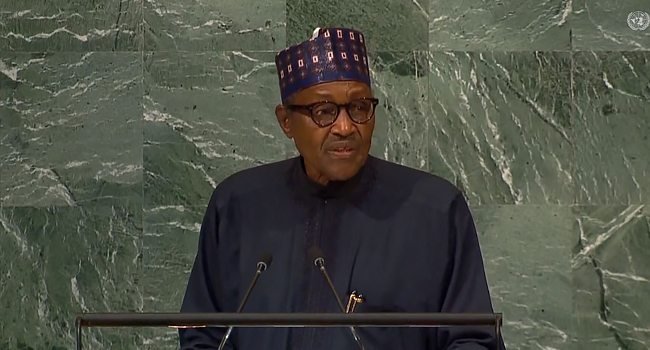 President Muhammadu Buhari has stated that Nigeria is accelerating efforts to achieve the SDG by 2030 to guarantee an end to poverty and hunger, protect the ecosystem and ensure Nigerians live in peace and prosperity by 2030.
Buhari made the declaration on Friday when he officially unveiled the Nigeria Integrated National Financing Framework (INIFF) report, a high-level event in collaboration with the UNDP and EU, on the sidelines of the 77th session of the UNGA.
He expressed satisfaction that the process leading to the NIFF which started in 2020 finally crystalized into the launch, underpinning the importance placed by the present administration towards achieving the goals.
The President explained that the various developmental plans and programmes for the country have all been aligned with the SDG and are poised to advance the nation's economy in spite of the challenges that have confronted the country.
Atiku Copied Buhari's Economic Blueprint – Lai Mohammed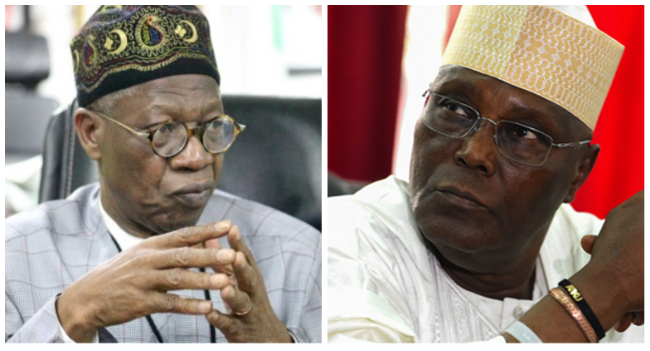 The Federal Government has tackled the People Democratic Party [PDP] Presidential candidate Atiku Abubakar for allegedly copying President Muhammadu Buhari economic blueprint in his recently unveiled Economic programme.
Minister of Information and Culture, Lai Mohammed described Atiku Blueprint as a
"crude attempt at copying all that the administration of President Muhammadu Buhari has done''.
Speaking at a news conference in Abuja, the Minister said the blueprint is a poor version of the present government's economic strides.
"Let me say, straight away, that the so-called blueprint is a crude attempt at copying all that the Administration of President Muhammadu Buhari has done, especially in the areas of job creation, infrastructure financing, relationship with the private sector, rejuvenation of the power sector, poverty reduction, debt management and the overall management of the economy," Mohammed asserted.
The minister expressed shock that an opposition party that has on several occasions criticized its policies is currently adopting it for its campaign,
According to Him, the present administration has made giant strides through its economic blue print which has translated into the creation of over three hundred and two thousand jobs and over eight thousand kilometers of road across the country amongst others.
I Will Leave Legacy Of Free-And-Fair Elections, Buhari Tells UNGA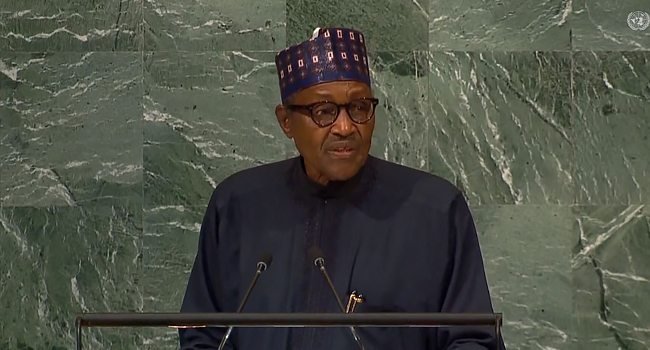 President Muhammadu Buhari on Wednesday promised to leave a legacy of free-and-fair elections as his eight-year tenure comes to an end in May 2023.
The President made this known in his last address before world leaders at the 77th session of the United Nations General Assembly in New York, the United States.
"Indeed, we now are preparing for general elections in Nigeria next February. At the 78th UNGA, there will be a new face at this podium speaking for Nigeria.
"Ours is a vast country strengthened by its diversity and its common values of hard work, enduring faith and a sense of community. We have invested heavily to strengthen our framework for free and fair elections. I thank our partners for all the support that the have provided for our elections.
"As President, I have set the goal that one of the enduring legacies I will like to leave is to entrench a process of free, fair and transparent credible elections through which Nigerians elect their choice," Buhari said.
The President, who reiterated his commitment to constitutional limit, said Nigeria has stood for democracy and the rule of law as a country and in the sub-region in countries such as The Gambia, Guinea Bissau, and the Republic of Chad.