NDLEA intercepts N4.9bn heroin consignments at Lagos seaport, airport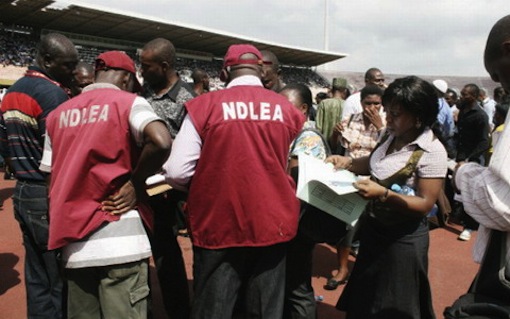 The National Drug Law Enforcement Agency (NDLEA) has intercepted fresh consignments of cocaine and heroin weighing 16.85 kilograms and worth more than N4.9 billion in street value.
This is contained in a statement issued on Sunday in Abuja by NDLEA's Director, Media and Advocacy, Mr Femi Babafemi.
Babafemi stated that NDLEA operatives intercepted the consignments at the Apapa Seaport and at the Murtala Muhammed International Airport (MMIA), Lagos.
He added that four persons were being investigated for the 13.65kg cocaine seized on board a ship, MV Karteria that came into the Apapa Port from Santos, Brazil, on Sunday, Nov. 7.
This, he stated was barely three weeks after 32.9kg of cocaine was intercepted at the port on another vessel, MV Chayanee Naree, also from Santos, Brazil.
According to him, in well-coordinated follow-up operations, five persons have been arrested in different parts of Lagos and Delta in connection with the shipment.
"A consignment of 3.2kg heroin was found on a passenger, Christian Osondu at the E-Arrival Hall of the (MMIA) on Friday, Nov. 5, during the inward clearance of Air Peace flight from South Africa.
"A swift follow-up operation on the same day led to the arrest of one Ude Onyeka at Mafoluku area of Oshodi in Lagos.
"Onyeka confessed that his elder brother, Ikenna Ude, who is based in South Africa, had instructed him to collect the bag containing the drug.
"He confessed also that he was to hand over to another person who was supposed to come from Delta,'' he said.
Babafemi said that a second follow-up operation led to the arrest of Innocent Abanjo who came to Lagos from Delta to pick the bag around "Cele'' Bus Stop, Okota, on Saturday, Nov. 6.
"Abanjo also confessed that he was contracted by one Oseki Chinedu, who is based in South Africa to travel to Lagos to collect the bag and to take it to Agbor junction in Delta.
"The third follow-up operation led to the arrest of Ihator Isioma at Agbor Junction on Sunday, Nov. 7,'' Babafemi explained.
In another development, NDLEA operatives arrested one Emeka Obeluo on Saturday, Nov. 13 with 600 grams of heroin in Bayelsa.
Babafemi said that the suspect, a motor spare parts dealer hails from Anambra West Local Government Area but based in Douala.
Obeluo arrived in Yenagoa by sea to waybill the substance to an undisclosed address in Lagos.
The NDLEA spokesman also stated that four suspects were arrested and different quantities of cocaine, Indian hemp, tramadol and Methamphetamine seized from them during weekend raids in parts of Rivers.
"Those arrested are Elizabeth Iniama, Sir King Emmanuel, Godgift King and Amadi Bright
Babafemi stated also that 18.51kg of illicit drugs were recovered on Saturday, Nov. 13 when operatives raided Bayan Gari and Sir Ahmadu Bello Way in Bauchi.
Two suspects, Gabriel Iwagbunan and Ms Cecilia Ezena were arrested during the raid.
"A 23-year-old Hadiza Ibrahim was also arrested on Friday, Nov. 12 on the Okene-Lokoja Highway with 54kg of Indian hemp, while one Sunday Nnam a.k.a Idowu was nabbed same day in Emene area of Enugu with 45kg also of Indian hemp, Babafemi stated.
In Gombe, one Umar Muhammad was arrested with 25,700 capsules of Tramadol weighing 15.1kg in Tudun Hatsi area of the state capital.
Babafemi said that following credible intelligence, two suspects, David Oduku, and Ifeanyi Raphael, were intercepted on Ore-Shagamu Expressway with 364.98kg of Indian hemp being conveyed in a blue Toyota bus.
He said that two suspects Buhari Jamiu and Ajibola Jimoh were also arrested on Sunday, Nov. 14 with 189kg of Indian hemp at Olorunlagba, Bode Saadu area near Ilorin. (NAN)
King's son sends cultists to eliminate his father in Ogun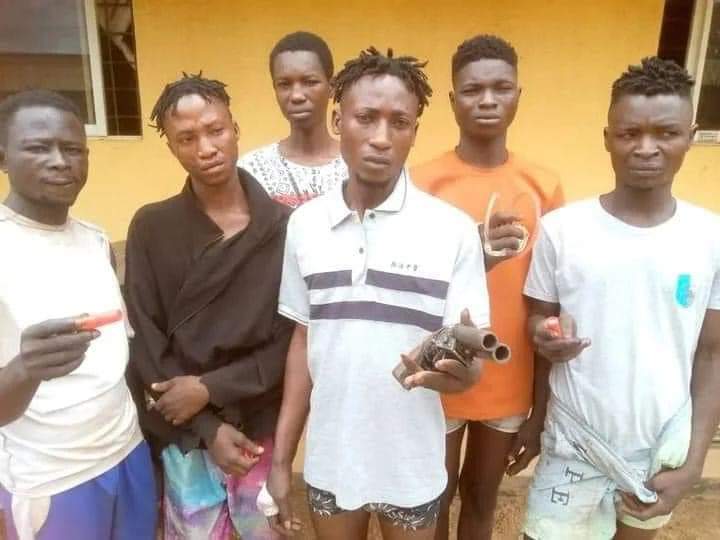 Six suspected members of Eiye cult group were on Sunday, September 11 arrested by men of Ogun state Police command while attempting to kill a traditional ruler in his palace.
A statement released by SP Abimbola Oyeyemi, spokesperson of the state police command, gave the names of the suspects as Michael Ayodele, Monday Samuel, Ademola Matthew, Hammed Jelili, Ogundele Ojeh and Sunkanmi Fadina. He said the suspects were arrested following a distress call received at Oja odan divisional headquarters from the Oba of Gbokoto land, Oba G.O Olukunle, at about 4:25 pm, that some cultists were about to kill him in his palace .
"Upon the distress call, the DPO Oja- Odan division, quickly mobilized his men and moved to the palace, where they met the hoodlums shooting sporadically within the palace.
The policemen engaged them in shootout and eventually subdued the cultists and got six amongst them arrested.
On interrogation, the arrested suspects confessed been members of the dreaded Eiye confraternity. They also informed the police that, it was the son of the Oba who is now at large that invited them to come and eliminate his father because of an unresolved issue the Oba has been having with his mother. "Oyeyemi said
The police spokesperson added that Items recovered from them include one locally made double barrel pistol, two live cartridges and one expended cartridge, while the son of the Oba who has taken to flight was said to have escaped with another gun belonging to the group.
He added that the state Commissioner of Police, CP Lanre Bankole has ordered the immediate transfer of the suspects to State Criminal Investigation Departments for discreet investigation with the view to charge them to court on the conclusion of the investigation.
The CP also ordered a massive manhunt for the fleeing son of the Oba in order to bring him to justice.
Why we raided Abuja hotel – NDLEA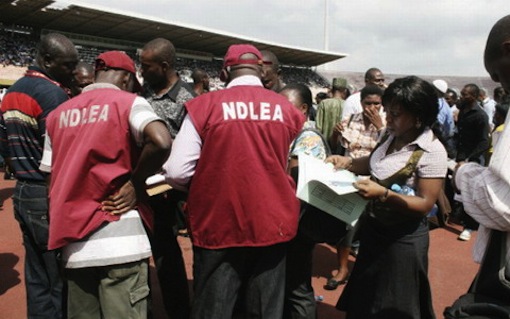 Operatives of the National Drug Law Enforcement Agency, NDLEA, have raided and sealed Diplomatic Suite Hotel, Asokoro, Abuja in a joint operation with men of the Department of State Services, DSS to stop a cannabis party and the launch of a suspected new psychoactive drink.
About 200 attendees including three young ladies who organised the hemp party are currently being profiled and interviewed while bottles of the new drink have been taken for lab analysis.
The hotel was raided at about 8:18pm on Wednesday 20th April following actionable intelligence that some youths were planning to hold a hemp party at the hotel. Quantities of cannabis sativa were recovered from the pockets and bags of those arrested at the hemp party.
The audacious party no doubt is part of attempts by some elements to create a drug subculture in the Nigerian social space. The NDLEA will however continue to work with other security agencies and relevant stakeholders to ensure abuse of illicit substances is not allowed to get entrenched in the country under any guise.
FG Approves Procurement Of Lie Detectors, Night Vision Goggles For NDLEA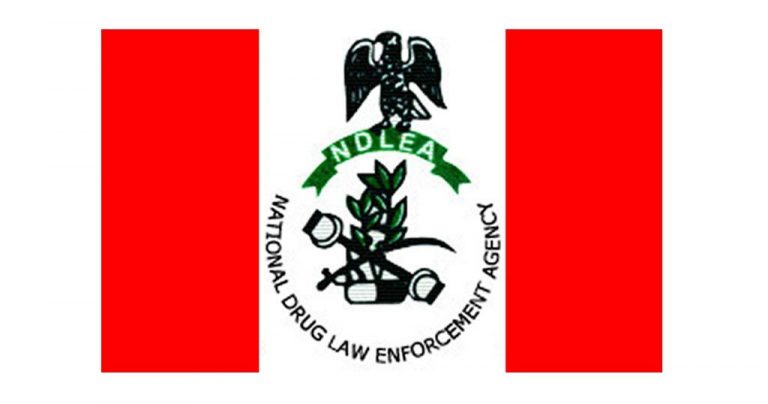 The Federal Government has approved the purchase of lie detectors and night vision Goggles for the National Drug Law Enforcement Agency (NDLEA).
This was disclosed by the Minister of Justice and the Attorney General of the Federation, Abubakar Malami (SAN) after the Federal Executive Council (FEC) meeting in Abuja on Wednesday.
"Two memos were presented this afternoon by the federal ministry of justice on behalf of and at the instance of the National Drug Law Enforcement Agency (NDLEA)," the minister said.
"One was a memo seeking the approval of the council for the award of contract for the supply of eye-scanning lie detector.
"Our technology has improved to the extent that we have in place technological equipment that has the capacity to detect whether you are indeed speaking the truth or indeed you are lying in the course of investigation.
"So, for the purpose of enhancing the capacity of the NDLEA in exterminating illicit drug trafficking, sales, and consumption, the Federal Government has considered the need and possibility of indeed providing this equipment to NDLEA.
"So, the memo in that respect was presented, it was taken and the contract was approved for Messrs Zettabytes Technologies Limited to procure for the agency this lie detector equipment.
"On that account, the Federal Executive Council approved the award of contract for the supply of eye-scanning lie detector by the NDLEA in favour of Messrs Zettabytes Technologies Limited in the sum of N498,850,000 only, inclusive of 7.5% VAT with a completion period of 90 days.
"The second memo sought the approval of the council for the supply of digital night vision goggles. This is intended to support the night operations of NDLEA."
He said: "The council graciously approved the award of the contract with the supply of digital night vision goggles in favour of Messrs R-SET Integrated Solution Limited in the sum of N570,825,000 only, inclusive of 7.5% value-added tax with a completion period of weeks."