Anambra Governorship election: APGA's Soludo leads as INEC announces results for 19 LGAs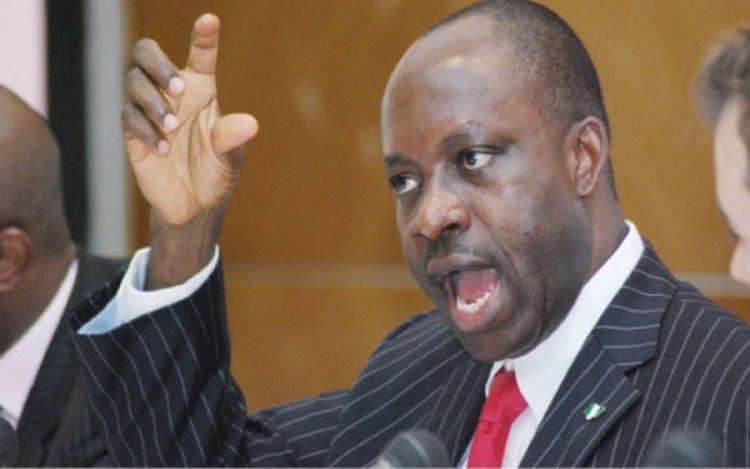 The candidate of the All Progressives Grand Alliance, former Central Bank Governor Charles Chukwuma Soludo, has taken early lead in the Anambra governorship election held on Saturday.
From the 19 local governments' results so far declared by the Independent National Electoral Commission on Sunday, the former Central Bank of Nigeria's governor won in 17.
This is as election results for two local governments – Ihiala and Orumba North – are yet to be announced.
INEC officials at the collation centre in Awka declared that no election was held in Ihiala LGA.
The result for Orumba North LGA is currently being contested and has not been announced.
While Soludo leads in 17 LGAs, the Peoples Democratic Party and Young Progressives Party have won in one LGA each.
Meanwhile All Progressives Congress candidate Andy Uba  is yet to win any local government.
Valentine Ozigbo of the Peoples Democratic Party won in Ogbaru LGA while Ifeanyi Ubah of Young Progressives Party has the highest number of votes in Nnewi North LGA.
Soludo leads in Dunukofia, Awka South, Oyi, Ayamelum, Anaocha, Anambra East, Idemili South, Onitsha South, Njikoka, and Orumba South.
Others are Onitsha North, Aguata, Idemili North, Ekwusigo, Nnewi South, Awka North, Anambra West.
SEE RESULTS
(1) Dunukofia LGA
APC 1991
APGA 4124
PDP 1680
YPP 1360
(2) Awka South LGA
APC 2595
APGA 12,891
PDP 5498
YPP 919
(3) Oyi LGA
APC 2830
APGA 6133
PDP 2484
YPP 900
(4) Ayamelum LGA
APC 2409
APGA 3424
PDP 2804
YPP 407
(5) Anaocha LGA
APC 2085
APGA 6911
PDP 5108
YPP 868
(6) Anambra East LGA
APC 2034
APGA 9747
PDP 1380
YPP 559
(7) Idemili South LGA
APC 1039
APGA 2312
PDP 2016
YPP 752
(8) Onitsha South LGA
APC 2050
APGA 4281
PDP 2253
YPP 271
(9) Njikoka LGA
APC 3216
APGA 8803
PDP 3409
YPP 924
(10) Nnewi North LGA
APC 1278
APGA 3369
PDP 1511
YPP 6485
(11) Orumba South LGA
APC 2060
APGA 4394
PDP 1672
YPP 887
(12) Ogbaru LGA
APC 1178
APGA 3051
PDP 3445
YPP 484
(13) Onitsha North LGA
APC 3909
APGA 5587
PDP 3781
YPP 682
(14) Aguata LGA
APC 4773
APGA 9136
PDP 3798
YPP 1070
(15) Ihiala LGA
No election
(16) Idemili North LGA
APC 2291
APGA 5358
PDP 2312
YPP 902
(17) Ekwusigo LGA
APC 1237
APGA 2570
PDP 1857
YPP 727
(18) Nnewi South LGA
APC 1307
APGA 3243
PDP 2226
YPP 1327
(19) Orumba North LGA
(Result Contested. Not Declared)
(20) Awka North LGA
APC 755
APGA 1908
PDP 840
YPP 381
(21) Anambra West LGA
APC 1233
APGA 1918
PDP 1401
YPP 357
'Tinubu not sick, still working in London' – Onanuga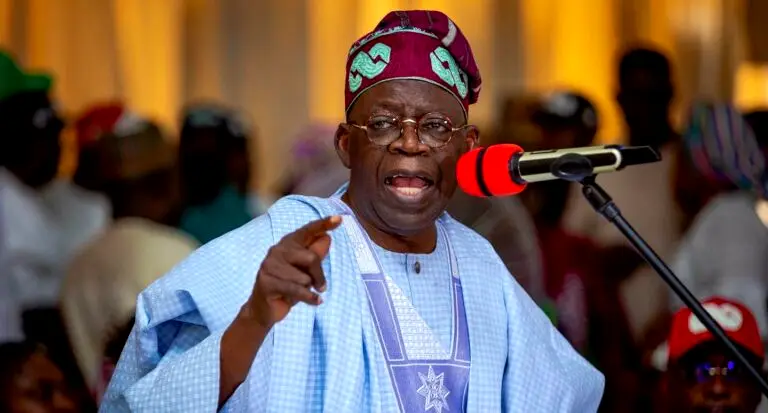 The Director, Media and Publicity, All Progressives Congress Presidential (APC) Campaign Council, Bayo Onanuga has revealed that the party's presidential candidate, Bola Tinubu is healthy and working hard in London, United Kingdom as he does in Nigeria.
Onanuga made the remarks in the wake of criticism that trailed the whereabouts of the APC flagbearer who was absent at the official commencement of the 2023 presidential election campaigns.
He particularly made a clarification on his official Facebook page to a viral photo which suggested that Tinubu was sick.
The post read, "Here is a fake photo of Asiwaju Bola Ahmed Tinubu forwarded to me just now, another handiwork of purveyors of deep fake. Whoever is behind this malicious falsehood will face the judgment of God at the right time. The man in the photo does not look like Asiwaju, except for his baldness. The man is fatter. Tinubu is slimmer.
"Look at the frame of his glasses. it is certainly not Tinubu's trademark frame. Let me assure Nigerians who genuinely want to know Tinubu's whereabouts. He is in London, in his house.
"Tinubu left Nigeria on Saturday night for a short break and in readiness for what will certainly be a gruelling campaign. I saw him, and spoke with him two hours before he left. He was hale and hearty. He was not ill. He didn't go to treat any ailment.
"We spoke today at about 2pm. And he told me how his one-week retreat has not made any difference. He was still working like in Nigeria. Today, he still burnt his candle till 4.30 a.m..
"Nigerians should stop spreading rumours about Tinubu, who by the grace of God and fellow Nigerians, will be elected our leader next February. We should learn from the divine fate of the man who wished Tinubu dead," he said.
PDP Crisis: Ayu Exploited Delegates, Manipulated Presidential Primary To Favoured Atiku – Wike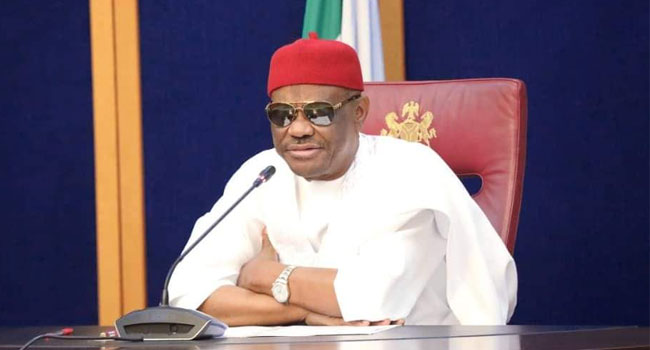 Rivers State Governor Nyesom Wike has disclosed that the National Chairman of the Peoples Democratic Party (PDP), Senator Iyorchia Ayu, exploited delegates and manipulated the presidential primary which saw Atiku Abubakar emerge as the party's flagbearer for 2023.
Wike in a media chat on Friday, further alleged that Ayu called several Presidential aspirants to step down for the former vice president during the primaries.
"He was calling aspirants to withdraw for Atiku. I was there, Saraki and others were there.
"He manipulated the delegates. There was nothing Ayu did not do to ensure Wike didn't emerge," the governor declared.
Wike's comments are the latest trailing the crisis within the PDP where a faction of the party seeks to remove Senator Ayu, a cause which the Rivers State governor says became imperative, seeing that no southerner occupies any of the top three positions in the PDP.
In his chat with reporters the governor explained that when Ayu was canvassing to become leader of the party, the former Senate President would not allow him rest, pleading to be given a chance to unite the PDP.
The governor further asserted that it was to his dismay, that Ayu got into office and began to do the opposite of all he had sworn to uphold within the party.
Governor Wike said when they started selling forms for the primaries, he reminded the National Chairman that they had set up a committee on Zoning headed by the governor of Enugu State, however, Ayu started selling forms without resolving the issue of zoning.
"So, cleverly, they now came up to say, 'well, since people have already bought forms, there is no need to zone'".
At that point, Wike said he knew the move would cause problems but decided to go in for the campaign and gave it his all.
"We went for the primaries and we campaigned seriously. And they were shocked because if you look at the modus of our campaign, nobody was the DG. Nobody was anything, you never know… because we didn't want to allow anybody to approach people to be moles."
According to the governor, the success of the campaign became a problem and a source of concern for other candidates and as such, a series of meetings were held.
"A whole National Chairman threatened some of the Presidential aspirants at that time that if Wike wins he was going to resign. In fact, he was calling aspirants to withdraw for Atiku Abubakar. Bala Mohammed (Bauchi Governor) is there. (Bukola) Saraki is there; Tambuwal is there.
"Meetings and meetings and meetings were called. You must withdraw, if not we will lose. Wike will win. Some of them said but the issue is not about Wike, we want to run. This is the national chairman of a party, who is supposed to be the chief umpire," Wike narrated.
He said this continued even until the day of the primaries, adding that this was the reason the PDP's primary election kicked-off "very very late".
"The primary was to supposed start at 11am. We started at 5:30pm to 6pm. Who are the delegates? (They are from) 774 local government under where use to have 4,000 or 5,000 delegates.
"So, what was going on? Meetings upon meetings upon meetings. Putting pressure (on aspirants to) step down. Some retired generals were involved. Some of the meetings were held in their houses. But even in the committee of the convention, when we met in Benue Governor's lodge with the National Working Committee, I raised it. I said, 'National Chairman, these people you are forwarding as chairmen of these committees are all known supporters of Atiku Abubakar.
"Ayu swore 'oh, no'. I said look, 'Just to let you know that if we don't want this convention, we would have gone to court but we don't want the party to be in crisis. Therefore, do the right thing so that at the end of the day all of us will be happy that the party has done a good convention and a winner has emerged without rancour.
"We are an opposition party, we are not in the ruling party. Therefore, we must conduct ourselves in such a way that there should not be internal crisis that may not be resolved before the general elections.
"There was nothing Ayu didn't do; manipulation of delegates list… there was nothing he didn't do. And, unfortunately, today, the numbers are not adding up. There is nothing they didn't do to make sure that Wike did not emerge (as winner).
"So, we went to the convention and they came. You remember I spoke last based on alphabetical order. And when I came out to speak, of course, there was danger.
"The ovation was thunderous so it became a problem to them. To tell you, and I was highly disappointed by the former Senate President. Very experienced, very civil. All these things were set up to manipulate the system. Senator David Mark; he was the Chairman of the Convention planning committee. It has never happened in the history of elections.
"In fact, when you are speaking, whatever thing you want to do, it is at that point you will say it. But everybody has spoken, I have spoken. We have now sat down for them to commence voting, (that's when) a whole Chairman of Convention Planning Committee said there was an announcement. It has never happened anywhere.
"The announcement we were thinking would be for security reasons, don't pass this way or 'there is something we just picked up; I don't know if anybody has lost anything — your phone or whatever'. Such announcements is expected. But (the announcement was) to give back the microphone to Tambuwal to come again and speak after everybody has spoken to say 'My brothers I want to withdraw'.
"Not even saying you want to withdraw, you now went ahead to say that his people should vote for Atiku Abubakar. At that point, if not for the love of the party we have, if we don't love this party, that convention wouldn't have held. There would have been crisis in that convention."
Wike also accused Ayu of being very corrupt, when told that that was a weighty allegation and asked if he had evidence, he challenged Ayu to deny the allegation.
"Listen, Ayu has the opportunity to challenge me. I will name, I said I will name. I told you I was going to speak; am I not speaking today? Even some of the governors can tell you.
"Look, will he deny that he collected one billion from Lagos? Let him deny, I will tell you who gave him the money; not Lagos government. The money was given to him in Lagos. He met one of the presidential aspirants and told him that he is not sure these governors will want to sponsor the party.
"Let Ayu say no. I will even call some of the business men and how the money was arranged in Lagos. That money did not enter into the account of PDP. But we are not attacking Ayu on that basis. Look I am not any governor. I am a serious governor. I can't just come here and begin to say anything. I say I challenge (him).
"Let him deny this," Wike challenged Ayu.
2023 Elections: Why Govt Cannot Fund Political Parties – Gbajabiamila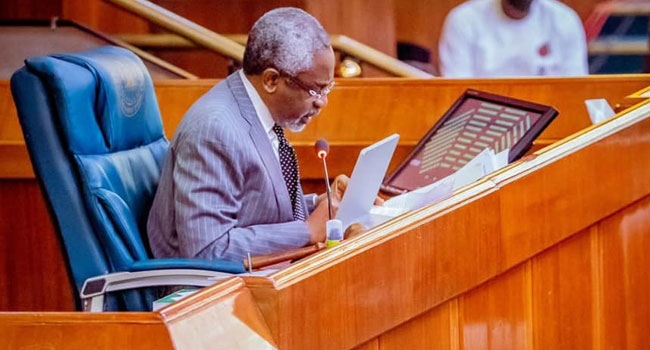 The Speaker of the House of Representatives, Femi Gbajabiamila, says it is not fashionable to expect the Federal Government to fund political parties at this critical period of Nigeria's democratic advancement.
For him, using the government's money to run the parties is an indirect invitation for it to assume control of the political parties by dictating choices and policies that might be in conflict with the tenets of democracy.
Gbajabiamila, who argued that the international best practice was for parties to be self-funded, added that using the government's money would also lead to the proliferation of political parties.
He made the remarks on Wednesday while receiving a delegation of the Inter-Party Advisory Council (IPAC) at the National Assembly in Abuja.
The speaker stated that people would simply abuse the process by registering hundreds of political parties in the hope of cashing out on free government money.
"I am not sure how many countries fund their political parties; we will have to do research and to be sure that it's international best practice …Government is an interested party if it will be providing the funds," he was quoted as saying in a statement by his media aide, Lanre Lasisi.
"That will also mean they can compromise the system. There is also proliferation (of parties) that will become a problem if the government begins to fund the parties since there will be free money."
Gbajabiamila, who also reacted to requests for fresh amendments to the Electoral Act 2022, said it was not advisable to do so a few months before the 2023 general elections.
He explained that making new amendments to the law during this period could disorganise election planning, create unnecessary tension in the polity, and raise credibility questions.
The Speaker said the safest route would be to further amend the Act after the elections if a need arose, or in the alternative, aggrieved persons could approach the judiciary to seek an interpretation of any contentious provisions.
He called for patience, urging parties to seize the opportunity of the upcoming polls to fully test the Act and determine the success of innovations, such as the electronic transmission of results, and the deployment of the BIVAS, among others.
Gbajabiamila added that upon a successful poll, other innovations such as electronic collation of results and diaspora voting could also be considered.
The IPAC delegation was led by the body's national chairman, Yabagi Sani, who told the speaker the purpose of the visit was to seek synergy and a good working relationship between IPAC and the National Assembly.
Among the issues, he tabled before Gbajabiamila were the alleged flouting of Section 31 of the Electoral Act by the Independent National Electoral Commission (INEC), the funding of political parties, the urgency to establish the electoral offences commission, electronic collation of election results in addition to the electronic transmission of results, and the call for a change in the process of appointing the chairman of INEC.
For instance, he complained that while the law allowed political parties to replace candidates 90 days before the election, INEC opted to shut its portal when the days had yet to elapse, preferring to use its rules and regulations in determining the fate of the political parties and their candidates.
"A lot of people are being disenfranchised because INEC says we can't substitute anybody even though the 90 days haven't elapsed," Sani said. "Do the INEC rules and regulations supersede the Electoral Act?"
The IPAC chairman said since it was the legislature that made the Act, the body was reporting INEC to the House so that lawmakers could caution the commission or invite the leadership of the electoral umpire for questioning.
He expressed concern that the issue had led to much litigation against INEC already, saying that if not resolved quickly, some of the cases could cause a setback to the electoral system in the future.
On electronic collation of results, Sani said while it was commendable that the results would be transmitted electronically, the collation would still be done manually, which he feared might be compromised.