IT'S TIME FOR WOMEN TO SPEAK UP FOR WOMEN – SANWO-OLU'S WIFE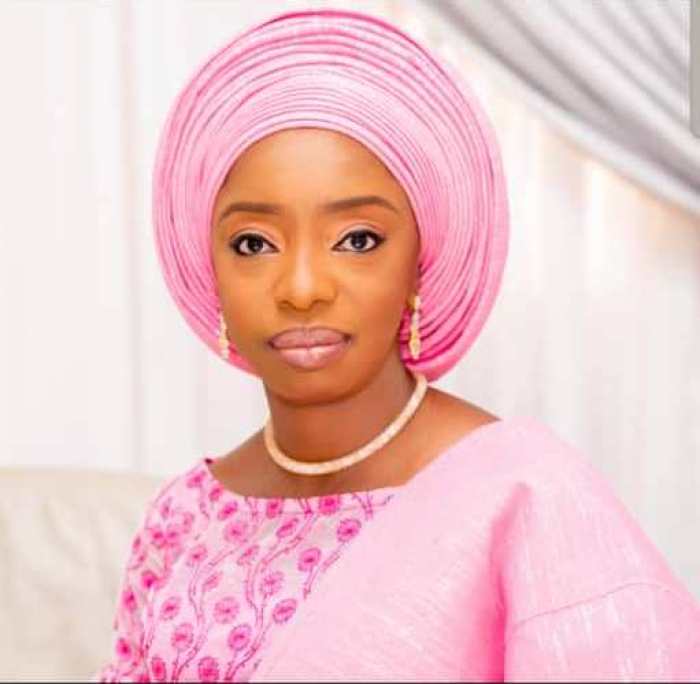 …Leads COWLSO's Awareness Walk Against Domestic Violence
Lagos State First Lady, Dr. Ibijoke Sanwo-Olu on Saturday led members of the Committee of Wives of Lagos State Officials (COWLSO) on an awareness walk against domestic violence, with a call on women to speak up in defence of other women.
The awareness walk, held on the major streets of Alausa, Ikeja, is part of activities heralding the forthcoming National Women's Conference (NWC) of COWLSO scheduled to hold from October 26 to 28, 2021 at the Convention Centre, Eko Hotels & Suites, Victoria Island, Lagos.
During the walk, COWLSO members displayed placards of various inscriptions such as "Shun Gender-based discriminations; Use your words, not your fist; Blame the rapist, not the victim; The Lagos woman is an awake woman; Ji, Ma Sun; Security is everyone's business, be vigilant; Speak up, seek help, stay safe; It should not hurt to be a child. End Child Abuse; Say no to drug addiction; We say no to terrorism, kidnapping, banditry; stop rape; We have no other country, let's defend the country we have," among others.
Speaking in an interview during the walk, the First Lady said it was about time for every woman to look out for the welfare of other women and inspire others.
"The essence of this walk is like a clarion call for all women all over Nigeria. The theme of COWLSO NWC this year is Awake. It is a call for all women so that they can wake up; wake up to be a voice to the voiceless; to ensure that the economy moves forward; to not think that they don't have a role to play.
"Every woman, whether you are a housewife, whether you are a professional, whether you are a career woman, whether you are a student and so on, we all have a role to play. So, it is about time we awake from our slumber; we lift each other up; we inspire other women. This is the essence of what we are doing," she said.
She added that the wahlk also aligns with the theme of this year's International Day of the Girl Child celebration, which was commemorated on October 11.
"The theme for the International Day of the girl child has to do with digital awareness and so for our women, whether you are a market woman or not, this is the time we must all become tech-savvy; this is the time we should align with the 'Z generation'; this is the time we need to speak up; this is the time for every woman whatever you are doing, wherever you are, you need to lend your voice and help to inspire other women out there," Sanwo-Olu said.
Afreximbank's Kanayo Awani makes Nigeria Women Annual's "100 Leading Women" list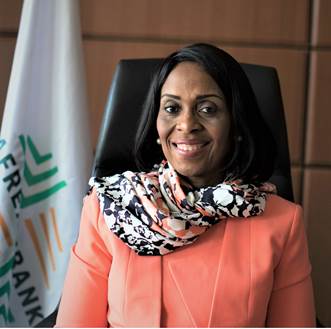 The Managing Director of Afreximbank's Intra-African Trade Initiative Division, Mrs. Kanayo Awani, has been named among the 100 outstanding women leaders in Nigeria, according to the list published in the 2022 edition of Nigeria Women Annual: 100 Leading Women.
Mrs. Awani's listing acknowledges her distinguished career and contributions to the development of society.
As Managing Director, Mrs. Awani currently leads the Bank's efforts in implementing its intra-African trade and industrialisation strategies.
A statement by the bank said she successfully led Afreximbank's engagement in support of the establishment and implementation of the African Continental Free Trade Area (AfCFTA) and was the arrowhead for the introduction and organization of the biennial Intra-African Trade Fair (IATF), which has delivered trade and investment deals valued at over US$70 billion.
She previously led Afreximbank's Trade Finance and Branches Department from 2009 to 2016, growing it into the Bank's most profitable department which accounted for over 80 percent of its loan book.
Mrs. Awani is also the Chairperson of the Africa Chapter of Factors Chain International (FCI), a global factoring association.
"The Nigeria Women Annual: 100 Leading Women" is the premier qualitative profiling of phenomenal women who have contributed to the development of Nigeria and the world.
A gender-specific biographical compendium, it responds to existing gender gaps in Nigeria's biographical documentation and leadership and, in 2022, focused on the most inspirational and influential women whose work contributed to shaping Nigeria's collective history during the year.
This year's list includes technology experts, politicians, teachers, activists, development practitioners, C-Suite corporate leaders, and other notable women.
Gender Bills: Women should not lose hope on their demands – Senate President
The President of the Senate, Ahmad Lawan has advised women not to lose hope on their demands for legislations on gender related matters.
Lawan spoke in Agasa in Kogi State on Thursday against the backdrop of some gender related bills that recently failed to scale through at the National Assembly in the ongoing review being carried out on the 1999 Constitution.
Senate President  made a strong case for education of the girl child shortly before he commissioned a 600 capacity JAMB CBT Centre which was facilitated by Senator Yakubu Oseni who is representing Kogi Central Senatorial District.
"I know somebody will say gender bills have failed in the National Assembly. That is democracy. Let's continue to lobby.
"We should continue to lobby because nobody will like to undermine anybody. Let's not lose hope.
"Every male member in the National Assembly is a "He for She" because I don't think there is anybody who is not married in the National Assembly.
"We will continue to work together with gender based organisations especially those that genuinely want to engage with members of the National Assembly because if you are not able to get something, if there is a failure, we should make it a political capital that tomorrow, we say, you were not able to do it yesterday, can you do it today. That will help us in ensuring that we get some of these hurdles out of the way.
"Most of us have our daughters as well. So we know that everybody is one way or the other connected to this struggle but we should not lose hope," Lawan said.
Gender Bills: Nigerian Women Continue Protest At NASS For Fifth Day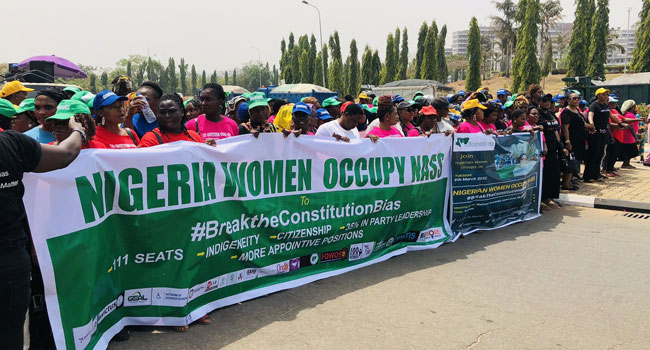 Women under various groups on Thursday continued their protest at the National Assembly gate.
For the fifth day, the women gathered early morning at the National Assembly demanding that lawmakers rescind their decision over rejection of five gender bills in the process of amendment of 1999 constitution.
The protest by the women drawn from various groups started on Wednesday, March 2, and members of the House of Representatives in reaction to their demands, on Tuesday, March 8, rescinded their decision on three of the gender bills.
The women, however, continued the protest demanding the members of the Senate join their House of Representatives in re-visiting the bills.
They also want approval for all the five gender bills.
Among other demands, the women want specific seats in the National Assembly, indigeneship of their husband's state after five years of being together, and 35% affirmative action for women.
They insist that they will continue to picket the gate of the National Assembly till all their demands are met.
They also threatened to vote out the lawmakers who voted against women in the constitutional review.
They demand that the voting pattern for those bills be released to them so they can mobilse women at all levels of government to vote out the lawmakers who they say took a stand against Nigerian women at the constitutional review.
The groups gathered for the protest include the United Nations Population Fund (UNPF), Federation of Muslim Women Association (FOMWA), Women Organisation for Change in Agriculture and Natural Resource Management (WOCAN), Association of Women in the Arts (AWITA), Women In Business (WIMBIZ), Action Aid, Yiaga Africa, the Islamic Youth League, among others.