UNGA 76: Buhari talks debt cancelation, COVID-19, terrorism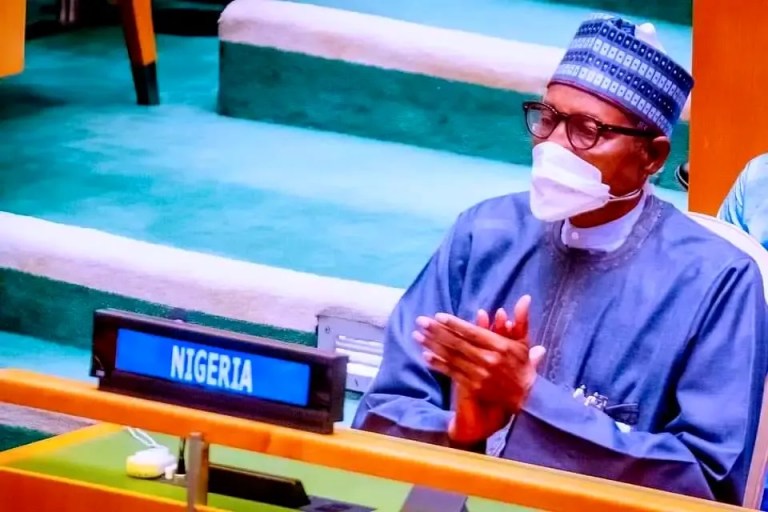 President Muhammadu Buhari on Friday in New York, appealed to rich nations and international financial institutions for outright debt cancellation for countries facing the most severe challenges in the wake of the COVID-19 pandemic that had ravaged economies globally.
In his speech at the 76th Session of the UN General Assembly, Buhari, particularly urged G20 countries to extend their debt suspension initiatives to all developing countries, least developed countries and small island developing states facing fiscal and liquidity challenges.
''Developing countries have been faced with unsustainable debt burdens even before the pandemic.
''The COVID-19 pandemic has increased the risk of new wave of deepening debt, where vital public financial resources are allocated to external debt servicing and repayments, at the expense of domestic health and financing for critical developmental needs.
''I must commend the current initiatives by the international financial institutions and the G20 aimed at significantly mitigating the economic situation of the indebted countries and urge for more efforts in this regard.
''Therefore, there is an urgent need to consider expansion and extension of the debt service suspension initiative to include all developing, least developed countries and small island developing states facing fiscal and liquidity challenges.
''In addition, a review of the eligibility criteria for debt suspension, including outright cancellation, is needed for countries facing the most severe challenges'', Buhari told world leaders at the assembly.
The Nigerian leader called for reforms of international trade that would engender recovery from the COVID-19 crisis, build resilience to future shocks and pursue transformative development strategies that can deliver the 2030 Sustainable Development Goals .
''Nigeria reaffirms that international trade is an engine for development and sustained economic growth, as well as the global eradication of poverty.
''My delegation would like to reaffirm the critical role that a universal, rules-based, open, non-discriminatory and equitable multilateral trading system can play in stimulating economic growth and development.
''Fair and equitable trade would eventually eliminate the need for aid.
''My country and indeed all African countries do not intend to stay indefinitely looking for aid. All we need is a fair and equitable system of international trade,'' he said.
The UN correspondent of the News Agency of Nigeria (NAN) reported that the President also used the occasion of the speech to renew his advocacy for equitable distribution of COVID-19 vaccines, outlining steps Nigeria had taken to achieve ''moderate success'' in containing the virus and halt its deadly onslaught in the country.
He added: ''Nigeria remains grateful for the assistance received from our partners and friends all over the world. Vaccination is the key to our safe emergence from the pandemic.
''We fully support the COVAX initiative from which we have benefitted. We also thank the United States of America, Turkey, India, China, European Union, and others for the vaccines provided.
''Despite the acknowledgement, however, I would like to reiterate my call for a fairer and more equitable distribution of vaccines to all countries so that, together, we can fight and contain the pandemic.
''The rising wave of newer and more contagious strains, makes this even more urgent. No country can afford the socio-economic implications of prolonged shutdown. It is imperative to underscore that no one is safe until everyone is safe.''
He said Nigeria had intervened to halt the pandemic, adding, "at the outset, we recognised detection and contact tracing to be important tools in combating the virus.
''In this connection, from a mere four laboratories with testing and detection capacities, we ramped up the facilities to over 140 centres today.
''Similarly, we built isolation centres and emergency hospital wards in record time all over the country. We carry out genomic sequencing in designated laboratories across the country with a view to detecting variants in circulation.
''In addition, over 40,000 health care workers have recently been trained on Infection, Prevention and Control measures with the support of various partners.
''Through the Nigerian Centre for Disease Control, we have established 16 infectious disease treatment centres located within our Teaching Hospitals and Federal Medical Centres", he said.
On terrorism, Buhari told the UN General Assembly that Nigeria's security forces had recorded considerable success in the fight against terrorism.
''As a result of the renewed vigour of Nigeria's military, many terrorist fighters are voluntarily surrendering to our security forces,'' he said.
The President noted that while terrorism continued to dominate security discourse worldwide, in Nigeria, Boko Haram terrorists group, though fragmented by internal strife and weakened by our defence forces, is still active and preying on soft targets.
''Nigeria will continue to work closely with the UN Counter-Terrorism bodies and entities with a view to bringing this scourge to an end, '' he added.
The country would spare no effort in addressing the challenges of terrorism posed by the activities of Boko Haram in North-East Nigeria and the Lake Chad region, as well as banditry in the North-West and North-Central Nigeria, the President said.
''I and three other Nigerian Heads of State served actively as peace keepers and Nigeria continues to support peacekeeping efforts. We know the sacrifice involved; we also know how important peacekeeping is for those in vulnerable situations.
''Nigeria will continue to play its part fully in supporting UN peacekeeping operations within Africa and beyond,'' he said.
(NAN)
Ruto Sworn In As Kenya's President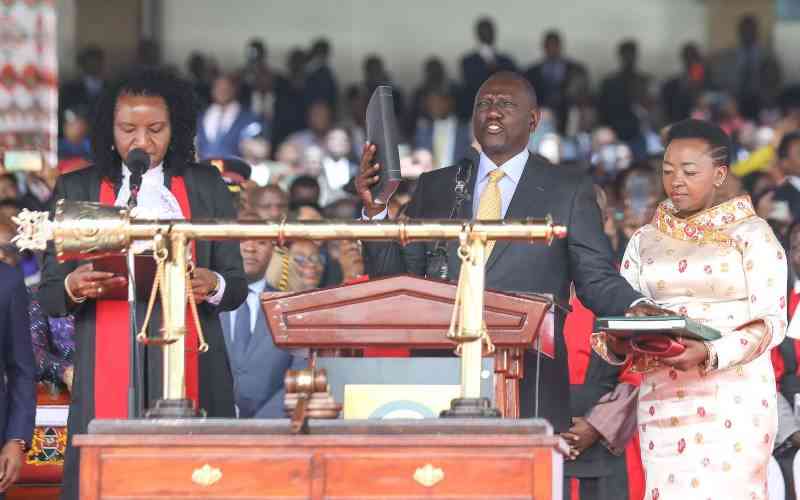 William Ruto was sworn in as Kenya's fifth post-independence president at a pomp-filled ceremony on Tuesday, after his narrow victory in a bitterly-fought but largely peaceful election.
He was sworn in by the Chief Judge, Martha Koome, on Tuesday at a ceremony held in the packed Moi International Sports Centre in Kasarani.
Amid cheers from the excited crowd, Ruto swore an oath of allegiance and another oath for the execution of the functions of the office.
"I William Samoei Ruto, in full realisation of the high calling I assume as president of Kenya, do swear that I will be faithful and bear true allegiance to the public of Kenya, that I will obey, preserve and protect this constitution of Kenya," he said.
Ruto beat his rival Raila Odinga — who had been backed by outgoing president Uhuru Kenyatta — by less than two percentage points in the August 9 poll.
The 55-year-old rags-to-riches businessman, who once sold chickens on the roadside, now faces a daunting task to steer a polarised country gripped by a cost-of-living crisis and punishing drought.
His rise to State House has been closely watched by the international community, which looks to Kenya as a reliable and stable democracy in a turbulent region.
Foreign allies and independent observers praised the conduct of the vote, which was largely peaceful and free of the violence that has marred past elections in the country of 50 million people.
Ruto won by only around 200,000 votes out of 14 million but the Supreme Court on September 5 upheld his victory, dismissing his opponents' claims of fraud and mismanagement.
Outgoing head of state Kenyatta, who in a stunning turn of events had backed his longtime arch-rival Odinga in the election race, has promised a smooth transfer of power.
Kenyatta finally shook hands with Ruto at a meeting at the presidential residence on Monday after pointedly failing to publicly congratulate his deputy for several weeks.
Ruto has struck a conciliatory tone, extending a "hand of brotherhood" to his rivals and their supporters.
"We are not enemies. We are Kenyans," Ruto said after the court's decision.
But Odinga turned down an invitation to attend Tuesday's ceremony and instead travelled outside the country, charging in a statement that the election body did not conduct a "free and fair" poll.
Queen Elizabeth II dies at age 96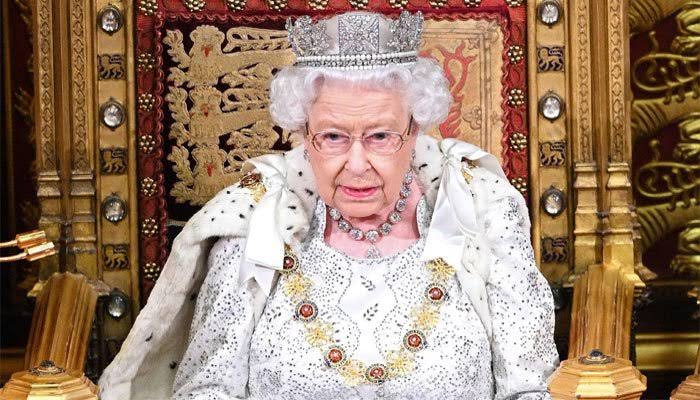 The United Kingdom's longest serving monarch, Queen Elizabeth II has died
The Queen died at Balmoral at the age of 96, after reigning for 70 years.
Family members gathered at Queen's Scottish estate after concerns grew about her health earlier on Thursday.
The Queen came to the throne in 1952 and witnessed enormous social change.
With her death, her eldest son Charles, the former Prince of Wales, will lead the country in mourning as the new King and head of state for 14 Commonwealth realms.
A statement by the Buckingham Palace said: "The Queen died peacefully at Balmoral this afternoon.
"The King and the Queen Consort will remain at Balmoral this evening and will return to London tomorrow."
All the Queen's children travelled to Balmoral, near Aberdeen, after doctors placed the Queen under medical supervision.
Her grandson, Prince William, is also there, with his brother, Prince Harry, on his way.
Pakistan Flood: Death Toll Tops 1,000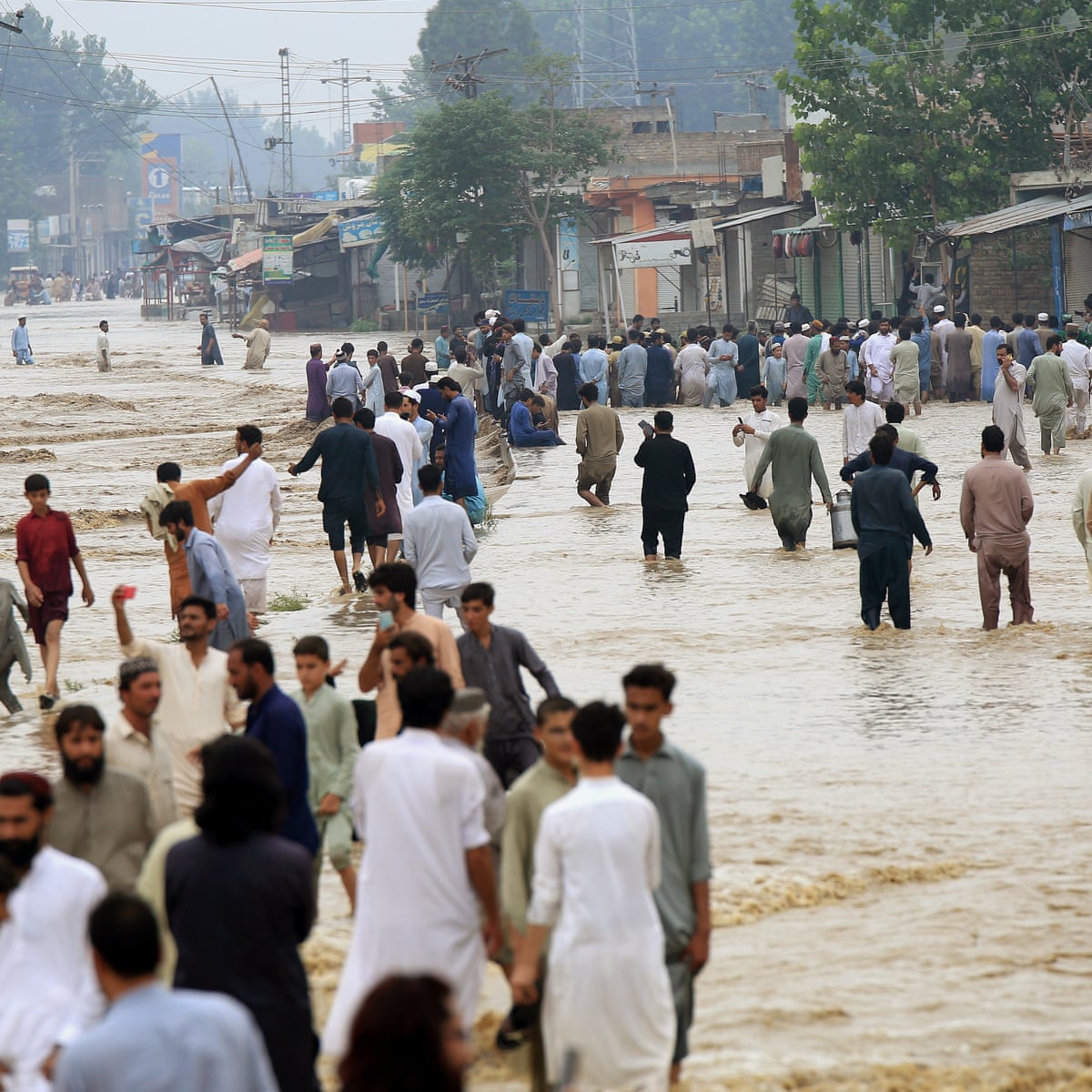 The death toll from monsoon flooding in Pakistan since June has reached 1,033, according to figures released Sunday by the country's National Disaster Management Authority (NDMA).
It said 119 people had died in the previous 24 hours as heavy rains continued to lash parts of the country.
The annual monsoon is essential for irrigating crops and replenishing lakes and dams across the Indian subcontinent, but each year it also brings a wave of destruction.
Officials say this year's monsoon flooding has affected more than 33 million people — one in seven Pakistanis — destroying or badly damaging nearly a million homes.
The NDMA said more than two million acres of cultivated crops have been wiped out, 3,451 kilometers (2,150 miles) of roads destroyed, and 149 bridges washed away.