NATIONAL SECURITY: Nigeria Military uncovers Militia Hideout used for Production of 'Explosives' in Anambra.
The Defence headquarters on Thursday said it's troops have discovered a new hideout belonging to the Eastern Security Network (ESN) at Ihiala in Anambra State South-East Nigeria used for the production and fabrication of explosives and other arms for attacks on security personnel in the south-eastern part of Nigeria.
Acting Director Defence Media Operations, Brigadier General Bernard Onyeuko stated this during the weekly briefings of the Defence Media to intimate Nigerians of various operations that the carried out by the military within the last one week.
According to Gen. Onyeuko the production site was destroyed by security forces even as the Nigeria Troops have continued to maintain vigilance and dominate the Zone with patrols to deter intending criminal activities.
Brigadier General Bernard Onyeuko added that based on credible intelligence, troops conducted a raid operation on a notorious camp of the IPOB/ESN at Akpawfu Community in Nkanu East LGA of Enugu State.
In his words, "A combined team of security operatives raided the camp and neutralized some of their members and recovered arms and ammunition in the process,"
Given updates from other regions where different joint military operations are taking place, Brig-Gen Onyeuko stated that in the war against banditry in the North West Zone of the country, 14 armed bandits were neutralized, 36 kidnap victims rescued while 24 criminal elements including 16 bandits informants were arrested, this is in additionally, 7 AK 47 rifles, 6 motorcycles, 4 machetes, and 223 rustled cows recovered from bandits.
"Consequently, no fewer than 14 armed bandits were neutralized. Also, a total of 36 kidnapped victims were rescued within the period and troops assisted one of the victims to the safe delivery of a baby during one of the encounters. A total of 7 AK-47 rifles, 6 motorcycles, assorted military and police uniforms, 6 vehicles and 4 machetes among other items were recovered within the period. Gen Onyeuko said.
On the war against smuggling in the south South Region, General Onyeuko said Troops of Operation DELTA SAFE conducted series of anti-crude oil theft, anti-illegal bunkering, anti-illegal oil refining, anti-smuggling and anti-militancy operations. These operations recorded significant successes with a total of 24 ovens, 37 storage tanks laden with a total of 120,000 litres of illegally refined Premium Motor Spirit, 80,000 litres of illegally Automotive Gas Oil and 1,100 barrels of stolen crude oil recovered, while Troops also arrested a large wooden boat laden with 22,000 litres of Dual Purpose Kerosine , five 45HP boat engines and 2 pumping machines also recovered.
Regarding the war on terror, Onyeuko said 15 Boko Haram/ISWAP terrorists were killed in several encounters, 29 terrorist members were arrested while 40 kidnapped civilians were rescued by troops during the week under review.
"Troops have continued to dominate the different theatre of operation nationwide with land, maritime and air patrols to protect Nigeria's economic infrastructures in different Zones of the country" Onyeuko said.
Brigadier General Bernard Onyeuko stated in clear terms that the Armed Forces of Nigeria and other security agencies are seriously committed and are working assiduously to fight all forms of criminality for the unity of Nigeria and will not relent in their efforts to achieve sustainable peace in the Country.
"The Military High Command commends the enormous sacrifices of our troops in the various theatres of operations across the Country
"The general public and the press community are highly appreciated and also encouraged to continue to support our efforts by providing credible and timely information that will facilitate our proactive engagements," he concluded
Airline operators to ground activities over high price of JetA1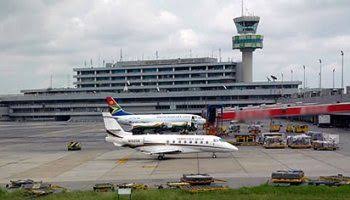 The Airline Operators of Nigeria, AON, has said it would on Monday suspend operations nationwide.
AON cited increase in price of aviation fuel (JetA1) which cost N700 per litre as reasons to suspend operations Nationwide.
This was contained in a letter by AON President, Abdulmunaf Yunusa Sarina, and sent to the Minister of Aviation, Senator Hadi Sirika.
The AON President lamented that the increase in price of JetA1 has shut up the country's cost of operations to over 95 percent, thereby, causing hardship on passengers.
The letter read in part: "It is with a great sense of responsibility and patriotism that the Airline Operators of Nigeria (AON) have carried on deploying and subsidizing their services to our highly esteemed Nigerian flying public in the last four months despite the steady and astronomical hike in the price of JetA1 and other operating costs.
"Overtime, aviation fuel price (JetA1) has risen from N190 per litre to N700 currently. No airline in the world can absorb this kind of sudden shock from such an astronomical rise over a short period.
"While aviation fuel worldwide is said to cost about 40% of an airline's operating cost globally, the present hike has shut up Nigeria's operating cost to about 95%.
"In the face of this, airlines have engaged the Federal Government, the National Assembly, NNPC and Oil Marketers with the view to bringing the cost of JetA1 down which has currently made the unit cost per seat for a one hour flight in Nigeria today to an average of N120,000.
"The latter cannot be fully passed to passengers who are already experiencing a lot of difficulties.
"To this end therefore, the Airline Operators of Nigeria (AON) hereby wishes to regrettably inform the general public that member airlines will discontinue operations nationwide with effect from Monday, May 9, 2022 until further notice."
Buhari Appoints Jaji Olola new CG for Federal Fire Service
President Muhammadu Buhari has approved the appointment of Jaji Olola-Abdulganiyu as the Controller-General of the Federal Fire Service, FFS.
A statement on Tuesday in Abuja by the Secretary of the Board Ministry of Interior, Aisha Rufai, said the appointment is with effect from Friday, April 22, 2022.
Until his appointment, Mr Abdulganiyu was the Deputy Comptroller General in charge of Administration and Supplies in the Federal Fire Service.
He commenced his career at the Federal Ministry of Works and Housing as Higher Technical Officer in 1991.
"He held several positions in the Ministry before his redeployment to the Federal Fire Service in 1999.
"Engr. Jaji Olola Abdulganiyu MNSE, MIFire, E, COREN, was born on the 13th August 1965 to the family of Alh. Umar Olola Jaji in Ilorin, Kwara State.
He holds a Master's Degree in Mechanical Engineering obtained in 1999 and he is married with children," the statement noted.
Breaking News: Alaafin of Oyo is rumoured to have joins the ancestors at 83
There are unconfirmed rumours that Alaafin of Oyo, Lamidi Adeyemi, has passed on at the age of 83.
Alaafin Lamidi Adeyemi allegedly  passed on in the late hours of Friday, 22 April, 2022 at the Afe Babalola University Teaching Hospital, Ado Ekiti.
Alaafin of Oyo is the third from the Alowodu Ruling House.
Sources have it that  remains of the top Yoruba traditional ruler were brought to Oyo in the early hours of Saturday, 23 April, 2022 and traditional rites began.
At 83 years is the longest reigning Alaafin ever, having ruled for 52 years.
However, the Oyomesi is yet make official statement on the rumoured passage of the highly referred monarch.
Meanwhile Director of Alaafin Media and Publicity Bode Durojaiye has said the rumoured death of the monarch is unfounded.
Below is the statement
Alaafin Oyo RUMOURED DEATH UNFOUNDED
It has come to the notice of the Office of the Director of Media and Publicity to the Alaafin of Oyo about a fake report making the wave in the social media, by a disgruntled group of bloggers, about the imaginary death of His Imperial Majesty, IKu Baba Yeye, Oba (Dr.) Lamidi Olayiwola Adeyemi 111, the Alaafin of Oyo.
Members of the public are hereby urged to disregard the unfounded report , as the Paramount Ruler is hale and hearty .
Precisely on Monday and Tuesday this week, Oba Adeyemi, accompanied by some of his wives (Ayabas), children, aides and well wishers was at the Durbar Stadium ,Oyo, for physical fitness exercises as usual.
He has neither fallen sick nor rushed to the hospital for any serious ailment, hence he and his family remain agile and active .
The general public should not entertain any fear at all, as IKu Baba Yeye is healthy, physically fit and mentally stable.
Signed
'Bode Durojaiye, Alaafin's Media and Publicity Director.