Minister appeals to African countries to focus on Science and Technology
Minister of Science and Technology, Dr Ogbonnaya Onu, on Monday in Abuja appealed to African countries to focus on Science, Technology and Innovation (STI), for self-reliance.
He made the appeal when a delegation of the Organisation for Military Sports in Africa (OSMA) paid him a visit and invested him as Patron of Sahel Military Games in Africa.
Onu said for African countries to be in a position to convert knowledge into products and services, they needed to become self-reliant and must pay attention to STI.
"It is very important for all Africa to recognise that the continent is blessed; that is why developed nations come to Africa to source for raw materials.
"The question is why can't we as Africans use the same raw materials, natural resources that other countries come to source from us to develop our countries,'' Onu said.
He noted that there was no need for African countries to be plagued by hunger while still importing things from other parts of the world.
Onu said if African nations achieved self-reliance, young people in Nigeria and in other African countries would desist from risking their lives to cross the Mediterranean in search of greener pastures.
He said one way to achieve STI development is to encourage young people to study Science, Technology, Engineering and Mathematics (STEM).
He noted that developed countries toed that line, and that was the formula which Africans must grab with both hands.
"We have to educate our people in order to have the human capacity to exploit all these resources and we should invest more in research and development.
"If we do this we will be in a position to create enough jobs for our people,'' he stressed.
The minister said that the Sahel Games were important to Nigeria and to the African continent because of its creativity and vision which was to use sports to integrate the military of the crises-ridden Sahel region.
"I believe using sports to integrate the military will entrench better understanding among the militaries of the region,'' the minister said.
He also reiterated the commitment of the ministry to support the Sahel Games to be a resounding success.
In his remarks, Brig.-Gen. Maikano Abdullahi, President of OSMA, said the visit had in attendance, military representatives from 15 African countries.
He said the idea behind organising the Sahel military games was to bring African countries in the Sahel region together for the common good, and for peace to reign in the region.
He said that they came to confirm and decorate ODMA's board members as well as the patron of the games, Dr Onu.
Alhaji Mohammed Abdullahi, Minister of State for Science and Technology, in his address, noted that military operations could not be carried out without application of appropriate technologies.
Abdullahi appealed to OSMA to patronise products, goods and services of indigenous research and development agencies on the continent.
"They are highly competitive with foreign ones and the patronage would encourage local production, jobs and wealth creation,'' he said. (NAN)
GOOGLE EQUIANO SEA CABLE SYSTEM LANDS IN LAGOS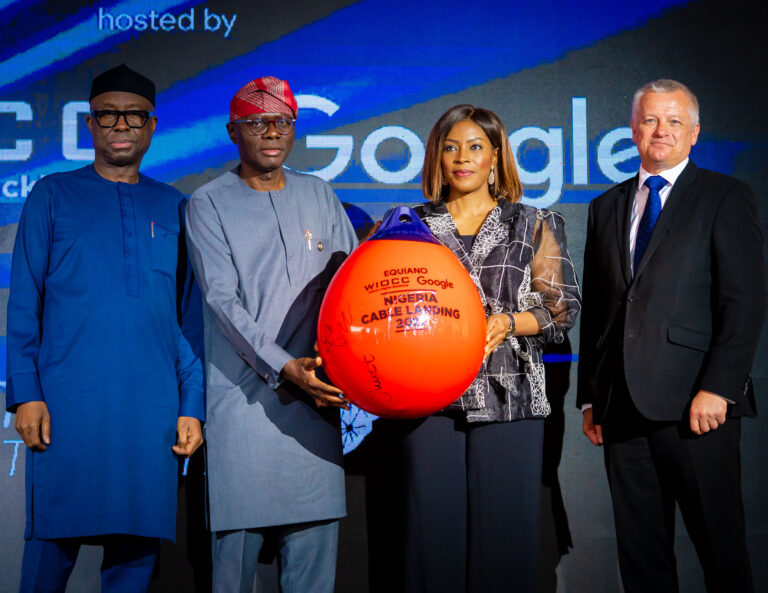 •It will generate 1.6m jobs, $10b GDP for Nigeria, says Sanwo-Olu
Lagos State Governor, Mr. Babajide Sanwo-Olu on Thursday witnessed the virtual landing of the Google Equiano Sea Cable System in Nigeria, saying the country will enjoy a boost of 1.6 million jobs and $10 billion in additional Gross Domestic Product (GDP) over the next three years, on account of the new cable system.
He said with the landing of the sea cable system and other investments in high-speed internet, Lagos is about to witness an unprecedented digital revolution that will cement its global reputation as a hub for entrepreneurial innovation.
Speaking at the reception marking the landing of the Equiano Sea Cable System in Nigeria on Thursday at the Open Access Data Centre at Lekki in Lagos, Governor Sanwo-Olu said the new cable system is the latest element in the transformation of the physical infrastructure landscape, new roads, bridges, jetties, factories, municipal and national rail lines, among others being delivered by his administration and a host of partners and stakeholders across public and private sectors.
The landing of Equiano Sea Cable System will firmly position Nigeria as the regional connectivity and content hub for West Africa, attracting cloud operators, content providers, content distribution networks and their associated ecosystems.
It is significant and a demonstration of the seriousness with which Google LLC views Nigeria, the economic and demographic giant of Africa.
The new cable system is named after a Nigerian hero, Olaudah Equiano, who survived enslavement in the 18th century and went on to become a famous writer and anti-slavery activist.
Governor Sanwo-Olu said his administration is more than ever determined to deliver on its promise to make and maintain Lagos as a safe, livable, innovative and prosperous megacity.
He said: "I am told that this new Equiano cable system, landing today, will deliver twenty times as much network capacity as any of the existing systems serving Nigeria.
"This means much faster internet speed, reduced cost, and greater access for our people. The net effect of this is much-needed jobs and economic growth. The economic impact assessment for the project estimates that Nigeria will enjoy a boost of 1.6 million jobs and 10 billion dollars in additional Gross Domestic Product (GDP) over the next three years, on account of the new cable system.
"There is much to be excited about, at a time like this in the unfolding history of Lagos State and of Nigeria. We are seeing an unprecedented inflow of investments into every part of Lagos, from local and foreign investors who understand the immense business and commercial potential that the State symbolises.
"We say it often, that wherever Lagos goes, Nigeria and West Africa follow. With this in mind, as the government of Lagos State, we are more than ever determined to deliver on our promise to make and maintain Lagos as a safe, livable, innovative and prosperous megacity."
Governor Sanwo-Olu also commended Google LLC, the West Indian Ocean Cable Company (WIOCC) and other investors for identifying with his administration's vision for a truly 21st century Lagos and a megacity all will forever be proud of.
"I congratulate Google LLC for envisioning this huge project, and the West Indian Ocean Cable Company (WIOCC) for helping implement it to the highest levels of excellence. Your partnership is commendable, and should be seen as a model by other players in the ecosystem, a testament to how much can be achieved when synergy is pursued.
"In addition to this cable system, I am told that WIOCC is presently completing, on this same site, a Tier III certified, Open Access Data Centre, which will also host the landing station for the Equiano cable. This data centre will be the most client-centric data centre, and the largest data center campus, in West Africa," he said.
Speaking earlier, the Chief Executive Officer (CEO) of WIOCC, Chris Wood, described the landing of the submarine cables as a major investment for Nigeria's digital economy and Lagos State in particular.
He said the submarine cables will deliver high-speed internet connectivity at a reduced cost
Wood also appreciated Governor Sanwo-Olu for providing an enabling environment for the investment of this nature to birth in Lagos State.
FEC Approves Science, Technology And Innovation Policy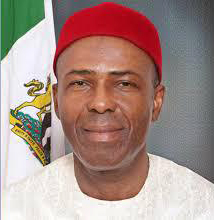 The Federal Executive Council (FEC) has approved the revised Science, Technology, and Innovation Policy instituted 10 years ago.
Nigeria's Minister of Science and Technology, Ogbonnaya Onu, disclosed this on Wednesday while briefing State House reporters on the outcome of the virtual FEC meeting presided over by President Muhammadu Buhari.
According to him, the approval shows the Federal Government's commitment to improving the standard of living of Nigerians.
"We believe that this will help our country to keep narrowing the gap between us and the technologically advanced countries of the world.
We should be able also to overtake the way nations like China have done," the minister said.
"There've been tremendous advances in science, technology, and innovation all over the world and this necessitated the need for our science, technology and innovation policy which was put in place in 2012, 10 years ago, to be revised so that we can keep pace with new and emerging technologies.
"The main objective is for us to use science, technology, and innovation, to improve the standard of living of our citizens and ensure that we have a high quality of life for all Nigerians.
And this we can get if our nation becomes more prosperous, and our economy is more globally competitive.
"Again, we'll like to see Nigeria using this policy, to be one of the top scientific powers in the world.
We believe that this will help our country to keep narrowing the gap between us and the technologically developed countries of the world."
NCC alerts telecom consumers on Flubot malware
The Nigerian Communications Commission (NCC) has alerted Nigerian telecom consumers of the existence of new, high-risk and extremely-damaging malware called Flubot.
A malware is a generic word used to describe a virus or software designed specially to "disrupt, damage, or gain unauthorized access to a computer system."
According to the information received on Thursday, October 21, 2021, from the Nigeria Computer Emergency Response Team (ngCERT), Flubot "targets Androids with fake security updates and App installations."
The ngCERT affirmed that Flubot "impersonates Android mobile banking applications to draw fake web view on targeted applications" and its goal transcends stealing personal data and essentially targets stealing of credit card details or online banking credentials.
FluBot is circulated through Short Message Service (SMS) and can snoop "on incoming notifications, initiate calls, read or write SMSes, and transmit the victim's contact list to its control centre."
The malware attacks Android devices by pretending to be "FedEx, DHL, Correos, and Chrome applications" and compels unsuspecting users to alter the accessibility configurations on their devices in order to maintain continuous presence on devices.
The new malware undermines the security of devices by copying fake login screens of prominent banks, and the moment the users enter their login details on the fake pages, their data is harvested and transmitted to the malware operators' control point from where the data is exploited by intercepting banking-related One Time Passwords (OTPs) and replacing the default SMS app on the targeted Android device.
Consequently, it secures admittance into the device through SMS and proceeds to transmit similar messages to other contacts that may be on the device it has attacked enticing them into downloading the fake app.
"It suffices to say that when Flubot infects a device, it can result in incalculable financial losses. Additionally, the malware creates a backdoor which grants access to the user's device, thus enabling the invader or attacker to perform other criminal actions, including launching other variants of malware," said a statement by Ikechukwu Adinde, NCC's Director, Public Affairs.
In order to protect millions of telecom consumers and prevent criminal forces, irrespective of location, from using telecom platforms to perpetrate fraud and irredeemable damages, the NCC reiterated the advisory of ngCERT as follows:
1. Do not click on the link if you receive a suspicious text message, and do not install any app or security update the page asks you to install.
2. Use updated antivirus software that detects and prevents malware infections.
3. Apply critical patches to the system and application.
4. Use strong passwords and enable Two-Factor Authentication (2FA) over logins.
5. Back-up your data regularly.
6. If you have been affected by this campaign, you should reset your device to factory mode as soon as possible. This will delete any data on your phone, including personal data.
7. Do not restore from backups created after installing the app. You may contact ngCERT on incident@cert.gov.ng for technical assistance.
8. You will also need to change the passwords to all of your online accounts, with urgency, around your online bank accounts.
9. If you have concerns that your accounts may have been accessed by unauthorised people, contact your bank immediately.
"As the Commission intensifies efforts in ensuring increased broadband access, enabling telecoms consumers to carry out their legitimate activities more efficiently and effectively online, it also restates its commitment to empowering consumers through useful information and education to protect them from falling victims of all kinds of cyber-attack while online.
"This explains the rationale for the launch of telecom sector's Centre for Computer Security Incident Response by NCC on 30th September, 2021," he added.