Buhari Praises Security Agencies For Dealing With Nnamdi Kanu, Igboho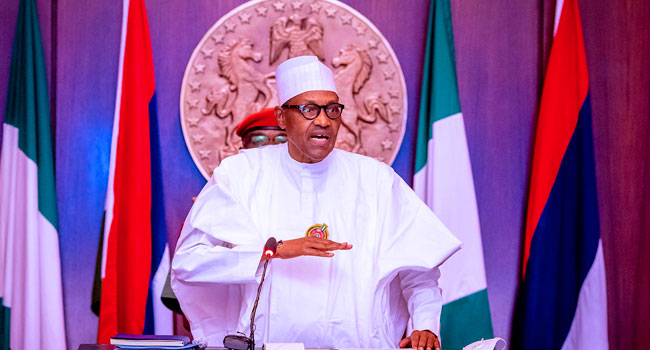 President Muhammadu Buhari has commended the nation's security and intelligence agencies for their work in arresting secessionist Nnamdi Kanu and raiding the home of 'Yoruba Nation' activist Sunday Igboho.
The President's praise was contained in a statement signed by his spokesperson Garba Shehu.
According to the statement, President Buhari said the security agencies demonstrated "significant deftness, guile and secrecy in carrying out these missions.
"This level of professionalism must be sustained and brought to bear as we focus on extracting from our society those who have found a new trade in targeting students, rural dwellers and our citizens in the North-West.
"The nation recognizes their efforts and sacrifice."
Read Mr Shehu's full statement below:
STATE HOUSE PRESS RELEASE
PRESIDENCY STATEMENT ON THE RECENT SUCCESSES OF SECURITY AND INTELLIGENCE AGENCIES
Last week, we saw the enhanced collaboration of the Nigerian Law Enforcement Agencies, as they executed with great synchronization arrests of individuals who had inflicted pain and hardships on fellow citizens.
The subversive leader of the proscribed Indigenous People of Biafra (IPOB) a group known for its murderous actions and virulent messaging was detained as a result of cross-border cooperation. This international operation was executed in a closely coordinated fashion following which he was handed over to our National Intelligence Agency, and then returned to Nigeria to face the Law.
The violence inspired by IPOB has led to hundreds of fatalities, particularly targeted at Government assets and Law Enforcement Agents. Additionally, there have been at last count, fifty (55) separate violent attacks, heavily concentrated in the South-East, which heaped further hardship on our honest and hardworking citizens, preventing them from earning their livelihood and going about their normal lives.
The Government had long been monitoring the activities of IPOB and had strong cause to believe that their funding sources include proceeds of suspected illicit criminal activities. By this singular action of our Security Forces, sanity, calm and peace has been returned to our communities who previously lived in constant fear of these misguided elements.
In furtherance of continued diligent work, the State Security Service on Thursday, 1st July raided the residence of a militant ethnic Secessionist, who has also been conducting acts of terror and disturbing the peace under the guise of protecting fellow "kinsmen".
His seditious utterances and antics, which he is known to have publicly expressed, have overtime morphed into very hateful and vile laden speeches. It must be highlighted that the government respects fundamental rights of citizens to express their views and recognizes this as a democratic tenet. However, any attempt to build an Armoury coupled with plans either subtle or expressed to undermine our unity as a nation will not be condoned.
Mr. President's directives to Security Services regarding anyone seen to be carrying arms, particularly AK-47 are clear and require no further illumination. Assault weapons are not tools of peace loving people and as such, regardless of who they are and where they are from, the Security Agencies should treat them all the same.
The successes of our Security Agencies must be commended as they have demonstrated significant deftness, guile and secrecy in carrying out these missions. This level of professionalism must be sustained and brought to bear as we focus on extracting from our society those who have found a new trade in targeting students, rural dwellers and our citizens in the North-West. The nation recognizes their efforts and sacrifice.
Garba Shehu
Senior Special Assistant to the President
(Media & Publicity)
July 6, 2021
Amotekun Corps Arrest Suspects In Connection With Owo Church Attack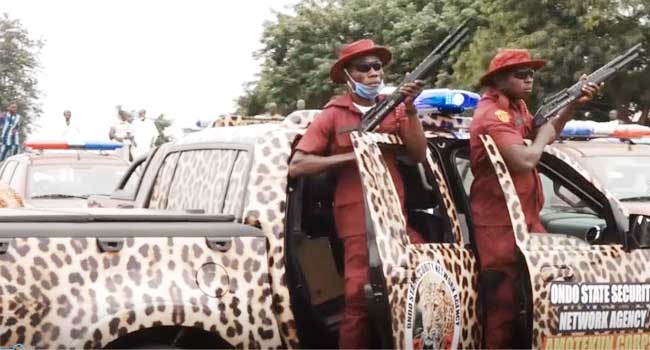 The Amotekun Corps in Ondo State have arrested a number of persons in connection with the massacre of worshippers at St. Francis Catholic Church, Owo, Ondo State.
The Commander of the Corp, Adetunji Adeleye made this disclosure while addressing newsmen in Akure, the state capital.
Adeleye, however, did not give the actual figure of the suspects arrested, but the corps leader was optimistic that everyone who was involved in the Owo Attack would be brought to book.
When contacted for confirmations, the Ondo State Police Command through its spokesperson, SP Funmilayo Odunlami, said the force is not aware of such and arrest.
Nevertheless, it is expected that the Amotekun Corps would hand the suspects over to the police for further investigations and onward prosecution.
This arrest is the latest development following the attack which left millions devastated across the country.
It comes barely 24 hours after President Muhammadu Buhari assured Nigerians that the attackers who he described as "cowards" behind recent assaults on churches in the country will be punished.
"As for the cowards, they will be punished for their crimes. We will bring them to justice.
Rest assured that the full might of Nigeria's formidable security and intelligence forces are involved in that endeavor," Buhari was quoted as saying in a statement by his media aide Garba Shehu.
"For now, I urge all Nigerians to come together in prayer-whether Christian, Muslim, or any of our great faiths- let us hold the victims and their families in our hearts and minds.
"Let us show the cowards who seek to divide us along religious lines that we will not be divided. Let us show them that Nigerians will continue to cherish what we share while respecting each other's differences. Let us show them that Nigerians will never be bullied by cowards, extremists, or terrorists."
According to President Buhari, the country's religious freedom and diversity are what makes Nigeria great.
Owo Church killing: Ondo Govt Opens Account For Donations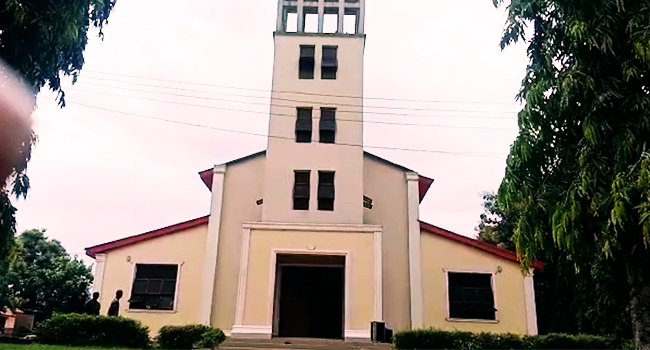 The Ondo State Government has opened an account to receive donations from people who may wish to assist the victims of the terrorist attack in Owo, Ondo State.
This was made known on Wednesday by the Chief Press Secretary to the Governor of Ondo State, Richard Olatunde.
He commended the donations received so far while calling on well-meaning individuals and corporate bodies willing to assist the victims of the terrorist attack may do so in the following account:
ACCOUNT NAME- ODSG- OWO TERRORIST ATTACK RELIEF FUND.
ACCOUNT NO -1401203148
BANK: PROVIDUS BANK
Governor Oluwarotimi Akeredolu has assured that the state government on its part will remain unshaken in committing its resources to the security of lives and property.
He noted that efforts are deepened to ensure that the survivors of the attack at various hospitals are given the best medical care.
Bandits Kill 32, Destroy Houses In Fresh Kaduna Attack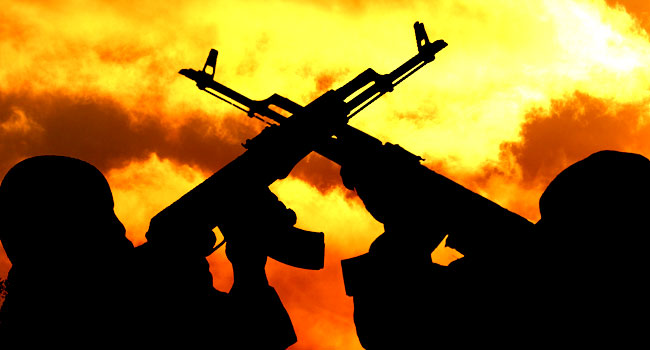 No fewer than 32 people have been reportedly killed by bandits in separate attacks on four communities within Kajuru Local Government Area of Kaduna State.
The affected communities are Ungwan Gamu, Dogon Noma, Ungwan Sarki and Maikori.
The police are yet to confirm the incident, but the District Head of Kufena, Titus Dauda , told Channels Television that the attacks occurred on Sunday and that 32 people lost their lives while a church and several houses were destroyed in the process.
He added that the bandits in their large numbers first attacked Dogon Noma in the early hours of Sunday morning, and killed several people mostly men , before proceeding to Ungwan Gamu and Maikori villages where they also killed people and burnt down houses.
The district head further disclosed that the victims have been laid to rest while the affected communities have been deserted by the residents due to fear of being attacked.
A resident of one of the communities, also claimed that a helicopter was seen shooting at the residents from the air, while the remaining bandits were on the ground to attack any fleeing residents.
However, a top security source countered the claim, saying that the military engaged the bandits both by ground and air, adding that this eventually forced the bandits to retreat.
Source: CTV