Nnamdi Kanu: Your Madness Never Start – Asari Dokubo Mocks Arrested IPOB Leader
A former Niger Delta militant, Asari Dokubo, has mocked the leader of the Indigenous People of Biafra, Nnamdi Kanu, over his re-arrest by the Nigerian government.
Dokubo had threatened to destroy Kanu, who he described as 'evil' and also accused him of defrauding Biafrans.
The ex-militant in a video had noted that the IPOB leader receives defence funds without giving account of his spending.
Dokubo added that Kanu demanded payment from all Biafrans on a monthly basis to be part of the Biafra nation when actualized.
"Nnamdi Kanu, I promised you I will smoke you out. Your madness never start, this one wey start now na market he dey go. you have harmed biafrans and traded with us so much.
"You collect our money in the name of defence funds and you cannot give account.
"You are demanding that all Biafrans should pay money to you on monthly basis or they will not be allowed to enter Biafra. Doesn't that make you a con man, an extortionist?
"You alleged that that you gave me N20 million, video doesn't lie. When I stated it last year leading to election, you were so cowardly not to respond to me. You sent your followers to respond to me and they said a lot of things and I demanded the evidence that I demanded N20 million from you.
"I have never been a member of IPOB, you gave me N20 million, tell us is it by bank transfer, is it by cash, who brought the cash to me? I'm waiting. Produce the evidence," he challenged Nnamdi Kanu.
The ex-militant called on the IPOB leader to show Nigerians what he does for a living.
"Where are you working? Who is paying you? Where do you get the money to gallivant everywhere? Do you pick money? Do you print money? Or does money fall from heaven? You are a con man and a lair.
"You called me a pipeline contractor, yes we make billions. So which one are you doing?" he asked.
Achieving SDG Will End Poverty, Hunger, And Insecurity In Nigeria – Buhari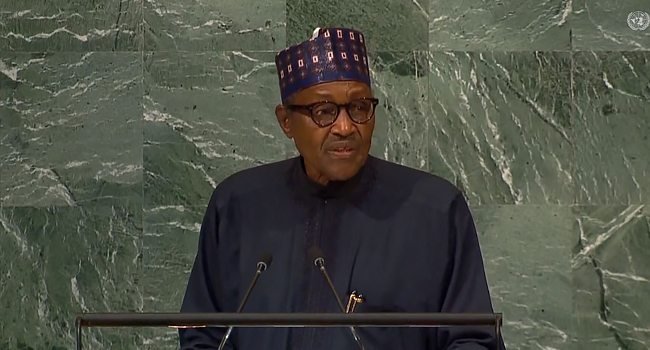 President Muhammadu Buhari has stated that Nigeria is accelerating efforts to achieve the SDG by 2030 to guarantee an end to poverty and hunger, protect the ecosystem and ensure Nigerians live in peace and prosperity by 2030.
Buhari made the declaration on Friday when he officially unveiled the Nigeria Integrated National Financing Framework (INIFF) report, a high-level event in collaboration with the UNDP and EU, on the sidelines of the 77th session of the UNGA.
He expressed satisfaction that the process leading to the NIFF which started in 2020 finally crystalized into the launch, underpinning the importance placed by the present administration towards achieving the goals.
The President explained that the various developmental plans and programmes for the country have all been aligned with the SDG and are poised to advance the nation's economy in spite of the challenges that have confronted the country.
Atiku Copied Buhari's Economic Blueprint – Lai Mohammed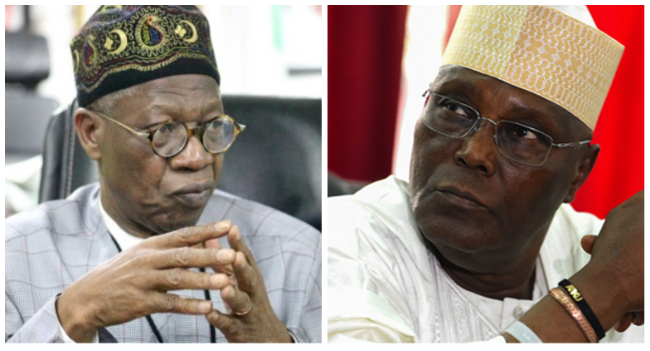 The Federal Government has tackled the People Democratic Party [PDP] Presidential candidate Atiku Abubakar for allegedly copying President Muhammadu Buhari economic blueprint in his recently unveiled Economic programme.
Minister of Information and Culture, Lai Mohammed described Atiku Blueprint as a
"crude attempt at copying all that the administration of President Muhammadu Buhari has done''.
Speaking at a news conference in Abuja, the Minister said the blueprint is a poor version of the present government's economic strides.
"Let me say, straight away, that the so-called blueprint is a crude attempt at copying all that the Administration of President Muhammadu Buhari has done, especially in the areas of job creation, infrastructure financing, relationship with the private sector, rejuvenation of the power sector, poverty reduction, debt management and the overall management of the economy," Mohammed asserted.
The minister expressed shock that an opposition party that has on several occasions criticized its policies is currently adopting it for its campaign,
According to Him, the present administration has made giant strides through its economic blue print which has translated into the creation of over three hundred and two thousand jobs and over eight thousand kilometers of road across the country amongst others.
I Will Leave Legacy Of Free-And-Fair Elections, Buhari Tells UNGA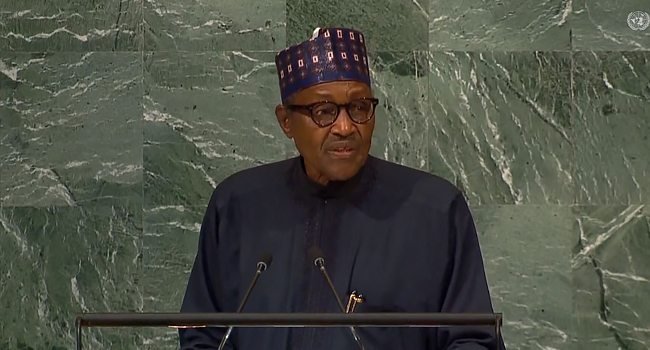 President Muhammadu Buhari on Wednesday promised to leave a legacy of free-and-fair elections as his eight-year tenure comes to an end in May 2023.
The President made this known in his last address before world leaders at the 77th session of the United Nations General Assembly in New York, the United States.
"Indeed, we now are preparing for general elections in Nigeria next February. At the 78th UNGA, there will be a new face at this podium speaking for Nigeria.
"Ours is a vast country strengthened by its diversity and its common values of hard work, enduring faith and a sense of community. We have invested heavily to strengthen our framework for free and fair elections. I thank our partners for all the support that the have provided for our elections.
"As President, I have set the goal that one of the enduring legacies I will like to leave is to entrench a process of free, fair and transparent credible elections through which Nigerians elect their choice," Buhari said.
The President, who reiterated his commitment to constitutional limit, said Nigeria has stood for democracy and the rule of law as a country and in the sub-region in countries such as The Gambia, Guinea Bissau, and the Republic of Chad.