Obaseki inaugurates 15-man c'ttee to screen political nominees, gives two weeks ultimatum  
The Edo State Governor, Mr. Godwin Obaseki, on Tuesday, inaugurated a 15-man committee, charged with the responsibility of screening political nominees that will be appointed into his cabinet.
Obaseki, during the inauguration ceremony at the Government House, Benin City, urged the committee, headed by Prof. Dennis Agbonlahhor, to submit its report on or before 15th of July, 2021.
Members of the Committee include Gen. Airende (Rtd.); Abass Yakubu; Bayo Ogedengbe; Abubakar Mustapha; Hon. Akhere Ugbesia; Prof. Okogbo Felix and Engr. M.I. Ijeghede.
Others are, Osayamwanbor Agbons; Matthew Iduoriyekemwen; Dr. (Mrs.) Bob Osazee; Prof Maureen Isoken Ebomoyi; Prof. Ahmed Uwubamwen; Hillary Otsu and Pastor Osagiede Joseph.
According to him, "We have passed that stage where people just come into the government for the sake of it; you are coming for a purpose and must be equipped to deliver on that purpose.
"We have gone round the state and asked wards and local governments to submit nominations. We have collected names and received petitions from some people expressing how happy or unhappy they were; we have received all of these and passed them on to you.
"You have to first check that the information that they gave us is correct. Do they have the qualifications? You have to interact with them and advise us.  Tell us whether these people can help us deliver on our mandates."
The governor continued: "When you make your recommendations, we then look at those your recommendations and select those that we need to select; we are running a very transparent selection process. I don't have one name; the people have gone through the process.
"You all have very high credibility; we have engaged you in various assignments in the past, so we are very deliberate in choosing you. We trust and believe that whatever you give to us would be as you see it."
"So, we have a lot of trust and confidence that you will do a great job for us. People are anxious; we don't have time. We believe that in the next two to three weeks, you will come with what we can work with," he added.
In his response, the Chairman of the Committee, Prof. Agbonlahor said, "We will try as much as possible to deliver on our mandate within the stipulated time."
Achieving SDG Will End Poverty, Hunger, And Insecurity In Nigeria – Buhari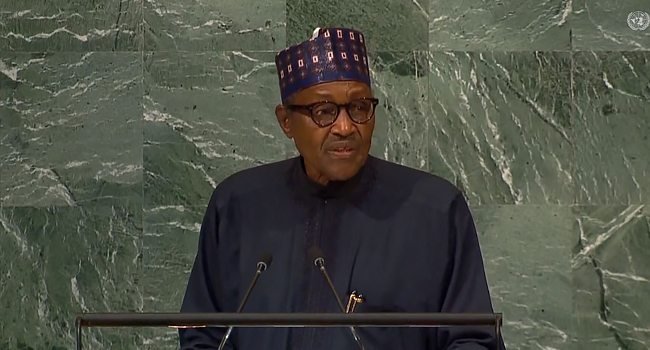 President Muhammadu Buhari has stated that Nigeria is accelerating efforts to achieve the SDG by 2030 to guarantee an end to poverty and hunger, protect the ecosystem and ensure Nigerians live in peace and prosperity by 2030.
Buhari made the declaration on Friday when he officially unveiled the Nigeria Integrated National Financing Framework (INIFF) report, a high-level event in collaboration with the UNDP and EU, on the sidelines of the 77th session of the UNGA.
He expressed satisfaction that the process leading to the NIFF which started in 2020 finally crystalized into the launch, underpinning the importance placed by the present administration towards achieving the goals.
The President explained that the various developmental plans and programmes for the country have all been aligned with the SDG and are poised to advance the nation's economy in spite of the challenges that have confronted the country.
Atiku Copied Buhari's Economic Blueprint – Lai Mohammed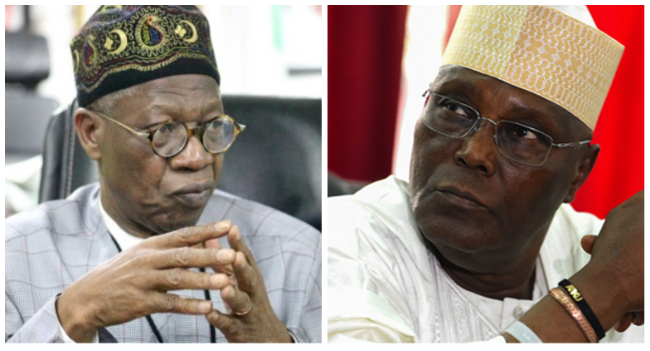 The Federal Government has tackled the People Democratic Party [PDP] Presidential candidate Atiku Abubakar for allegedly copying President Muhammadu Buhari economic blueprint in his recently unveiled Economic programme.
Minister of Information and Culture, Lai Mohammed described Atiku Blueprint as a
"crude attempt at copying all that the administration of President Muhammadu Buhari has done''.
Speaking at a news conference in Abuja, the Minister said the blueprint is a poor version of the present government's economic strides.
"Let me say, straight away, that the so-called blueprint is a crude attempt at copying all that the Administration of President Muhammadu Buhari has done, especially in the areas of job creation, infrastructure financing, relationship with the private sector, rejuvenation of the power sector, poverty reduction, debt management and the overall management of the economy," Mohammed asserted.
The minister expressed shock that an opposition party that has on several occasions criticized its policies is currently adopting it for its campaign,
According to Him, the present administration has made giant strides through its economic blue print which has translated into the creation of over three hundred and two thousand jobs and over eight thousand kilometers of road across the country amongst others.
I Will Leave Legacy Of Free-And-Fair Elections, Buhari Tells UNGA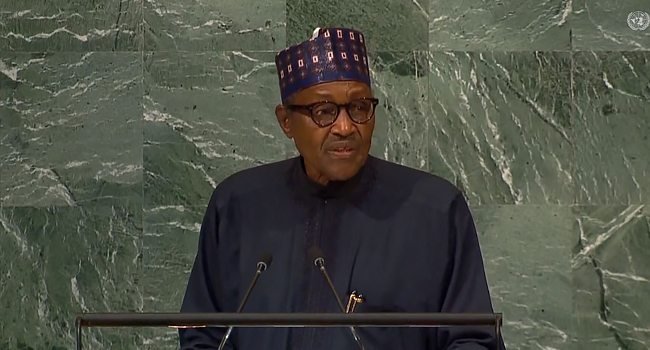 President Muhammadu Buhari on Wednesday promised to leave a legacy of free-and-fair elections as his eight-year tenure comes to an end in May 2023.
The President made this known in his last address before world leaders at the 77th session of the United Nations General Assembly in New York, the United States.
"Indeed, we now are preparing for general elections in Nigeria next February. At the 78th UNGA, there will be a new face at this podium speaking for Nigeria.
"Ours is a vast country strengthened by its diversity and its common values of hard work, enduring faith and a sense of community. We have invested heavily to strengthen our framework for free and fair elections. I thank our partners for all the support that the have provided for our elections.
"As President, I have set the goal that one of the enduring legacies I will like to leave is to entrench a process of free, fair and transparent credible elections through which Nigerians elect their choice," Buhari said.
The President, who reiterated his commitment to constitutional limit, said Nigeria has stood for democracy and the rule of law as a country and in the sub-region in countries such as The Gambia, Guinea Bissau, and the Republic of Chad.