Repositioning EFCC: Tasks before Bawa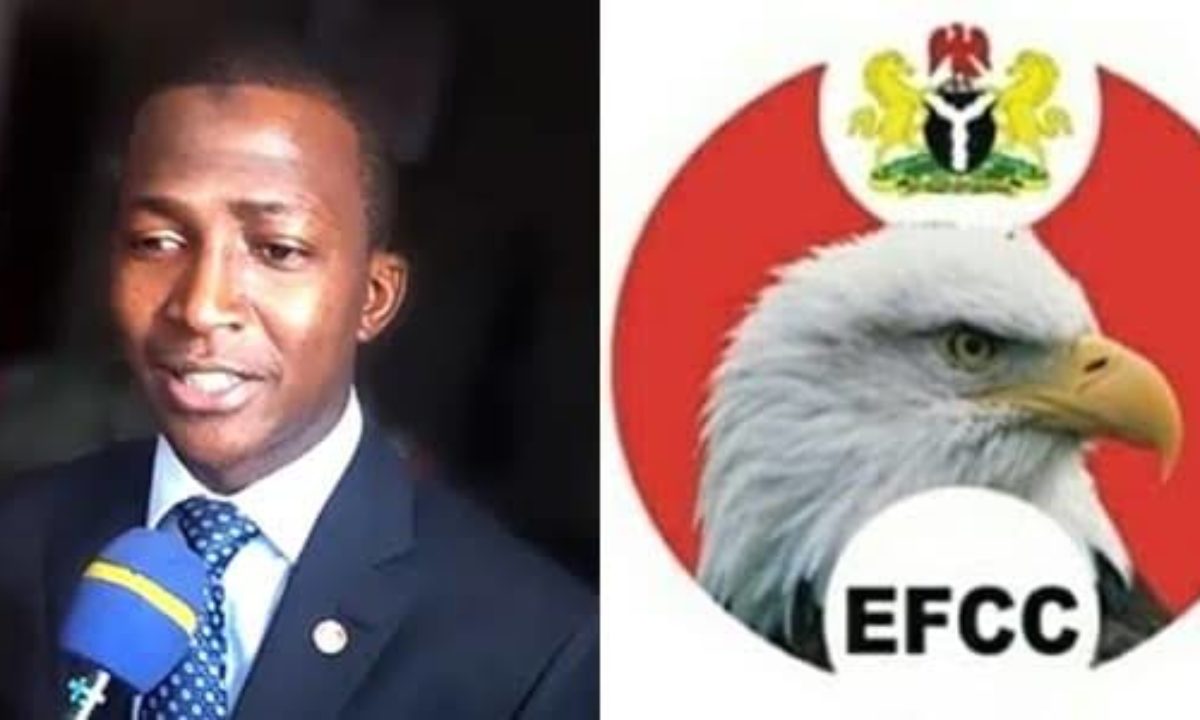 Successful implementation of a national anti-corruption policy and the strategy for the fight against corruption via concerted actions of ministries, departments and agencies, remains an integral part of the United Nations Anti-Corruption Strategies.
This, according to analysts, is to be supported by coordination of independent bodies such as prosecution services, auditing and regulatory authorities for a virile anti-graft standpoint of the nation.
They note that for effective anti-graft war, implementation of the policy will also require cooperation from the judicial and legislative branches of government, regional and local governments.
According to them, coordinating the implementation of a national anti-corruption strategy is, however, a major challenge.
They observe that one particular challenge is that some individuals or agencies charged with implementation may be benefiting from the corrupt system and may, therefore, look for ways to undermine the implementation.
In the light of this, concerned citizens urge the Economic and Financial Crimes Commission (EFCC) Chairman AbdulRasheed Bawa to ensure that the public officer charged with the responsibility of overseeing the operations of the anti-graft agency is firm and pragmatic.
Observers note that Bawa is not oblivious of his responsibilities when he restated the commission's commitment to fighting corruption within the ambit of the law.
In an occasion in Kano, Bawa said that what distinguished the commission at inception was strict adherence to the rule of law.
"There were no new laws that other law enforcement agencies were not empowered to enforce; the only thing that made EFCC unique is adherence to the rule of law.
"We allow the law to take its course. Once someone crosses the line, we will do our job with civility and charge them to court to answer for their crime,'' he said.
The new helmsman also enjoined staff to adhere to the rules and regulation guiding their official duties.
Analysts note that Bawa's resolve to be ready for the tasks ahead in tackling corruption in the country will further boost the image of the commission.
An analyst, Victor Dike, observe that the menace of corruption will require all the necessary "medicines'' to effectively control.
In his words, "no single and simple remedies will do the control; and the problem cannot be solved overnight, because corruption has been ingrained into the fabric of the society''.
Concerned Nigerians corroborate this opinion, noting that that corruption leads to slow movement of files in offices, police extortion and slow traffics on the highways, port congestion, queues at passport offices, gas stations, ghost workers syndrome and election irregularities, among others.
According to them, what is Bawa bringing to the table to change the narrative and bring new impetus to the fight against the corruption monster in Nigeria must be potent and credible.
They also recall that in 2018, when President Muhammadu Buhari was given the task of championing the corruption war in Africa, he recognised that tackling corrupt acts and greed required a reorientation of the public attitudes and perceptions in that regard.
They recommend that the fight requires retraining and education as a means to instil transparent values.
In Buhari's view, war against corruption must be critical because a corrupt system rewards those who do not play by the rules, creates patronage where resources are shared out by the elite, while the majority are trapped in poverty.
Bawa, therefore, needs to revalidate this view, work in that direction to bring about the required reorientation among EFCC staff and Nigerians to ensure a credible approach to fighting the scourge.
Analysts insist that he has to hold tight the advocacy that a new era has come where the gains eroded by corruption would be brought back for the development and progress of the country.
Dike observe that the security challenges occasioned by corruption must be checked in collaboration with other law enforcement agencies, ensuring the rules of engagements to make various sectors sensitive to the fight against corruption.
Concerned citizens advise that ministries, departments and agencies of government must be directed to devise means of ridding the country of corruption in the areas of money laundering and terrorists financing.
They laud achievements of Buhari's anti-corruption crusade which they say include the recovery of looted funds, blocking treasury leakages through the Treasury Single Account (TSA) and prosecution of some notable Nigerians.
According to them, Bawa's leadership of the EFCC need to be focused to justify the goodwill enjoyed by the commission at the Presidency, Ministry of Justice, Nigerians and development partners.(NANFeatures)
**If used, please credit the writer as well as the agency
Ismail Abdulaziz (NAN)
The UK Barn and The Hypocrisy of Covid-19 Guidelines in Nigeria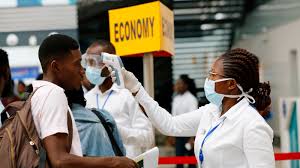 By Festus Fifen
Recently the United Kingdom in response to the global red alert on the omicron variant of Covid-19 placed Nigeria as part of the high risk countries which later metamorphose to flight restrictions from Nigeria and other selected African countries by some European countries.  The United Kingdom over the years is a trusted partner as far as Nigeria is concerned. The flight restriction moves from some European countries especially the United Kingdom was perceived as unnecessary and discriminatory by a larger part of Nigerians home and abroad. No wonder the government through the honourable Minister of Information and culture Alhaji Lai Mohammed was very critical of the decision describing it as discriminatory and targeted at Nigerians for a virus that originated from China.
After about two days of the story making the rounds on different media platforms across the country, myself and the former Director General of the Nigeria Center for Disease Control, Professor, Abdulsalam Nasidi, (a professor of virology) were on a radio station in Abuja, analyzing the implications and the consequences of such action not forgetting the political and economic implications of the flight ban. I remember making a statement before we went on set and the professor agreed with me completely. And what was the statement? I told Prof. that the problem with us as a country is not the discrimination from the western countries. The problem with us is, over time, we don't punish or let me put it this way, there are no consequences for misbehavior or flouting laydown rules and regulations as far as covid-19 regulation is concerned. This attitude over time paints a different picture about our core values as a country. This has even made countries in the world including some African countries cast aspersions on our personalities and the results that originate from our institutions of higher learning and even medical reports.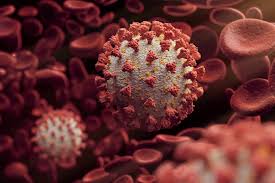 Now, that leads me to the topic of today, which I really want us to look at closely. While driving to the office this morning, there was this advert I heard through my radio set about a show that was coming up in Abuja the Nigeria Capital, I was trying to catch up with the headlines from the dailies and the adverts ended with "all COVID-19 protocols will be duly observed. I asked myself do we really talk about these COVID-19 principles and non-pharmaceutical guidelines because we want to obey them completely and diligently or we just mention it in public service announcement and advertisements so that people will know that we believe in the covid-19 protocols?
Let's start from the government itself, I mean those people that are in charge of giving 'us' these rules and also in charge of implementation and enforcement
In the airports in Nigeria, after all the rigours of adhering strictly to COVID-19 protocols during the boarding process, you go into the aircraft to discover that you just wasted your time in a process that looks very much like a mere ritual. you are jam packed like sardines inside the plane. Without all the necessary precautions. That is a story for another day. I wouldn't want to go there now.
Now you see senior government officials arranging or organizing events, they will go as far as announcing strictly by invitation and COVID-19 protocols will be followed and a few other things only for you to go there you realize that the lawmakers are actually the law breakers.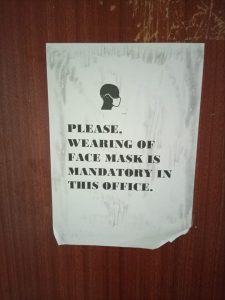 You will notice it's a case of 49 sitting 99 standing (in the words of the legendary Fela Anikulapo Kuti). They don't follow any of these non-pharmaceutical guidelines. You will still see people without facemask, no safe distance in the sitting arrangement and no proper coordination in crowd control.  come back the next day you will hear COVID-19 protocols fully observed. In front or at the door of almost government office is the bold poster NO FACE MASK, NO ENTRY yet inside those offices are people that have thrown caution to the wind. At the entrance of shopping malls across the Nigerian Capital City Abuja you are forced to wear a face mask before entry, but as soon as you have access to the mall, everything returns to the pre-covid-19 era, same with Hotels and other public facilities and institutions. Let me not mention public transportation and taxis.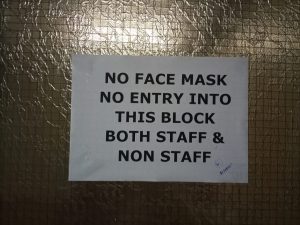 Who is deceiving us in this country? Why do we feel that the Foreigners, Diplomats I mean those who work in different high commission and embassies of other countries in Nigeria do not see how we throw caution to the wind in enforcement and implementation of protocols? Why do we feel that when it's time to give updates about what is happening in Nigeria in the areas of compliance to Covid-19 guidelines they will not give their host country a true picture of what it is?  Why do we feel that they (Foreigners) will follow us in our hypocrisy and make everybody believe we are following the guidelines?
Not too long ago stories about some travelers purchasing the vaccination certificate without taking the vaccine was played up by the media and till now no one person punished for doing that, we have also heard cases of health record officers inputting the wrong data for people and nothing has been seen to be done to those perpetrating such evil against humanity. The issues of "express" vaccination report given to international travelers at the airport is another can of worm we won't open now.
The truth remains that as far as it is now, COVID-19 protocols and the announcement in Nigeria might just be a mere lip service. There are other areas that Nigeria can also look at as a country as far as this is concerned. The areas of the importance the government puts into the covid-19 fight.  But we should ask ourselves who has bewitched us as a country?
My take is that the government should intensify efforts to make sure that the level of compliance is high, the high and mighty in the society should also be seen to follow the guidelines, this will go a long way in encouraging others to follow their footsteps. There should be more advocacy messages compared to the subtle threat that we have today in the system. Enforcers of covid-19 guidelines should spare no one in its enforcement approach. Everyone involved in the fight against Covid-19 should do what they are supposed to do, so that we overcome the hypocrisy of COVID-19 vaccines and we will be taken seriously by the international community. Thank you.
Senator Michael Opeyemi Bamidele : Between Gown and Politics
By Dapo Ipoola
The leadership of the Nigerian 9th Senate came with little or no controversy and political intrigues, unlike the usual political melodramatic theatrics that accompany the selection of Senate leadership. It is true that Nigeria's democracy is not a full-fledged. The woes and inconsistency in our democracy are traceable to the actors involved as some have done the utterly despicable to gratify their pecuniary interest. It is not surprising that some unscrupulous elements have advanced many disreputable arguments and logic so as to monopolise power or remain perpetually in it. In all of the power struggle, Senator Michael Opeyemi Bamidele stands tall in character and nobility. He is the distinguished Senator representing Ekiti Central district and also doubles as the Chairman, Senate Committee on Judiciary, Human Rights and Legal Matters.
MOB, as he is fondly called is not a new entrant in the game of politics. He started the game in his undergraduate days. As an undergraduate in Obafemi Awolowo University, Ile Ife, where he obtained a bachelor›s degree in Religious Studies, he was the Public Relations Officer of the Students' Union Government. In 1990, he proceeded to the University of Benin where he bagged a bachelor›s degree in law. As a student activist, he was the Chairman of the University of Benin Students' Union. He went to Nigerian Law School and was called to the bar in 1992. Known for his unquenchable thirst for education, he proceeded to Franklin Pierce University where he received a master's degree in law, and was called to the New York Bar, in January, 1999.
As a lawyer with strong penchant for advocacy, he was one of the defence counsels led by Chief Godwin Olusegun Kolawole Ajayi to Chief Moshood Kashimawo Olawale Abiola, the acclaimed winner of the famous June 12, 1993 presidential election, during his treason trial. In 1992, he contested for the primary elections for the Federal House of Representatives, representing Oshodi/Isolo Federal Constituency, in Lagos, under the flagship of Social Democratic Party, SDP, but narrowly lost the election. In March, 1993, he served as a National Accreditation Officer at the SDP National Convention, which was held in Jos, Plateau State, where Bashorun M.K.O. Abiola was elected as the party's presidential candidate. He served as a Special Assistant on Legal Matters to Senator Bola Tinubu until November 1993, when Nigeria's democracy was abruptly truncated by Gen. Sanni Abacha. In July, 2000, he was appointed as Senior Special Assistant on Political and Intergovernmental Relations to the Lagos State governor. Between 2000 and 2003, he was the National Director of Publicity of the defunct Alliance for Democracy (AD).
As a legal juggernaut, he is a Fellow, Chartered Institute of Arbitrators, Nigeria. He is the Principal Attorney and Head of Chambers at the Law office of Opeyemi Bamidele & Associate. As a Member of Representatives, he was the Chairman, House Committee on Legislative Budget and Research. He is a Notary Public of the State of New Hampshire, USA. In 2016, he was appointed to serve the 8th NASS in a professional capacity as a Consultant to the House of Representatives Special Committee on the review of the Nigerian Constitution. As a lawyer of no mean repute, he is an expert in Intellectual Property, with bias in International Patent, and Copyright Law, including the Licensing of International Transfer of Technology.
Between 2003 and 2007 he served as Lagos State Commissioner for Youths, Sports and Social Development. As Commissioner for Youths, Sports and Social Development, part of his accomplishments in office is the renovation of Onikan Stadium, which includes the provision of 500KVA generator, re-grassing of the stadium pitch, provision of dressing rooms for teams and referees; stimulation of private sector participation in sports sponsorship; establishment of Coaching Clinics and Seminars for the development of coaches and games masters; resuscitation of grassroots sports as well as Primary School Games, and All Secondary School Games; resuscitation of Principals' Cup Football Competition, renovation of Mobolaji Johnson Sports Centre, Rowe Park, Yaba; resuscitation of Lagos State Sports Festival; registration and monitoring of private social welfare institutions and non-governmental organisations; completion and official commissioning of the age-long abandoned Teslim Balogun Stadium; rehabilitation of Skills Acquisition Centres for destitute and drug Addicts in Tekunle Island, Lagos; establishment of Youth Recreational Centres in many Local Governments and Local Council Development Areas in the State; resolution of 6,782 matrimonial cases through the Social Work Department of the ministry; rehabilitation of Vocational Training Centre for the disabled in Owutu, Ikorodu, Majidun, Isheri, and the destitute camp in Oko-Baba, and the Children Transit Home, Idi-Araba, Mushin, Lagos. Given his laudable feats in the Youths, Sports and Social Development Ministry, Lagos State government conferred on him World Leadership Award.
He was again reappointed to serve as Commissioner for Information and Strategy, under the government of Babatunde Raji Fashola. He established the Lagos State Records and Archives Bureau, LASRAB, for effective and technology driven documentation of state activities; launching of the Lagos State Television (LTV) frequency on DSTV, making it the first state-owned television station to be launched on global satellite; upgrading of infrastructure at LTV, Eko FM, among others.
In April, 2011, he was elected as a Member of the 7th National Assembly, to represent Ekiti Central Federal Constituency 1. While in House of Representatives, he served as the Chairman of the House on Adhoc Committee on Media and Public Affairs, and he also served as a member of the House Committee on Education, Judiciary, Constitution Review, Housing and Habitat, State and Local Government. In April, 2016, he was appointed by the African Union Economic, Social and Cultural Council (AU-ECOSSOC), as a Consultant and Facilitator. In May, 2016, he was invited by the United Nations to participate in the World Humanitarian Summit, which was held in Istanbul, Turkey. In June, 2016, he was appointed by the APC as the Chairman of the Edo State Governorship Primary Election on Appeal Committee.
He donated N10m to the state government to curtail the epidemiological spread of #Covid-19 pandemic. Hundreds of constituents have been empowered and trained in various skills acquisition programs, including the physically challenged. As an eloquent representative in the Senate, he sponsored a bill which seeks to establish Federal University of Medicine and Health Sciences in Iyin-Ekiti, and the bill has successfully passed second reading. Leading the debate on the general principles of the bill, the avuncular Senator said the bill when passed will provide a highly specialised institution that will be more productive and very much needed for medical advancement of the nation. According to him, the higher institution will also act as agent and catalyst through postgraduate training, research and innovation for effective and economic utilization, exploitation and conservation of Nigeria›s natural, economic and human resources.
As Chairman, Senate Committee on Judiciary, Human Rights and Legal Matters, MOB has advocated the need for merit and strict compliance in the consideration of citizens for appointment, including the ones that will come before the Senate for confirmation which must be re-emphasised for the record. He said, "In addition to ensuring that potential appointees meet the eligibility criteria stipulated for the relevant public offices into which they are appointed, adequate care must be taken to ensure that the Federal Character principle established by virtue of the clear provision of section 14, sub-section (3) of the 1999 Constitution of the Federal Republic of Nigeria (as altered) should not be undermined."
Dapo Ipoola, a social affairs analyst
BUHARI, FFK, AND THE QUALITY OF MERCY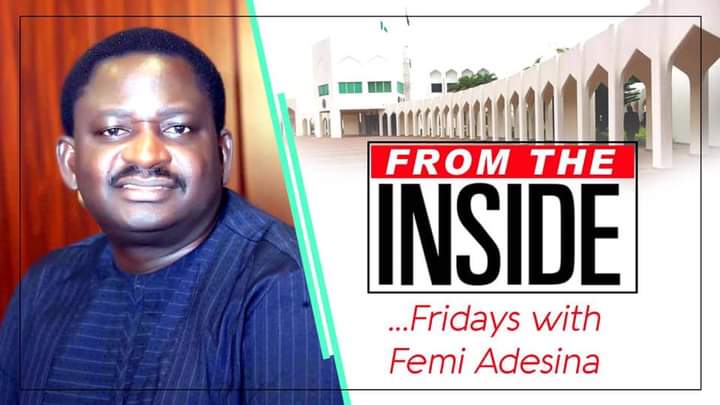 Not a small ruckus has been caused by the defection of former Minister of Aviation, Chief Femi Fani-Kayode (FFK), from the People's Democratic Party (PDP) to the All Progressives Congress (APC) last week.
An icing on the cake, or the salt added to injury (depending on which side you are), was his reception at the Presidential Villa by Muhammadu Buhari, father of the nation. The development has been rocking the polity for many days.
FFK is by no means a miscellaneous personality, and whatever he does, or does not do, attracts loads of attention.
He was a founding member of the APC, before he ported back to the PDP. And he did not leave quietly. He ruffled feathers and stirred up the mud. He became a rabid hater of his former party and its members.
Between last week and now, vitriol poured by FFK on anybody with the slightest affinity to APC has been dug up serially. He has said things straight from the gutters, things that the natural man would call unforgivable and unpardonable. Against President Buhari, the first family, Yusuf Buhari whom he wished had died when the latter had an almost fatal bike accident, APC as a party, the government, leaders of the party, groups and individuals. Even this writer has suffered horrid descriptions from FFK in many write-ups.
Yes, he even said he would rather die than return to APC, but last week, he returned—well and alive.
Naturally, a lot of loyal APC members are hopping mad that FFK was readmitted into the party. And not only that, he got back at the highest level. Not at his ward in Ile-Ife, Osun State, but the triumphal entry was at the Presidential Villa, with President Buhari himself as the host.
I understand the umbrage taken against the development by teeming APC supporters. It's the natural thing to do. But then, having vented spleen, raised dust and almost brought down the roof, the next thing is to isolate the issues dispassionately. With the bile displayed towards President Buhari and his family over the years, how did the man find the grace to have received FFK? How was he convinced? Who did the convincing? What were the extenuating factors? How? When? Why?
By agreeing to the readmission of FFK to APC as the leader of the party, and hosting him at the Villa, President Buhari displayed amazing capacity to forgive, to show mercy, and let bygones be bygones. How many of us can do that? Not many.
Remember William Shakespeare in Merchant of Venice:
"The quality of mercy is not strained.
It droppeth as the gentle rain from heaven
Upon the place beneath. It is twice blest:
It blessed him that gives and him that takes…
It is an attribute of God Himself."
That was what Buhari did to FFK. He showed him mercy, dropping like gentle rain from heaven, when he could have otherwise spat into the sky, collecting the spittle with his own face. Was that not what me and you would have done? Confess. We would have told FFK to go to hell, and stay there. But Buhari didn't. He displayed an attribute of God: forgiveness.
One of the lies that had been serially told against the President was his alleged unforgiving spirit, a falsehood sold to Nigerians by anti-Buhari forces since the days of military rule. The lie traveled for so long, till it was eventually overtaken by the truth in one day. Nigerians saw through the facade, and elected Buhari as President in 2015. Re-elected him with wider margin in 2019.
I have worked with the President for over six years. And I have seen amazing things in terms of accommodation and capacity to forgive. I have visited him at home many times in the evenings, only to find at dinner table with him people who had been abusing his forefathers on television earlier in the day. This President has a capacity to forgive, and forget. And make peace. That was what he displayed in the case of FFK. Nothing short of divine attribute, which me and you should covet and seek to approximate.
True, the brother of the prodigal son in the Good Book was unhappy, after his sibling had engaged in riotous living, squandered his inheritance, and came back home in penury. And the father received him with glee, and slaughtered the fatted calf in celebration.
The brother was indignant. He accused the father of bad faith, saying he had remained faithful and loyal, and not once did the father give him a goat to kill, and make merry with his friends.
That is the case of the APC members who have been unhappy at the reception given FFK. He did not deserve it, they claim. True. But how many things don't we deserve, but which eventually come our way? That is the inscrutable nature of God, and we should not begrudge ourselves, or anybody else. How many things have come your way, which you really don't deserve? But God gave those things to you, nevertheless. Same with FFK.
I think those screaming blue murder and lamenting the injustice and unfairness of it all should hold their peace. They have made their points, and should let things be. Enough! FFK is back, let sleeping dogs lie. He may stay this time round, as he claims to have had a Damascus road experience, which turned Saul to Paul.
Many times, FFK has used unprintable words against me. He has deployed phrases from the nether region against me. But after writing those things, and we met in public places, he would embrace me, calling me his "friend and brother." I agree, we are brothers, though I should hold giant sized grudges against him. President Buhari has shown us the way . To err is human, to forgive, divine.
And come to think of it. Is it pleasant to swallow one's vomit? Nah. But that was what FFK did. All those foul words against the President, the APC, the government, many people in government. He has swallowed them. Delicious? By no means. Pueh! You would feel like retching. So, let's salute the courage of his conviction. It is rare, and not many people would do it.
I welcome FFK back to APC. And I pray it is for an enduring time. I thank President Buhari for showing an astounding large heart. That's how to be a father. He has confounded all those who peddle lies about him, and the balderdash about not forgiving.
The quality of mercy is not strained. It droppeth as the gentle rain from heaven. It has dropped upon FFK. May it always drop on us, for "it blesses him that gives, and him that takes." Amen, somebody!.
*Adesina is Special Adviser to President Buhari on Media and Publicity