UEFA president says Super League "rebels have paralysed themselves"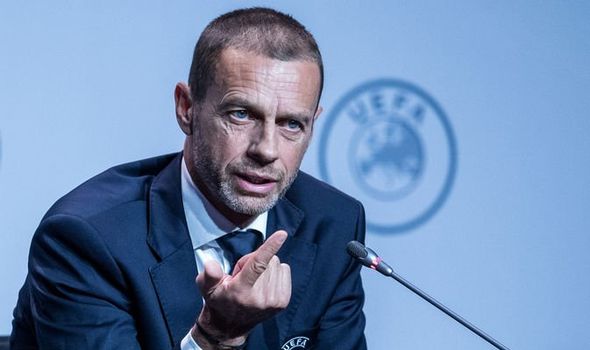 UEFA president Aleksander Ceferin says Juventus, Real Madrid and FC Barcelona have "paralysed themselves" with their commitment to European Super League (ESL) plans.
Nine of the 12 rebel clubs who signed up to the breakaway competition, announced in April, have withdrawn from the proposals amid a huge external backlash.
Juventus, Real Madrid and Barca alone continue to pursue the idea, insisting football is facing an "inevitable downfall" without reform.
UEFA launched disciplinary proceedings against those three clubs last week after previously agreeing "reintegration measures" with the other nine, who apologised for their part in the plot.
Refuting the suggestion that the ongoing power struggle could cripple the European game, Ceferin said: "They [the three rebel clubs] paralysed themselves with the approach they took.
"It's strange to read press releases that the three clubs out of thousands of clubs think their idea will save football and nobody else likes it."
Ceferin could offer no update on the disciplinary case as the committee involved is an independent body.
But he also questioned why Juve, Real Madrid and Barca would commit to next season's UEFA Champions League even while persisting with plans for an alternative competition.
"For me what is strange is that you publish you are still part of the Super League and then you send a letter applying to play in the UEFA Champions League.
"So, you are in Super League but play UEFA Champions League. It's quite hard to understand what they mean," Ceferin said.
"They should call us, send us a letter, ask for a meeting. They just sent some press releases saying they want to have a dialogue. It's quite a strange approach.
"It's really hard to understand what they want. If they say Super League exists —— and nobody prevents them from playing European Super League, the three of you can play your Super League.
"But they say they want to play UEFA Champions League as well at the same time.
"We are not afraid of those things. If the courts decide one way or another we have to be honest and work for football, which those clubs are not." (dpa/NAN)
Nigeria qualify for 2023 Africa U20 Cup of Nations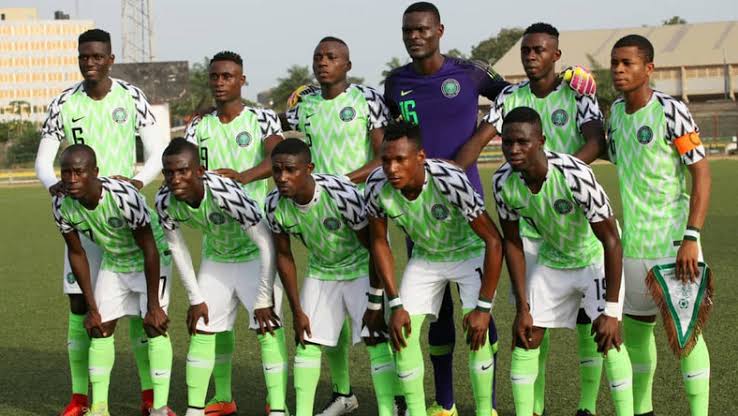 Nigeria's U20 boys, Flying Eagles, on Tuesday night overpowered fit-fighting Cote d'Ivoire in an explosive semi final match to reach the final of the ongoing WAFU B U20 Championship in Niamey.
The ticket to Saturday's final also came with a ticket to next year's Africa U20 Cup of Nations taking place in Egypt.
Midfielder Daniel Daga put Nigeria in front after only five minutes when he cleverly escaped the attention of the Ivorian defenders to nod in from a well-weighted pull out.
The seven-time African champions then launched onslaught after onslaught on the Ivorian goal but failed to add to the tally, before the Ivorians equalized just before half time from an intelligently-taken free kick at the edge of Nigeria's eighteen-yard box.
Neither team could find another goal to gain upper hand before the end of regulation time inside the Stade General Seyni Kountché, and the game went into extra time.
Forward Ibrahim Yahaya got the winner for Nigeria in the 111th minute of play when he tucked in from the penalty spot to make it 2-1.
Nigeria will square up against neighbours Benin Republic in Saturday's final.
Arsenal squandered Champions League spot after loss to Newcastle United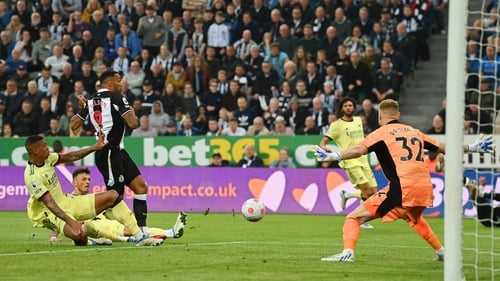 Arsenal's Champions League hopes suffered a major blow as Newcastle powered their way to a deserved win at a raucous St James' Park.
Newcastle's Bruno Guimaraes condemned the Gunners to a costly 2-0 defeat with an 85th-minute strike after Ben White's own goal had put the Magpies ahead in front of a crowd of 52,274.
As a result, Arsenal will go into Sunday's final round of fixtures two points behind their North London rival Tottenham, who are fourth on the table and with their fate out of their own hands.
Victory was no more than Eddie Howe's side deserved as they bounced back from successive defeats to Liverpool and Manchester City to take their tally to 46 points, the most they have collected since returning to the Premier League in 2017.
Arsenal, were first to threaten when Granit Xhaka fed Eddie Nketiah, who cut inside from the left, but saw his right-foot shot blocked.
Callum Wilson's pace made life difficult for Arsenal and White had to block a Sean Longstaff cross and a Joelinton shot within seconds as the home side pushed for the opener.
Bukayo Saka threatened on 21 minutes and the England international's second strike forced keeper Martin Dubravka into another save before Arsenal's Aaron Ramsdale produced a solid 37th-minute stop from Allan Saint-Maximin.
Martin Odegaard then flashed the ball across the Magpies' penalty area, but the Gunners fell behind on 55 minutes.
Saint-Maximin played Joelinton into space down the left and he crossed to the near post, where White could only guide the ball into his own net.
As the visitors chased an equaliser, Wilson sent a 63rd-minute snapshot just over, Ramsdale palmed away Jacob Murphy's shot and was relieved to see Wilson's late lob from 40 yards drop just wide.
The keeper dived bravely at Wilson's feet with five minutes remaining, but the rebound fell perfectly for Guimaraes, who wasted no time to seal the points.
Mikel Arteta was fumed after witnessing his team throwing away a whole season's hard work in a woeful 2-0 defeat at St. James' Park.
With his team's Champions League dram almost over, Arteta could not hide his exasperation anymore.
"Normally, I will always defend my players. Not tonight, it is too difficult. We didn't compete. We never got into the game. We lost every duel. They were comfortably better than us.
"I am incredibly disappointed. It's a very painful one. It was in our hands, it's not in our hands now. We have to put our head down and swallow all the poison that we feel," He told a press conference
Arteta's anger was echoed by Granit Xhaka, who pulled no punches during an explosive post-game interview. The Arsenal midfielder declared the Gunners didn't deserve a spot in Europe's showpiece event next season.
"From the first minute to the 90th we didn't deserve to be on the pitch today," he told Sky Sports. "What happened was a disaster performance and like this you don't deserve to play Champions League, you don't even deserve to play Europa League. It's very hard to take at the moment. I don't know why we're not doing what the coaches ask for."
"If someone isn't ready for this game, stay at home. It doesn't matter the age. If you're not ready or you're nervous, stay on the bench, stay at home, don't come here. We knew this game was maybe the most important for us but, with a performance like this, it's not acceptable."
Official: José Peseiro now Super Eagles Head Coach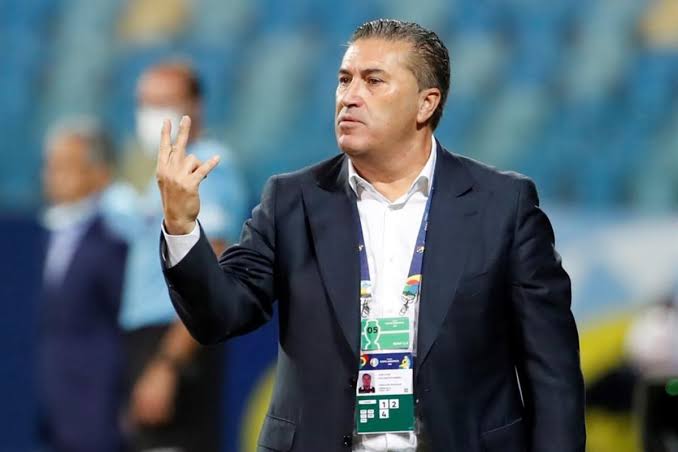 The Nigeria Football Federation (NFF) has appoint Joeé Santos Peseiro as the new Head Coach of the national team after weeks of endless reports of the Portuguese being the frontrunner for the Super Eagles Head coach job.
The NFF announced the appointment on Sunday, saying appointment is with immediate effect but subject to the signing of agreed terms between the NFF and Peseiro.
Peseiro, 62, will take charge of the Super Eagles starting with friendlies with Mexico and Ecuador later in May.
Mr Peseiro has coached clubs and national teams in four continents— Europe, Asia, Africa and South America.
He has coached at Sporting Lisbon, FC Porto, Panathinaikos, Rapid Bucharest, Sporting Braga, Victoria Gumaraes, Al-Hilal, Al-Wahda, Al-Ahly Cairo, Sharjah FC and Real Madrid (assistant coach during the Galacticos era), and worked as Head Coach of the Saudi Arabian and Venezuelan national teams.
A statement from the NFF said Peseiro is expected to lead out the Super Eagles for the first time against Mexico at the AT&T Stadium in Dallas, Texas on May 28, before flying to New Jersey to face Ecuador at the Red Bull Arena in Harrison on Thursday, June 2.
NFF in the statement also announced that former Nigerian international forward, Finidi George will now be the First Assistant to Peseiro, with Salisu Yusuf to be the Second Assistant as well as Head Coach of the CHAN and U23 National Teams.
Usman Abdallah is the Third Assistant while Eboboritse Uwejamomere will be the Match Analyst and another former Nigeria international, Ike Shorounmu will be the Goalkeepers' Trainer.
Peseiro succeeds Augustine Eguavoen who failed to qualify the Super Eagles for the 2022 World Cup holding in Qatar.