OMO-AGEGE TO NIGERIANS: DON'T DESPAIR, WE WILL OVERCOME OUR CHALLENGES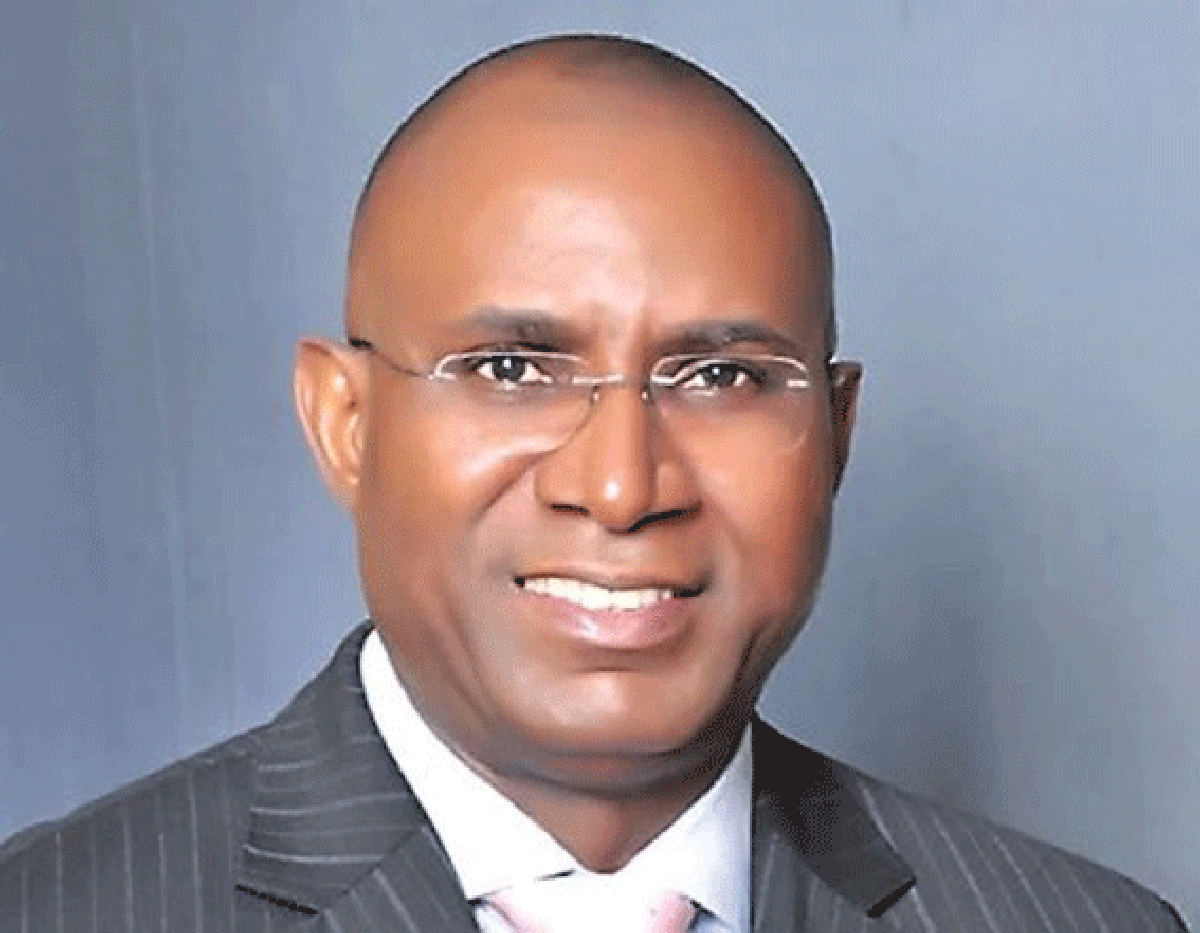 The Deputy President of the Senate, Senator Ovie Omo-Agege has called on Nigerians not to despair over the myriad of challenges confronting the nation.
Expressing optimism that Nigeria will surmount its travails, Senator Omo-Agege harped on the need for citizens to eschew bitterness and ill-feelings towards one another as the country stands to gain a lot from a united front.
The Deputy President of the Senate stated this on Friday in Abuja while giving his opening remarks at the National Prayer Breakfast.
He said he remained an incurable optimist about a better Nigeria despite security challenges in some parts of the country.
His words: "The promise of God is that He will not conceive a nation – from the many nations of Nigeria – and not see it to fruition. This is His promise in Isaiah 66: 8- Who has ever heard of such things? Who has ever seen things like this? Can a country be born in a day or a nation be brought forth in a moment? Yet no sooner is Zion in labour than she gives birth to her children. Here He says that he will not start a thing and not see it to the end. God that began our nation in 1914 will see it to perfection.
"As we seek the birth of a new nation, we must be reminded that no nation is built in one day. Rome, they say, was not built in a day. Nigeria holds a great potential for itself, for Africa, for the black race and indeed for mankind. It is not uncommon for a people with such unusual potential to continually be bedeviled by the schemes of the evil one through his agents. We are all familiar with the story of Job; his travails and his ultimate triumph. This is the lot of those who know God and who put their trust in Him.
"We must never despair over the weight of challenges facing our nation. It is because among nations, Nigeria is a nation of the chosen. We are blessed with some of the best resources the world has ever known. Our mainstay natural resource namely oil, is said to be of the best quality type in the world being practically Sulphur-free. In terms of the human resource, Nigeria has some of the best brains in practically all fields of human endeavour.
"Would we now wonder why we seem to be going through what appear to be unusual, heavy travails? The devil has no business with failures. He only goes after successes or entities with huge potential for success. Look around you, nations that are blessed by God are the most troubled by threats of all kinds. But they rise above their travails because God is with them. God Himself did not promise us the absence of trials, but He promised that we will not be encumbered by trials that will overwhelm us, if we put our trust on Him. And the only way we can qualify for this covenant with God is through our faith, fervent, unceasing prayers, and by doing His will.
"As we pray today for Nigeria, let us ask God to give us the courage as a people, never to stumble. Let our obstacles be stepping stones and not stumbling blocks. Let God give us the courage to positively explore our differences rather than negatively exploit them, such that they are sources of strength rather than of weakness. Let God give us, individually and severally, the wisdom and the love to emphasise and celebrate those things that unite us, rather than those that divide us. This is the foundation towards making a nation out of the many nations of Nigeria.
"Finally, while we live through life as individuals, as brethren and as a nation, there are crosses to be borne, sorrows to be shared. This is why we are going through the mask of travails that we see today as a people. We must tear this mask. We must emphasise those things that unite us, and in the process heal those that seem to divide us. This way we build a united country under one God. At the end, a crown of victory awaits us all and our children, and even generations unborn. This is the promise of God. The perfect will of God is not to bring our nation to ruin, even in spite of the machinations of the devil and his agents. His thoughts for us are of peace, and not of evil, to bring us to an expected end (Jeremiah 29:11-For I know the plans I have for you," declares the Lord, "plans to prosper you and not to harm you, plans to give you hope and a future."). An end with a crown of victory as one united Nigeria".
Achieving SDG Will End Poverty, Hunger, And Insecurity In Nigeria – Buhari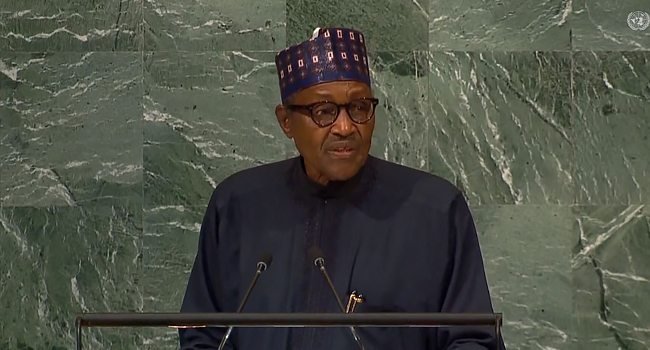 President Muhammadu Buhari has stated that Nigeria is accelerating efforts to achieve the SDG by 2030 to guarantee an end to poverty and hunger, protect the ecosystem and ensure Nigerians live in peace and prosperity by 2030.
Buhari made the declaration on Friday when he officially unveiled the Nigeria Integrated National Financing Framework (INIFF) report, a high-level event in collaboration with the UNDP and EU, on the sidelines of the 77th session of the UNGA.
He expressed satisfaction that the process leading to the NIFF which started in 2020 finally crystalized into the launch, underpinning the importance placed by the present administration towards achieving the goals.
The President explained that the various developmental plans and programmes for the country have all been aligned with the SDG and are poised to advance the nation's economy in spite of the challenges that have confronted the country.
Atiku Copied Buhari's Economic Blueprint – Lai Mohammed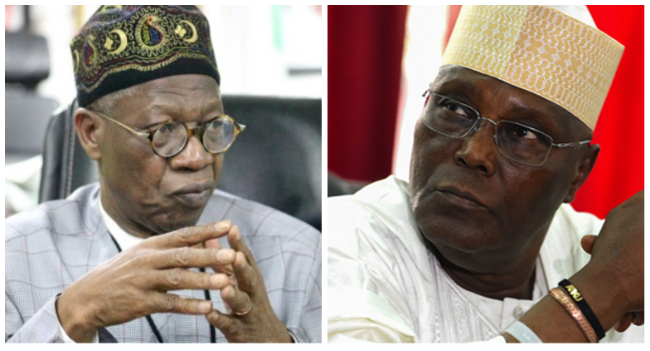 The Federal Government has tackled the People Democratic Party [PDP] Presidential candidate Atiku Abubakar for allegedly copying President Muhammadu Buhari economic blueprint in his recently unveiled Economic programme.
Minister of Information and Culture, Lai Mohammed described Atiku Blueprint as a
"crude attempt at copying all that the administration of President Muhammadu Buhari has done''.
Speaking at a news conference in Abuja, the Minister said the blueprint is a poor version of the present government's economic strides.
"Let me say, straight away, that the so-called blueprint is a crude attempt at copying all that the Administration of President Muhammadu Buhari has done, especially in the areas of job creation, infrastructure financing, relationship with the private sector, rejuvenation of the power sector, poverty reduction, debt management and the overall management of the economy," Mohammed asserted.
The minister expressed shock that an opposition party that has on several occasions criticized its policies is currently adopting it for its campaign,
According to Him, the present administration has made giant strides through its economic blue print which has translated into the creation of over three hundred and two thousand jobs and over eight thousand kilometers of road across the country amongst others.
I Will Leave Legacy Of Free-And-Fair Elections, Buhari Tells UNGA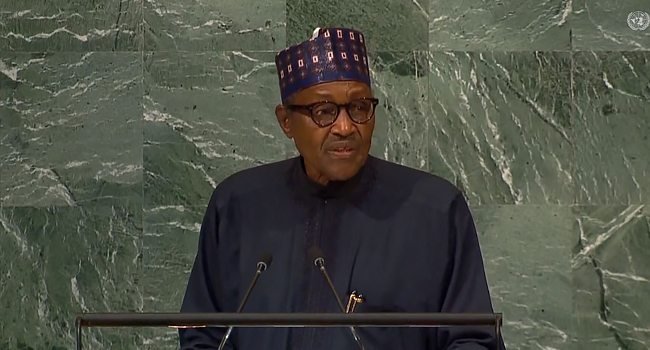 President Muhammadu Buhari on Wednesday promised to leave a legacy of free-and-fair elections as his eight-year tenure comes to an end in May 2023.
The President made this known in his last address before world leaders at the 77th session of the United Nations General Assembly in New York, the United States.
"Indeed, we now are preparing for general elections in Nigeria next February. At the 78th UNGA, there will be a new face at this podium speaking for Nigeria.
"Ours is a vast country strengthened by its diversity and its common values of hard work, enduring faith and a sense of community. We have invested heavily to strengthen our framework for free and fair elections. I thank our partners for all the support that the have provided for our elections.
"As President, I have set the goal that one of the enduring legacies I will like to leave is to entrench a process of free, fair and transparent credible elections through which Nigerians elect their choice," Buhari said.
The President, who reiterated his commitment to constitutional limit, said Nigeria has stood for democracy and the rule of law as a country and in the sub-region in countries such as The Gambia, Guinea Bissau, and the Republic of Chad.