2023 Presidential Race: Osinbajo has not declared interest —Aide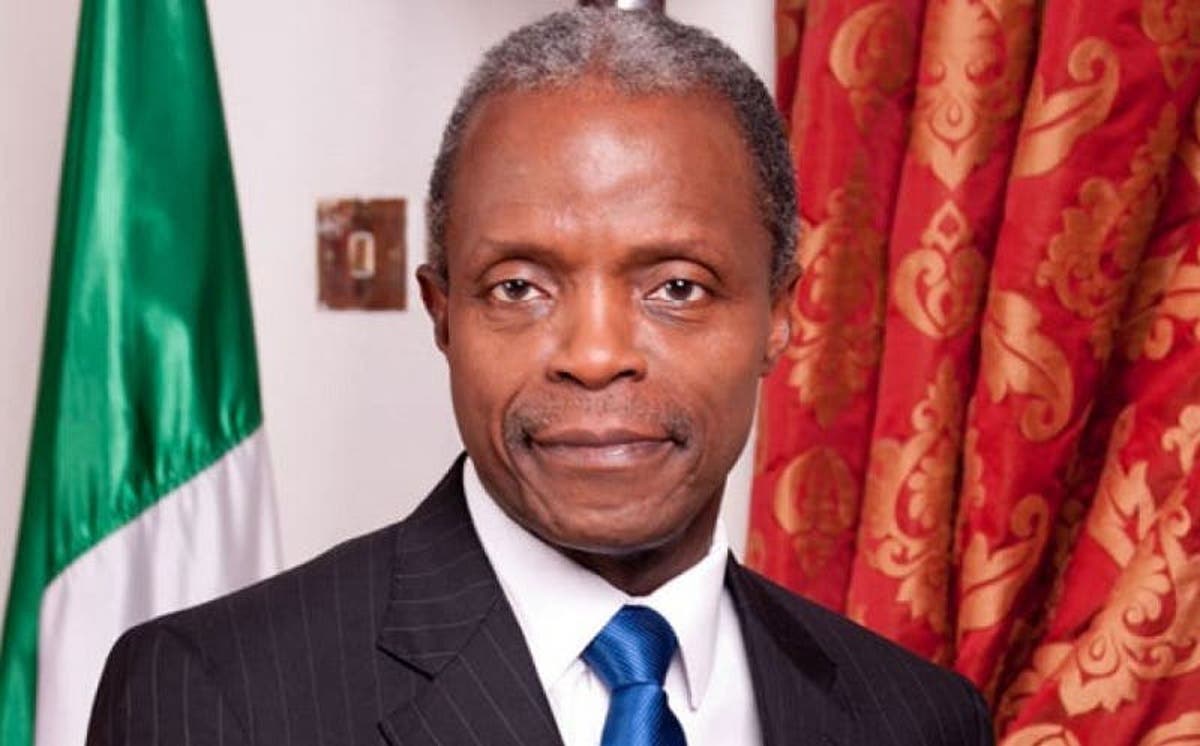 The Office of the Vice President says permutations around 2023 presidential race is a distraction as Vice President Yemi Osinbajo has not declared interest to contest.
Osinbajo's spokesman, Laolu Akande, in a statement on Monday in Abuja, said the Office of the Vice President had no connection with an online attempt to rally support for Osinbajo.
"The attention of the Office of the Vice President has been drawn to a website: supportosinbajo.ng that is calling on Nigerians to join a volunteer group mobilising support for Osinbajo ahead of the 2023 presidential election.
"Details of this website and the solicitation of the group are currently trending on WhatsApp with a suggestion that Osinbajo has "quietly" declared interest in the 2023 election.
"The Office of the Vice President is not in any way connected to this website or the group behind it and considers such an enterprise an unnecessary distraction.
"Osinbajo has not declared any interest whatsoever in the 2023 election; but he is rather focused on working in his capacity as vice president in the current administration to address all the compelling issues in the country and concerns of Nigerians, including finding effective and lasting solutions to the security challenges.
"Therefore, we ask that people desist from such unhelpful permutations while we all deal together with the challenges confronting us as Nigerians, and resolve them for the benefit of our people, peace, and prosperity in the land.
NAN
Osun 2022 Guber Poll: Ogunsua, Apetumodu, others declare support for Gov Oyetola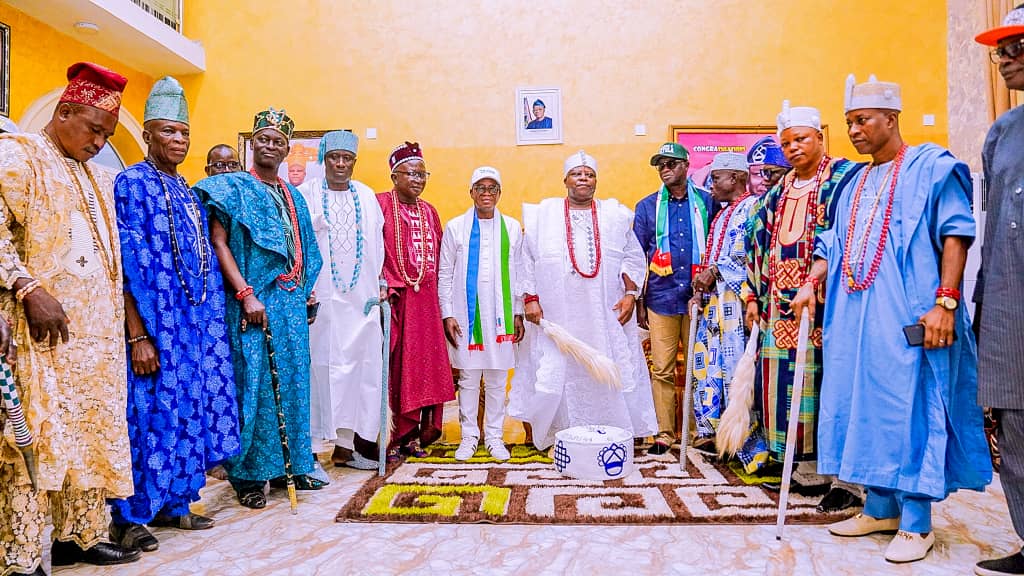 ..over 300 PDP loyalists defect to APC in Modakeke
…as Governor's re-election campaign trail moves to Modakeke, Ife-North LGA
As the re-election campaigns trail of Governor Adegboyega Oyetola of Osun moved to Modakeke in Ife-East Area Office and Ife-North Local Government Area of the State, the Ogunsua of Modakeke, Oba Joseph Olubiyi Toriola and the Apetumodu of Iperumodu, Oba Olugbenga Joseph Oloyede, have described Governor Adegboyega Oyetola as a game changer whose ingenuity in both private and public sectors had helped to transform the State.
The monarchs said the good works of the Governor have endeared many to him, particularly the traditional rulers who have benefitted tremendously from his purposeful leadership and good governance.
The monarchs said their subjects are resolute to get him re-elected come July 16 governorship election in the State.
This is even as over 300 members of the  Peoples Democratic Party, PDP, pitched tent with the ruling All Progressives Congress, APC, in Modakeke.
Speaking in his palace, Ogunsua of Modakeke, Oba Joseph Olubiyi Toriola, applauded the monumental achievements of Governor Oyetola in the last three and a half years, saying his good record has surpassed their expectations.
Oba Toriola who acknowledged some of the tremendous achievements the State has witnessed, particularly in Modakeke and its environs, promised that his subjects will reciprocate the Governor's good gesture and re-elect him for a second term.
"I want to assure you that Modakeke is for APC and your government. We will do everything to support you and ensure your return for a second term. We are with your government come rain, come sunshine.
"We are known for progressivism and nothing can change it. We are resolute to get you re-elected and by the grace of God, you will be returned to consolidate on your good works.
"I have respect for you a lot because you are a promise keeper. We have seen in you Omoluabi par excellence and this has manifested in all you do. I can remember the last time we came to you for the reconstruction of some of our roads, you promised what you would do and you swang into action immediately, and today the project has been fixed.
"No doubt, you are a talk-and-do Governor, you walk your talk. Your meek character has endeared many to you, particularly my humble self because each time I look at you and the great things God has allowed you to do, I marvel.
"You have proved to be a loyal and honest leader who leads with the fear of God and love of humanity. We shall continue to support you, we will reciprocate your good gestures with massive votes", he added.
Affirming their resolution to ensure the re-election of Governor Oyetola,  Apetumodu of Iperumodu, Oba Olugbenga Joseph Oloyede, commended the Governor for giving priority to critical sectors, particularly infrastructure and security.
Oba Oloyede who spoke on behalf of other traditional rulers in Ife-North Local Government Area assured their readiness to ensure the re-election of the Governor.
"By the grace of God you will emerge. You have done well. We have attested to the peaceful atmosphere in the State. Your tenure has been very peaceful and we are hopeful that your second term will be more peaceful. We will support you", he added.
Director General, Oyetola Re-election Campaign Council, Dr. Ajibola Basiru, said Governor Oyetola has done creditably well and he deserves to be re-elected as his performance across sectors remains immeasurable.
Basiru who reeled out some of the monumental achievements of the Governor said his return would go a long way to consolidate on his good works.
He said his credentials, pedigree and antecedents will further be brought to bear to transform the State as he remains an inestimable gold in the politics and governance of Osun.
Also speaking, the APC State Chairman, Prince Gboyega Famodun, described the visit of Governor Oyetola to Modakeke and Ife-North Local Government Area as a homecoming in view of the continued support the ruling party has been enjoying from the people of the Federal Constituency over the years.
He urged the residents of the Federal Constituency to come out in large number on the election day, vote massively for Governor Oyetola and monitor their votes until the announcement of the final results.
Speaking on behalf of over 300 defectors, Hon. Adesina Kabir, said the good works
of the Governor was the reason for their defection.
He pledged their unflinching support for the APC, saying they were determined and resolute to vote massively for the party  to ensure the re-election of Governor Oyetola.
Be Careful, Adamu warns Machina over Yobe North senatorial ticket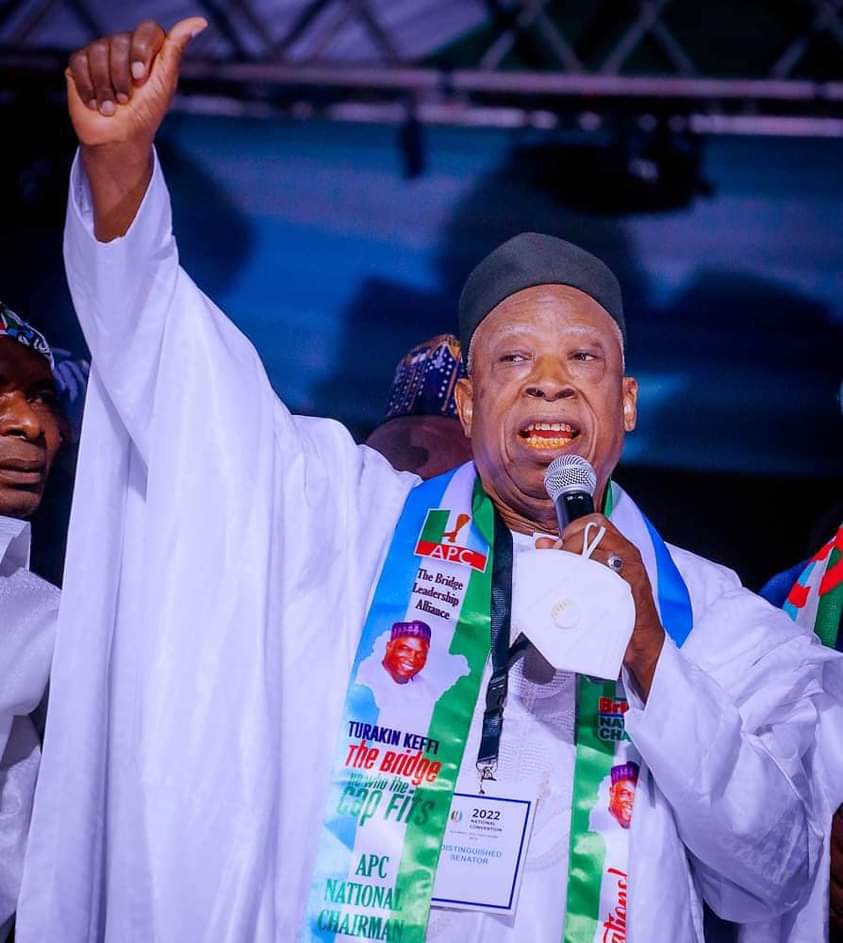 National Chairman of the All Progressives Congress (APC), Abdullahi Adamu,has warned Bashir Machina, a party member from Yobe north, over his comments on the party's senatorial ticket for the district.
The APC Yobe North Senatorial ticket sparked controversy after Machina, who won the primary, insisted that he would not step down for Senate President Ahmad Lawan.
Lawan had, in May, contested for the APC presidential ticket, but lost.
Amid the controversy over the ticket, the senate president, who currently represents Yobe north district, was eventually listed as the APC senatorial candidate for the 2023 general election.
Speaking in an interview published by BBC Hausa on Thursday, the APC chairman said the issues affecting the party on primaries are not unusual, adding that they will be resolved.
"There is no leader who doesn't receive complaints from the people he is leading and no leader would leave his position because of what the people say," Adamu said.
"In my position as the leader, whatever has happened in the APC since the day I became chairman of the party, I, Abdullahi Adamu, should be blamed.
"If you don't take the blame as a leader, then who should be blamed? As a leader, you are trying to resolve problems, not increase them.
"If you don't know how to set a trap for a thief, the thief will set the trap for you.
Machina should be careful; his issue is getting out of hand. As far I am concerned as chairman, my party did not violate any law.
"Is there any law that says you cannot contest for a position after contesting for another one. No law prohibits anyone from doing so."
Speaking on the recent defection of members, Adamu said people can't be forced to stay in the APC.
"If I say there haven't been people who have left our party, then I have lied," he said.
"No doubt, there are some who after they lost the primaries decided to leave the party and join another one.
"Politics is not by force. This is not how we wanted it to be and it is not only our party that its members are leaving."
Oyetola, competent, performing leader deserving of reelection — Obokun/Oriade Monarchs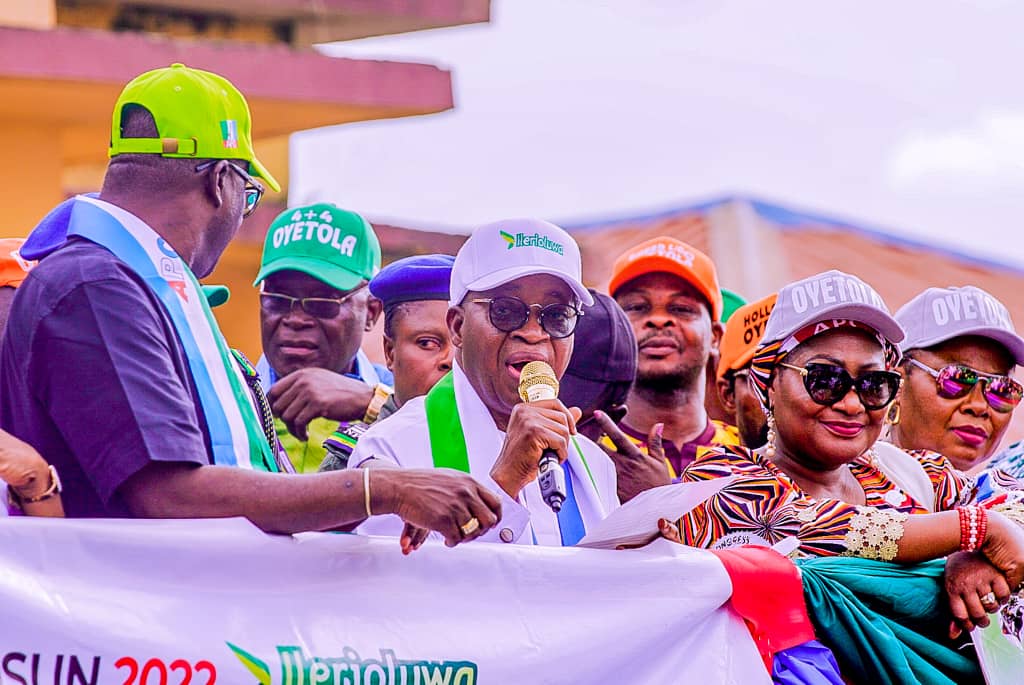 .. 'Oyetola has set high standards, let's forbid a downgrade' – Campaign Council
…as Campaign trail moves to Obokun/Oriade
As the Campaign trail of Governor Adegboyega Oyetola moved to Obokun and Oriade Local Government Areas of the State, on Wednesday, monarchs in Obokun/Oriade federal constituency have described Oyetola as the pillar of Osun's sustainable growth in the last three and half years.
They also described the governor as a competent, performing leader that is deserving of a reelection, just as they commended him for bringing stability to the affairs of the state at a time when the political situation was full of uncertainties.
The monarchs also lauded Oyetola for investing in the improved security architecture of the state, adding that Osun has become the most peaceful state in the country as a result of his attention to security.
They urged their subjects to set sentiment aside and make a wise decision that guarantees greater development and a brighter future.
This is as the Osun All Progressives Congress (APC) welcomed scores of defectors from the opposition Peoples Democratic Party (PDP) in Obokun and Oriade into the Party.
Speaking on behalf of the other monarchs, the President of Ijesha North Traditional Rulers' Council, Ajalaye of Ipetu-Ijesha, Oba Adeleke Agunbiade, described Oyetola as a competent administrator, a distinguished leader and a humane politician, saying his performance in the last three and half years shows he was built for the job of governance.
Oba Agunbiade also lauded Oyetola for the way he has transformed the fortune of the state, declaring his readiness to campaign for the governor's re-election.
According to him: "We the monarchs in Osun State have seen your work. In an ideal setting, you shouldn't be touring the State on campaign again because your works speak for you in the nooks and crannies of the State.
"Most of the monarchs in Osun and in Ijeshaland precisely are professionals. This reality has put us in the position to act as assessors of your performances across different sectors. From our assessment, we can boldly submit that Governor Oyetola is a competent governor, a leader par excellence, and a humane politician with human heart.
"Anyone who knew Osun in the past will testify that this governor has done wonderfully well. Those thinking they can wrestle power from him should think twice, because after Oyetola, it is still Oyetola.
"We are not saying this to make him feel good, we are ready to throw our weight behind him. If we are not breaking any known law, we are ready to lead Oyetola's reelection campaign. As a matter of fact, I am offering myself as the Director-General of his campaign among the monarchs", Oba Agunbiade said.
Speaking in their Palaces, the Alademore of Ibokun, Oba Festus Kayode Awogboro; the Elegboro of Ijebu-Jesa, Oba Moses Oluwafemi Agunsoye, and the Owamiran of Esa-Oke, Oba Adeyemi Adediran, lauded Oyetola's commitment to educational reform and security of the state, among other critical areas of development.
The monarchs also commended Oyetola for prioritising the welfare of both monarchs and their subjects, urging citizens to show favourable disposition to him because he has been tried and found competent.
While addressing the crowd at the various campaign grounds, where some defectors were received, Governor Adegboyega Oyetola assured the people that the modest achievements of his administration in the last three and half years are a foretaste of greater developments that his second term will bring to the state when re-elected.
He said: "The welfare and wellbeing of the good people of Osun, as well as the overall development of the State, hold a centrestage in my heart, and the modest achievements of my administration so far testify to this fact.
"We have paid salaries in the most amazing ways — amazing because resources are limited but we found a way to fulfil our obligations. We are dutifully paying pensions and we are offsetting backlogs. We have given the state infrastructural face-lift as much as affordable. These and many more we have shown commitment to and we will not relent in our commitment.
"We are approaching governance as we should. This is government of the people and for the people, and you can testify that the people have been at the centre of our programmes. Just take it that what you have seen in our first term is a taste of a sweeter sensation in our second term", Oyetola said.
In their separate remarks, the Chairman of the All Progressives Congress, Prince Gboyega Famodun, and the Director-General of the Campaign Council, Senator Surajudeen Ajibola Basiru, said Osun has stepped up significantly with Oyetola in the saddle.
They urged citizens to support the governor's re-election, saying Osun does not deserve a downgrade from the high standards already set in the last three and half years.
Speaking on behalf of the defectors, Babatunde Olayemi from Ward 10, Ilare Obokun, said their coming into the Party is not an espionage mission but a genuine passion to align with a government and a party that have showed distinction in governance.